Hurricane Mills, TN
Loretta Lynn's II
Lucas Oil AMA Pro Motocross Championship
At the second round of the 2020 Lucas Oil AMA Pro Motocross Championship, GEICO Honda's Jeremy Martin earned his first overall win since the 2018 Thunder Valley National. Martin's 3-2 moto finishes bested Monster Energy/Star Racing Yamaha's Dylan Ferrandis' 2-4. JGRMX/Yoshimura Suzuki Factory Racing's Alex Martin, Jeremy's brother, took the checkered flag in the second moto, and his 7-1 finishes earned him third overall.
Following the racing, all three joined the media for a press conference, which was hosted by MX Sports Pro Racing's Brandon Short via a Zoom conference call.
Racer X: Jeremy, great day for you. A good 3-2 to get the overall win. You were up front all day long. Obviously it's your first win since you came back from your injury, which is a huge accomplishment I'm sure for yourself. Tell us what it feels like to finally get back on top of the box. You're right in the thick of the championship right now.
Jeremy Martin: I was actually pleasantly surprised that when I went out for practice it was nowhere near as muddy or as crazy as it was the first Loretta's, so I was pretty happy about that. Then they were saying a thunderstorm was coming at 2, and then all of a sudden it just monsooned on us basically for 20 minutes right before moto one. I was like, Oh boy. This is going to be gnarly. Sure enough, it was. I got halfway down the start straight and I couldn't see nothing going into the first turn. I'm like, where do I turn? I just had so much water in my goggles and stuff. I was able to get through there. I went down twice in the first moto. Once at halfway and then once with three or four laps to go. I had one glove off, one glove on, no goggles, and I managed a third somehow. I was pretty blown away. So going into moto two, I was happy at least I got third in the first moto. Then Alex was going really, really fast for sure. I knew that Dylan and RJ [Hampshire] weren't around me. I was kind of watching my pit board with Derek [Dwyer, mechanic]. I just did the best I could. I knew Alex was going fast. I just conserved the bike as best as I could. The thing was smoking so bad. I was like, I hope to God I can make this. Sure enough, I did and I was able to get the overall. Not a win today, as far as a moto win, but got the overall and that was a big deal. It's been a long road to get back to the top step of the podium.
Dylan, you posted 2-4 scores to get second overall. Just missed out getting another win there. Your second moto you had to do work, started in 20th. Kind of were buried in the pack. I think you said you went down. You had your work cut out for you, but you managed to get through. Take us through your day and what it was like to kind of have to work through the pack the way you had to in such difficult conditions in that second moto.
Dylan Ferrandis: It was a wild day. Like Jeremy said, it was not bad as what we expected. When we all saw the rain on Friday we were like, okay, it's going to be horrible. Finally the track was not that bad. We had really good conditions for racing. First moto we had this incident where I went to drain a little bit the water after the gate and someone saw me do that and reported to the AMA and they penalized me. They docked me of 20th position on the gate. So it was really unfortunate. Of course it is the rules and I accept it. So I had a really bad gate pick. I managed a medium start. I fight with all the guys and I came back up front and had a small crash and lost a lot of time. Then I came back on the last two laps on RJ. My team were asking me to save the bike, so I tried to not really push too much on the engine and for sure finish the race. Because in that condition it's important to finish first but first we have to finish. Second moto, I had an okay start, but I crashed…It was really wide. Puddles everywhere and a lot of mud. I don't really know what happened there. I just washed the front in the mud and crashed. So I started way back in the pack. I pushed really hard all the moto. I was a little bit frustrated on the podium because we made a small change between the two motos with the team and it was absolutely not the way we should do it. I was not feeling comfortable with the bike. I lost traction with what we changed, and traction was really important today. My bike in the second moto was not as good as in the first moto. So I kind of lost some time with that. Manage a 2-4 was still a good day. We leave with the red plate which is the main goal. Two races down, seven to go.
Alex, gritty day for you. 7-1. Third overall. You made it look easy in that second moto, but that first moto you were where you wanted to be. Obviously things didn't go the way you wanted, you crashed. Looking back at it now, are you kind of kicking yourself a little bit knowing how the second moto went?
Alex Martin: Yeah. To be honest, it's a little bittersweet I guess with the first moto. I literally was in first right away there. Right after the Ten Commandments I think I got around [Shane] McElrath. Then I just kind of came into that corner sliding, sliding, and I hooked up on the dozer berm and I almost looped out. My hand blew off the bar and I tipped over. I was like, you got to be kidding me. I've literally crashed every moto at Loretta's so far. The first Loretta's, I went 5-5 but speed-wise I was much better than that. That was a little frustrating. That first moto, like Jeremy and Dylan said, we were sitting there and practice was pretty good. I was like, "Man, this actually could be a really nice racetrack today." Then it just had to rain two or three inches in 20 minutes before that first moto. I think everyone on the start line in the 250 class was just like, Well, there goes that. So it was nice to get the holeshot, but then I crashed three more times. I think the nail in the coffin, and they might have showed it on TV, but I tried to take a different line in the mechanics area and I just tipped over, but my bike was stuck in the mud. I think my lap time that lap was like a 4:59. Once I got going, honestly I can't believe I got seventh in that first moto. I was on the ground so much. Then second moto I just came out swinging. I got the holeshot. I didn't really know that I had that big of a lead. I think I saw the final result and I won by a minute and three seconds. That's just insane to me. My mechanic, Lee [McCollum], put on the pit board with a couple laps to go plus two. I kind of thought, maybe I only had a two-second gap on second. So I dropped the hammer real quick, trying to put up a gap or something. I'm like, there's no way I'm going to lead 14 or 15 laps and give this up now. But I'm just thankful honestly that I kept it on two wheels. That track was absolutely very challenging and treacherous. I just hope that we have a dry race coming up. I think we're definitely due after two weekends of mud. It feels really good to get the JGR Suzuki guys up on the podium. They work hard. Honestly, a lot of people say things about the Suzuki, but it's a good bike. I'd like to think that we proved that today getting it up on the top step of the podium in the moto. Definitely getting some much-needed championship points on those guys.
Dylan, you look extremely confident this year and it's been reported that you signed a deal with Yamaha for the 450 for next year. My question is does that help having that off your back? Can you share any details about that deal?
Ferrandis: I can't talk about next year yet. I will soon, but right now I just can't talk about it. But regarding the confidence, I won two titles so it's like a big monkey off the shoulders. I'm happy with my career right now. I'm happy with this year. So there is no pressure. We worked really hard during the break and the bike is awesome. My physical program, my training is really good. We worked really hard. Just everything that I said, that gives me that confidence. I think I have a lot of experience now and I can really be smart on the decision and smart on what the race gives to me. Today for example, that's the mistake I did with prepping the gate before and got docked the position. It's fine. No problem. Then the second moto I crashed at the start. It was no problem. Let's go. I'm at a point in my career where I'm happy. I'm happy about what I do. I'm happy about the bike. I'm just happy about everything. I'm doing the job in the week. I work. I just feel good to be at the race, feel good to do what I'm paid for. All of this gives me the confidence. Also the speed on the race. We saw it again today. It's good. So there is no problem at all.
Alex, I'm sure it wasn't funny for you, but on TV they had you throwing your arms up and you were saying something in that first moto to somebody over in the mechanics. Who were you talking to and what were you saying?
Alex Martin: I was looking directly at the MX Sports guy, Justin Starling's dad or something, I was like, "Please, God, help me pick up my bike." It was stuck in the mud and we were like 25 minutes into the moto. It's stuck. There was no way. You could have given me an hour to get that bike out and I would have never done it. I needed help. I think I had got up to fifth before that last tip-over, and I was in like 30th at the beginning of the moto. So I was just like, please, help me. So it was just a lot of frustration and pleading, honestly. [Laughs]
Dylan, you're one of the only riders that is plant-based. Do you think that improves your performance as far as your nutrition goes?
Ferrandis: Yeah. For sure I left Europe a little bit for the bad conditions that we have there sometimes, but was not the main reason. I expect to have less mud races in the U.S., but you never know. Regarding what I eat, yeah. I'm plant based. I feel great doing this. Mentally also I feel really great doing this. I don't know if it's helped me a lot or not, but I think it's more the work that I put every week and during the winter. But I feel really great doing this. I think there is a lot of proof that doing that is great for the body. So not much to stay. I'm not a doctor. I'm not a nutritionist. So I can't really much say about this, but that's what I'm doing. I'm proud to do it. It works great.
Alex, just personally, do you think if you wouldn't have gone down in that first moto, do you think you would have won the overall? It was only a three-point swing at the end of the day.
Alex Martin: Fourth in the first moto, would that have gotten me the overall with a 4-1?
Yeah, I think so.
Obviously, I was in fifth at the time. It's hard to say. Should have, could have, would have. Ultimately I crashed three times and my bike was stuck in the mud and I needed help to get it going. But I do feel like if I hadn't tipped over the first time, it could have potentially been a 1-1 day. Obviously the way the track was, that's not our normal conditions. I guess I would take it. I think potentially I could have been in contention for the overall, but that's on me. I messed up. At least I was able to come out with a moto win in the second moto.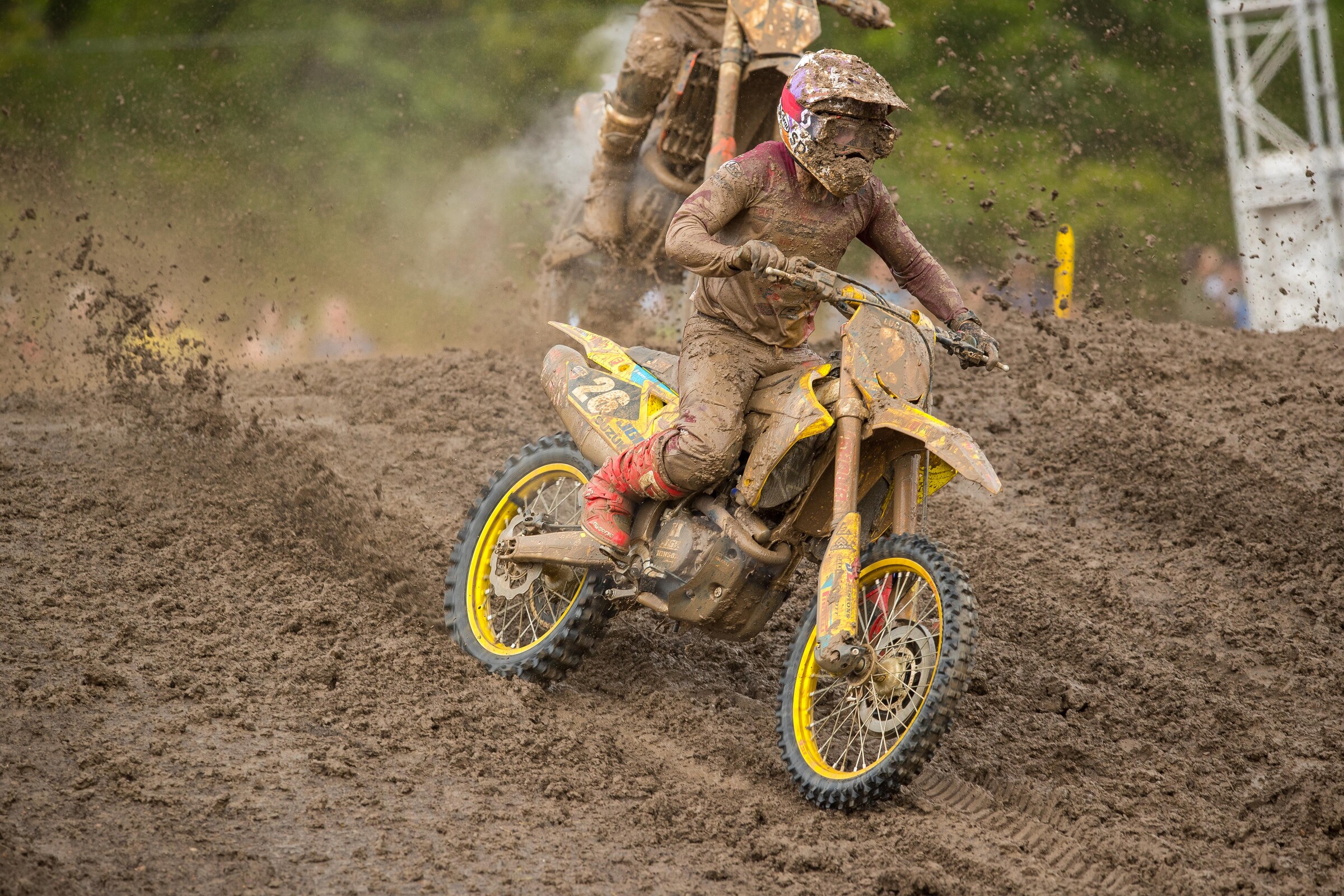 Alex, if ever there was a trophy for roughest year for team, you guys would probably be points leaders at this point. How big is this moto win and overall podium for the team? What has the mood been like up to this point?
It depends. If you're a regular Vital[MX] forum cruiser, then it looks like it's really bad for JGR. [Laughs] But from my [perspective], I get my paycheck every month. I always have great practice bikes and rotate engines every 12 hours and whatever, new suspension. My program is pretty dialed. JGR has been more than accommodating in making sure I have what I need to continue training and be at my best. But, absolutely. This result, and even Freddie Noren getting a fourth in the first moto, the goal I guess is just to get Suzuki excited to support the American motocross program. They have no GP program. Our sport is too small to not have backing from one of the main manufacturers. As you saw today, it's capable of winning and it's a great bike. Hopefully they will come on board next year and give us a little bit more help.
Jeremy, up on the podium, how confusing was it? We went through one round of awards where Dylan got the overall. What was going through your head? Were you trying to do all the math? What was happening there?
Jeremy Martin: I'll be the first one to admit I'm not the smartest cat, but I was pretty sure Dylan went 2-3 and I went 3-2. I'm like, the better second motos will beat it, and then I'll get the overall. I was like, I'm pretty sure I got it, because I celebrated like I got it. I was just like, if you didn't win it, you're a knob. As long as it's right on paper, that's all that matters.
Alex, what's the deal on the starts? You had some killer starts today.
Alex Martin: To be honest, I guess I could spill the secret. I am so stoked that Ferrandis and Jeremy and some of the guys didn't go on that first gate pick on the inside! You look out on the start gate first moto and it's just pouring rain. There was a massive puddle to the right on the inside, directly in my gate. My plan was just to get to that puddle first and try and spray everyone else. It actually worked out both motos. I was surprised. I know Dylan was probably thinking go outside and he could maybe get around that puddle, but it was so deep out there. Ultimately that gate was kind of the shortest distance to the first turn. You just had to get to that puddle first. I think there was a photo going on Instagram right now of me splashing RJ.
Watch Alex's plan at the end of this Instagram clip by Tom Journet:
Dylan, during supercross you got in kind of trouble with being impatient and finding yourself in a bad spot. During motocross this year for the first pro motos you've been kind of taking what has been given to you. Is that something you've consciously worked on?
Ferrandis: Yes and no. Like I said before, winning these two titles in supercross gave me a lot of confidence on myself and also a lot of experience and that's helped a lot. But it's also because outdoors motos are way more longer. You always have the time. As long as you are not 35th on lap one, you have the time to get back and finish strong on a moto and everybody is tired. I just feel like it's a short season, but it's not going to be so short. It's still nine races. We still have to manage. We do a lot of races in a row where you have to manage your body. So I just feel like there is no rush. Also the fact that I did 1-1 last weekend, I already built a small gap in points that makes me be more safe too.
I know the French are proud athletes and sportsmen. Does it add a little extra level of pride when you see you and Marvin [Musquin] on top, either in qualifying or overall in the races or moto wins?
No. I'm not proud French when I do good or whatever. I race for me. I race for the people that I represent. If I win, I'm not like, yeah I won for team France or whatever. I live in the U.S. now for four years. I'm not American, but I live here. So I kind of put this behind me a little bit, without being anything negative. For sure, I like when Marvin does good, but I can't control it. He does what he can too. When he doesn't do good, I'm still looking at what happened. To him to be French or not doesn't make any difference. We have a good relationship. I just like the rider. I like a lot of riders. Being French doesn't make a big difference.
Alex, how far back were you in the first moto when you fell in that dozer berm? How far back did you have to come from?
Alex Martin: I think I was around 30th or something at that time. It's hard to say I guess because I just got up and I was muddy. I looked back and there wasn't many people behind me, but I know I was down long enough where definitely most of the field passed me.
Were you surprised to move that far forward? You were in the top ten quickly. Did that surprise you?
Yeah, kind of actually. Lee was pit boarding me. It was pretty challenging just to look at the pit board in that straightaway. But I saw three or four laps in I was like 15th. I was like, okay, wow. Then next lap was like 10th. Then it was like fifth not long after. It was total carnage and chaos with people weeding up everywhere, bikes smoking and stuff like that. So obviously a lot of people kind of handed it to me. It definitely gave me some confidence going into the second moto knowing that speed-wise I was able to come that far up.
Alex, do you feel you're better and ahead of where you started 2019?
Absolutely. I think just second year on the bike, understanding how the Suzuki chassis works. The JGR guys, we've done a good job I think. Dean Baker, he's found some serious HP out of the motor. Just getting the chassis better. I felt really good, even in supercross. We didn't get any podiums but we got a lot of top fives. Obviously Utah didn't go our way with some crashes and I fractured my sacrum, tailbone. That is probably going to be something that's going to bug me for a year or so. But it was just frustrating the way this whole year has worked with the COVID situation. We're end of August and we're only into our second round of outdoor nationals. I felt really good right from January. We kind of just had to wait around and hope to go racing. I'm glad that we're back racing and I'm happy to get some results already at the second round. I think it definitely shows that we're in a better spot this year than last year.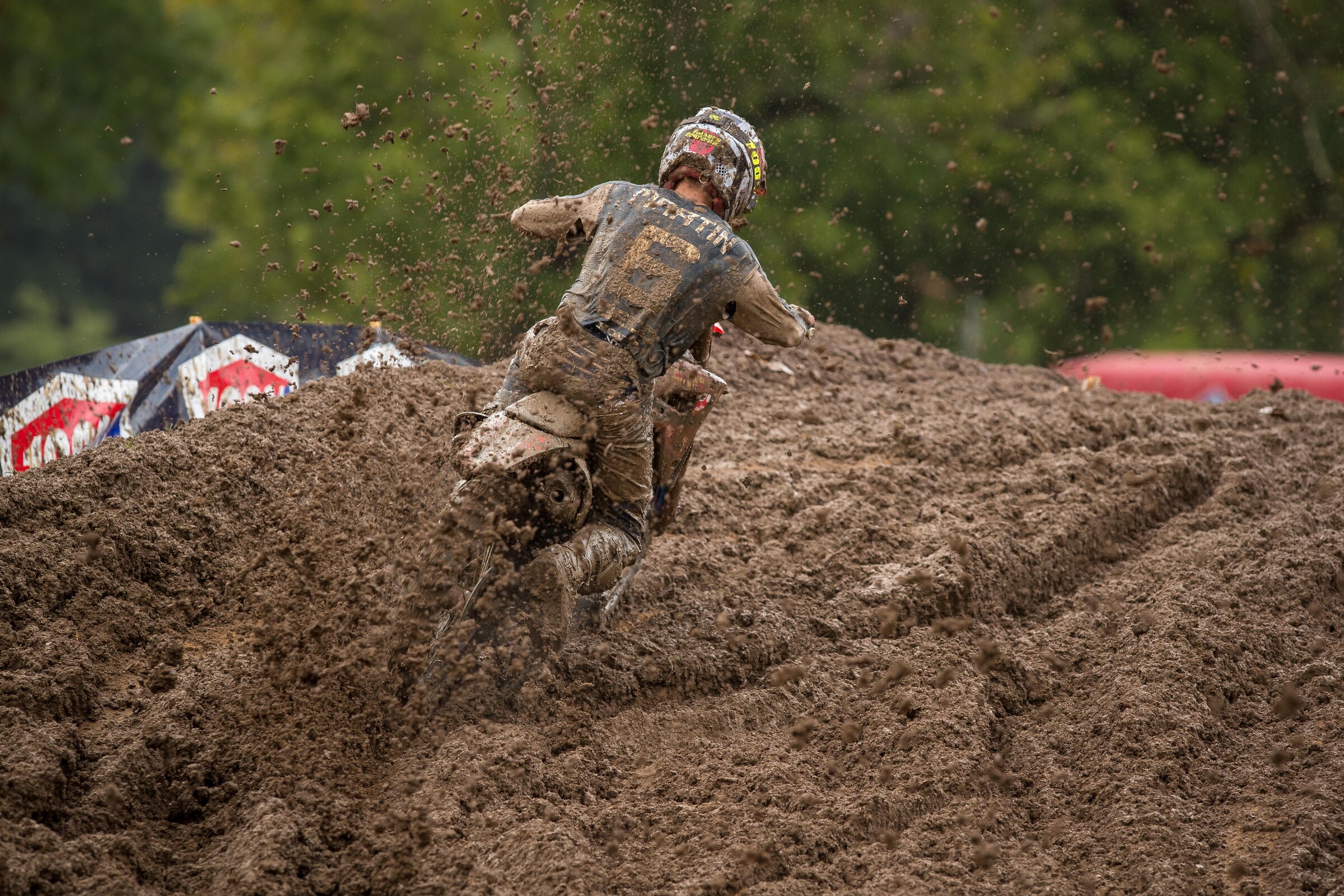 Jeremy, we didn't obviously see normal conditions today but did you feel like during the week or coming into the weekend that you had made some progress from last weekend?
Jeremy Martin: Yeah, definitely. I felt better this weekend. I made an adjustment before the series even started, the week before, on a shock change. I thought it would be a little bit better for hard packed conditions and stuff like that. I was doing a bunch of local riding at my parents' and stuff, and the track was really, really rough. But the way the bumps form at a local level are so much different than a national. When I raced on the weekend the first Loretta's, I was like, I made a big mistake. I knew it right away. But I just had to get through the weekend. Then I went back to the old OG shock that I had and I was like, okay. This shock is more for a national style track. So just a little lesson to be learned there. The guys are good. Dylan is really, really fast. He's smart. So it's going to be tough, but I'm looking forward to the challenge. I just love being at the races.
Jeremy, you've had four moto podiums. As a former champion, how important is it to start the season like that?
Yeah. Loretta's 1 and Loretta's 2, they were both pretty muddy and they were really gnarly. Just ruts and the whole day of everything, so to be able to get on the podium for all four motos so far is definitely a big deal. When you're battling a guy like Dylan, he keeps you on your toes. So it's a war, for sure. Kind of reminds me of when I was battling Marvin back in 2015.
You can watch the post-race press conference or listen to the audio from the press conference below.