Hurricane Mills, TN
AMA Amateur National Motocross Championship (Loretta Lynn's)
Amateur National Motocross Championship
Bakersfield, California, jumped onto the motocross map via a trio of fast kids, Stilez Robertson, Jett Reynolds, and Ryder Difrancesco. Robertson won a pair of 50cc titles at Loretta's and the group was on its way, with Reynolds and Difrancesco soon to follow with 50cc titles of their own. However, Robertson also struggled through some lean years as he raced through the ranks. In 2019, he reset himself with a 250 B championship, and then signed with the Rockstar Energy Husqvarna team. His strong riding at this year's Monster AMA Amateur National Motocross Championship (both Pro Sport titles and wins in four of six motos) netted the coveted AMA Nicky Hayden Amateur Horizon Award, and a shot to race pro this weekend starting with Lucas Oil AMA Pro Motocross Championship's opening round at Loretta's.
After he received his award, we grabbed him for a quick interview.
Racer X: How does it feel?
Stilez Robertson: Yeah it's my first specialty award ever and it's the biggest one!
How many years have you been coming here?
Since 2006.
14 years!
Well I missed 2018 with an ACL.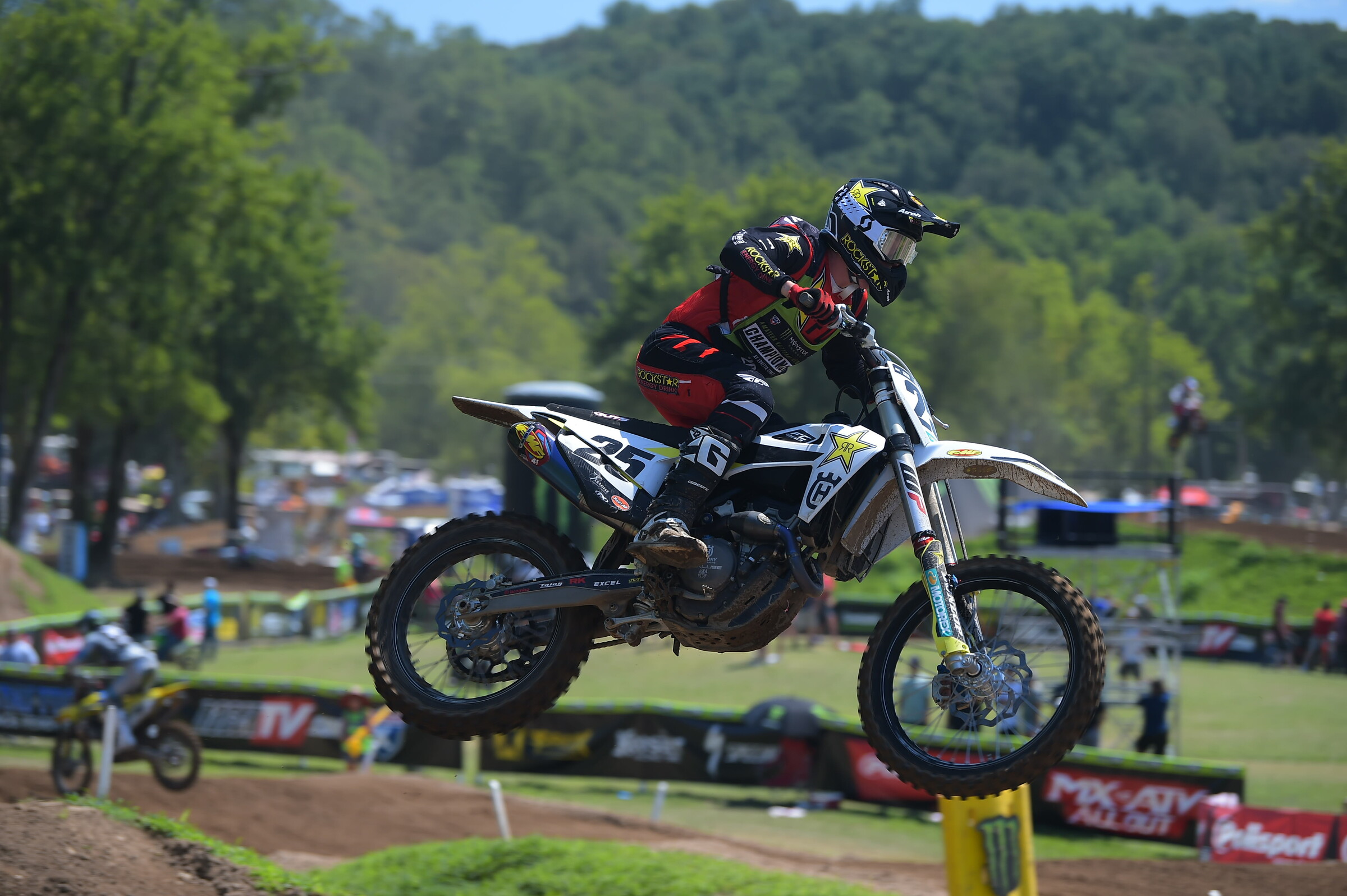 You've given a lot of credit to Baker's Factory. You straight-up ride with the pro guys.
Yup, every day. Mike Brown, Aldon Baker, Seth Rarick, great group of people around me. We work hard and this is the product of their work. Hopefully we can have some fun next week and see where we end up.
You said you just want to get some starts so you can see where you fit in?
Yeah, I just want to see. I don't have any pressure from the team, I don't have to go win or whatever. I just want good starts and to ride hard for 30 plus two.
You were outstanding when you were really young here, then you had some lean years in between. Not terrible, but not amazing. Did you ever start to worry you wouldn't be able to get to these heights?
Oh, definitely. It's crazy. I've had so many ups and downs. Like, in 2016, I didn't even get on the podium! That's crazy to think about. Then last year was a rebuild year after 2018 which I missed, I won the 250 B title. I've got a good group of people that believe in me. Just keep doing that, keep working, keep going from here.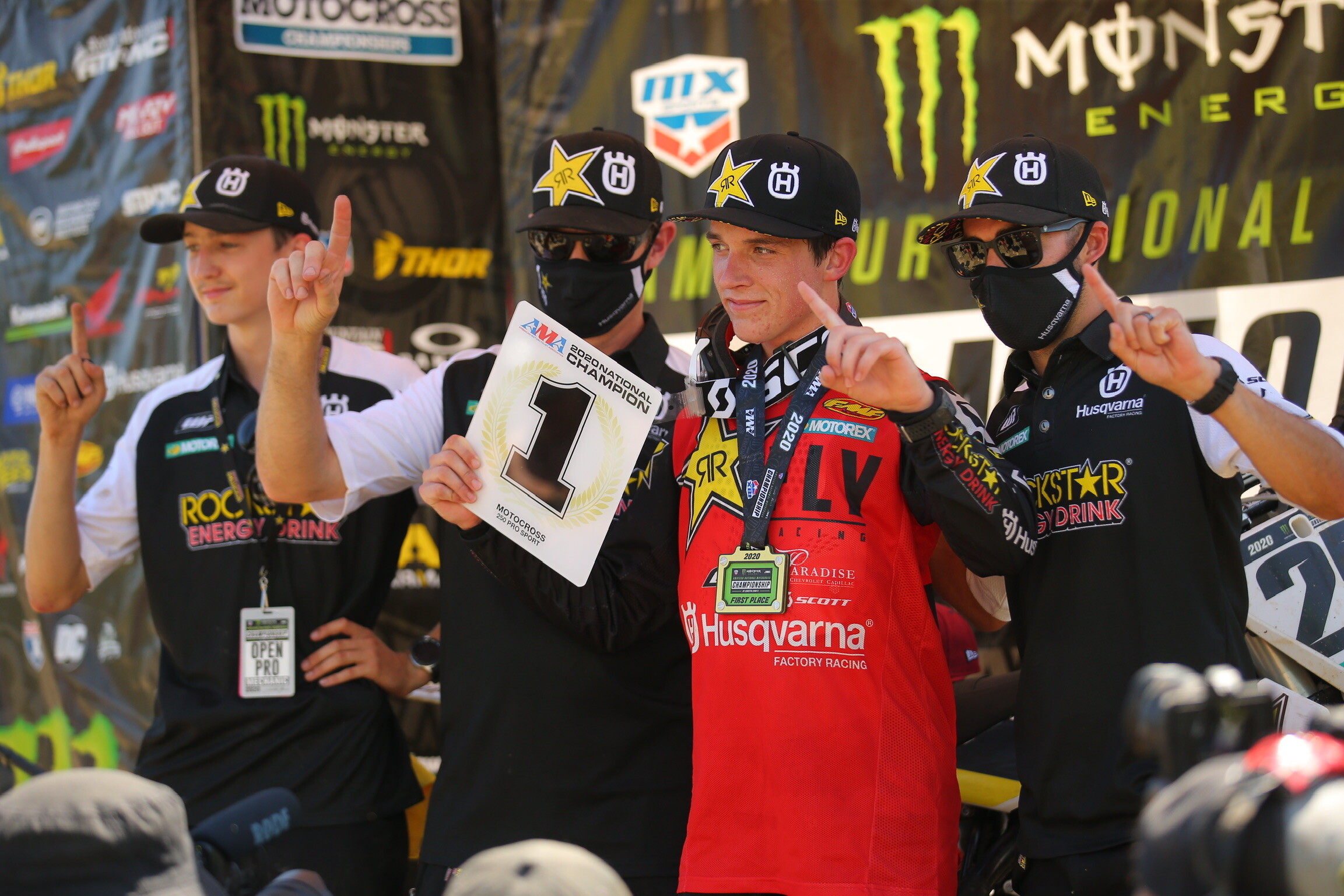 I saw you taking a picture on the stage with Ryder Difrancesco. We're finally seeing that Bakersfield, California group heading toward the pros now.
Yeah! Putting Bakersfield on the map.
Do you see the Bakersfield guys much?
No, we obviously all grew up riding together, but now we've got our own training programs. Actually, Ryder's trainer now is my old trainer, Ivan Tedesco, which is good because Ivan is a super great guy. But I'm at Baker's Factory now so I'm mostly in Florida and I don't see them much. When I'm in Cali, Jett [Reynolds] lives a mile from me and Ryder probably lives three! It's crazy! We're right in the middle of each other. We always see each other. And what's crazy is, we don't even have a local track out there.
Yeah so how did this work? Did you guys ride together all the time?
We did when we were young for sure.
Just out in the desert?
Yeah, just rough, gnarly, natural tracks. And that's probably what got us here, because we were always pushing. Like here, I had a lot of 50 titles, then Jett beat that, then Ryder probably beat that. We were always trying to one up each other, and that's awesome. It would be cool to all win the Horizon Award. Maybe Jett wins it next year and Ryder wins it the year after that.
Where else have you ridden besides Baker's Factory? I feel like you've been in a variety of places.
[Laughs] Oh yeah. I spent a lot of time at Reynard's, and I'm still friends with Robbie, call him all the time. I've been at the GOAT Farm with Jeannie and Ricky Carmichael. Good people there, too. I did have a few tough years, but I think a lot of my struggles were injuries, but not blaming it all on that, sometimes my speed wasn't there. But the more work I've put in, the better I've done. I just think I'm one of those guys that has to work hard, that's the way it works for me. But that's okay, I like suffering! Right now I'm working with Mike Brown at Baker's Factory, road biking, all that.
More From Loretta Lynn's
Mike Brown! Does that guy try to kill you?
[Laughs] He's gnarly! But Mike is a great guy to go to for advice. He's going to be a good person to take the next step with. Him and Aldon, you can't ask for two better people in your corner.
How closely does Aldon follow this?
He actually just texted me! He texted me after every moto! Me and Aldon are tight, I try to put the hard work in, and it pays off.
How often do you get back to Bakersfield?
I flew home right after super regionals for a week, and I'll go home after outdoors. Even if I only do the first three pro nationals, I'll stay at Baker's Factory and keep training just in case something happens and they need me to race someone's bike.
So you're not doing all the rounds for sure?
I'm only doing the first three for sure. I'm doing Loretta's, Washougal, and Ironman. We'll go from there. Hopefully I can do all of them because it's a good learning year for me, obviously it's a weird year [with the schedule] that we're in and hopefully I can just learn and build off of that.