Monster Energy Kawasaki's Eli Tomac currently holds the points lead in Monster Energy AMA Supercross, but with all of racing, and much of the world, on hold due to COVID-19, there's a focus on much more than just racing. In part one of our interview with Eli yesterday, he spoke about leading the championship and how to manage whatever schedule scenarios that might play out. Today, for part two, we ask questions about his day-to-day life, the upcoming birth of his first child, and more.
Racer X: So are there any other things that you're getting to do now because you have time? Even on Saturdays and Sunday. How does that work?
Eli Tomac: It's just at home you get to do a little bit of things around the house. Then just hang out with friends that we don't get to hang out with a whole lot in our town. That's about it, really. I'm still trying to wrap my head around everything. It's scary. I hope this passes over within a month or two and we can get back to normal. It's weird.
What is the normal stuff around the house that you do? Do you have the same old "honey-do" chores that everybody else has?
Just cleaning up stuff in the yard, spring cleaning. That stuff I don't ever get to be able to get done. Going outside, trimming some branches, doing the normal stuff. I think that's probably on most people's list these days. That's most of the things we don't get to do as racers.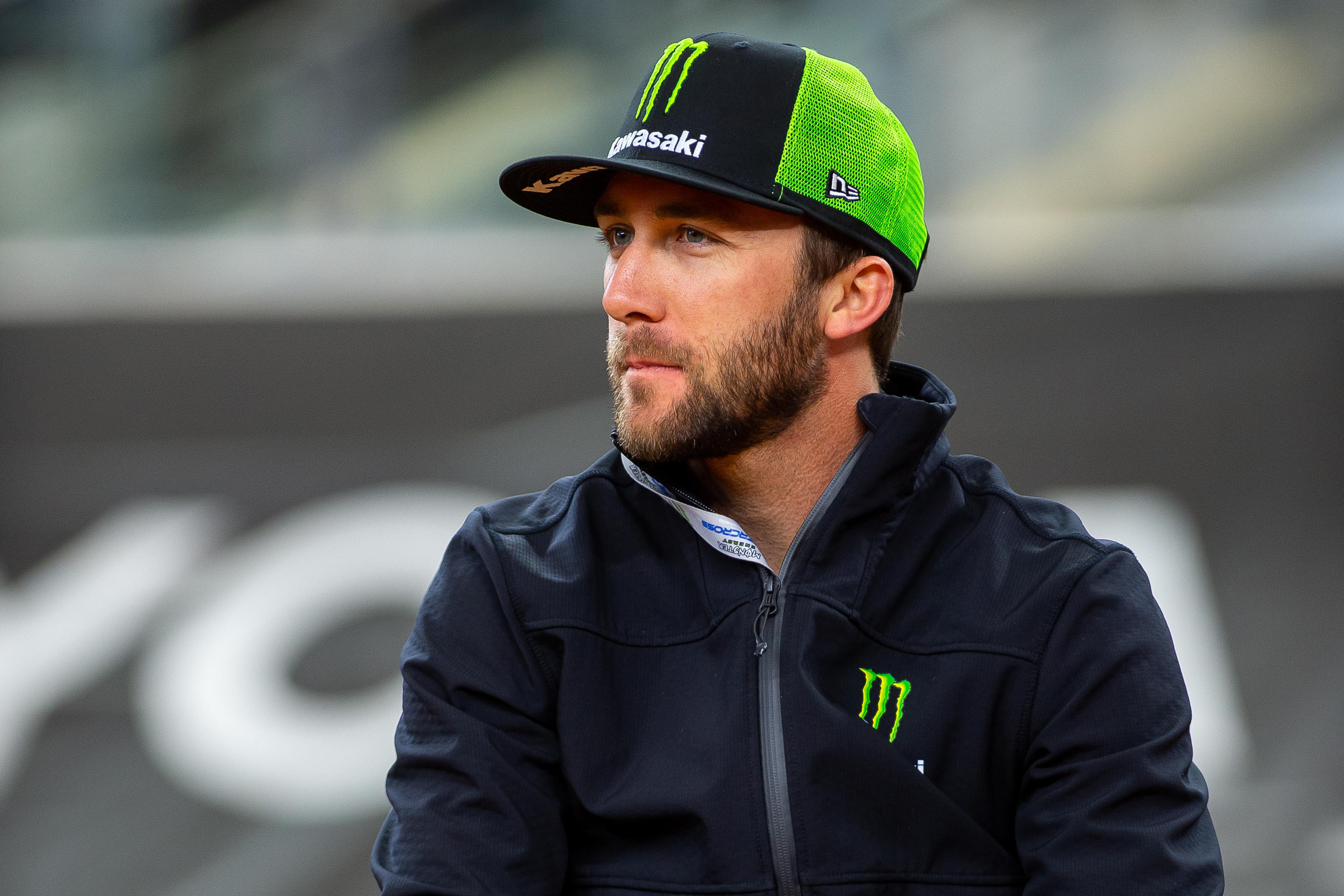 You don't have a gardener staff. You're not making that kind of money where you just have servants that you send out there?
[Laughs] Heck no. I like to go out and do something. I can't sit around. Most of the time I'm too much of a spaz. I like to be outside.
That's got to be the hardest thing. If we get to a normal season, and the series ends in September, to take four weeks off of riding or three weeks off, I'm sure you can feel like you earned it. It was a long season. It's got to be so much harder to do it after just ten races. I'm sure you're not feeling burnt out or tired after ten races.
The stop is hard, but not knowing, that's what's really hard. That unknown is what's freaking me out. Like, what happens if they go and say we need to quarantine for another two months? That's the part that really sucks. So that's what I'm more afraid of is looking ahead that way. It's like, how prepared do you get? You want to have a ramp-up into the season physically, and not knowing that is a little bit…but everyone's in the same ball park.
When you were hearing about all the schedule stuff, I'm sure it's not ideal to have a three-point lead and then have to race all of motocross and then come back and race supercross. Were you hoping to maybe get these supercross races in during May or late April? Was that the hope at first?
I would think so. You're more in tune with the supercross. It takes a little while to get in tune with the track, even when you go back to motocross. You work different muscles. You feel different. The speeds are different. Supercross is a lot higher heart rate. Motocross I feel like your muscles get more worn out. Now we don't have that. That transition is going to be a lot different.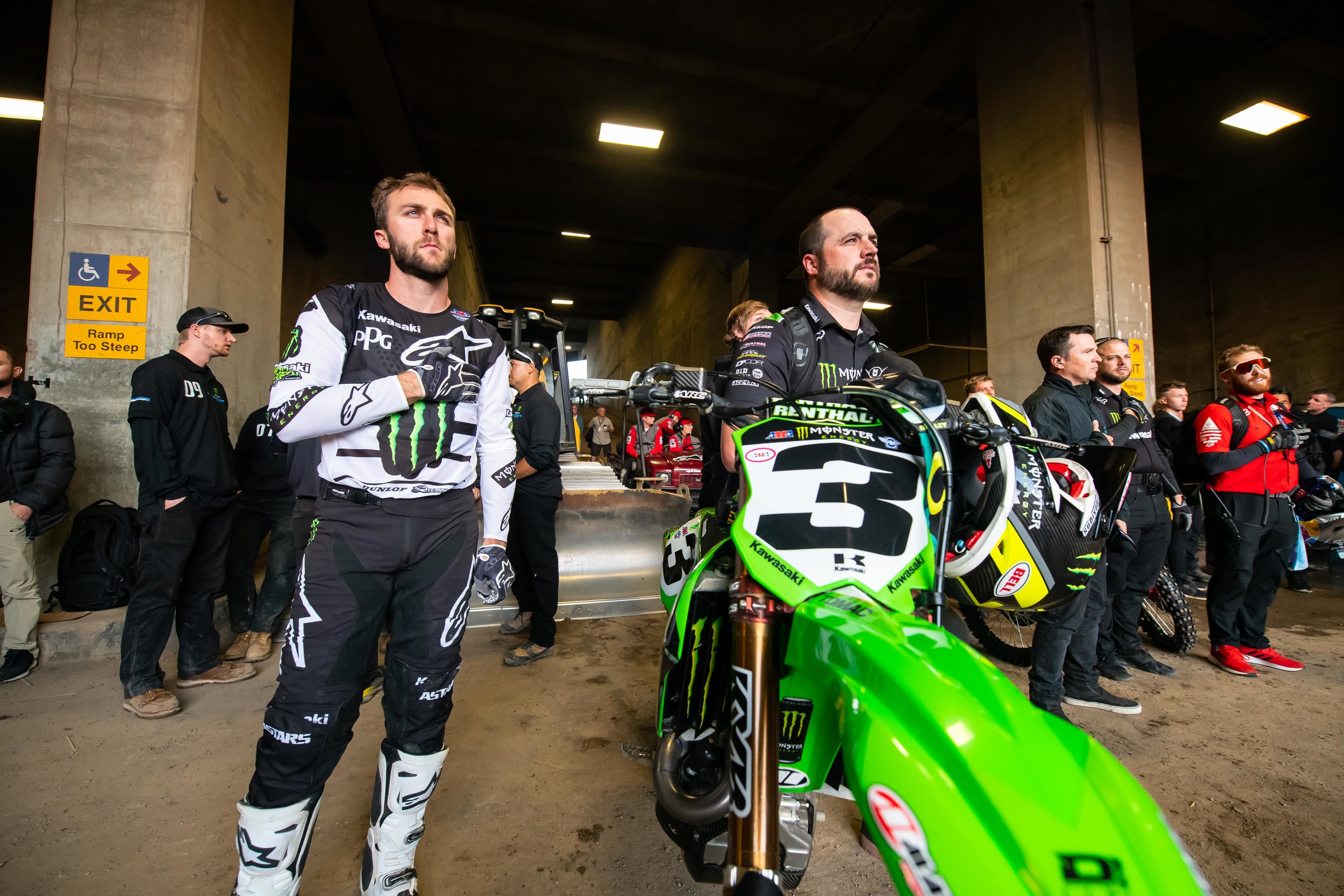 Well I'll tell you this, Eli. If we do go racing in September in supercross, and we get all the motocross races in as they have planned, let's say you actually win both titles. It will be the gnarliest gauntlet anyone has ever run. It'll be practically like an 11-month season. Here's your silver lining, if you can pull all this off: it would be like the greatest accomplishment you could have.
[Laughs] I know! And then we roll right back into January, right? With that being said though, I would much rather do that than have any of this going on. So if we have to keep going [and go right into 2021 real fast] then let's just keep going.
Now by the way, I don't know if you've announced this publicly. Are you expanding the family a little bit? Everybody kind of knows. I don't know if you're going out there and saying it. But is there another Tomac in the works at some point here?
[Laughs] Yeah. The first week of May. Myself and Jessica are expecting. That's the one positive out of all this scenario is I get to be at home and be a dad.
First week of May! That could have been the gnarliest time!
Salt Lake was May 3 and the due date is May 5. [Laughs] I was already sweating bullets about it, but now that's one thing. We get to be home! So hopefully our hospitals aren't overwhelmed. We're kind of freaking out about that. But that's the one positive out of all of this.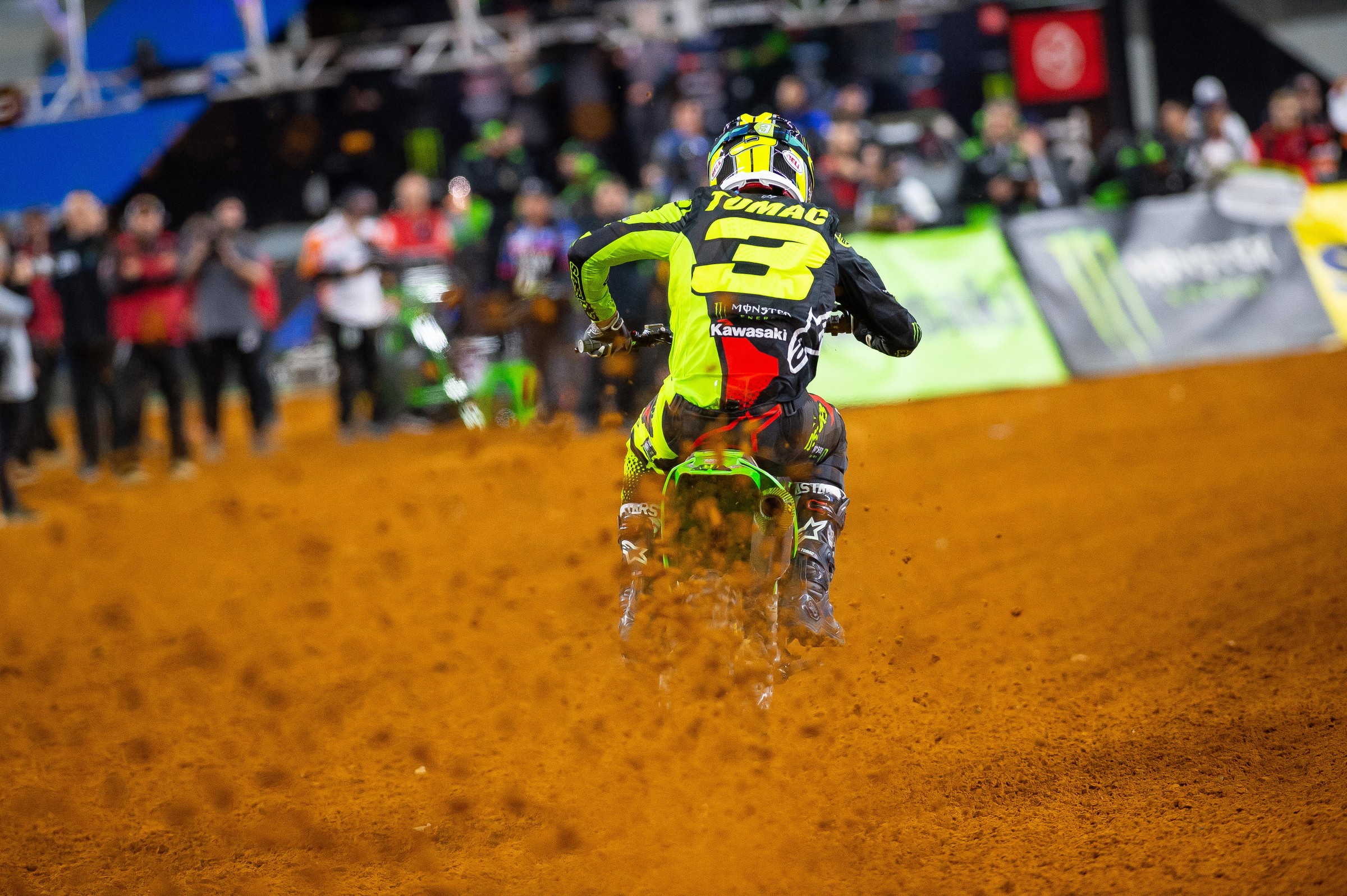 So hopefully by the time we go racing, baby situation will be rectified. But I've got news for you. Getting to the due date is just the start!
[Laughs] I know. I hear there's a lot of sleepless nights after it's here.
So let's throw that into this gauntlet that you've got to run. Were you thinking about plans beyond the due date, like sleeping in a separate room? How's the family going to travel to the races? How do you manage all that?
That's what I've been proposing to Jess is, hopefully I can get my sleep and I'll try to do the work in the afternoons for you.
[Laughs] Your job is a little different than others. You're a professional athlete so I think that's okay. A couple other random questions from fans. Some people are wondering when you go to the gate, what is your general mindset? Are you a guy that's trying to relax yourself as much as possible? Are you trying to go to the line angry and fired up? What's your strategy when you to the line right before a race?
That has changed for me. I would say in the 250 days I was way more spun up on the line, with a mix of nerves and anxiety and just more high tension. Even the first couple years of 450 that way too. I would say this year even I've changed that. I feel a lot more just level-headed on the starting line. I think it's maybe because I've just had so many starts now and I've raced with these guys so long that that changes in your mind. I still want to go out there and get it done, and get the wins. But I feel like the stress and the anxiety of not knowing what to expect has calmed down.
I remember you kind of feeding off that. In 250 days, I remember you saying, "I drank a cup of coffee. I got on the spin bike." Between practice and the night show in supercross, it was like you wanted to get yourself fired up, it sounded like back then.
Oh yeah. I still do all that, but there's still the mental part of the racing in your head of just really being more relaxed while you're on the line.
The guy you're battling right now, at least for the supercross title, is Ken Roczen. You guys have battled for a long time. It is crazy. You guys battled… He even showed up for a few amateur races here, I think? It kind of goes back more than people would think for a guy that wasn't even from the United States.
I know. We look back and I remember Kenny at Mini Os, when we were in 12-13 85 and superminis. You're racing these guys all the way back to amateurs. When you look back at it, it's really cool when you look back and you see you're racing the same guys.
I don't remember any specific issues between you guys, even now. I talked to Kenny last week and he said there's no bad blood. We just race.
That's the way it is. I think we both have similar mindsets on the motorcycle. We're really in control. Our styles might look different, but I think we kind of just race similar that way. I feel like we trust each other, we trust our lines. You're not really thinking twice about where either of us are going to go. I think that's where that mutual respect comes from.
[Laughs] Hmmm. Anybody else you've been racing a long time who's maybe a little different on the track?
There's always the one guy that's in the way [Justin Barcia]. You race them so long, you kind of know what to expect from them. I will say the 250 class is way different than the 450 class. The 250 class is just absolute chaos and you can't trust anyone.
But Kenny, that's about as close as you probably get. You can trust him there.
Yeah. There's certain guys that you would leave the door open for, and certain guys you don't. Obviously it's coming down to the last race, we're obviously going to take the line from each other, but it's not like they're going to go out of their way to clean you out for no reason.
Did you ever think, by the way, that passing him late in Daytona—and you only won by like .7 seconds—did you ever think, it's good to get the points lead? That could potentially be the championship right there. It's the craziest thing to think of it that way!
Crazy scenario that way. I wouldn't want to take it that way at all. We put ourselves in that situation and that's the way it is right now.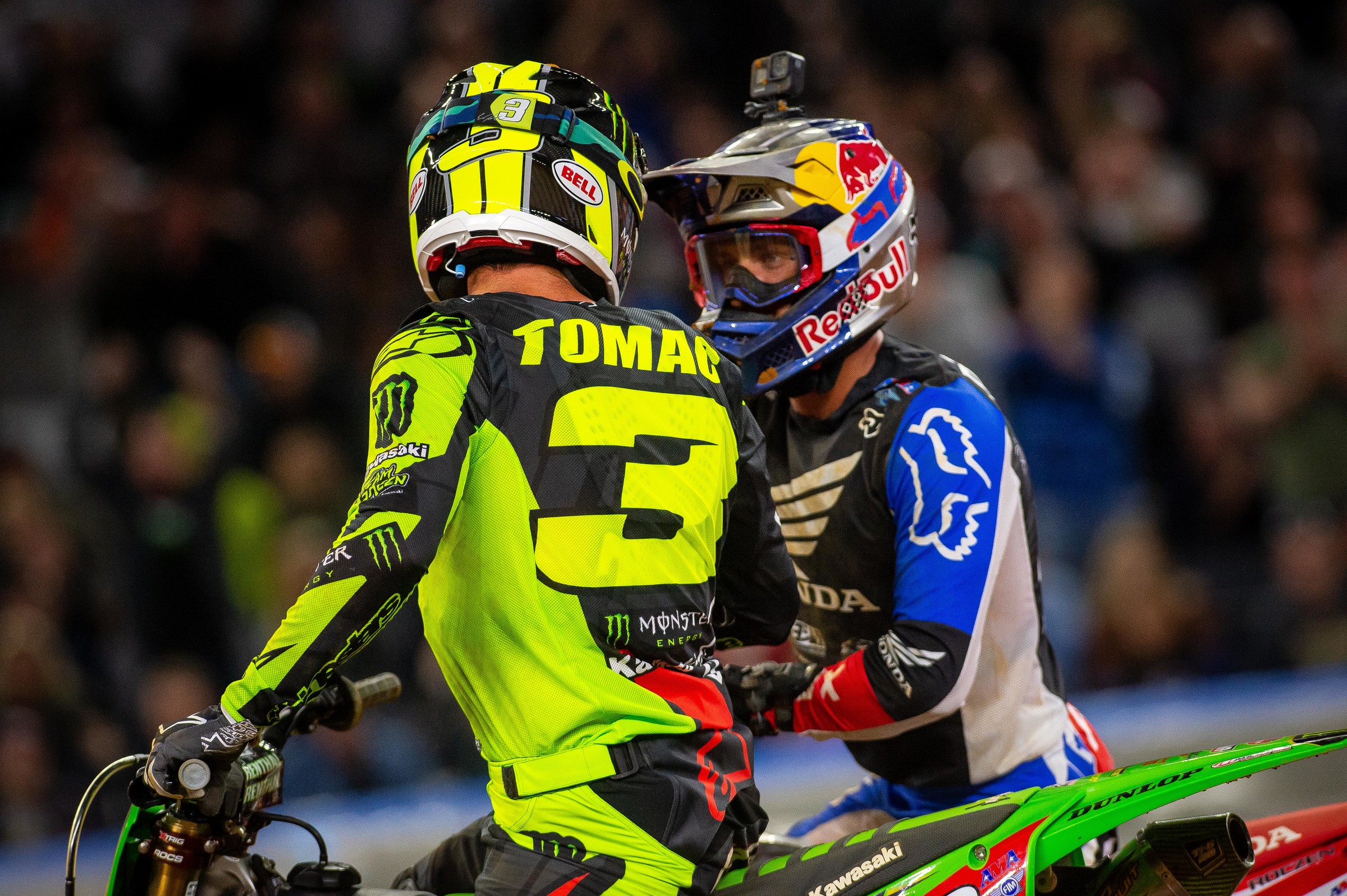 I know supercross is definitely that check mark that you want so badly. As far as motocross is concerned, you've won that title three years in a row. Is the plan to go into round one full bore, and just worry about supercross when you get back there?
At this point, I don't know what's going to happen. No one does. I'm not going to hold anything back. I'll tell you that, for sure. I'm not thinking about the supercross when we line up at WW Ranch [Motocross Park].
Thanks for the time. Normally I would really feel bad for taking your time, but maybe you need someone to talk to. Maybe you're just bored right now.
There's always something to do. I think everyone wants everything just to get back to normal. You don't realize how good you have it until it's not normal.
A hundred percent. We will never be happier than when we're just finally back at a race. That's all we want, is to just be back at the races.
It's like, who cares about complaining weekend to weekend? Let's just go race.