We talked to Ken Roczen a few weeks ago when the COVID-19 situation first hit, because he was one of the first riders to note how serious the situation might be—Kenny announced that he would stop doing public autograph signings until more was known about the virus. A week later, and racing went away completely, leaving Roczen and Eli Tomac stuck in a tight battle for the Monster Energy AMA Supercross points lead.
At that time, Kenny was still riding and trying to stay ready, but now we know the return to racing will be much longer, starting June 13, at the earliest, with the opening round of the Lucas Oil AMA Pro Motocross Championship. Has Kenny changed his riding and training schedule now? He sure has, and he talked to us about this in an Instagram Live video last week. We'll share the archives here.
Racer X: What am I taking you away from? What could you be doing right now if you weren't being bothered by me?
Ken Roczen: My wife just started up the grill, so I'd probably be sitting outside doing the grill, grilling up some food. But I don't mind doing this instead of grilling.
So, she does the work!
Exactly.
I talked to you two weeks ago when this first started, but I feel like it's changed since then. I feel like riders went from, "I've got to stay in shape, kind of keep riding mode…" Now we kind of know we might not be racing for a while. Has anything changed for you? Have you entered, "I'm just backing out completely and I'm just taking this as rest time?"
I did take a couple of weeks completely off. I tried to mix it up with doing just the things that I normally don't do when I'm in my season, things I don't mind doing, but I don't just because I'm really focused. You're just in the zone when it comes to racing. Right now, we're off, so we kind of get to enjoy being home. I took two weeks off. Right now, this week I kind of hit it a little bit harder again, just doing some running at home. I rode once. I'm not too worried about anything. This is really just me honestly being bored. Even after my run, all day… My wife has plenty of chores. There's so many chores to do around the house. I don't want to do that either. It's this weird middle thing of I'm bored, but I don't want to do any chores either, and then I don't know what to do with myself. So, I'm in a weird spot. It's cool being home, but it sucks being home when it's forced.
I've seen you go out to Utah and you have fun in Honda side-by-sides and stuff. With all this time, there's a lot of the cool stuff we would do if we could, but you can't do all that right now. That hurts.
Yeah. That's one thing that sucks. Being up in Utah is super fun. It would be really fun right now, just because when you're in the dunes, you're just away from people and away from everybody so that would be great. At the same time, my boat is in the water. My stand-up jets skis are in there. For this situation, I've got plenty of fun stuff to do. But now [in Florida] we have the same order of 30 days of nothing but essentials outside, so we pretty much are supposed to stay at home the whole time. But for the little property that we have, I got plenty of fun stuff to do around here so that keeps us somewhat busy.
You can do laps on your Z50!
That's right. That's what I've been doing. I've been getting arm pump like crazy.
Do you look at this like this is the only rest you're going to get? Let's say supercross sticks to what they're saying, which would be motocross goes June to September, then supercross goes September to October. There's not much break between then and next year. So, do you look at this a little bit like, this is the off-season?
Absolutely. I think that's what people forget. This moto industry, I think there's a lot to be learned here. It's kind of like what you're saying. People are going so hard right now on some parts to try and gain. But this isn't the moment right now. You've got to be smart with this. When I take my off-season, I take quite a bit of time off and then I feel like I'm on a whole different level right now than I am when I would normally start off my off-season training. So, there's no real need right now to go hard. I just still think that people are new to being so far out from racing. Everybody is doing all these 100-mile bike rides and moto-ing and all this kind of stuff. I honestly don't understand it, but I do my own thing and trust in my program.
You're probably going to have to be strong and fresh on October 1, which is not normal for your schedule. So are you thinking, "I'm in the supercross title fight. I got to be ready then?"
Yeah. All I'm doing right now for me personally is just staying healthy. I'm going on runs here and there, but it's just because I want to do it. I've been having fun doing it. Then the good thing is that keeps you fit, too. I'm not necessarily on a training regimen right now that Blake [Savage, trainer] sends me and says, "Do this, do this, do that." I'm kind of just waking up in the morning and I'm like, "Let's go on a run, and do that."
Got a couple cool questions here from the fans. Is there anyone you look back and think, "Man, I would have liked to have raced this guy in his prime?"
Honestly, it's never really gone through my mind. Having said that, I think it would be really cool a guy like Ricky Carmichael, that I'm friends with. We have a lot of good times together. Of course, it would be cool to race him. Honestly, I've never even really thought of it that way because there's just no real way that we're going to be able to. Unless one of those guys that are retired show up at a Red Bull Straight Rhythm, I guess!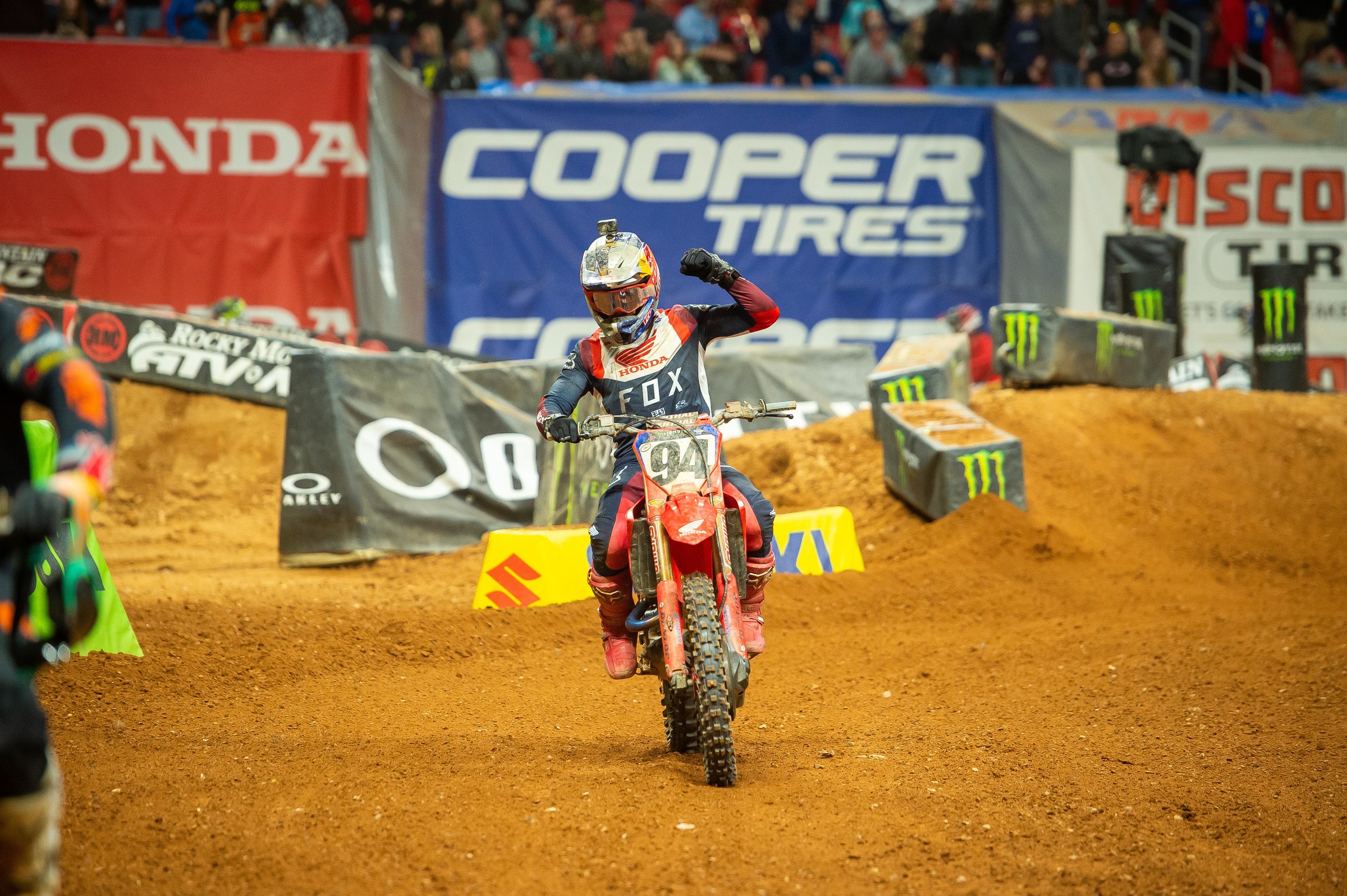 Don't count that out! We've mentioned that you were actually one of the first guys to even really acknowledge this when you said, "I've got to take time off from the autograph sessions." Maybe your immune system is a little compromised with all the stuff you went through with the arm injuries and surgeries and stuff. So are you a little extra worried, not just about the racing schedule, but also you don't want to catch this?
One hundred percent. Weird thing. Everybody looked at me weird when I said, "I'm not doing appearances right now," including my teammate, JB [Justin Brayton]. He was the one like, "Oh, no." Obviously now it hit really bad. There's still people who think that this is not even real, and who knows what they're telling us. Whatever. Everybody has their own opinion and whatnot, but for the time being, of course I don't want to be out there much and try to keep myself away from people just to not catch any of that. I'm trying to stay away from people for sure.
Do you have any good stories of wearing masks or gloves or weirdo steps that you've taken?
Court's [Courtney, wife] is doing the grocery shopping, so she's going into the stores and whatnot. I don't know if necessarily she's taken a mask, but for sure gloves. The furthest I've gone is probably three miles away from the house. So, I haven't really had to go anywhere. When I went to the gas pump to the gas station, for sure I wore gloves and whatnot. Actually, right now here in Lake County in Florida we've had two deaths. There's a lot of people that have it, and some of them are very severe. So, it's very real around here.
One question from the fans. Is your hair still red? What do you got under there?
[Ken removes hat, reveals bleach blond hair] I was over it. When I was a kid, I was always blonde.
Yeah but this is like 20 percent more blonde than blonde, right?
Absolutely. This is definitely died. I bleached it. I had red in, and I loved it, but the headache is not worth for how long you have it. After four days, it's starting to turn somewhat pink and then after a week, it's not even red anymore. I have some hair dye at home as well, but I just went for blonde. I'm honestly probably a lot more blonde right now because I spend a lot of time in the sun. So, I got a good, nice, little face tan going.
A couple other questions from fans I'll throw in. Are there any shows that you're watching or binging or anything like that to kill some of this time?
I'm open for suggestions. I'm a big movie guy. I like chilling at night and watching movies and TV shows. Honestly, I can't even think of how many good TV shows I've watched. You know the feeling when you're on iTunes or Netflix or whatever and someone's just scrolling through the damn thing for 45 minutes and you're still like, I don't really know what to watch? I just saw the new Ozark season came out, so I started watching that again. That one was really good. I'm always open for suggestions. We watched Tiger King since that's big hype right now.
You have a crew of guys that you normally ride and train and hang out with and stuff. Is it over? Do you not see any of those people?
No, I've definitely seen Adam [Cianciarulo] and Chase [Sexton] today. We were actually on the golf course. Adam lives in a private community a little bit further out, and there's not a whole lot of houses in there and the golf course was still open. So, we actually went golfing today, Chase, Adam, and I. So, I saw those guys today. Other than that, with Chase for example, he's just been at home too. So, I'm pretty certain that he's fairly safe. Other than that, we've really just been at home and staying in touch with them through FaceTime, doing group calls. I was on the phone with JB yesterday, Justin Brayton. So, this is the new thing right now. We're pretty lucky we have FaceTime and all those things.
If this happened like 30 years ago, I don't know what people would do!
For the people that I've talked to, everybody is kind of going crazy right now. It hasn't even been that long yet, but people just chilling at home. I know that also with husband and wife, the whole thing… I feel people are not meant to spend every single day morning until night with each other. The good thing is, I have my own shop over there. I have my PlayStation set up and things to do over there. So, I'm over there and keeping my space to Court, for the simple reason that I think it's healthy!
It's because she has a list of things for you to do, that's why!
That too. She's a busy body on her own. She loves working in the yard and whatnot. So, she's got a lot of stuff to do outside. She's actually doing a house flip right now, so I've helped a lot down there. It's just a few miles away from home. Been working quite a bit there. Doing a lot of yard work. A lot of leaves around here. Miserable. I told Court I wasn't made for this regular job type thing. I'm meant to do sports and go racing and whatnot. I have a very, very short attention span. I'll do something and I'm like, yeah, and then I get bored and I'm like, okay, I'm over it.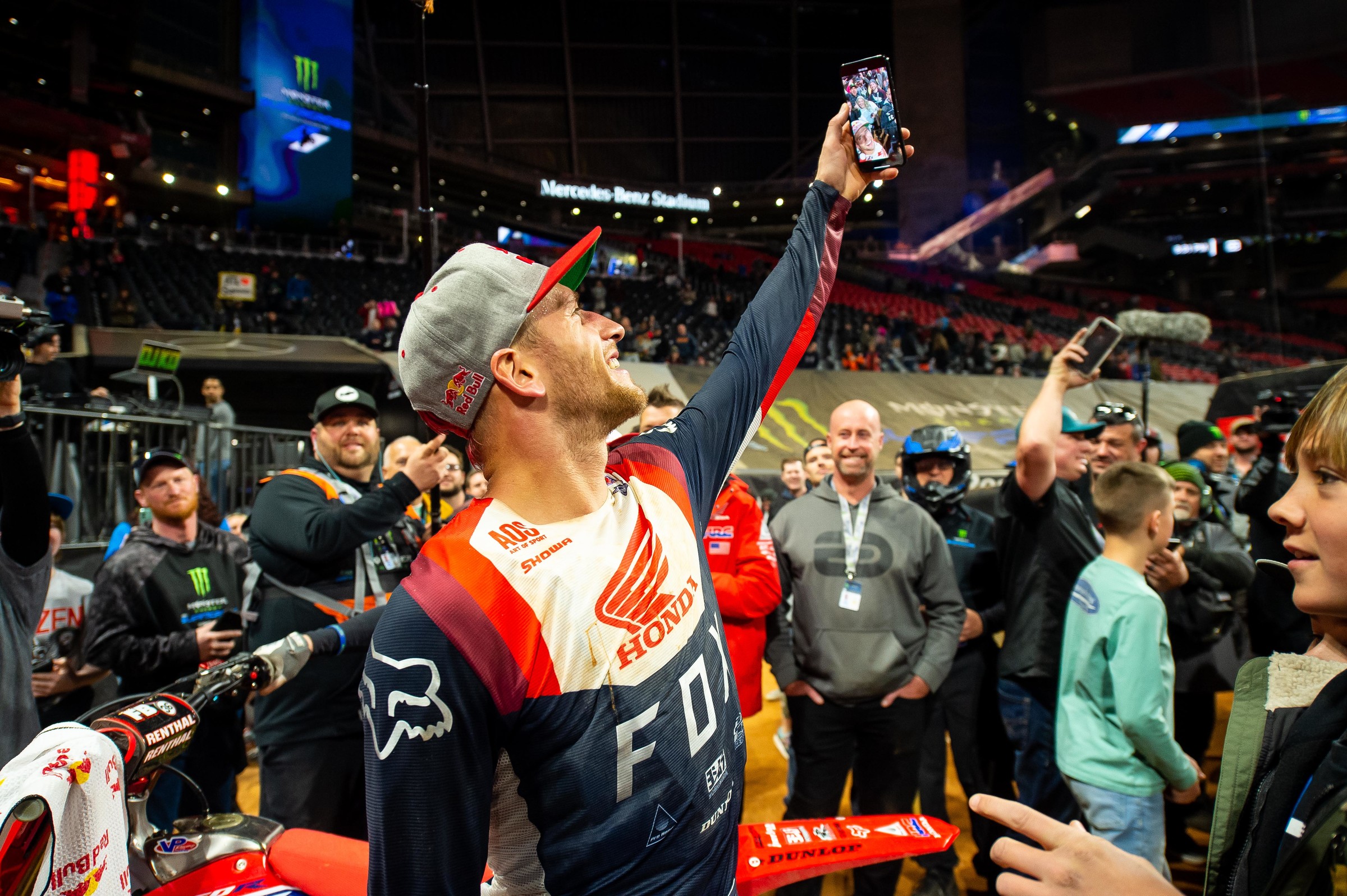 It looks like supercross will begin after motocross, and you're in a close title fight there with Eli Tomac. How do you approach motocross? You've won that title twice. You're obviously very good outdoors.
It sucks that it is the way it is. I would rather have continued supercross and get that done first, just because there's going to be a lot of back and forth. But at the same time, as of right now there's seven races scheduled, and there's too many races scheduled to be like, "I got to take it easy or don't get hurt," all that kind of stuff. It's too far out. That's what kind of the problem is with this whole thing, is really injuries. But at the same time, there's a lot of racing in outdoors. There's really no such thing as, I got to take it easy now. There's too many races in-between, is what I'm saying.
You can't say you're going to go at 90 percent for the next six months. What I find most of the time when I talk to you guys, is there isn't a calculator on the handlebars. You just ride. You just race and you just ride and hopefully everything works out.
Yeah, absolutely. That's the tough thing with practicing as well. Things can happen really quick. So, I honestly don't even think about it that way and I just treat every single day like it's a normal day. That's all you can do. If you happen to crash or whatever, then maybe it was meant to be. It is what it is.
As far as the motocross is concerned, last year you had some great races and you won again. But some other days were rough. Are you more confident that this could be an even better season than the last couple years?
Yeah, absolutely. I'm in a better spot right now. It should help out in every way, really, as soon as we get going here. I think I'm a little bit more natural when it comes to moto because I think I've done it just longer, because I didn't really have any supercross experience when I was over in Europe. So that should help out. I'm looking forward for a good outdoor season, whenever it happens.