You never know when Blake Baggett is going to be on fire at the races and score a win. However, you pretty much always know that his interviews will be bizarre. Blake was at the KTM 2020 team intro event on Friday, just getting back on the bike after an illness ended his Lucas Oil AMA Pro Motocross Championship campaign early. We attempted to ask him questions. We got the usual.
Racer X: Where have you been? Are you alive? Are you well? Are you going back into hiding right after this? We don't normally hear or see anything from you during the off-season.
Blake Baggett: This is just when this event occurred, so I'm here.
Are you going to go back into hiding?
I'm going to go back to where I was.
You told me last year you went 30 days without seeing another human besides your wife at one point last off-season and you liked it?
It's pretty nice, actually. It's like living on a different planet.
Are you going to go back to that planet?
I can't tell you.
Because someone might try to find you?
Yes.
How is dad life?
Dad life is awesome.
You have an apartment built down there?
See, you're throwing in trick questions like that. I'm not going to answer that.
Last time, at one point you were living in a fifth wheel trailer. Please tell me with dad life you're not living in a fifth wheel?
No. We got an apartment inside the building.
But that's where it's all based out of?
Yeah.
Living off the land?
Yeah, kind of.
It's pretty remote, dude.
It's pretty remote, but it's temporary.
Okay. There is a plan.
Yeah. I won't be there forever.
This is just for racing purposes?
Yeah.
He won't even remember those days.
Yeah, exactly.
Have you been able to ride much or really just getting back into it?
I rode Wednesday.
That's it?
That was it.
Getting the rust off?
I got four laps linked together. I'm telling everyone, that's not dust you're seeing out there, that's all the rust getting knocked off.
Is that what you did today?
I don't even think I have four linked together here today. Fresh track, new track. Know what I mean? It's not quite main event time.
So you dropped from the races at the end of the year due to illness. Do you have any idea what condition you're even in now?
I got my dad bod going.
When you rode last week on Wednesday, how was that?
Rusty. Haven't rode since Millville.
So can you tell physically if you're any better, or do you need to race and train to even know?
I feel a little better. It's not time to go yet.
Just from resting, or are you doing something?
I'm on some medicine.
Do you actually know what you had?
I ended up having parvo.
What's that?
It's got the same name as the dog virus. It's like chicken pox, stuff like that. You get it when you're little and then you're supposed to have it and then you never get it again. I evidently never got it when I was little, so I had it really bad. Then just from there, I had a bunch of food allergy stuff that everything I was eating I was allergic to.
Like your whole life?
Yeah. You get older, your body changes. I was just not healthy. Just weak and tired and achy. Felt like I had the flu the whole time. Basically why go to the races if you know you can't fight to win?
So when you look back, you were feeling that long before Millville? Long before you stopped racing?
I was feeling that before outdoors ever started. It just kept getting worse.
So at first you didn't even know that there was a problem. So was that moto win just a shocker now looking back?
It's High Point. It was luck. We'll say that. Nobody else raced. Nobody else wanted to win. I don't know. Whatever you want to say. You guys are like the tabloids. You tell me what I did.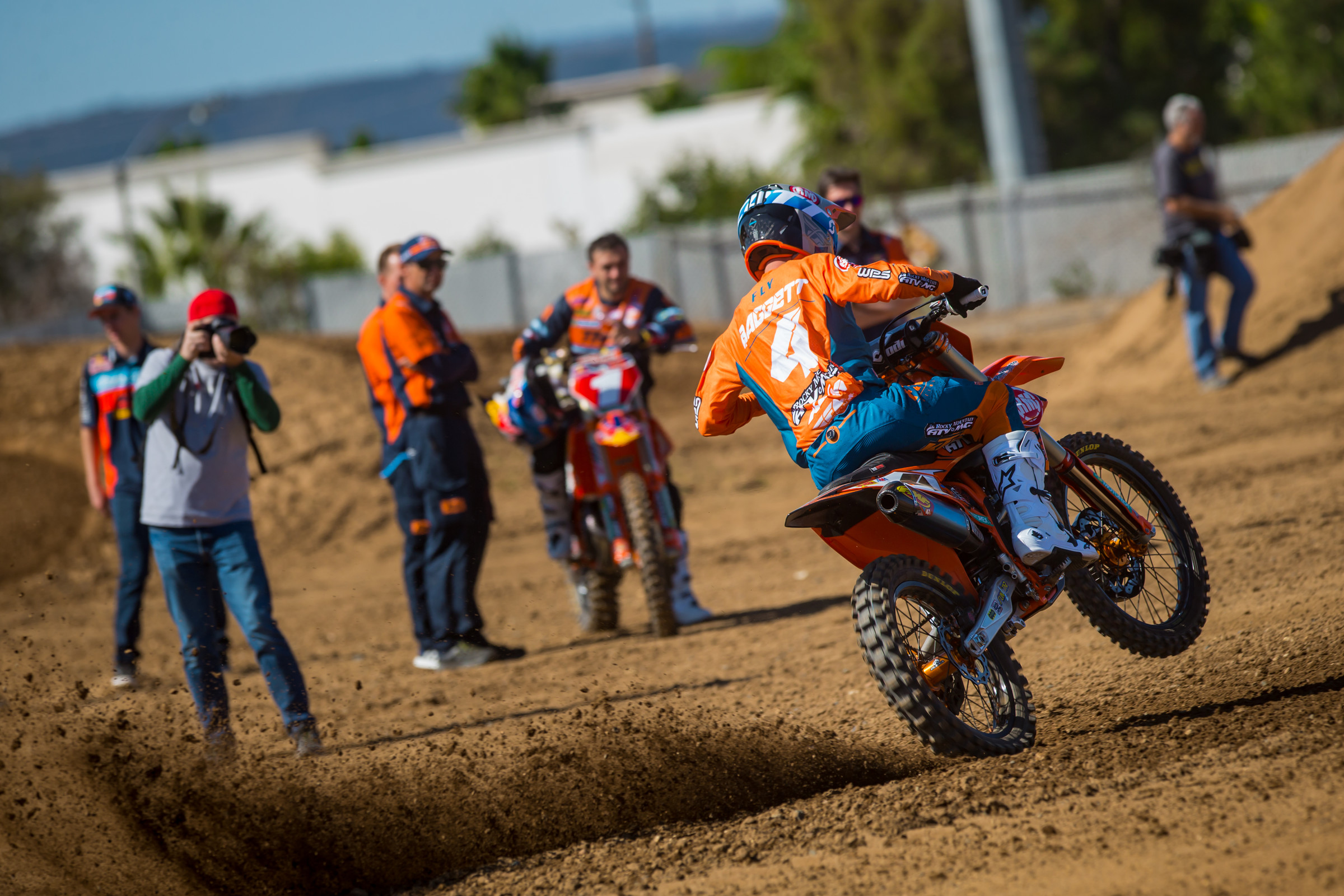 Well, you got the holeshot. You've become like a holeshot artist, man. It's come a long way from back in the day. That helped. You did start first at that race.
That is true. I did there.
It might have worked out at Pala, also.
We raced at Pala? I thought that was a pit stop at Pala.
We never saw your crash on camera, but I think it was a bad one.
[Laughs] It was big. When you have to come in for a new front wheel because it won't roll, it was a big one.
Are you confident that this is curable or manageable, parvo, and all this stuff?
You just said I won High Point, now you're trying to take it away from me that it's just gone forever?
Maybe you can just blame the parvo. You dug down deep. I'm giving you credit for digging down deep. Through the negative, you found a positive.
Yeah, that's it.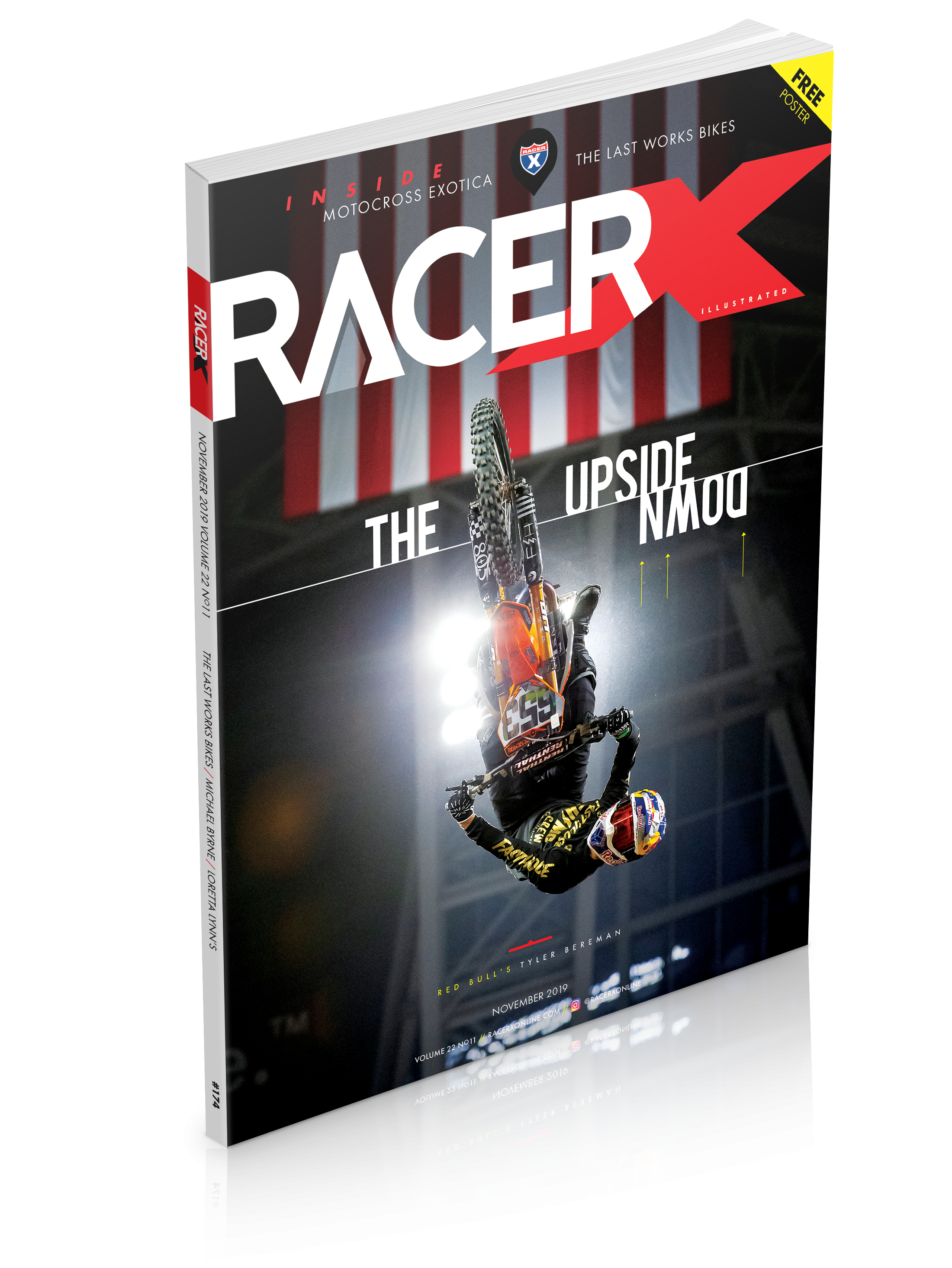 Racer X Illustrated Motocross Magazine
The November 2019 Issue
Inside the November issue of Racer X magazine: See who stood out and what our takeaways are from Loretta Lynn's and all of its future moto talent. GEICO Honda had a packed house at the last three nationals, but who's sticking around? Former factory rider Michael Byrne has made a successful jump to team management, and we find out how and why. When the AMA's 1986 Production Rule went into effect, it ended a glorious run of exotic, hand-built—and wildly expensive—bikes in AMA racing. We dig into the story of those final years. All these features and much more inside the November issue.
Read the Issue Now
Preview the Issue Now