Pomona, CA
Red Bull Straight Rhythm
Red Bull Straight Rhythm
Tyler Bowers brought his garage built Craigslist special—what he calls "The Unit"—to Red Bull Straight Rhythm. "The Unit" is a 1991 Kawasaki KX500. Straight Rhythm, though, doesn't offer a 500 class, since only one rider, Bowers, is crazy enough to even try to race a 500 on supercross obstacles.
Enter Travis Pastrana. He brought back the RMZilla 500 he raced at Straight Rhythm a few years back, and suddenly the Maxxis 500cc Showdown was born.
Keep in mind, supercross itself dropped the 500 class in the 1970s. These 500s were basically never supercross bikes. But Bowers and Pastrana put on an incredible show, with Bowers getting the edge 2-1 in the best-of-three format.
Racer X: You said something that I had not thought about. I know they never rode 500s in supercross, but 1988-ish—I know it's a '91 bike you're on, but they had not changed it the last few years. This is 1980s technology, and 1988 bikes had never done quads or skimmed whoops. I had never thought about the fact that the bike might just snap!
Tyler Bowers: Yeah. So people don't think about that. On the track, I knew I was going to clear the jumps and I knew where I was going to land, kind of. But I didn't know if I clipped it or something maybe a little error maybe wouldn't make me crash, but maybe it would make that bike snap in half. Because it wasn't designed to take these loads. It was designed to go across the desert, ripping, hitting sand whoops. It was great in the whoops. What it was designed for, was amazing. But the problem was that it's a '91 KX500 so you've got to think, the guy that sat down and decided to put pen to paper in probably '86, '87. Started working on it, designed it. A lot of testing took place and then they put it into production in '91.
But I don't think a '91 is probably different than a '90 or an '89. I don't think they were changing it.
That's what I'm saying. Even if it was an '88…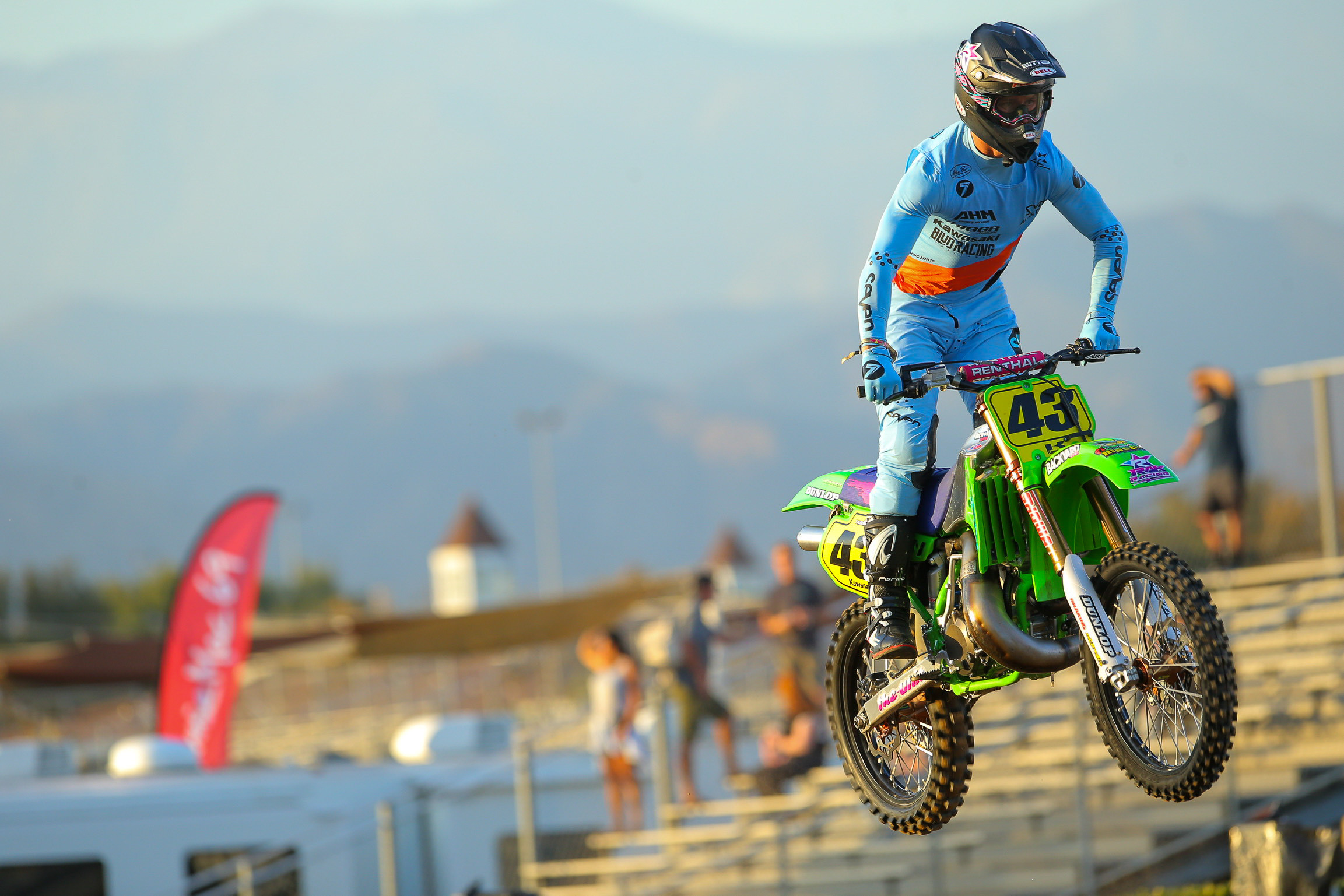 I think it's like an '88 with different graphics.
Some dude was designing it in like '85 probably, a couple years ahead of time to get it to production at that point. That's what I got. At that point, they weren't really riding supercross, and especially on 500s they weren't riding supercross at all. I was just talking, the trophy we got says 500cc class Red Bull Straight Rhythm. It looks like a misprint. It doesn't look right. The win is cool or whatever, but even if it was a second place, just to see that I competed in the 500cc class at Red Bull Straight Rhythm is amazing. To be able to go out there and hit the jumps I was hitting, with Travis doing flips next to me, was a dream come true. If I would have lost, I would have been just as pumped. It's amazing to just see this happen.
By the way, you had to go all out to beat him, right? He was fast.
I knew Travis was going to be fast, because he's Travis Pastrana. He comes in. Just the talent alone, if he was zero percent prepared, the talent alone is going to carry him through. I went through the first run. I kind of clipped the quad and then had to double-single out. He was next to me going into the whoops and I knew I was in trouble. I'm a whoop guy. Seattle Supercross, gnarly whoops, it was myself and Dean Wilson and maybe one other guy crushing the whoops. I went into the whoops nervous because I'm like, Travis is not next to me but he's like a wheel behind me. I'm like, I'm screwed. He's going to crush these whoops out of control and just launch the finish line and he's going to win. And he did! He won by a split-second. He was off the side of the jump. I was sideways going through the whoops. I look over and Travis is just as sideways. But he was crazy enough to stay on the throttle on a 500 to go over the finish line like that. So it's just a dream come true. To be able to race with him like that, it's weird. I don't even feel it really, right yet. Tomorrow morning when I wake up I'm going to think about it for the week and it's going to be weird. I raced Travis Pastrana on a KX500 in a straight line with no turns. What? It's so weird.
You worked on this yourself. This was totally you. You're a decent enough mechanic, I guess, but where would you even rate yourself?
[Laughs] I'm a really bad mechanic. Decent enough mechanic will get you by. Then there's good mechanics, like way lightyears ahead of that. I'm decent enough. Kind of maybe. We might not have a mechanical failure to get me by for the weekend. Which we had a few this weekend. We had some in practice this morning. My brakes were dragging just because some stuff happened with the brakes the last week and I needed to bleed them and I didn't know what I was doing. We got them almost too good, actually. I actually had to put air back in the line. It's just myself and a couple buddies in the garage, drinking beer and building a KX500, which is maybe a bad idea with beer. But it came out alright.
What is the suspension on this?
I got the 450 front end on the 500. The forks are kind of my spec from 2016. Then the shock was weird. I got a shock midway through the day yesterday [Friday] . That was a MacGyver of some weird Suzuki parts and some other old, old weird parts laying around a bunch of different shops that Showa hadn't been able to get together. A decent 18-millimeter shaft and a good shock. So at the beginning of the day yesterday [Friday] it was bad. It was really bad. I had been riding it. I knew it was bad. But how many people have time to test with a 500 at a supercross track? There's more important things. I get that. We got it together midway through the day yesterday [Friday] . We got a good shock on it and it was working pretty good. I was able to hit some of the big jumps. It works alright.
Compare a 500 two-stroke to a 450 four-stroke. Is it faster, slower, just not comparable?
It's not comparable because I don't know if it's faster because I don't think I've ever reached the limit of the 500 yet. But I have reached the point in where a 450 is more predictable. A 450 is pretty fast from low end to top end. A 500 is horrible at low end, and then there's a mid-range where it just takes off and you jump another 20 feet past the landing. So it's very unpredictable. If you can get it in the low end the whole time where it's just not very fast, okay. If you get it in the top end where it's just aggressive the whole time, then you can kind of know where you're going to go. But the problem is when you land a jump and it's really low RPM and then halfway up the lip it picks up and it takes off on its own, and then you go another 20 feet!
There's a reason they didn't race these at supercross ever.
There's no precision involved at all.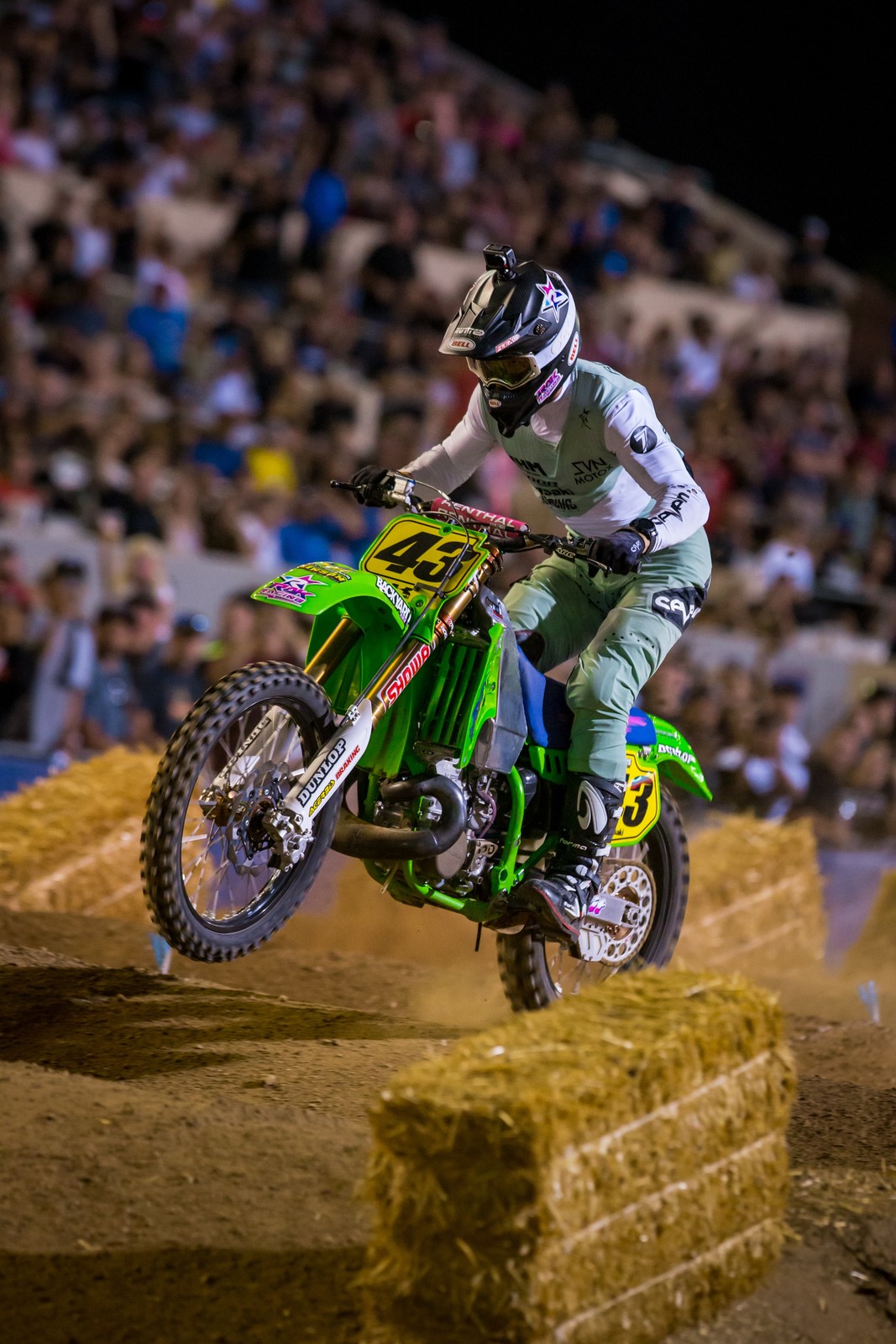 This isn't even throwback. They never did this at any time!
Like I said, I was talking to somebody and the 500cc [phrase] on my trophy, it's insane to see that. I was over in the corner and Broc Glover and David Bailey were sitting there and we were talking about 500s. Broc was like, "I love the KX500 just because the power delivery on it and the way it handled." I'm like, dude, I'm sitting here… They were done racing before I was born! Broc Glover and David Bailey were racing these things, and I got to race it tonight on a supercross track. It's just insane to think about that, and then talk to them about it. It would be different if they were in the stands or anywhere, at home watching it on TV, but they were here tonight and I got to talk to them about it. It was cool.
Did they talk about things they noticed riding a 500?
Yeah, they did. We both talked 500s, like, if we did this it would drop the sag, or something like that. Some spec changes. That to me is amazing. They gave the compliment—maybe they were fluffing me a little bit when they said, I'm really happy you weren't riding 500s when we raced them. It's crazy to think of these guys, Washougal back in the day, just sending it the way they were. It's insane.
Here's what we learned. I've always wondered, do bikes advance or do riders advance? The bottom line is, no one back then would have ever jumped a quad on a 500. You did it. You took the old bike and did things no one would do back then.
Absolutely. I think it works together. The bikes advance enough for the rider to take that leap of faith for the quad. I think it's just progression between the bikes and the riders and the engineers and everybody involved. It's crazy to see how far we've come. Don't get me wrong. It's a '91 KX500 bare to the bones. There's some things that make it easier to work on, but it's a '91 KX500. So, back then the engineering was maybe just different. But nowadays the bikes, you can make mistakes and not lose as much time. I don't think it's easier to go faster on them, but I do think it's easier to be perfect every lap. Nowadays you can stall the bike with three turns left and you're winning the race, and you can just hit the electric start and you didn't lose any time. That thing, the 500, I got to spend 20 minutes just trying to get it at top dead center, and then it starts first kick. It's kind of amazing!
---
Main Image: Spencer Owens