Pomona, CA
Red Bull Straight Rhythm
Red Bull Straight Rhythm
Last weekend, Joey Crown was at Pleasure Valley Raceway in Seward, Pennsylvania, racing Travis Pastrana's Pro Challenge with Pastrana himself, Mike Brown, Damon Bradshaw, and Darryn Durham. On Saturday, the privateer won the 125cc class at Red Bull Straight Rhythm in dominating fashion, as he finished as the fastest qualifier and then carried that momentum into the night show where he won all of his one-on-one battles to take the class win.
Following the racing, our Jason Weigandt caught up to Crown, a privateer, to talk about the event, what he's been up to in the meantime, his plans for 2020, and more.
Racer X: You won the 125 class. Where does it even come from?
Joey Crown: It kind of came together as a though like it would be cool to do Red Bull Straight Rhythm. It's been a rough year. I haven't really raced much at all. I didn't really honestly think it was going to happen. I was like, my buddy had a bike he said I could use. It was just kind of one thing after another coming together, and we're here.
So it's not even your bike?
No, it's a friend's bike. I was stoked he let me use it. My buddy, Colt, he let me use it. Definitely really happy I came out!
So you were racing at Pleasure Valley Raceway in the Pastrana Pro Challenge just last weekend?
Yeah. I was there. That's basically on the East Coast, so that was about a 35-hour drive probably. Took us a couple days to get here but winning makes it worth it for sure.
But there you didn't race this bike?
No. I had another 125 I raced "Brownie" on, so that was pretty cool. A YZ125. Then this one was set up for supercross and just for here.
As you were driving out here, was the idea, "Oh, maybe I'll win?" Was that crossing your mind at all?
A little bit, yeah. I was confident in my ability. All the racing I've done, I've always believed I could do way better than I have been doing lately, but this event, and I've struggled at supercross races this year, but I'm pretty good at it at least on the practice tracks. It's just, when race day comes, I've always struggled, which kind of was happening yesterday [Friday]. Then I was able to figure it out. I was pretty confident the guys I was against, which I knew they were good, but I knew that probably on a regular race I could probably win. This is a completely different animal. So I was trying to have that kind of hype me up and give me confidence.
What did you change between Friday and Saturday? Is it bike, or is it just you, or is it just getting more laps?
It's a lot of different things. I definitely made a lot of changes on the motorcycle. Riding Milestone [MX Park] compared to coming here riding this thing is a lot different. The whoops, they weren't very big and then here—not that these were huge, but that was the biggest thing. I let the whoops kind of overwhelm me a little bit and that was wrecking my whole run yesterday [Friday]. So then today [Saturday] I got it figured out and was able to make it happen.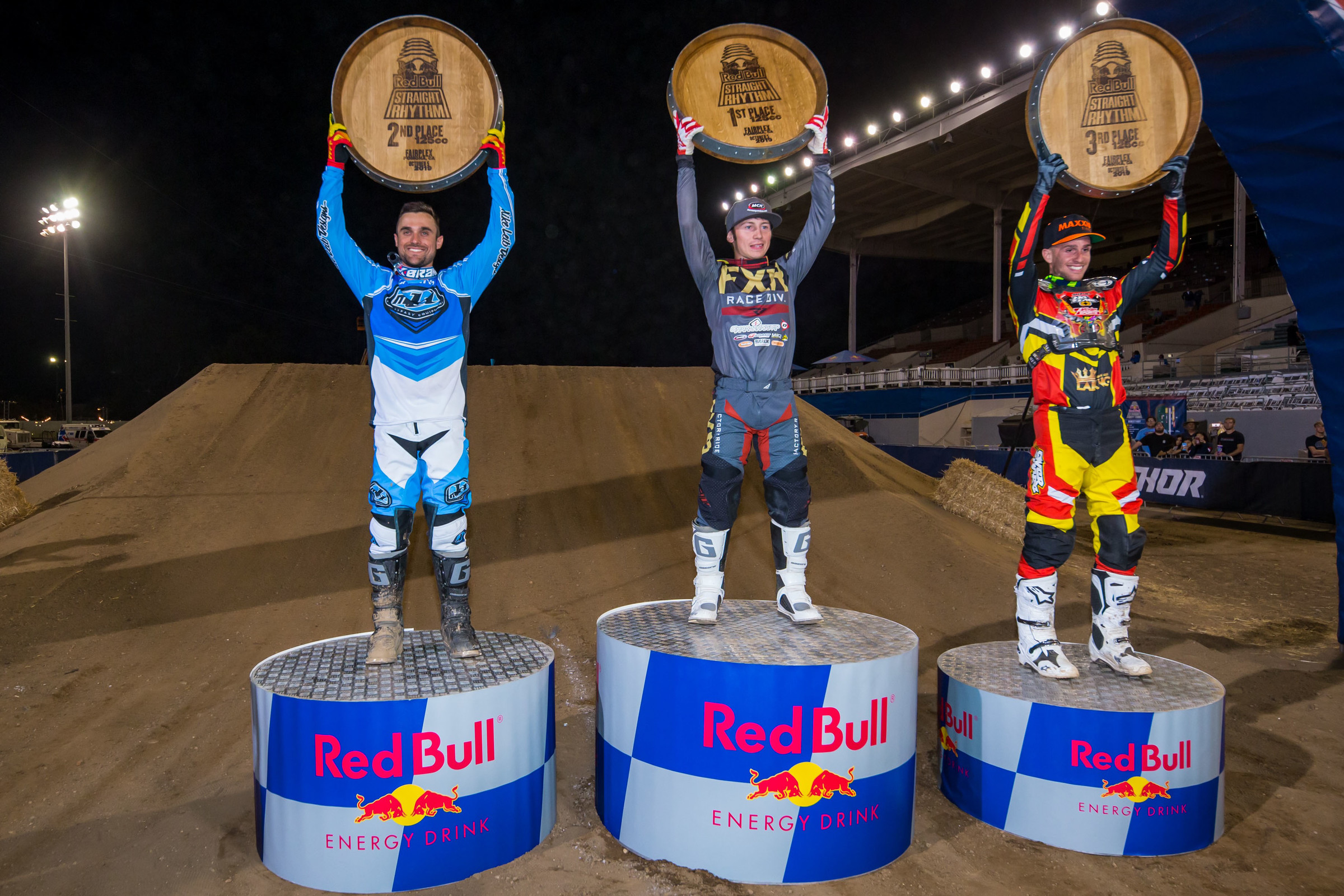 So you ended up fastest in qualifying, but you were kind of confident coming in. So was that a big deal?
No, it was a pretty big deal. I felt like I was getting faster. I was kind of unsure of some of my lines and things, and then fastest in practice kind of reassured everything that I was doing was right. That was definitely a good confidence-booster going into the races.
How did you deal with the pressure of actually delivering? You knew you could do it with the practice time. What was it like dealing with the pressure and executing it?
You think Straight Rhythm's fun and whatever, but there's a little money on the line, and also a lot of press, too, involved. A little bit of pressure. Especially being up there. I was the fastest qualifier, so I was the first run for the 125. So sitting up there forever in just your own little box, basically, and thinking about it. I was trying just to chill and listen to the old music and stuff and try to keep the mood relaxed, but it's pretty nerve-racking because it's hard not to think about it. I started with Carlen Gardner, which I did runs with him all day in practice. It was funny we ended up our first race was together. So I was pretty confident I could do it, but it was still, if I make a mistake he's right there. It was definitely not easy.
At times there must have been huge gaps waiting for your races. There was so much going on, the 250s, then later they had to fit the 500 showdown in there. There was probably a lot of time to think about it.
Yeah, for sure. After my first qualifying race, I came back to my pits and chilled a little bit. I went up there and then sat around and waited for a while. Some guys crashing, and "Hanny" had some issues. So we were sitting around waiting a lot up there. So it's hard when you're sitting there and all of a sudden, [they say] go ahead and race. It's zero to 100 right out of the gate. It's right into a sprint. It was definitely a little challenging.
I was surprised to hear people telling me you were doing some riding with Pastrana leading up to this. So how do you have a connection there?
Actually my dad wrenched for him towards the end of his career. He was doing a little bit of supercross, supermoto, freestyle, traveled X Games, and X Fighters all over the world.
Your dad was a mechanic at these things?
Yeah. He was building tracks and stuff and fixing everything that Travis would wreck when he does his crazy stuff [laughs]. So that's kind of how I connected with him. I've been to his house a couple times. Thought it was perfect. He had a Straight Rhythm course built, so that was kind of another incentive to want to do this. Racing here was excuse to go to Travis's house and play! I like BMX'ing. They have a cool skate park there. Also played in the foam pit a little bit and pulled a flip into there, so that was pretty sweet.
But only into the foam pit?
Yeah, only into the foam pit. Dirt, it's probably going to be a long time from now, if it ever happens. Maybe when I retire from racing motocross.
How did the race go last weekend? That went well, right?
Yeah, last weekend was pretty solid. I won the 125 class and 250 class. Struggled a little bit in open but came away with a third so it was pretty solid.
What do you think for next year or the future, or even the rest of this year?
A little bit. The tentative plan is supercross. Not really sure on what color bike or what bike or if I'm on a team or anything. Tentative plan is supercross or if anything, if I get a ride, maybe go to Canada, but most likely supercross. Hopefully do good. Roll this momentum into supercross.
It definitely showed you can do it. It didn't work out in any other races this year, but you showed some skills here. You do those whoops. You clearly know how to ride supercross.
Yeah. Yesterday was kind of a flashback to supercross. I struggled in the whoops a lot in supercross. I kind of rushed in with supercross this year. Wasn't 100 percent with injury and thought it was going to be easier than it was. But you get to the race, it's so much different when you're a little off. You're not making the main. It's hard to be a little bit off because if you're on, you're top ten, but then if you're a little off, you're not even in the mains. So definitely hopefully have a really good off-season. I haven't had one in ages. I want to be healthy rolling into the season and take some of this momentum. It's cool I at least showed some people that I can at least hit a rhythm section good! [Laughs] Turns are pretty darn important, but I can go in a straight line pretty fast, so that's at least part of supercross!
---
Main Image: Spencer Owens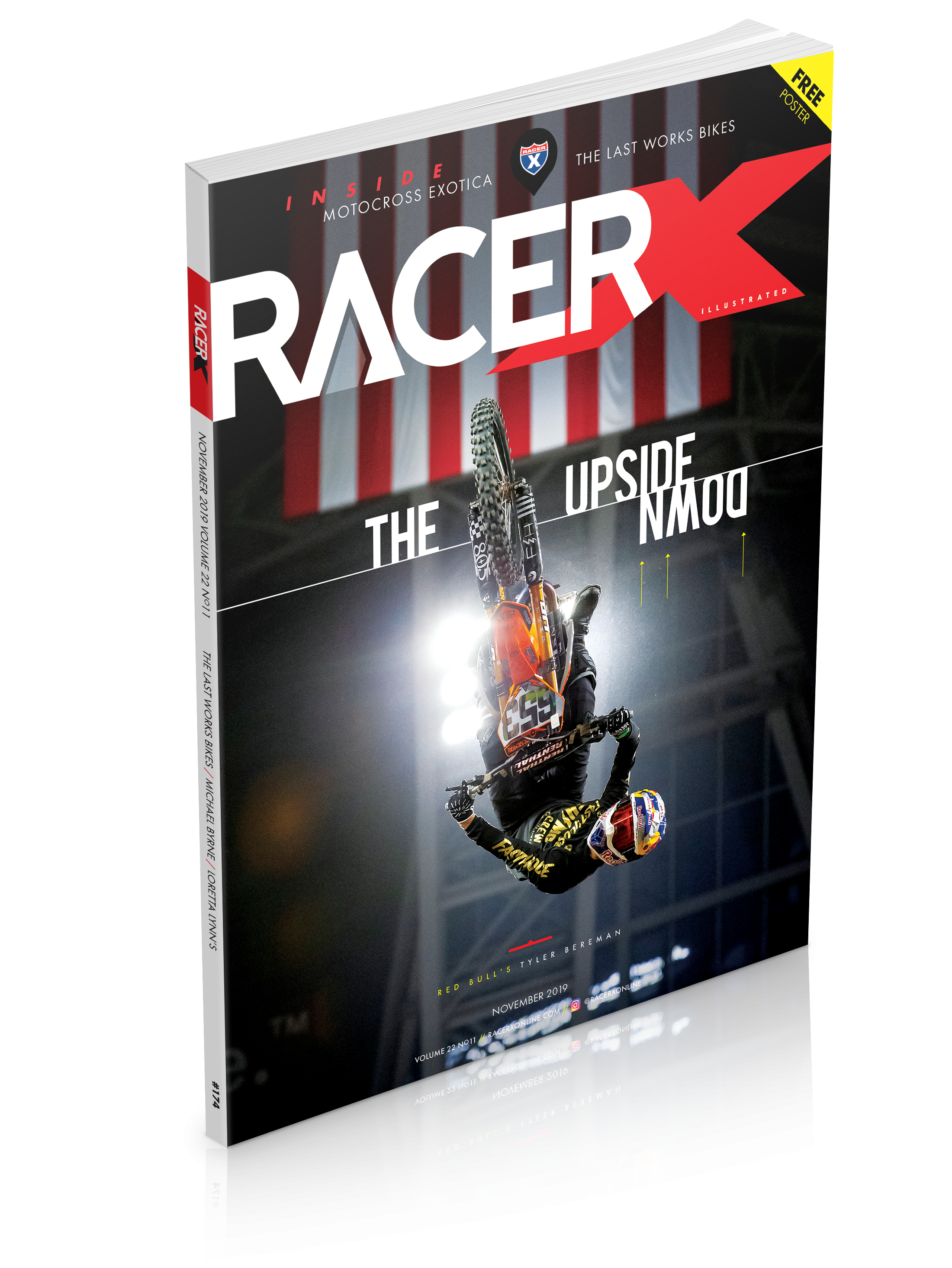 Racer X Illustrated Motocross Magazine
The November 2019 Issue
Inside the November issue of Racer X magazine: See who stood out and what our takeaways are from Loretta Lynn's and all of its future moto talent. GEICO Honda had a packed house at the last three nationals, but who's sticking around? Former factory rider Michael Byrne has made a successful jump to team management, and we find out how and why. When the AMA's 1986 Production Rule went into effect, it ended a glorious run of exotic, hand-built—and wildly expensive—bikes in AMA racing. We dig into the story of those final years. All these features and much more inside the November issue.
Read the Issue Now
Preview the Issue Now