Honda HRC's Ken Roczen came dressed as Honda's Jeremy McGrath for this year's Red Bull Straight Rhythm, and he did the "King of Supercross" proud by taking the win. Roczen didn't just have a replica of McGrath's old CR250R, but he had McGrath's actual race bike from 2006—the last two-stroke that ever led laps in a supercross main event. The 2006 did feature special graphics to make it look even more retro, as Roczen and company went for a mid-1990s look, including a 1994 McGrath number plate on the front. Fox also made Kenny gear that looked exactly like MC's stuff from 1995.
In the race, Roczen wasn't the fastest in qualifying, but he stepped up come game time, first holding off a super-fast Josh Hansen, in a run where they turned in the two fastest laps of the event. Roczen then defeated fastest qualifier Brandon Hartranft in the 250 final. We talked to Kenny in his motorhome after the race.
Racer X: So how do you look at this? Were you super focused on this, taking it super seriously? What did you even expect coming in? Was this fun, or were you like, I want to win?
Ken Roczen: No. I probably should have taken this more as a fun race, but we had some problems with the bike. They weren't big, but I'm like, it's doing this there, this there, this there. Just little things. But I never really raced a two-stroke, so it might be kind of normal to have a little sputter or something like that. I don't really know! So we were trying to get rid of that. I got the bike better. Then I had to go so much stiffer on my suspension. Our test track is kind of tight and slow. You come in here from those sections and it's a 90-degree wall, bang, you go metal to metal. But my guy, Brian, he did a good job. We stiffened everything up. I wasn't bottoming anymore and everything so we did good. Once we got all that dialed, I was like okay. I'm just going to go ride and race. My biggest fear was Hanny [Josh Hansen] because he didn't do that section. I'm like, I'm not even going to do it. I haven't done it all day. I'm not going to do it now. I'm going to keep it safe. So we get to that spot. It's [Hansen's jump combo is] a lot faster. So I tried to put as much gap as possible. But then he blew by me. He was so far ahead of me. I'm like, "There's no way I'm going to catch him again." So then I just started scrubbing the shit out of the walls. It might not look spectacular, but I was leaning the bike over at the very bottom of the takeoff. I probably scraped my side panel on the freaking dirt. But I had to make up a lot of time. Then I just held it wide open in the whoops.
You were so good in the whoops.
They were gnarly because we come in with a lot of speed, then they get edgy, slippery, and you miss some or whatever. They were gnarly.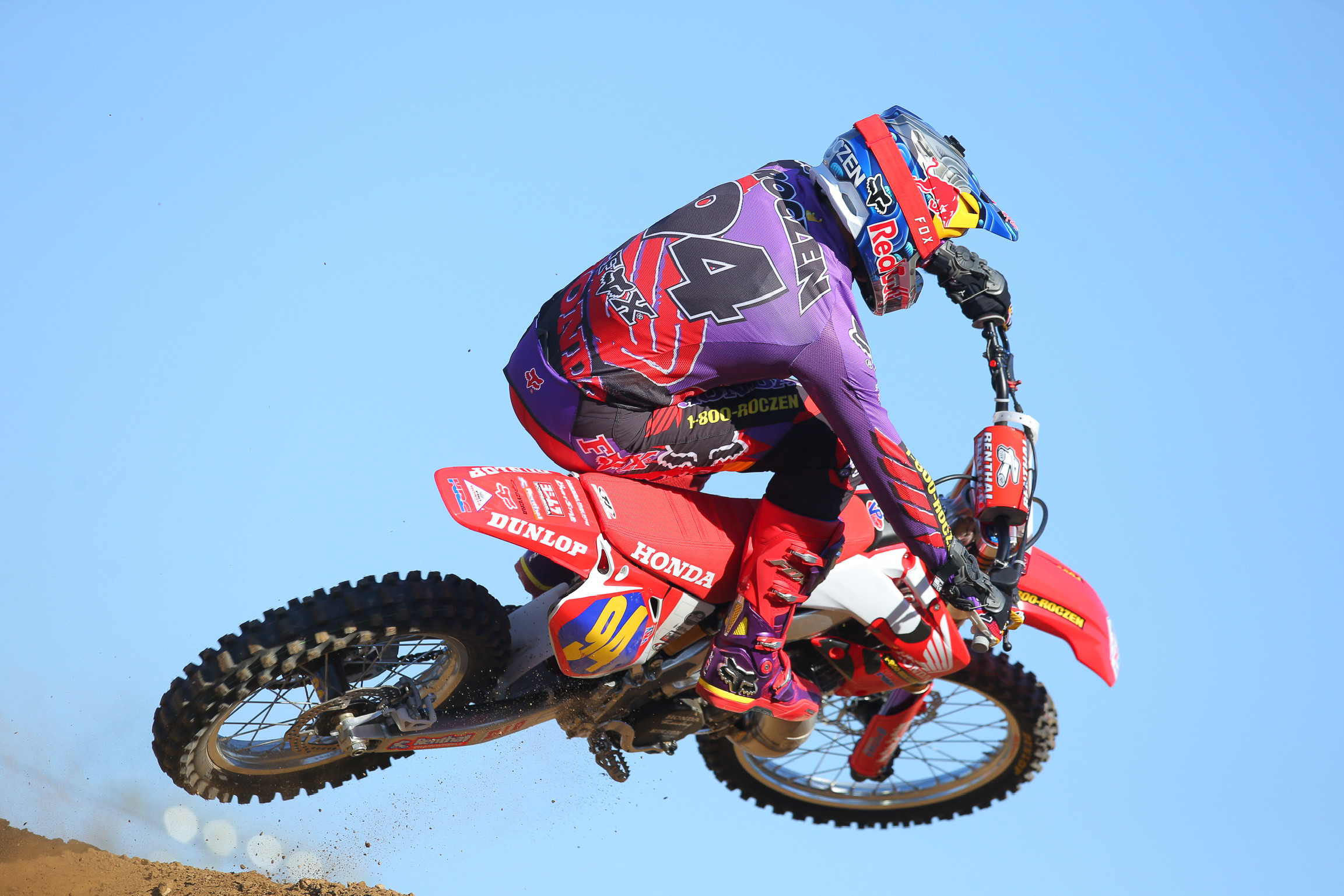 It didn't look it for you, but other guys were getting sideways. But for you it was actually sketchy? It didn't look sketchy on your runs.
I might be a little bit over…not overly careful, but I don't like to get out of whack. So as soon as it goes like, even just a little sideways, I'm like, oh no, it was sideways. And it wasn't even that big of a deal but I was like, we got to get this better. I'm a little bit of a perfectionist when it comes to that.
But what it sounds like, when it came to race day, you were treating it like any other race. You were trying to get the bike as good as you could. You wanted to get it and win.
Absolutely. Then it was a big lineup. Everybody was kind of going good and everything so I'm like, this is going to be gnarly. So then it went to Hanny. It's a long road to the finals. Brandon [Hartranft] was freaking on it all day. So I was like, I got to get my stuff together.
Do you even know Hartranft at all?
No, not at all.
I wouldn't think so.
You wouldn't look at him as the guy to be in the finals. Respect to him. He was freaking good. He was phenomenal. I just was happy once this whole Hansen thing was over. No more quads. Nobody's doing it. We're good.
How much time had you actually put in on this bike? I think because of the McGrath video a few years ago, people think you ride two-strokes a lot.
No, not at all. I rode it three times overall. I went to Lake Powell for a week. Wasn't even here. Came back. I had to do a video shoot for Fox. I was back on a 450. Thursday after, I rode the 450. I went back on a 450 and I felt completely comfortable. I went back to the 250 and everything's gone to hell. I'm like, what am I doing here? I was casing the little doubles and everything. The power band is so delayed. Four-strokes have so much bottom end and they're so consistent. So I was tripping. It was really bad. So that was Thursday. Then I came here Friday, yesterday, I was pretty uncomfortable. Then today I was super uncomfortable all morning too. I'm like, man, let this just be over. Then we got suspension dialed and everything, and then I was like, "Okay. Let's do this."
I saw you taking test runs down the straightaway here in the back of the pits. Was that to dial it in?
That was Lars. He had my helmet on.
But was that to try to dial it in?
Yeah, just jetting and everything.
Is the two-stroke fun?
Yes, but no. Not in supercross. It really isn't. It's too sketchy to me. I'm four-stroke all the way. I've been four-stroke for a long time. I haven't gone through that era of two-strokes. I never raced 125. So it is fun, but I'd enjoy it a lot more in outdoors I think and cruising instead of doing a race with something like that.
Just go play ride is good.
Exactly. The wrong bog at the wrong spot and it's over [on a supercross track]. I guess that's how I think. I think it's a lot more fun for the people outside because listening to them is sick.
What made you do this race? You've done it once. You didn't do it a couple times.
I don't know. I haven't done it a long time. Red Bull doesn't put pressure on us to do it. It's just always extra risk and everything. So I felt like this year was kind of like, okay, let's do this. I'm not even riding Monster Cup.
You're trying to take it easy?
Yeah.
How are you doing with everything else, physically and all that? Is it coming around?
It's been pretty good. It will be interesting to see once I start training to see how everything goes.
You're still in kind of just off-season mode right now?
Yeah. Not this Monday but the next Monday is when I legitimately start.
Is there reason to think that you maybe put that behind you? Or you really have no clue until you start?
I don't know.
Really? It's still that mysterious?
Yeah. We all know what it was. Nobody wants me to do a statement or anything. I keep doing my tests and everything and the rest is just let's see how it is when we start training how I recover. It's weird. I am not afraid to put in hard work, but there's a difference—I say it all the time and people don't understand, but there's a difference in being like, okay, I did a lot of training. I'm kind of tired. I'm bogging down. There's a difference between that and then I've hardly done anything yet I'm fatigued and I feel empty. It's way different. People don't understand. The only thing I can say is that's the case. I know my body, how it feels like after doing a lot of training, or I know my body when I feel like I have the flu and I haven't done anything hard at all.
You guys know your bodies better than most people. That's literally your job.
I'm a perfectionist. Whether it's the bike, gear, helmet, it doesn't matter. I'm a perfectionist with everything. If there's something a little bit wrong, I want to fix it.
Let me just throw a prop to that gear you had. Talk about that a little bit. That gear was sick.
We were actually working on something different with blue, white, red. I thought that would have popped a lot better. Now they put black, red, and purple, I did like the purple but it was a very dark gear. So I don't know how people took it or not. But people seemed to be okay.
I don't know if the colors looked good. I just think it was excellent as far as looking authentic. I think purple sucks, but that was what they wore back then.
I actually don't mind purple, to be honest. Dark purple or whatever, I don't mind it. But with that gear, it wasn't a bright thing. Like Seely's thing, it was red, white and blue, and it pops. It was dark, but it worked and it won. A winning color is a good color.
---
Main Image: Spencer Owens