New Berlin, NY
Unadilla
Lucas Oil AMA Pro Motocross Championship
We're onto New York! Unadilla Valley Sports Center hosts round ten of Lucas Oil Pro Motocross. The most remote event on the calendar, it would be hard to simply stumble upon this racetrack. An hour from, well, anywhere, Unadilla is an absolute legend in the motocross world. Mention this racetrack to anyone eligible for the Senior classes and their minds will be transported back to the loamy, rolling hills of upstate New York. This race has some of the most enthusiastic fans, as well as some of the most hardcore moto attendees. There won't be many people walking through the Unadilla gates who don't race themselves. That might be the coolest aspect of Unadilla; it's truly a racer's race.
The track has undergone big swings with its soil over the last 40 or 50 years. In its early days, Unadilla was all grass when the pro riders hit the track. That grass led to deep loam that riders still rave about to this day. As the years passed, that loam was carried out by every muddy dirt bike that headed for home on Sunday nights. What was left was a hard, rocky base on which I spent several years searching for traction. The aura of Unadilla was being lost, along with the reputation amongst the current riders at the time. The rocks, lack of topsoil, and lack of modern facilities was taking a toll.
Luckily, actions were taken to turn the tide. New soil was brought in to work through the course. A rock sifter was used to remove some of the dangerous boulders that I was pummeled by more than once. New facilities were built to bring Unadilla into the modern era as well. All of these upgrades were needed but appreciated, too. The most effective of these had to be the soil, though. If you took the time to go back and look at the racetrack from, say, 2005, and now, you would see a huge difference in the track. The ruts are deeper and softer, the bumps are larger but more forgiving, and there is more traction everywhere. It might not be 1973 Unadilla, but it's a far cry from the brutal rock bed we were racing on in the mid-2000s.
As for the racing, it should be an interesting weekend. Last year, Eli Tomac struggled here. His 10-5 score reflected the points pressure and possibly a hope to avoid losing big points in the mud. He just didn't seem to have anything to give at this round, qualifying ninth overall. It was a weird day that I am sure he would like to have back. I think he will be out for redemption this year, especially with Musquin throwing up a 1-1. If Tomac can continue his four-moto win streak, he can creep back toward that valuable 25-point gap. Having a full moto's worth of points in reserve would be a huge stress reliever with only a few left to go. It won't be easy, though, as Musquin also knows that this race is a big chance to reel some points back in.
In the 250s, Aaron Plessinger has taken full control of this championship. Even with a 4-3 score at Washougal, it was good enough for the overall win and, more importantly, increased his points lead by ten. He now sits with a 59-point lead with six motos to go. Alex Martin seems to have lost the momentum he had, and by all accounts, this is AP23's title to lose. He looks calm, loose, and will be the favorite to win the final three races, too. Look for some new moto winners to pop up, though. With AP thinking championship, riders like Justin Cooper, Joey Savatgy, Dylan Ferrandis, Austin Forkner, and Shane McElrath have a great opportunity to get up front.
Questions I Want Answered
Ken Roczen was two laps from the overall win at Washougal. Will Unadilla be another step forward, or will Tomac's freakish speed and Musquin's Unadilla expertise shine?
Can Justin Cooper win his home race?
How will the weather affect the weekend?
Can Justin Barcia get back into the mix at his home race?
Who will holeshot now that Justin Bogle has exited the building? (My money is on KR94.)
Will any rookies make their debut?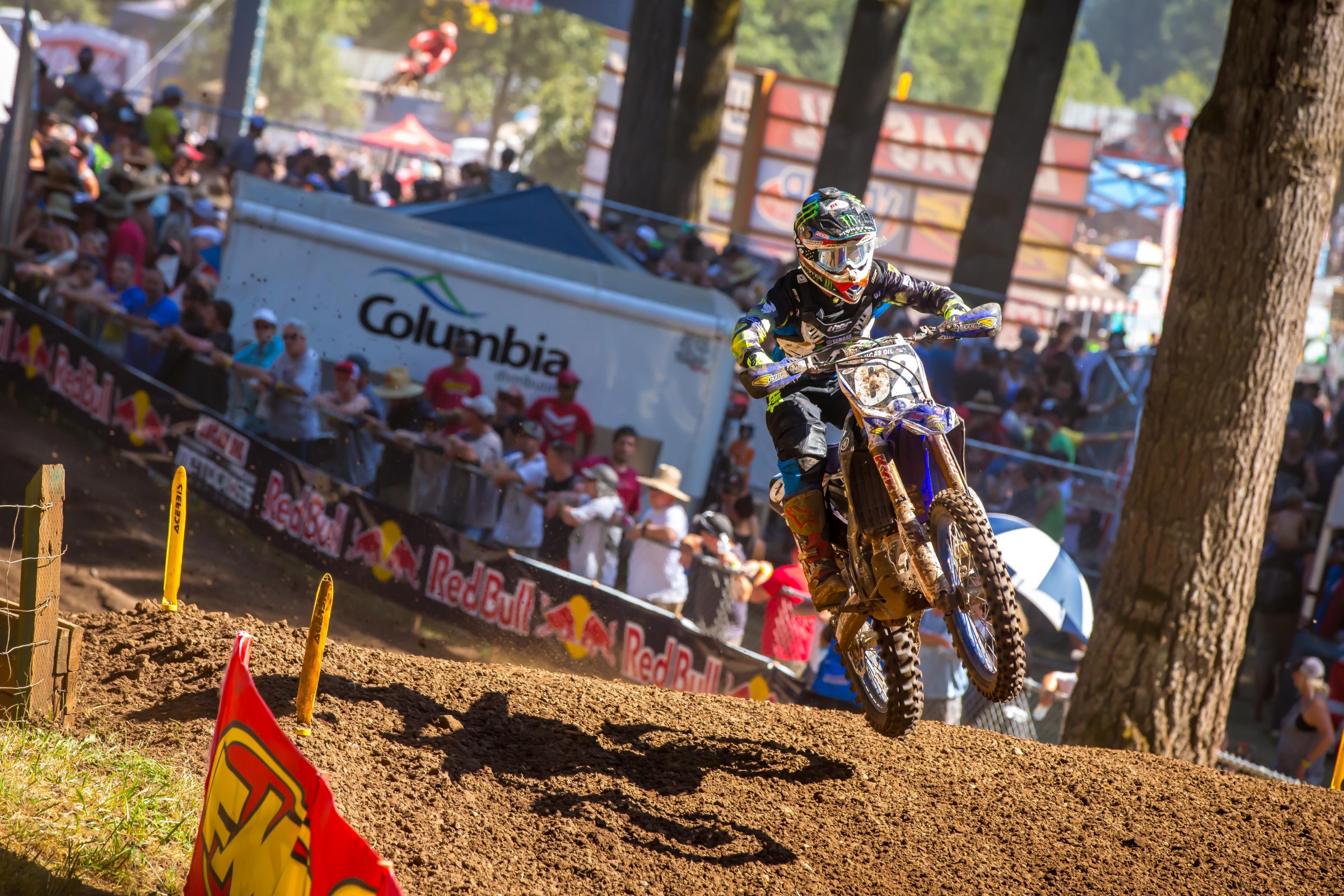 Who's Hot
Eli Tomac has won the last four motos after giving up the lead at RedBud. He has left no doubt as to who the best rider in the class is.
Aaron Plessinger has everything going his way. As they say, when it's your year, it's your year.
Ken Roczen may not have won Washougal, but he rode really well, matching Musquin's pace and putting himself in contention to win.
Shane McElrath won the Washougal second moto in dominating fashion. It was unexpected for most, but impressive nonetheless.
Joey Savatgy finally broke through in the first moto at Washougal, winning a fiery battle with Austin Forkner.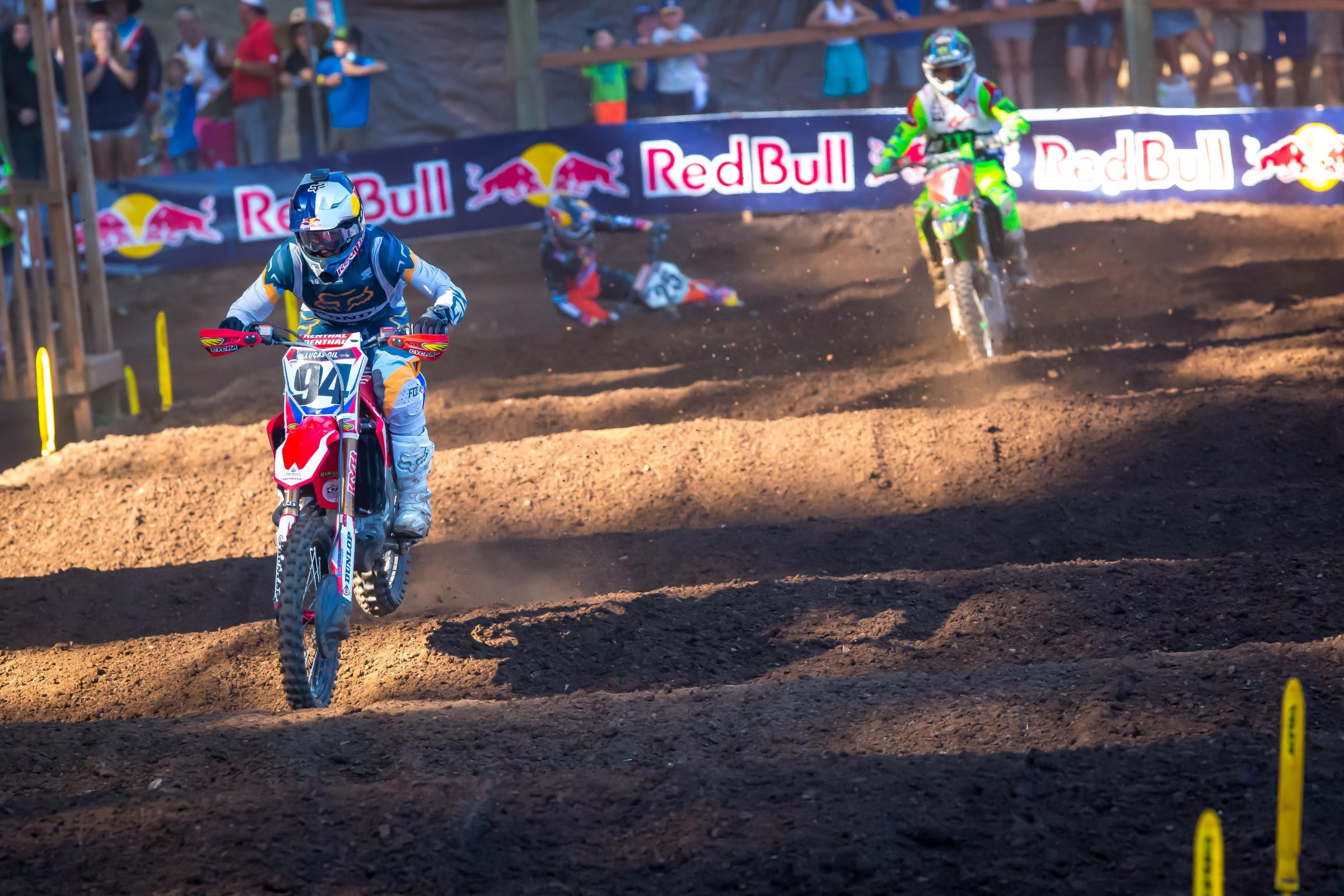 Who's Not
Austin Forkner can't catch a break. He has had a big crash at four races in a row.
Alex Martin hasn't had a bad run, per se, but he has lost touch with the points lead in recent weeks.
Cooper Webb just hasn't seemed to grab the lead pace as of yet. He is still working to get better, of course, and did qualifyfourth at Washougal, but I expected more.
Justin Bogle elected to go get surgery and end the struggle that was this summer. His ulnar nerve was keeping him from finishing where he was capable, frustrating fantasy teams worldwide.
Bold Predictions
Marvin Musquin is seen stapling "Available for Motocross of Nations" posters on the telephone poles at Unadilla.
Eli Tomac, Justin Barcia, and Aaron Plessinger are picked for Team USA. Alternates include Blake Baggett, Alex Martin, Gared Steinke, Jo Jo Keller, and Bobcat Goldthwait.
Musquin rides inspired to win a moto.
Justin Cooper sets the fastest 250 lap time.
Ken Roczen holeshots the first moto.
When Team USA is picked, Musquin is allowed to come hang out at the USA meeting because, honestly, him not being picked for this event on ANY team is ridiculous.
Chad Reed still waits in limbo for the Aussie team. Their 2018 team process includes a background check, blood-stamped entry envelope with seven notary signatures, Congressional hearing, bending the knee, and a personal blessing from Greg Norman.
My Picks
250
Aaron Plessinger
Justin Cooper
Dylan Ferrandis
450
Eli Tomac
Marvin Musquin
Ken Roczen