New Berlin, NY
Unadilla
Lucas Oil AMA Pro Motocross Championship
Unadilla, man. It happened. For the second straight year, the national was a complete mudder—at least the first motos, anyway. It's a shame, really, because the track is pretty good when prepped perfectly but you've got to feel for the Robinson family who own and run the facility, as this is two years in a row the rains came and probably scared some fans away.
Even though round ten of the Lucas Oil Pro Motocross Championship was a bit of a mess, there weren't any "Rick Ryan wins Daytona" shockers (well, maybe outside of Ken Roczen going 7-7 on the day). Aaron Plessinger and Dylan Ferrandis have been so good lately in the 250 Class, and in the deep mud of 'Dilla, they were again. Eli Tomac and Marvin Musquin have clearly been the two best riders in the 450 Class, and in the deep mud of 'Dilla, they were again. Justin Barcia has been very good all year long and was again in the deep mud of 'Dilla. And so on and so on.
Yeah, yeah, Phil Nicoletti and Mitchell Harrison both got the last spot on the podium, so that's a tad outside of their usual results, but for the most part, mud and sun results didn't differ much.
And truthfully, the race was a tough watch live or on TV. If you love chaos, then you were happier than Weege at a Dollar Tree, but the slower speeds, inability to figure out who was who, and the general follow-the-leader racing in moto two when there was only one good line makes for sort of a blah day, you know?
But that doesn't mean I'm just going to mail this column in. No, I would never do that to you people! I would never just copy-paste quotes from my post-race interviews and then give my interpretation of what those people said! That would be the lazy way out of doing this column!
So without further adieu, let's take a look at some interesting quotes from people after the race, then I will give you my thoughts.
Dylan Ferrandis: "I saw that AP had all my lines and I said, now it's going to be complicated. I gave everything and that paid off. That's perfect day. 1-1 is really what we work for. When you are a racer, it's the most important. In Southwick, four and one for first overall was good, but 1-1 is wow, perfect day."
Interesting that Dylan said that he thought he had better lines than his teammate Aaron Plessinger, and it helped the #23 to follow Ferrandis through the pack in moto two while Mitchell Harrison led. Watching the race back, I didn't really see much that Dylan did better; the track was a goat trail in the second moto and most riders were afraid of getting out of it. And Ferrandis pumps up the 1-1 win as opposed to the 4-1 day at Southwick… hey, man, the checks cash the same for a 1-1 overall day or a 7-1 day like Joey Savatgy did last year at Washougal. Win's a win, baby.
Jordon Smith: "…The main line was not bad. The corners were getting really deep, though, so that was really tough because you kind of had to move around."
Benny Bloss: "…The second moto was one line was like dry, and the rest of the lines were just hammered."
Phil Nicoletti: "The main line was decent, but if you got off of that, you were f*#&ed."
Dylan Ferrandis: "Honestly, the track was good. We had some line choice today."
You know how they say history is written by the winners? Yeah, well, when you go 1-1, your point of view is quite different.
Kailub Russell: "He had me second-guessing myself. I was like, damn, can I really qualify? I think I can qualify."
No doubt the surprise of the event was five-time GNCC champion Kailub Russell coming out and qualifying 12th, then almost making the podium in moto one before he dropped back a bit late. Then moto two, he was right there on the first lap before running into a downed Justin Barcia. Seriously, the guy could've made the overall podium with a few different things happening. Yeah, it was muddy, but still, the dude ripped. His quote above was because he listened to the PulpMX Fantasy Podcast going into Unadilla and one of us (not me) said that he would be good if he qualified. Which, yeah, he did easily.
Kailub Russell: "We'll have to see how this week goes and my elbow and riding and stuff. I know if I'm not riding, Aldon's not going to want to send me up there."
Russell did crash out of moto two and looked to be in some pain. Afterward, his elbow/arm was bruised and scraped up. I was already surprised that KTM let him race three Pro Motocross races without having clinched another GNCC title, and I would think (but I don't know for sure) this crash might scare everyone off from this weekend. We'll see. After I wrote all this, I heard from a good source that he will indeed skip this weekend and race Indiana.
Mitchell Harrison: "I can't thank the Rockstar Energy Husqvarna team enough, my mechanic, my mom and dad, my girlfriend, my brother, and my whole family."
No dog thanked, doe.
Mitchell Harrison: "That's awesome. It's just an overall great day for the team, a great day for Phil. I'm pumped for him because he's a great guy. We give him shit all the time, but he's a good guy."
Harrison is just admitting what everyone in the pits knows. Phil is a great guy, everyone was happy for his podium, and yes, everyone does give him shit all the time.
Ken Roczen: "I'm pulling for him. I want him to do good, especially then you're going to lose."
I went to dinner last week with Ken and his fiancée Courtney and we discussed Russell's potential finishes. Courtney went with a top-ten, I said no and I won (but probably shouldn't have; he was that good until he crashed), so we went double or nothing for Budds Creek. And so Roczen wants me to lose, obvi. By the way, it's cool to see how much these other Florida-based riders like the GNCC guy, who crosses into their orbit now that he trains down there.
Ken Roczen: "I didn't get a start and people crash in front of you. You can't see. I haven't ridden these conditions probably—we didn't have a mud race in 2016, I don't think."
Roczen's got a point. He missed the series last year, and the year he dominated the 450 Class on the RCH Suzuki, we didn't get a mudder. But you'd think his Euro mud skills would be embedded in him, right? Just a so-so day for the #94.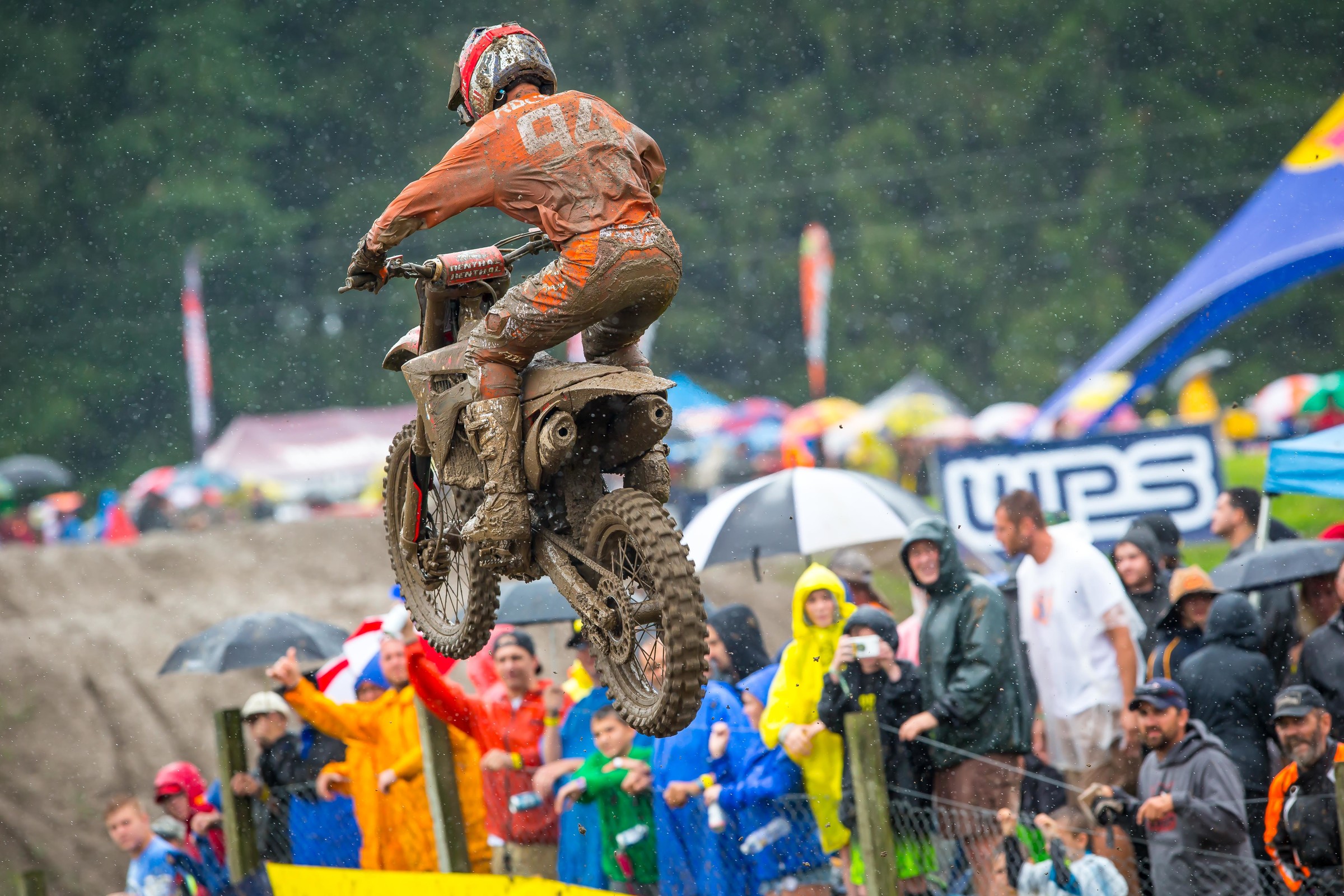 Ken Roczen: "So second moto, I didn't even make it to the finish line after and I had a big old dirt clod here. I pulled and it must have destroyed the film or something. I couldn't see anymore. Nothing was pulling, so I had to unfortunately rip them and take the goggles off in the first few turns."
Roczen could've just said "I was so EFFED at this point" and it would've been perfectly acceptable.
Ken Roczen: "Got in and got a new goggle"
I have zero proof to prove my point, but I was a mechanic for a long time in many mud races and I'm amazed at how many riders the last few years pull into the pits for new goggles. In my day, after we walked uphill to school both ways, the riders just rode with no goggles and it was eyewash city afterward. I think this trend of stopping is a good one; eyes are hard to replace, but holy hell, the pit area was like a NASCAR race out there. I asked a longtime goggle guy if my "Observations" about goggle stops are true and he said, "Yes, for sure, Matthes, these guys are absolutely out of control." Spoken like a man who has to watch his budget.
Phil Nicoletti: "This is my first one overall. To do it here is pretty special. It means more that my old man is here than anything. It's cool. Got to spray him with some champagne."
Filthy Phil got real filthy and got an overall podium in front of his family and friends, and that's awesome. He rode great—he even led some laps! Most people in the pits, I would imagine, are happy for him, even if he's not. I posted a photo and wrote something about his race back at the hotel and it got more than 5K likes on Instagram with a lot of people loving Filthy. If you know Phil, then you're happy for him. It's that simple.
Phil Nicoletti: "Then Benny actually got me back again. I was just able to get by him. As I'm going by him, he's pulling his goggles off and I'm like, got you! I slowed up a little bit just to make sure I could roost him even more."
Nicoletti's tactics with Benny Bloss made me laugh, and it's not the first time I've heard of such a thing being done. You're either the bug or the windshield in the sport of professional motocross.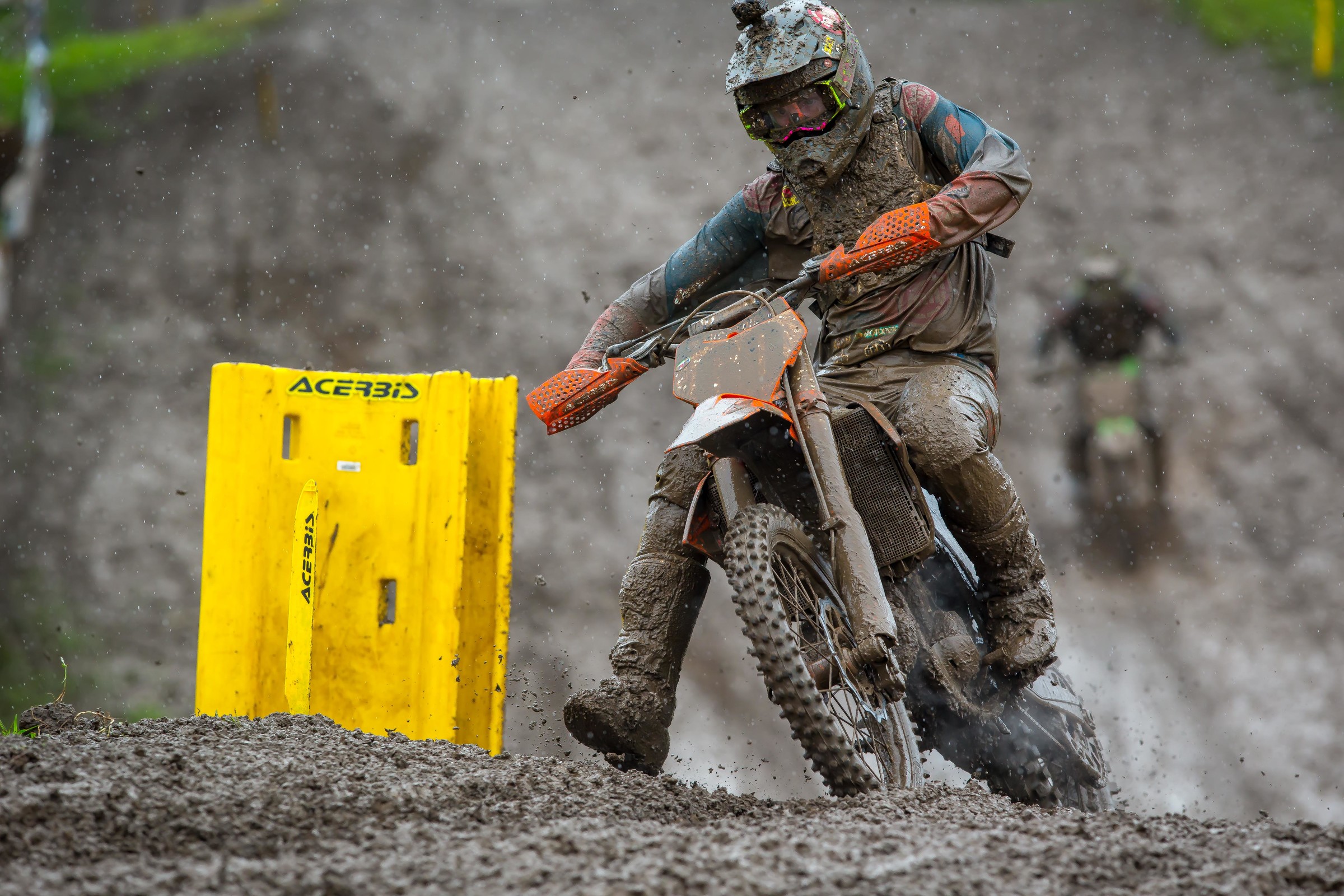 Nicoletti: "The gap where I was from like an eighth to fifth was a lot bigger, but now it's a lot smaller. I can ride the bike really good. It's hard mid-season. Come on. Give me some slack."
Nicoletti when informed that Chad Reed had told me he thought Phil would do a little better on the Husqvarna compared to his time on Suzuki. Phil wasn't happy.
Phil Nicoletti: "It could be my last 'Dilla. So to have it like that, it was cool. I might go somewhere else to ride. The States is kind of ridiculous nowadays."
Phil dropped this bombshell on the podium, then also with me after the race. It's no secret Nicoletti wasn't thrilled with the 250SX-only deal JGR offered him before the year, and when he got a chance to have something guaranteed (he was on a race-by-race basis with JGR for outdoors), he jumped to the Rockstar Energy Husqvarna team. He's been hinting that maybe he'll go to Canada or MXGP next year because this just in, there ain't a lot of rides left over here. Not that there are tons of rides over there, either.
Mitchell Harrison: "We haven't talked too extensively on it. So this has helped me out a lot. I love the team so much. I would love to stay with them, so let's make it happen."
Speaking of rides, Harrison is fighting for a ride for next year, and preferably, he'd like to stay on his current team. Nothin better than your first career podium near the end of the year to make your team manager happy.
Rick Johnson: "Honestly, it's pretty cool. It has been a five-month process. Travis [Pastrana] called me and he and Ronnie [Mac] and I talked. At first we were first talking to Kevin Windham about it and he says, "If I can't get on a 500, I'm not going to do it." Then we had [Ryan] Villopoto on the line to do it. Then Ryan just for some reason didn't want to do it, and so we talked to Ryan Sipes. Ryan's a country boy. Sure! Why not? Sounds fun.
So the main thing we want to do is, we're going to film a documentary/mockumentary, but we also want to raise money for Puerto Rico for the hurricane. They still don't have stoplights. They still have rolling blackouts. It's terrible. So what we want to do is go, hey, we can't come in and fix the country, but if I was a kid and my track was smoked so we're going to go try to find some tracks that we can rebuild, send Hubert down there, rebuild the tracks, do some stuff, try to give back to the community. If we can raise enough money though all of this to buy a tractor or do this or do that, we're going to do whatever we can. Majority of the profit is going to go."
The great Rick Johnson, who I can 100 percent understand why he ruled SX/MX in the eighties, talking about his role as team manager of Puerto Rico. Couple things here: One is he used the words "Ronnie [Mac] and I talked" which means he's going along with this thing that Ronnie Mac is a real person. Secondly, Kevin Windham or Ryan Villopoto racing for PR would've been amazing. Windham, Villopoto, and Pastrana is a HELL of a super-team. Thirdly, I'd put the odds of this thing happening, as in those three guys racing RedBud, at 50/50. But man, RJ is IN, so I'm ALL IN BECAUSE HE'S MOTHERF*#&ING RICK JOHNSON.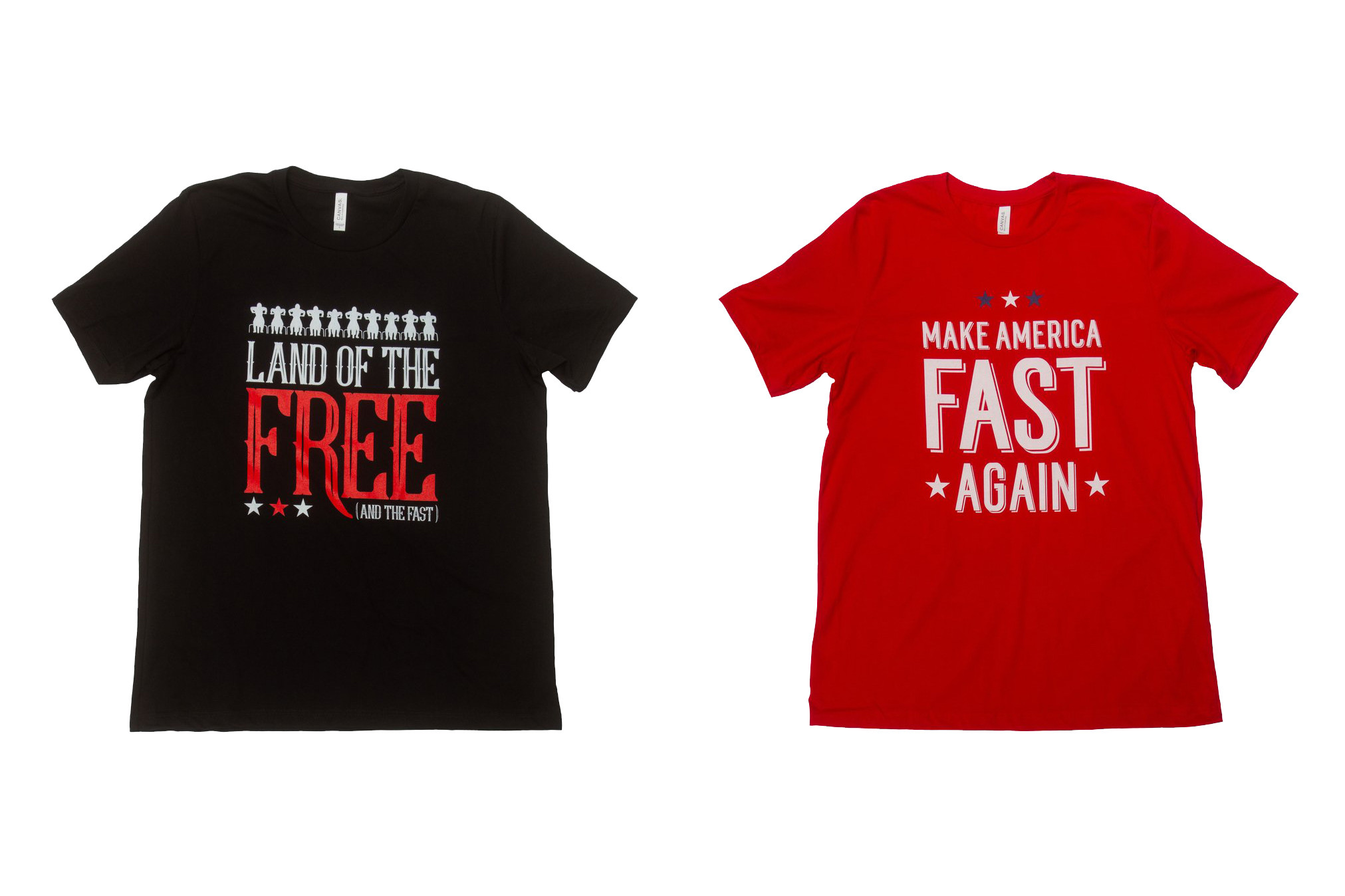 Ken Roczen: "They're either going to do pretty good and qualify and things will be fine, but it will be kind of interesting."
Roczen, like everyone else, doesn't seem to know what to think of Team Puerto Rico
Rick Johnson: "Fires and dynamite and fist fights and craziness. Unadilla will always be special for me…."
RJ talks about the old days at Unadilla. He mentioned that the fans don't get nearly as wild these days. Again, WHATEVER RJ SAYS RULES.
Kailub Russell: "Barcia came by me just on the rev limiter just bouncing off. I was like, I know he's going down sometime this lap. You can't ride these conditions like that straightaway."
And Russell was right: The #51 had a hard time staying up in the mud, but he was very fast when he was on two wheels, that's for sure.
Phil Nicoletti: "No, because I'm not running a sticker. I ran it for four rounds, never got paid. Then I'm like, that's it. Typical bullshit contract deal…Break it whenever you want. It don't matter."
Nicoletti and I had a SX deal with a PulpMX sticker on his helmet and when he won a heat race, he forgot to thank PulpMX on TV. So tensions rose between us, but I did pay him cash for SX. Once outdoors started I wanted to keep it going, and he did put it on a few races, but then I saw in some photos his visor was always covered in mud and no one could see the sticker, so I backed out of the deal but didn't really tell him. Or pay him, either. So he's technically correct in this quote.
Kailub Russell: "It's easier to put it this way. The only way the same from this bike to my GNCC bike is the fan on the radiator."
I don't know, bro; I just thought that putting Russell on as close to a bike as he normally rides would be a smart thing, so I asked him about it. Then I found out he rides a 350 in GNCC (who knew?), so there's one place where my theory went sideways. So his rides were even more impressive with stiffer suspension, a way lighter bike and 100 more CCs.
Dylan Ferrandis: "He just puts me in a good mood and just tell me what I can do, if I did everything what will work, what I can do. That works."
Ferrandis is talking about his coach David Vuillemin, and I can picture DV saying a lot of things to Ferrandis while he's coaching him, but nothing that would put him in a good mood. DV's old school. Maybe I'm missing something, or maybe the French are like dolphins where they can only communicate with each other.
Alex Martin: "Don't want to cause any drama or controversy. Obviously we're not happy where I'm finishing. We started off the season—we were on the podium basically every weekend. It seems like the last couple races, we're nowhere near the podium."
Martin's season has been slowly crumbling here after a strong start, where he looked like a title contender. I asked him what was wrong and he clearly didn't want to go there. Next year Martin's going to JGR Suzuki and a new training facility (I would guess, because he's not on KTM anymore, so therefore can't train with the Baker's Factory guys), so he's taking the high road here out of town.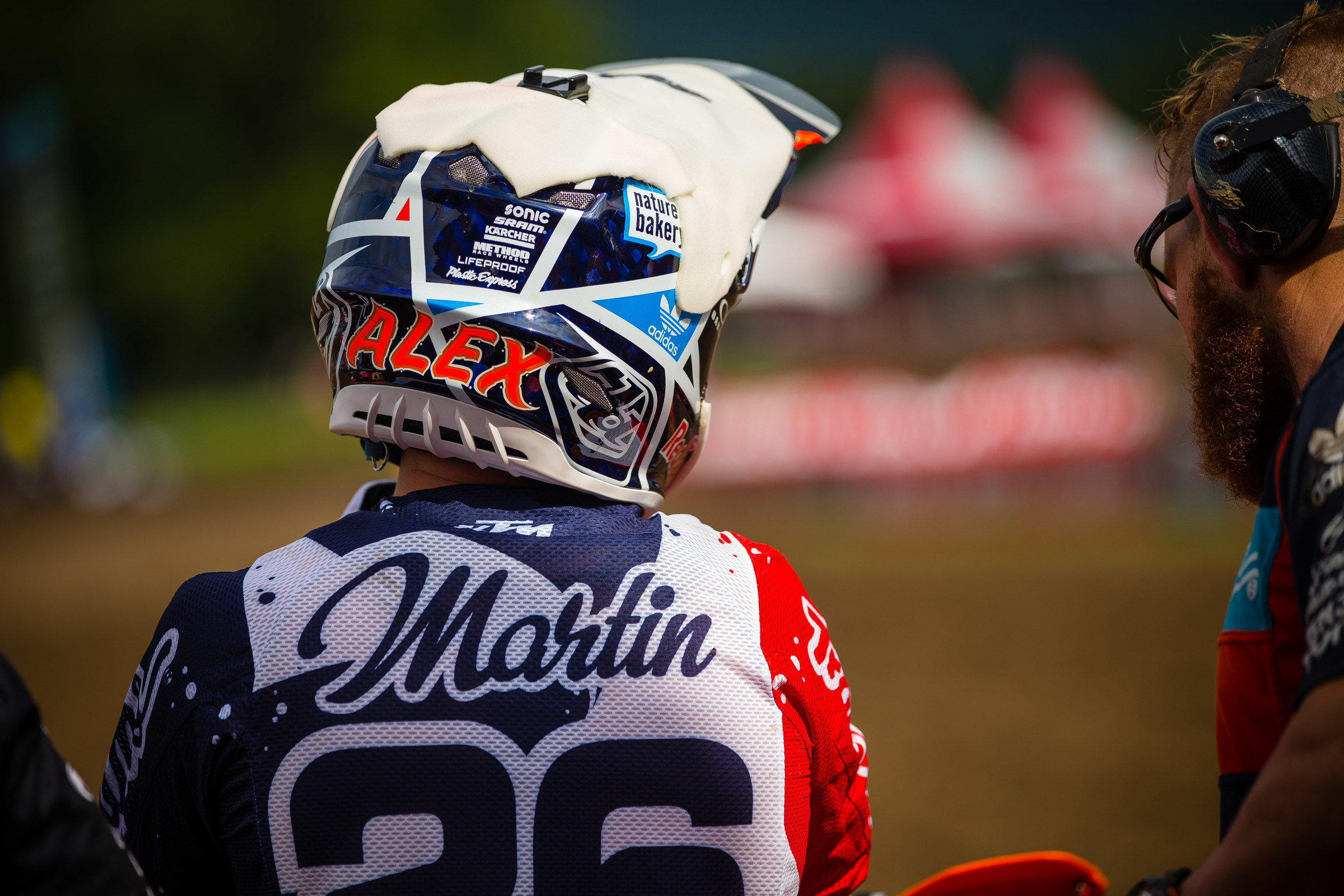 Jordon Smith: "I had to take my goggles off and was getting dirt in my eyes really bad. On the very last lap I got roosted by a lapper and I couldn't see anything, and I crashed and lost like three spots with three corners to go."
So you want to be a pro motocrosser? Yeah, welcome to their life, as Smith illustrates rather pointedly.
Alex Martin: "It's like, what is wrong with me? I suck."
Martin was wondering what was wrong with him and whether he sucks at racing dirt bikes.
Alex Martin: "I just want to bury my head in the sand."
With Phil doing well and having only good things to talk about, his buddy Alex takes on the Phil persona.
Thanks for reading—good times at Unadilla were had by most. Email me at matthes@racerxonline.com if you want to chat about this or anything else.