When you compete in Monster Energy AMA Supercross as a privateer, you're often faced with the challenge of drumming up cash flow to go racing. A number of privateers put together programs with sponsors and other supporters who help get them from race to race. Robbie Wageman and his brother RJ have come up with a unique way to generate the funds needed to go racing on the weekends, while offering a product that just about everyone can enjoy: beef jerky!
Yep, you read that correctly. When we got word that 250SX West Region privateer Robbie Wageman owned a jerky company, we were instantly intrigued. So, we called up Wageman to find out more.
(Note: The following interview was conducted via iMessage and has been lightly edited for clarity.)
Racer X: Hey, Robbie, thanks for taking some time to chat this evening. What are you up to?
Robbie Wageman: How's it going? I am just out grabbing some dinner after a good day of working out and doing some riding.
Getting back into the swing of things after a long West Coast SX break? How'd you occupy your time these past six or seven weeks?
It was definitely nice to have a little break, but I stayed riding and training in preparation for the West Coast to start back in Seattle. I went up to Idaho to do the arenacross to get some more gate drops and stay in racing mode. Idaho went well, we were able to salvage a fifth overall in the AX Class. Even though the break was nice, I'm ready to get back to racing.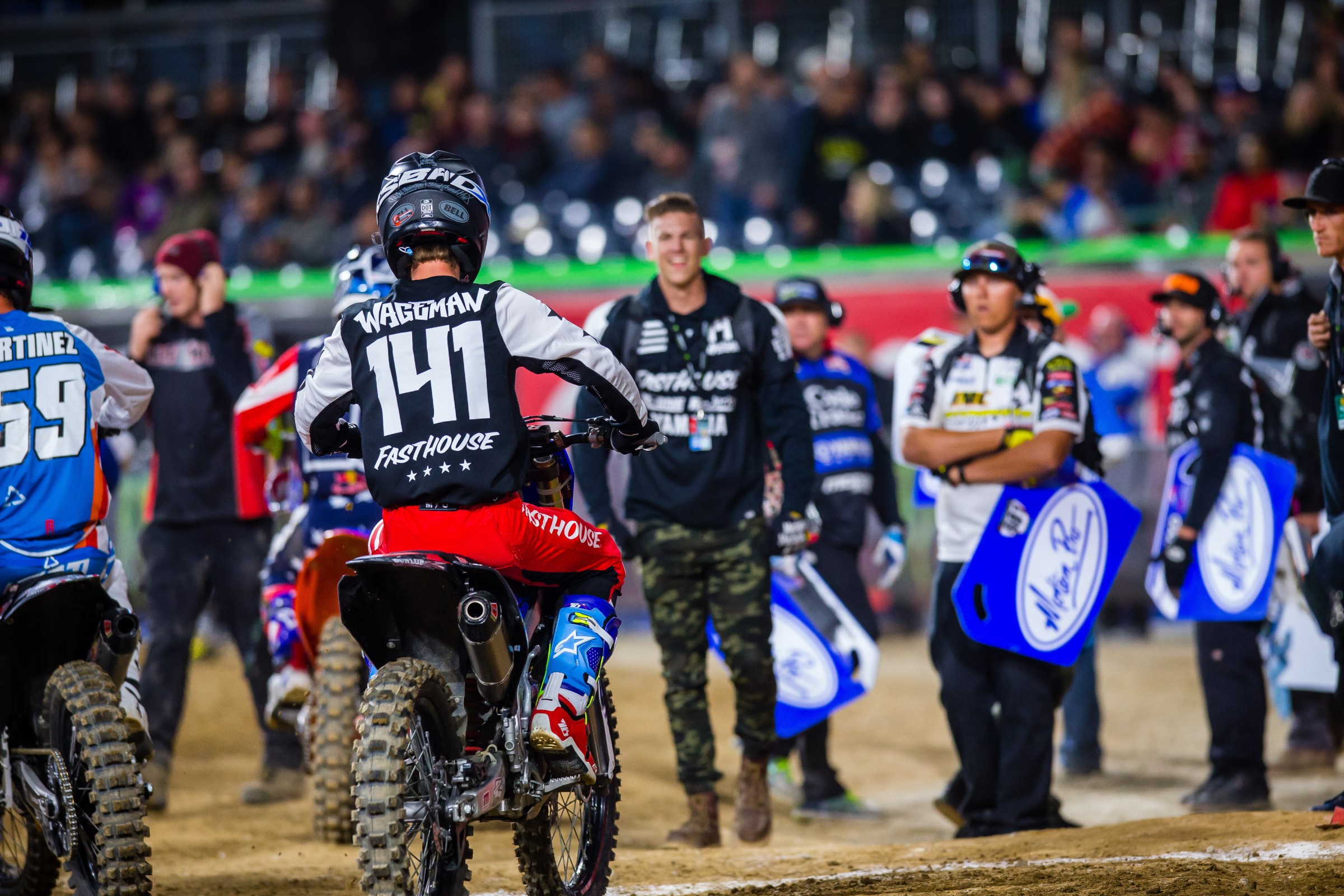 How's your supercross season been so far?
2018 supercross season has been going pretty well for me. I came in with zero expectations; I just wanted to go out there and have some fun and learn each and every race. I made the main even at San Diego before the break, which was a huge accomplishment for me, with that being a dream of mine to line up for a supercross main event!
Was San Diego your first career SX main event?
Yes, San Diego was my first career main event. I was so stoked to make my first main event and to line up with the best of the best; it has always been a dream of mine to do.
Can you describe that feeling a little bit? A lifelong dream coming true.
The feeling was amazing! I was speechless at first, I really did not know what to say. It all [set] in once I was sitting on the line and went out for the parade lap of the main event. I was like, wow, this is really happening. I have never been so stoked to accomplish something before. It was the best feeling I've ever had. It's always been on the bucket list and a dream of mine, so to check that one off the box is amazing and I'm ready for more.
I saw on Instagram you also did a two-stroke race. I know some readers' ears just perked up reading that. Fill them in—what was that about?
Yeah, I did the Two Stroke World Championship at Glen Helen. I always love to ride/race the 125s when I get the chance; I have a blast on them. It was really cool to go back there because I won it last year, so I was able to run the #1 plate this year, which felt awesome and had a rad 125 to race. The whole event is awesome. The people are always awesome that are cheering you on; it was rad to be able to back up the win this year! So, I will definitely be back next year defending the #1 plate again.
Let's get to the meat (pun intended) of this interview. Privateer riders often come up with ways to generate support for their race efforts. Yours is definitely intriguing—a jerky company? How'd that idea come about?
Yeah, my brother and I started up a jerky company called R-Jerky to help fund our racing. It is very hard to race without any financial help, as I'm sure most know, so we came up with this awesome idea to start selling jerky, which our longtime friend helped us out with that actually owns his own jerky company. It definitely is awesome to have our own company and we are very fortunate to have it, as it helps us get from race to race. I definitely suggest everyone tries it. We do have a website, it is www.rjerky.com.
Cool, so there was a base to start from with your friend's help. I was wondering how a person even begins a jerky company.
Yeah, there was a base with one of my dad's long-term friends. He bugged us about it a few times and at first my brother RJ and I didn't think it would be a good idea. He kept bugging us about it, so we figured why not, everyone like beef jerky! We started it up and it was going very slowly [at first], but we started to get it out there more and more and it has definitely helped us in the long run. We are very thankful for all the people that are helping us out by buying our jerky!
Tell us about the product. I'm looking at your site right now and it looks delicious.
Yeah, our product is very delicious. It's all natural and has a lot of flavor. Everyone that has tried it has loved it. I'm not too sure all the ingredients and things off the top of my head, but I do know that it is good stuff. I know everyone I have try it always wants more.
Customer feedback has been pretty stellar?
Yes, customer feedback has been awesome. Everyone that has tried it has always loved it and wanted more.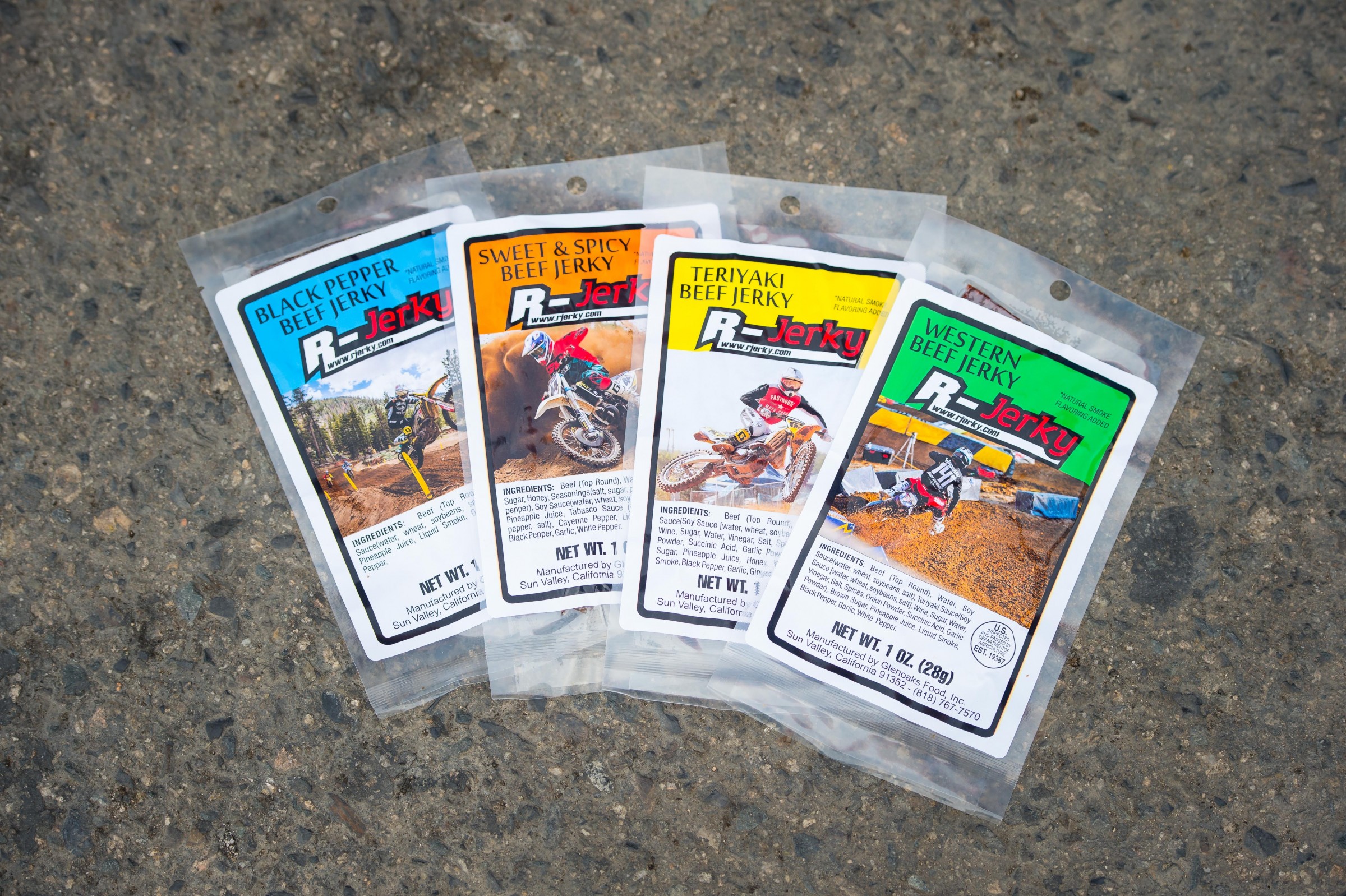 That's great. It's definitely a unique way to support racing. I'm honestly probably going to check it out myself. Back to racing, Seattle. It may be muddy! Stoked on it, or hoping it stays dry?
I appreciate that, you won't be disappointed. I've always [ridden] in the rain and mud, so either way I'll be having fun and enjoying every minute of it. If it's raining and muddy, I'll be out there having fun and doing my best. The mud is always fun. I enjoy the mud myself, so bring it on.
What's the rest of 2018 looking like for you? Plans for outdoors?
I am thinking I'm just going to do all of the 125 Dream Races they are having. I would love to be out there doing the outdoors, but I don't really have the equipment and things as a privateer to do all of them. I love racing my dirt bike, so I'll be out there doing all the 125 races.
Two-stroke races—you just gained so many more fans.
I hope so. The fans at the 125 races are awesome. I love the 125s myself, so I'll be out there ripping it up and having some fun! More fans the better. I love hearing everyone cheering and yelling, the fans are awesome.
I'm hungry now after looking at all this jerky. Anyone you'd like to thank before I let you go?
Yeah, of course. I'd like to thank my family, Fasthouse, Alpinestars, Renthal, Leatt, N-Style, X-Brand, Dunlop, Motostuff, Pro Circuit, Rekluse, [and] everyone that is there for me and helps me out. I really appreciate everyone. I wouldn't be doing this without all them, so thank you to everyone.
---
Hats Are Back! Take FREE Shipping on orders over $60 on Racer X Brand.