Daytona International Speedway
Daytona

,

FL
Daytona
Monster Energy AMA Supercross Championship
There's not a lot more to add about the Cinderella win for Smartop/Bullfrog Spas/MotoConcepts Honda's Justin Brayton on Saturday night. It's not just that after 130 career starts prior to Daytona, Brayton finally broke through—he showed he could win, albeit in a shortened first main event in Atlanta—but that it came at Daytona, a track at which Brayton has notoriously struggled. Prior to Saturday, Brayton's best finish at Daytona was a sixth, back in 2011.
At 33 years, 11 months, 24 days (at the time of his win), Brayton also passed Mike LaRocco for oldest SX winner. Here's a list of oldest supercross winners we put together back in February. When asked in the post-race press conference if he thought it would take this long to get his first win, Brayton said that he didn't even think he'd make a main when he first turned pro.
"Honestly, in 2002 I didn't think I would qualify for a supercross main, to be quite honest," he said. "I went to Des Moines Arenacross in 2002. I was a senior in high school. I went there on a stock Honda and I thought I would maybe qualify for the night program. I ended up winning the heat race, fastest in practice, and I almost won the main event. From that day, that was a life-changer. One hundred percent it was a life-changer that day."
Brayton's win would overshadow an incredible charge through the pack from Monster Energy Kawasaki's Eli Tomac. At times, Tomac was putting three seconds a lap on Brayton and second-place Cooper Webb. (JT has a good column on how Brayton responded and ultimately sealed the win.)
"At the end zone corner there at the first lap, I just got hung up at the top of the berm and then had nowhere to go but to really fall down," Tomac said. "I lost my balance. I actually looped out my bike. It was pretty sketchy for what it was. Then after that, it was just making the charge. The good thing is, this year's Daytona allowed for some good passing."
Tomac had to come through Webb (more on their night later) to capture second. While Webb can't be pleased about losing second late, he has to be encouraged by his riding lately. Through the first seven rounds, Webb had zero top-five finishes; in the last three, he has two top-five finishes and his first podium of the season.
"Overall, we had an excellent night. It was definitely a step in the right direction," said Monster Energy Yamaha team manager Jim Perry in a statement. "Cooper has been making improvements the last few weeks and it really showed tonight. I still feel like maybe we let the win slip away from us, but it was a good event."
Back to Webb and Tomac, who got into it in the heat race. Whether you agree or disagree with either side, it was refreshing to see both riders talk openly about the situation—even if they were bothered by the question.
"Had to bring that one up, huh?" Tomac said. "Well, were both have different opinions, I'll tell you that. Here's my opinion: There was a little bit of cross-jumping going on, coming across that rhythm lane. I got pissed off. I went for the takeout. That's all there was, plain and simple. That's my side of the story."
"I definitely was racing hard and I did come over a few times," Webb said. "I knew he was mad. I heard him come in. It was a bummer that we both went down. I think that's never good. You told me, welcome to the 450 class. I just wanna say, thanks, I'm here."
Red Bull KTM's Marvin Musquin had to leave Daytona thinking, "What if?" Musquin took the lead from Brayton on lap five and was hoping to run away. Two crashes later, he found himself in ninth. He would recover for fifth, but with Jason Anderson having an off-night as well, Musquin left a lot of points on the table.
"In the main, I was running maybe second or third. Made my way up to the lead," Musquin told us after the race. "Like I said, I was the fastest, but the fastest guy never always wins. I made a mistake. Almost looped out on the wheel tap on that kicker on the double. I did it in the heat race, but I don't know what happened in the main."
Another solid performance from Christian Craig in just his second 450SX race in 2018 as a fill-in for Honda HRC. Craig got the holeshot and nearly led the entire first lap before being passed by Brayton. He'd eventually slide back to fourth. His fourth-place finish is a career-high in the class.
"I had a great week testing with the team," he said in a team statement. "They came down to Florida right after last weekend and I feel like we really improved. Just getting more time on the bike and getting more comfortable was huge. I started off race day feeling really good. My qualifying position didn't really show it, but overall, I was happy with my riding. It's all about having fun out there, and man, that's what I did tonight.
"This is only my second time racing Daytona and last year didn't go well, so I really wanted to get some revenge this year," he added. "It's better than the week before, but man, I was so close to a podium. I just need to keep putting myself in good positions and work on getting better each weekend."
Autotrader/Yoshimura Suzuki's Weston Peick was also in the mix for a podium on Saturday. He admitted after the race that he was still banged up from his insane crash in Atlanta and was dealing with sickness. Somehow, Peick was still able to ride during last week and said he found some good settings.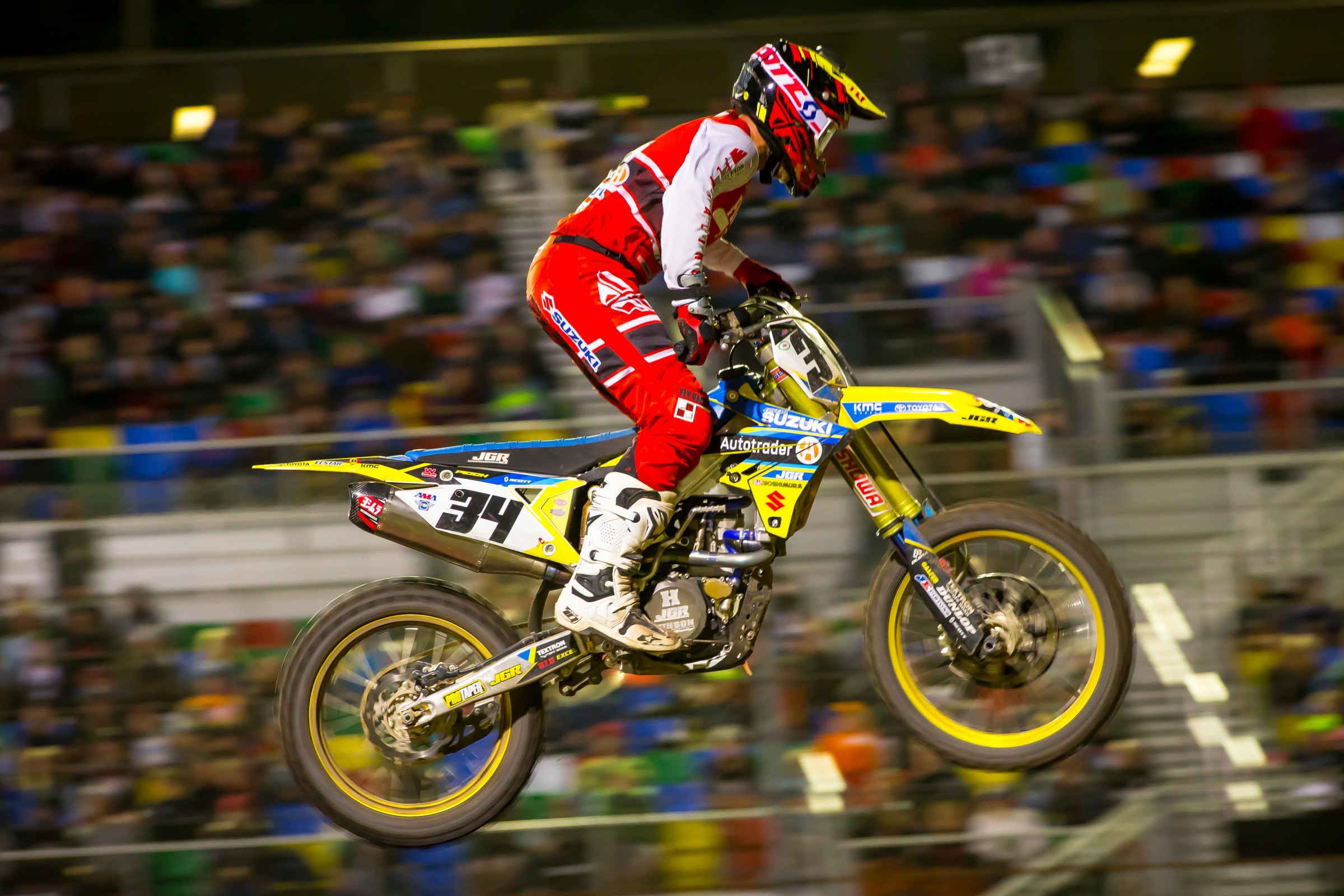 "I actually rode Wednesday, Thursday to try get on the bike and kind of loosen up a little bit to not come in this weekend so tight from the crash," he told us. "I got a little bit of riding in. We actually tested and changed some stuff on the bike, which, actually, we went back to a really good setting that I liked and I'm happy we found that. Just looking forward to that and riding that at a normal track and kind of seeing how that is."
It was not a great night for Jason Anderson. The points leader crashed in his heat and early in the main event and could only work back to seventh—his first finish outside the top five all year. The good news? He still holds a 40-point lead over Marvin Musquin.
"I had great qualifying sessions," said Anderson in a statement. "I fell down in the heat race after getting hit with a Tuff Block but came back to ninth to qualify for the main. I didn't have the best gate pick in the main, but I made my way through the pack and ended up falling down. I was able to finish seventh. My points are still good, so I'm just going to move onto next week and keep the train rolling."
Dean Wilson is still trying to turn the corner on his season after injuring his shoulder at the opener. He's still not 100 percent, but Wilson is improving, evident by his third place overall in qualifying and finishing second in his heat. Wilson said he struggled to find a "flow" in the main event and finished eighth.
"I think it was just more me on line selection and just [using] my legs properly and seat-bouncing some stuff that I shouldn't be seat-bouncing," he told us. "But I was trying out there, but it was tough. It was just a really tough track tonight. I just never really had the flow. Flow on this track is everything. It will make the race 100 times easier."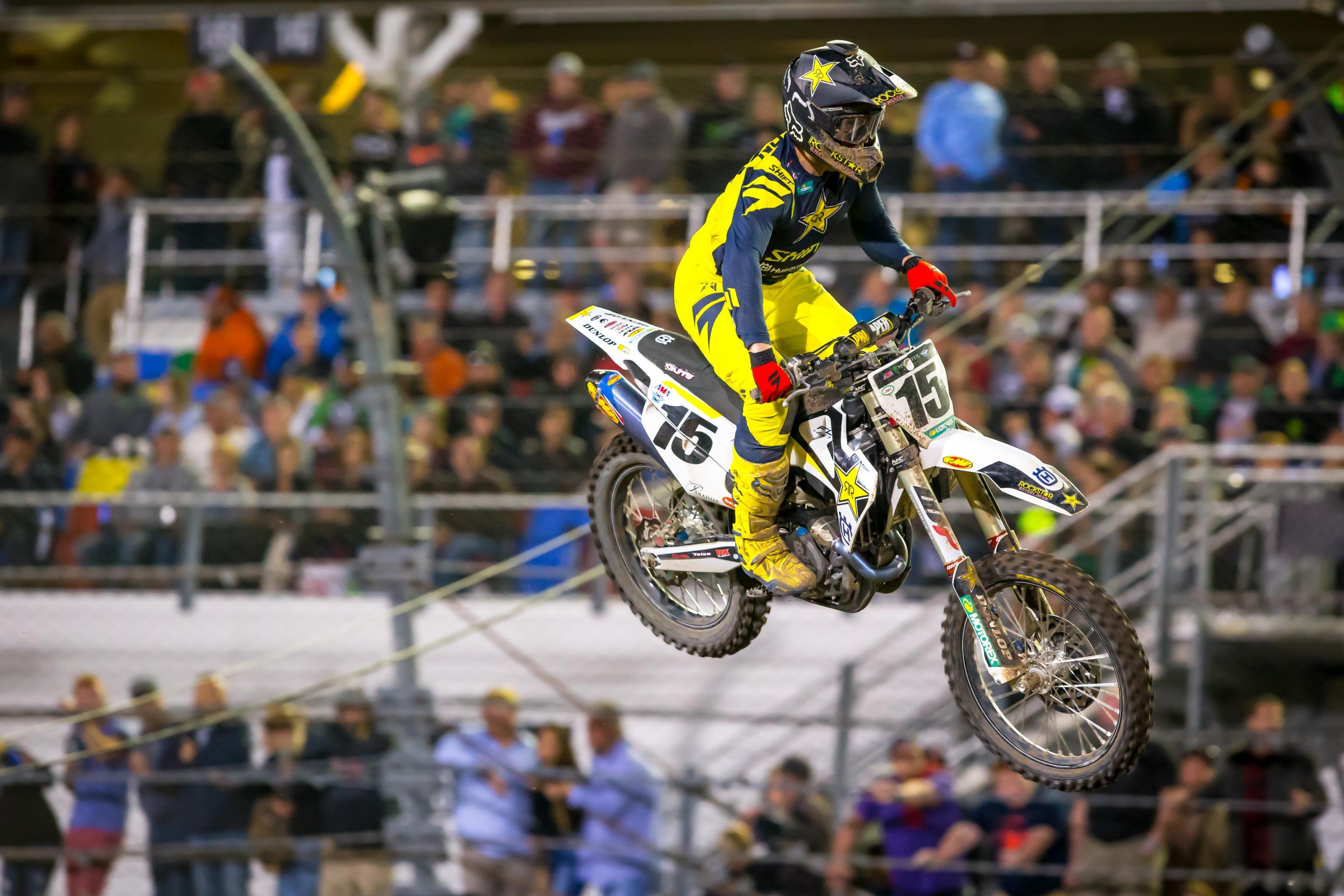 Rocky Mountain ATV/MC-WPS-KTM's Blake Baggett was definitely not 100 percent entering the weekend. Baggett, who would normally be considered a favorite at the more outdoors-style Daytona track, struggled to a ninth a week after injuring his wrist in a crash at Atlanta. We'll update his status for St. Louis later this week.
Don't look now, but we have a three-man race for the 250SX East Region title, with an East/West Showdown looming in Indianapolis in two weeks' time.
It took Troy Lee Designs/Red Bull KTM's Jordon Smith five rounds (he won round six) last year before he picked up his first win. This year, it's only taken him three (he won round four). Smith held off a late charge by GEICO Honda's Jeremy Martin to capture his first victory of the year at Daytona, and in the process has pulled to within eight points of the championship leaders.
"I felt really good all day," Smith said post-race. "This is the best I've felt in practice—both practices. I qualified third, which is the highest I've qualified all year. Just got off to really good starts in the heat and the main and just put in solid laps. I could feel the pressure from Jeremy and Austin there in the middle of moto and just tried to do a few more sprint laps and get out there. The track was really tough tonight."
2017 vs. 2018 For Jordon Smith
| | | | | | | | | | |
| --- | --- | --- | --- | --- | --- | --- | --- | --- | --- |
| Round | 1 | 2 | 3 | 4 | 5 | 6 | 7 | 8 | 9 |
| 2017 | 2 | 5 | 7 | 4 | 3 | 1 | 1 | 3 | 21 |
| 2018 | 6 | 6 | 3 | 1 | TBD | TBD | TBD | TBD | TBD |
Thanks in part to Zach Osborne failing to make the podium for the first time all season, we will have dual red plates in St. Louis this weekend. Behind a third-place finish, his third podium in a row, Monster Energy/Pro Circuit Kawasaki's Austin Forkner finds himself tied in points with Osborne.
"I definitely got tired; the track was pretty brutal," Forkner said of Daytona. "This being my first time here…. It was good, though. This is definitely the most outdoor-style supercross track I've ridden so far. All in all, I didn't feel great today, so to salvage a third, I think, is great."
The start did Osborne in on Saturday night. The points leader entering the weekend started near dead last and rounded the first lap in 14th. He was able to claw back to fourth, his worst finish in the young season.
"It was just one of those deals where I got in the zone and just was really able to put down some good laps," he told us. "I think I actually had the fastest average lap of anyone, which was a good indicator that it was a good race. I put my heart and soul into it and I can't really ask for a whole lot more than that."
Everyone had Jeremy Martin penciled in as a favorite for the win. Daytona is right in Martin's wheelhouse, as the track is the most outdoors-style one in the championship. Martin got off to a good start—he rounded lap one in second—and chased Smith throughout the night, but wasn't able to make anything stick. His second-place finish is his first podium this year.
"I just like it," Martin said of Daytona. "It's one-of-a-kind, and you just kind of hammer. Pound the main line, just like outdoors. So, you know, had a decent night tonight and we were fighting for the win, trying to chase the #45 machine [Jordon Smith], but he did what he needed to do from start to finish."
Monster Energy/Pro Circuit Kawasaki's Martin Davalos is still banged up from his crash on the start at the opening round—and his crashes in Atlanta—but he was able to score another top-five finish on Saturday, his second in the last three rounds.
"It's been a tough opening four rounds, so it's nice to be able to tie my best finish and overcome from an up-and-down weekend," Davalos said in a statement. "I'm ready to put myself on the podium and representing Monster Energy/Pro Circuit Kawasaki at the front of the pack."
The injury list continues to pile up across the board. The 250SX East Region, already without Dylan Ferrandis, Colt Nichols, and Cameron McAdoo, lost another pair of frontrunners in Daytona. GEICO Honda's RJ Hampshire had a bad crash in his heat, which caused a red flag and the race deemed complete. According to an Instagram post, Hampshire said no surgery will be required after he sustained a fracture to his T3 and T4 and "small punctures/lacerations to his lungs," and that he hopes to be ready for the start of Lucas Oil Pro Motocross.
Autotrader/Yoshmuria Suzuki's Jimmy Decotis said he sustained a "couple fractures in [his] L2 and L3 and a couple broken ribs" in a crash in the main event. There is currently no timetable on his return.
"Not the way I wanted to end my night," he wrote on Instagram. "I Had a big crash before the finish line. I'm thankful to be walking. Couple fractures in the L2 and L3 and some broken ribs. Back injuries are scary so I feel I'm truly blessed with the outcome. Thank you so much @ichorsportsmedicine, Doc Bodner and everyone at the medical unit. You guys are the true heroes of this sport and it's so awesome to see a friendly face when you are laid up on the ground."