Daytona, FL
Daytona
Monster Energy AMA Supercross Championship
Troy Lee Designs/Red Bull KTM's Jordon Smith led all 14 laps of the 250 main event at Daytona to capture his first win of 2018. With his win, Smith is just eight points out of the points lead.
GEICO Honda's Jeremy Martin came within a second of Smith to capture his first podium of the year. Monster Energy/Pro Circuit Kawasaki's Austin Forkner took third and is now tied for the points lead with Zach Osborne.
All three riders spoke with the media after the race.
Racer X: Austin, with your wins the last two weeks and your podium here tonight, you're now tied with [Zach] Osborne for first in points. Just two years ago, you were here at Daytona as an amateur. Now with your first trip here as a pro, you're on the podium. Give your thoughts on that.
Austin Forkner: It was a pretty solid night. It was hard to make up time with how the track was. You could sprint for a couple laps, then I feel like you would start making mistakes. That's just what I did. I would try and catch these guys, then I would lose it, then try and catch them again. It was kind of… that's just how it was. I definitely got tired; the track was pretty brutal. This being my first time here…. It was good, though. This is definitely the most outdoor-style supercross track I've ridden so far. All in all, I didn't feel great today, so to salvage a third, I think, is great.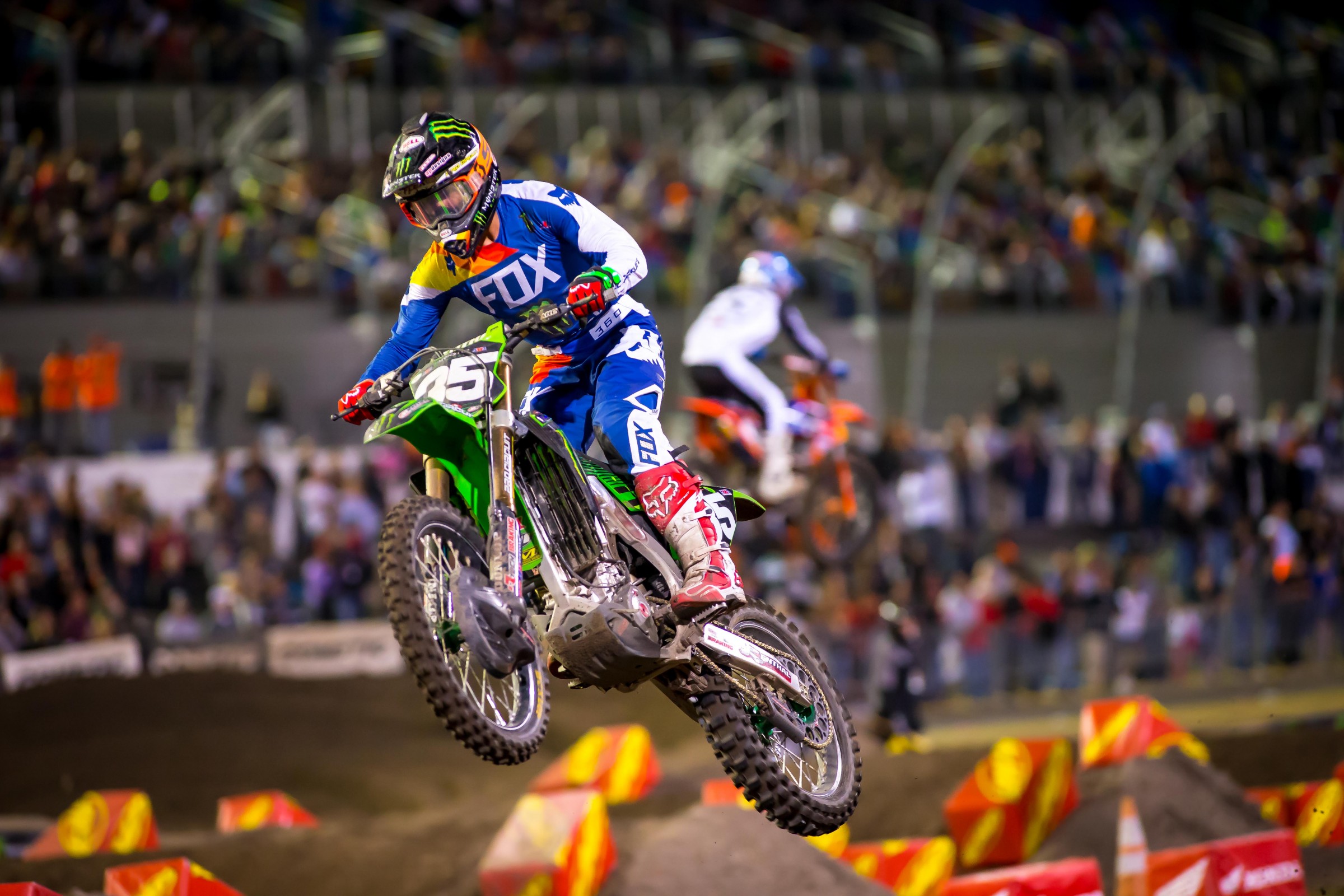 Jeremy, you won the 250 race here two years ago; last year, your first year on a 450 filling in, you led the first half of the race before finishing second. Then second again here today. You seem to be really dialed in here at Daytona. What is it about it that fits your style?
Jeremy Martin: I just like it. It's one of a kind, and you just kind of hammer. Pound the main line, just like outdoors. So, you know, had a decent night tonight and we were fighting for the win, trying to chase the #45 machine [Jordon Smith], but he did what he needed to do from start to finish.
Jordon, last year you finished just off the podium. This year you got the holeshot and led the entire race for your third career victory. Only eight points out of the point lead. Talk about your win here at Daytona.
Jordon Smith: Yeah, a lot different than last year. I got the holeshot tonight and last year got a really bad start. I felt really good all day. This is the best I've felt in practice—both practices. I qualified third, which is the highest I've qualified all year. Just got off to really good starts in the heat and the main and just put in solid laps. I could feel the pressure from Jeremy and Austin there in the middle of moto and just tried to do a few more sprint laps and get out there. The track was really tough tonight.
Jordon, before the gate dropped, you guys had to back out, re-pick. Talk about what's going through your head? You took Zach's spot. What was going on there?
Smith: I'm not really sure. I guess there was a little bit of confusion with the first heat having a red flag. It [gate pick] goes off total time. So, I think there was a bit of confusion. They asked if I wanted to switch gates, and I had felt really good in that gate inside the box all night. That's where I got the holeshot in the heat race and I really liked that rut. Yeah, that's where I wanted, so I told them I would go ahead and pick that—the rut that Zach was in.
Jordon, does winning a race like Daytona give you a boost of confidence that may carry you on the rest of the season?
Smith: Yeah, for sure. Out of all the races to win, Daytona is a pretty special one with all the history here. I won somewhere where Dale Earnhardt won. That's a pretty cool feeling. I've just been building every race so far this year and fixing the things that I've been struggling with from round one and on and on. Everything kind of went together here tonight and I felt really good. So, keep working hard during the week and try to be back up on top of the box next weekend.
For all of you, how was this course? This course looked different from previous courses. Was it really tough? Can you give us an idea of what it was like out there?
Smith: For me, I felt like it was really fast. The fastest Daytona that I've raced. A lot of really big jumps and not very much rest. There were no straightaways out there. Every straight had a rhythm, or whoops, or a dragon back, or a quad in it. The track was really tiring. Like Austin said, you could throw down a few really fast laps, but then you kind of had to take a little bit of a breather. The walls, you weren't able to take much breather, really. The walls you wouldn't think would take much breath, but it was pretty tough out there.
Forkner: It was pretty tough. Honestly, I felt like in a few spots I was getting a little bit of glare from the lights. Obviously, it's not like a stadium where they can hang them from the roof and stuff. I felt like in a few spots kind of on both sides of the track, especially with the ruts, too, it was kind of hard to see the bottoms of them sometimes. And the whoops, because they kind of had the lights set up, it was a little bit tough to see, for me anyway. That's just what I felt. The track was obviously really tough. It was hard to really make up a lot of time. You kind of just had to slowly try to chip away and obviously not grenade yourself, too.
Martin: It's Daytona. It's hard to see. The sand is dark. You can't see the bottoms of the ruts in some spots. You're just kind of winging it and hope it goes good. I don't know about any of the other riders, but it was like quad city out there tonight. You're quadding this, quadding that. So, it was the toughest race of the year as far as fitness. I had to slow down a little bit halfway through the main. I've been kind of sick the last couple weeks. Try to put on a push at the end to get the orange pumpkin and couldn't quite get it done.