Daytona, FL
Daytona
Monster Energy AMA Supercross Championship
It was an historic night for Smartop/Bullfrog Spas/MotoConcepts Honda's Justin Brayton at Daytona on Saturday night. Brayton led 17 of 18 laps en route to his first career 450SX win, in the process becoming the oldest rider to win in the history of the premiere class.
Monster Energy Kawasaki's Eli Tomac had an incredible charge through the field, coming from dead last to second. Monster Energy Yamaha's Cooper Webb finished third, capturing his first podium of 2018.
All three riders spoke with the media afterward.
Racer X: Cooper, this was your first time here at Daytona. Kind of give us an idea of what that was like for you and being able to come home with a podium.
Cooper Webb: It was really cool to race here. I grew up coming here as a kid and watching with my dad. Raced the amateur national when I was younger, so it was cool to finally be here and race it under the big stage and under the lights and everything. It lived up to the hype. It was very rough and a very gnarly track. It was nice to get my first overall podium of the year and I felt like I had a solid main event.
Eli, two-time defending race champion here. After a bobble on that first lap, you made a hard charge through the field. Came just short, but obviously this is a place that really fits your style. Just talk about that charge through the field.
Eli Tomac: At the end zone corner there at the first lap, I just got hung up at the top of the berm and then had nowhere to go but to really fall down. I lost my balance. I actually looped out my bike. It was pretty sketchy for what it was. Then after that, it was just making the charge. The good thing is this year's Daytona allowed for some good passing. There was long straightaways and lanes and jump combos you could do different. In that way, it was good. At least we were able to make something out of it.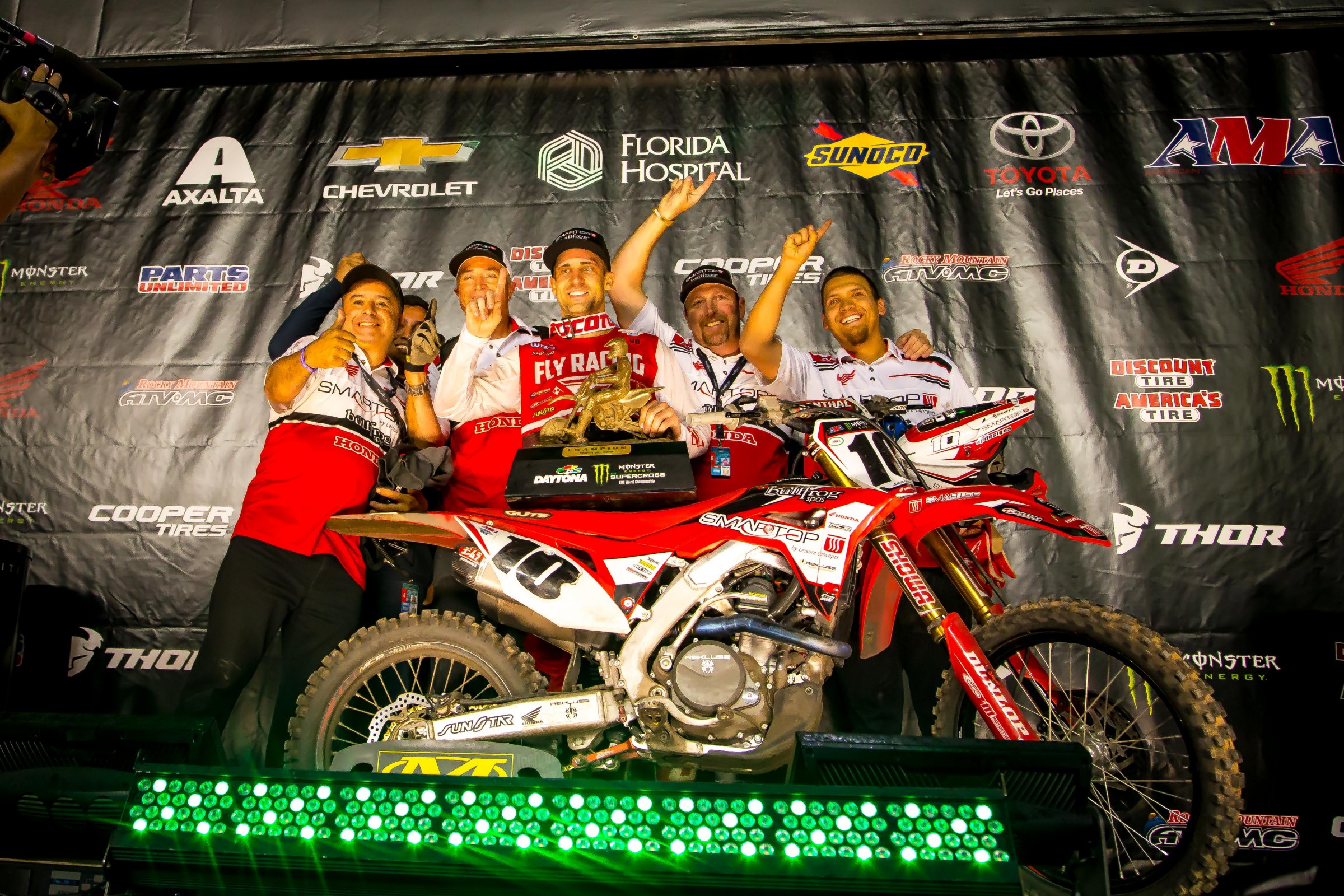 Justin, come in as a privateer, you get your first win, your first podium at Daytona. You go up to third in points. What is that feeling like?
Justin Brayton: I can't even explain it. There's so many emotions that [you] go through. To win, for one, my first race at Daytona of all places, I would never have expected that. Typically, outdoors doesn't come that easy to me, and this is more of an outdoor-style track. Ricky [Carmichael] did an amazing job with this layout, I think. It made for a lot of different lines, a lot of jump combos, like Eli said, that you could do different. I knew that I had to put in really good laps at the beginning with that good a start. I made the pass on Christian [Craig] the first lap and really just tried to get a gap and kind of manage that gap. I saw Coop in second and he made a little bit of a charge. Once Eli got him, I think there was four or so laps to go. I was like, oh boy, here he comes. I put together good laps. I knew towards the end of the race he could only so fast when the track gets real rough like that. I thought I managed it well. It was crazy. Finally got a win.
You've actually become the oldest supercross winner now. You said you're almost 34 now? The record was 33 years and one month, so you're almost a year older than that. Does it really make any difference? Do you feel any different now than you did when you were in your 20s?
Brayton: No, I actually feel physically—I think I've said this before—physically, I'm probably not as fit or whatever you want to call it as I was when I was 25, but mentally I'm tenfold better than I was when I was 25. So, I think that makes up for it. I've got a family. I've got two kids at home. I've really got a good balance right now. I think that's the biggest thing is I go home and see my kids. I take my daughter to swim lessons. I can kind of detach myself from the grind. Then when it's time to throw down, I can do it. I seriously feel better than ever. A lot of people say it, but I think I've proven it this year that I can run up front on really any style of track. That's a testament to my bike and the team and my family. Just the whole package came together. Mentally, I'm super strong and can get it done when it needs to be done. I think that's the biggest thing.
Justin, 16 years ago in 2002, you turned pro. Did you ever dream that it would be 2018 before you won your first supercross race?
Brayton: Honestly, in 2002 I didn't think I would qualify for a supercross main, to be quite honest. I went to Des Moines Arenacross in 2002. I was a senior in high school. I went there on a stock Honda and I thought I would maybe qualify for the night program. I ended up winning the heat race, fastest in practice, and I almost won the main event. From that day, that was a life-changer. One hundred percent it was a life-changer that day. I started to believe maybe I could be somewhat okay at this. Growing up in Iowa, it was so much different. I could only ride about six months out of the year. I think that's why I'm still going. I didn't really turn full-time pro until I was 22, 23 in supercross. I took a lot of winters off. Growing up, I wasn't chasing the amateur scene or anything. It's crazy. I'll be 34 on Wednesday this week.
I don't know how many laps we ended up going here, but I think you two may have different opinions on going laps versus the timed race that we had tonight.
Brayton: Whatever it was tonight I'll take that. How many laps did we go? Eighteen? Two more. I got Coop with, I'm just guessing, but I think maybe four to go, so it would have been a lot different maybe with six to go or seven to go. But that's racing and we race until the checkered flag. I'm stoked.
The heat race was crazy. Eli and Cooper, just take me through what happened there. You guys were going for it.
Tomac: Had to bring that one up, huh? [Laughs] Well, were both have different opinions, I'll tell you that. Here's my opinion: there was a little bit of cross-jumping going on, coming across that rhythm lane. I got pissed off. I went for the takeout. That's all there was, plain and simple. That's my side of the story.
Webb: I definitely was racing hard and I did come over a few times. I knew he was mad. I heard him come in. It was a bummer that we both went down. I think that's never good. You told me, welcome to the 450 class. I just wanna say, thanks, I'm here.