Daytona International Speedway
Daytona

,

FL
Daytona
Monster Energy AMA Supercross Championship
Justin Brayton did it. In his 131st start, he became the oldest rider to win a 450 main event on Saturday in Daytona. With all of the deserved fanfare around Chad Reed's 230 starts, as well as his ultimate goal to supplant Mike LaRocco's (now Brayton's) record of oldest winner, maybe we should have seen this coming? After all, Brayton won the first main event in Atlanta outright and had been battling for podiums out west earlier in the season. With all of the injuries and chaos amongst the lead ranks, it appeared the stage was set for a night like this. There seems to be one common denominator in every surprise winner scenario, though: that winner absolutely has to take advantage of the opportunity when it appears.
When Justin Brayton grabbed the holeshot in the main event, I instinctively looked for the contenders behind him. That may not be fair to Brayton, but history has a way of predicting the most likely outcome. Marvin Musquin, Eli Tomac, and Jason Anderson were immediately in my thoughts as to who could and would be moving forward to grab the win. When I saw Marvin well inside the top five and making moves, he was the easy choice. Eli took himself down on the first lap and was dead last while Anderson crashed a short time later after a horrible start put him in a precarious spot. Marvin moved past Christian Craig with relative ease and set off after Brayton.
When Marvin moved to the lead on lap four, I thought this was a done deal as far as the win is concerned (sorry, JB10). Marvin is so calculated and is usually rock-solid once he gets into the lead. With his nearest title threats struggling in the back, the pressure should have been minimal on Marvin to set a pace, and while it's never easy to win, this might have been as close as it gets. Now, I can't say if the tear-off stuck to his hand was to blame or not, but what I do know is that he tossed away the lead and a win with that loop-out crash before the mechanics' area.
As he went flipping into the mechanics, I once again scanned behind Brayton to assess who was back there and a threat. The way the race was playing out, it didn't seem that Craig or Weston Peick were going to make a big move forward. Marvin was behind them and still trying to get back up to speed (and would crash again this next lap). The next real threat seemed to be Cooper Webb, but he had a huge gap to make up to realistically be in the mix. As for Anderson and Tomac, they were not even really in my thought process after their first-lap woes.
As the laps clicked off, the intensity began to ramp up. Brayton was staying consistent with his 1:14s and 1:15s, lap after lap. Webb and Tomac were pushing hard, though, and closing down the gap. Webb was putting in 1:13s and 1:14s, no doubt visually marking Brayton on the racetrack and hunting him down. Behind him, Tomac was simply on fire. He was logging 1:13s and even dropped two 1:12s on laps 13 and 15. The pace was torrid for both predator and prey. Webb and Tomac were letting it all go, riding with reckless abandon and seeing that gap shrink. This was the most critical time for Brayton. It's so incredibly difficult to maintain composure and stick to the plan in this situation. When Webb and Tomac were clawing at that gap each and every lap, it's so easy to mentally crumble under the pressure. The two chase riders are feeling no burden; their gains are fueling their intensity and it begins to snowball forward. For Brayton, it was exactly the opposite. The gap is shrinking and everything in your psyche is screaming, "We have to push harder and go faster!"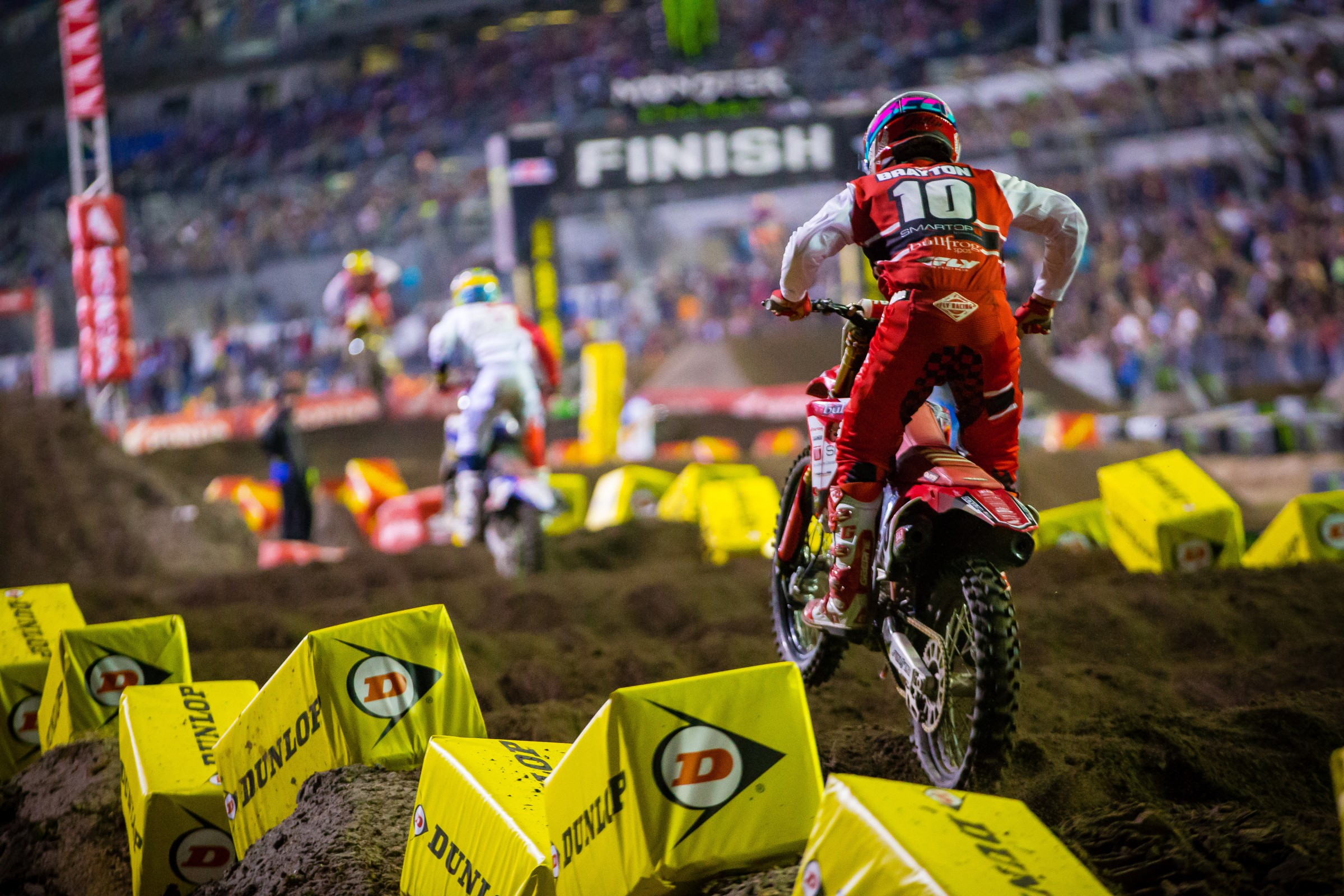 This is where Brayton shone through. His experience taught him that he had to stick to his lines and execute his plan. Don't go crazy, don't override the track, don't make the critical mistake. He continued to log his 1:14s and make life hard on the two behind him. On lap 15, Webb cracked and put in a 1:15.8 in comparison to Brayton's tried and true 1:14 and Tomac's astounding 1:12.8. It would now come down to Brayton's mental fortitude and if Tomac could do the impossible and maintain that 1:12 insanity. Just when it would have been so easy to fall into the black hole of Tomac's chase, Brayton dropped a 1:13.9 on the second to last lap. That 1:13.9 was the death knell to Eli's chances. Had Justin faltered and put in a high 1:14 and given Eli hope, that last lap could have been all-out war. Instead, Brayton fought fire with fire, throwing down the 1:13 gauntlet. While it might be easy to think, "What's the big deal, Cooper and Eli were doing 1:13s the whole time," the fact that he did it under that pressure and on that track was nerves of steel-type stuff.
Brayton was so true to his plan for the entire race. He rode his race and 1:14 was where he seemed to be comfortable with the pace. He put in lap after lap of 1:14, only losing that pace to 1:15 for two out of the previous 13 laps. He had that pace locked in and was hitting his mark every lap on a track that was completely falling apart. Having raced Daytona 16 times in my career, I know firsthand how difficult it is to keep the same lap time every lap for a Daytona main event. The track changes so much for the worse, and fatigue sets in as well. With his first race win staring him in the face and Tomac's 1:12s coming like a freight train, Justin reached down and pulled out a lap time he hadn't been able to reach since lap three. That's the absolute definition of a clutch performance. When people look at the results and think, "Wow, how did Brayton win?", he should rest easy knowing that he stood tall when it mattered most.
---
Check out Racer X Brand for men's and women's apparel, Ogio-branded bags, and much more, including our Retro Throwback '89 High Point Shirt and Special Edition Lego Cover Posters. Be sure to use coupon code GRGSALE18 for 30 percent off all men's and women's apparel.