Hurricane Mills, TN
Rocky Mountain ATV/MC AMA Amateur National Motocross Championship (Loretta Lynn's)
Amateur National Motocross Championship
Kawasaki Team Green and Parts Unlimited/Thor held a big dinner last week at the 36th Annual Rocky Mountain ATV/MC AMA Amateur National Motocross Championship, presented by Lucas Oil at Loretta Lynn's, and Kawasaki invited three big-name riders—Jeremy McGrath, Ryan Villopoto, and Adam Cianciarulo—to come out for a question and answer session.
Racer X's Jason Weigandt served as host and recorded the conversation so you can read about it here. Enjoy some sage advice from guys who have been there.
Racer X: Jeremy we had a great conversation here last year at this event, and you talked about not having a dominant amateur career, and in fact being a BMX racer, but you believe that you need to peak at the right time to really make the most of it as a pro.
Jeremy McGrath: Yeah, it's funny because we did talk about that. I had a C class title here at Loretta's that was the first time I had ever raced here. Timing really is everything. For me, it was so different than most guys. I didn't start racing until I was older, so maybe I was a little older and more mature because I didn't start so early. It was also a different time—when I was in the A class here, I was racing professional supercross already, and I was also racing Ponca and Loretta's still in that same year. You're not allowed to do that now. I had already won a supercross in Las Vegas in 1990 before I even came to Loretta's that year as an A rider. So it was a different day and I was very fortunate to have that because I certainly did terrible at Loretta Lynn's. I'm from California, so when it rained here I was bad—we had no ruts, and no rain, and when it did rain I certainly didn't go riding in it, at least not until later in my career. So it was a totally different day. But, I will say it's not imperative that you win here.
Do you think having that late start almost helped you?
McGrath: I believe you have a window. That's based on my life experiences. Maybe it's 10 years, maybe it's 12. I think certainly that helped me race until I was older than the norm, because I didn't stop racing until I was 29, which was pretty old for those days. I think that was because I started pretty late. You don't see that so much. Ricky Carmichael started young, raced a lot and won a lot—he won more than all of us. He also stopped pretty young. It's all in how it works for everyone and everyone is different, but that's how it worked for me.
We all know about that C class title you won here, but how did you actually do in the A class at this race?
McGrath: Didn't even sniff the podium.
Didn't even sniff the podium!
McGrath: I would say maybe top 10, maybe. It was so bad I don't even remember!
Adam, you on the other hand were in the 50 class and I already heard all of these people hyping you up like, "Oh man, watch out for this kid Adam Cianciarulo in the 50 class!" How did that start? It was like the first time you were here people already knew about you.
Adam Cianciarulo: I don't know, man. I don't know. I promise you, I did not try to hype it up. I was just having fun racing. I think my first national was the World Mini GP, and I think I did pretty well there. My first year at Loretta's I didn't do that well. Next year was good, but I still didn't win a title.
"You don't have to win and you don't have to dominate every moto. The factory teams, they just need to see you have a reasonable chance at winning someday, and they can take you where you want to go."
What I'm getting at here is, you were known as a contender and a guy expected to win so early, could you actually enjoy your time here? Or did you have to lock down and think only about winning?
Cianciarulo: I just enjoyed it in different ways. When I won here it was a relief, and that turned into a fun feeling. So winning became my way to have fun. I couldn't say I had a great time here every time I came, because yes, there was pressure. If you had a killer year coming into here and had won a lot, but then if you come here and don't win, all of a sudden your whole season feels like a bit of a failure. I think what I've found from talking to other pros I've raced with, and other people I've talked to, everyone shows their potential in some way. Whether it's starts or speed or maybe someone doesn't get the starts or has some crashes, but maybe they still show some potential. You don't have to win and you don't have to dominate every moto. The factory teams, they just need to see you have a reasonable chance at winning someday, and they can take you where you want to go.
Ryan Villopoto, you were a Team Green guy early, actually you were a Yamaha guy for a brief time, and you had success here, you were fast here, you won a title in your last year here, but you were kind of in-between these two. Jeremy doesn't even remember how he did, and Adam won all the time. As for you, you were up front, but not quite up top. Can you explain your experience?
Ryan Villopoto: I started on a Yamaha here, actually it started in the 60 class, I think I got 11th in one class. This was always the biggest stage of amateur racing of all, and I think the next year I was inside the top five. It was a long road; I was also the second best guy to Mike Alessi. That was the guy who won pretty much every year. I was just … I was just not good enough!
I remember watching those races against Mike, and everyone in the industry was wondering—were all those second-place finishes going to crush you, mentally, or would it become motivation? How do you think it worked in your mind?
Villopoto: I think it's worse for the parents than it was for the kids. At least it was for me. As everyone knows, it's a lot of work and effort to get here. To come here every year and get second and not get that win, I think it was harder on my parents. That's just the way it was. I guess I didn't take it too seriously, I guess you could say?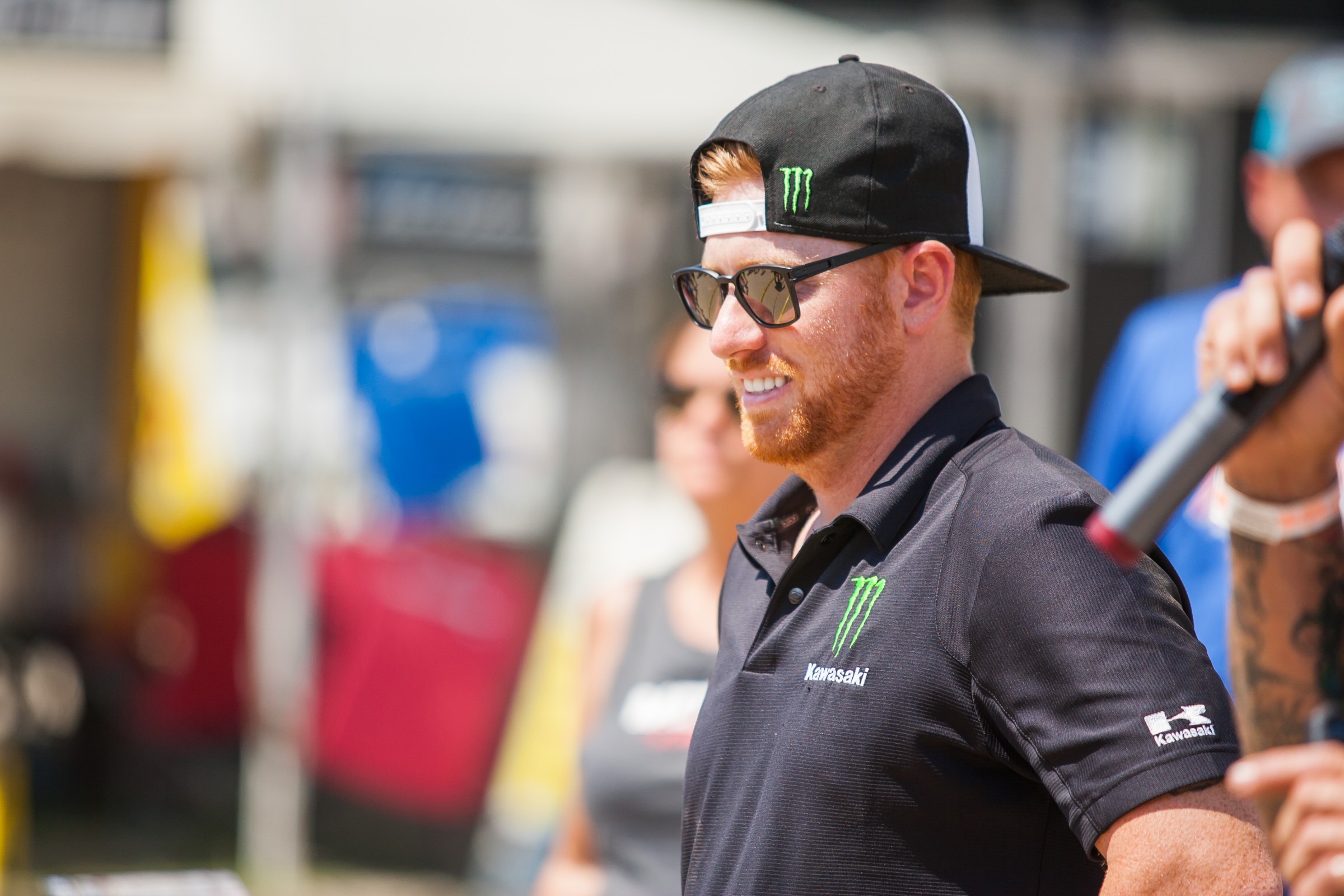 Do you think that looking back now you didn't take it seriously enough back then?
Villopoto: You have to come to Loretta's and you have to put your name on that board. You have to make a name for yourself, but I agree with these guys, you don't need to win every year. I didn't win a title until my last year. It all depends on the talent and desire you show, and who is watching you at the right time.
Did that give you more motivation as a pro, being second so often?
Villopoto: I don't know what it was. When I turned pro, obviously at the time I was on a very, very good team, with Pro Circuit [Kawasaki]. Things changed very quickly, for whatever reason. I can't say why. Mike went to factory KTM and I went to Pro Circuit, and we see how it has gone now. I don't know why and I can't say why—I wasn't doing anything any different. It just worked out.
Fan Question: What's your favorite track to ride?
McGrath: Is it fair to say any supercross track? [Laughs]
Cianciarulo: I don't want to pick. I don't want to bum anyone out.
Villopoto: I always enjoyed Glen Helen. But a lot of it depends on the weather they had coming into the weekend, and the prep job they did. Glen Helen and RedBud were always good, and I always enjoyed Unadilla.
Cianciarulo: The fact that this guy just said Glen Helen kind of blows my mind. Maybe it's because I'm from Florida, so it's different for me. I actually do enjoy the hard pack tracks more now, though. I really like Washougal and Colorado actually.
McGrath: I think one thing is, if you've won a National, you really feel like you've accomplished something. They beat the crap out of you! So winning a National, whatever track, Glen Helen for instance, really any of these tracks are pretty rough so if you win on any of them you've accomplished something.
Cianciarulo: I will add that if you have a good finish at a track, then you like that track. I had a good race in my rookie season at the old Utah track, everyone hated that track, but I got my first moto podium there so I thought that place was awesome!
McGrath: Funny you say that. My first National moto win was at Southwick, and I never liked Southwick because that was one of the roughest tracks of them all, and I wasn't known as being the best on the roughest tracks. I won my first moto at Southwick in 1991. It was amazing because I passed [Guy] Cooper and [Mike] Kiedrowski, all these guys I really looked up to. However at the end of the race I was so exhausted that I spent the whole time between motos sleeping, and maybe in the outhouse a little bit because my stomach was upset, and in the second moto I got ninth! It was hilarious—I went 1-9 because I used everything I had to win that one moto.
Cianciarulo: If you win the first moto and go backwards in the second one there's a 99 percent chance you don't even mention the second moto when you're telling everyone how your day went, right?
McGrath: Probably. Especially on cool-guy Instagram.
Fan Question: What was your favorite part about being a pro racer?
Villopoto: All the free stuff!
Cianciarulo: For me, it's doing stuff like this. I grew up here and when I walk around the pits here, even though I haven't won a lot of races, some of you kids will still ask me for an autograph. I kind of put myself in your position and it makes me grateful to be here. Also the free stuff—yeah.
McGrath: I think it's the personal challenge. Also you get to make your own hours. Now obviously if you don't put enough hours in you're not going to do very well, because this sport is a lot of work, it's a seven day a week job and you have to be committed to it. Having a conversation with yourself, being all-in. Once you commit to that, great things can happen.
Adam your story is unique. Your parents didn't race. Almost everyone who races, someone in their family put them on a motorcycle. You didn't have that. You saw it on TV and said, "I don't know what this is, but I want to do that."
Cianciarulo: It's pretty crazy, I was like two or three years old and caught it on ESPN. I was watching this guy right here [McGrath]. Obviously it's pretty hazy because I was so young, but that's what my parents tell me. I actually used to carry this VHS tape, 1999 Bar to Bar, it was all the supercross races and highlights. I had a little TV I would carry around and bring with me everywhere I went. I just watched that thing sooooo many times. I started riding in a field, started doing some local races, started doing pretty good so we started doing some [amateur] nationals. Here I am sitting next to Jeremy McGrath and Ryan Villopoto!
McGrath: That's a cool story right there! Instead of Barney he had Bar to Bar.
Fan question: What's a typical workout routine at the pro level?
Villopoto: It's all tailored to who you are and your body type, but obviously it's a lot of seat time. You can't get around riding your motorcycle. But obviously it's a lot of cycling. We use that for the cardio side and the motorcycle, too. The gym is always changing, you're always getting stronger in one area, and then there are other areas you're working on. For me personally, on Monday [it was] cycle in the morning, go to the track, and then gym; Tuesday cycle in the morning and then go to the track; Wednesday was as much as a two-and-a-half hour cycle; and Thursday was cycle in the morning and go to the track, maybe the gym again. It would vary a little bit based on how your weekend went or how you were feeling.
On that topic, Adam one of the things I always hear from young riders like you when they turn pro is the difference between racing every weekend versus just having six or so big amateur races to really peak for each year. So how does training change when you have to race 12 times in 15 weekends?.
Cianciarulo: It's really different, and you do have to change your training, there's no way around it. But the positive side, at least for me, is redemption is the next weekend. A lot of you guys, maybe you had a few bad motos here and you have to wait until the Mini Os, so you're kicking yourself for two months. At the same time you'll see a lot of guys at the professional level get into a slump and they'll start having a bunch of bad races for whatever reason. Here as an amateur, you have time to shake it off and figure out what you need to work on.
Jeremy, you mentioned how much things have changed since your days here, one of the biggest is that most of the top amateur riders have trainers or coaches, or ride at facilities.
McGrath: Yeah, these days we see a lot of professional practicers. That's just a victim of the sport right now—there are a lot of training camps and facilities and people do a lot of hard work there. But you cannot replace the experience with starting on the gate and racing a race—a local race or a national race. You get a lot of experience at a race. And maybe at a local race there's not much competition there and you're winning and you don't think you're getting much out of it. But you are. You're getting experience. I see it a lot today, a lot of fast kids spend a lot of time with the technique, the training, the facility, but they don't spend a lot of time racing. You cannot replace racing experience without racing. That's one of the things that changed a lot since I raced. This might be hard to believe for some of you, but even when I was racing at the highest level, some weekends I would go race local. I would just race at Perris Raceway to get on the gate. I'd have local guys with me, and maybe I would potentially win the race, but it was still experience. A lot of you will put together a program for Loretta's, maybe it's a six-week program, a lot of training, well, my suggestion would be to get off the gate a few times [before] you come here, because then you don't have as much pressure thinking the big race is here. Local racing is pretty small now because of all that.
I can back that up. I remember reading in Cycle News, Jeremy McGrath, the supercross champion, showing up to do a moto at a local race in Southern California.
McGrath: Yeah, and it seems weird, but it was normal back then. Perris was my local track, that's where I had my first race, so even when I was racing I wanted to stay sharp. I at least believe you need to race to stay sharp. You guys can tell me, I know you do tons of practice starts. I'm sure you have great guys to ride with. But it's still not the same until you get out here.
Cianciarulo: Coming back from injury when I'm off for a while, it really took me four or five races until I really knew what I was doing coming off of the gate. Obviously not now because our schedule is pretty gnarly, but when I was a kid, that's what we were doing, racing all the time.
McGrath: But would you guys agree? For Loretta's? I know some of you guys probably do it, but some of you probably do not. Some of you probably only race five or six times a year. Don't miss the opportunity, that's what I would say.
Villopoto: I can remember as a kid, you had myself, Nico Izzi, there were a handful of kids, we were always racing. Yeah, we were probably chasing contingency too, but that was a big thing with my dad—we were always racing. Like MC said, there's no replacing gate time. I think that's one of the biggest problems today—like you said, everyone is at a training facility or training camp and they're not racing local races. It can happen one guy at a time—one guy goes, then another guy goes, and after awhile maybe we'll see gates full of fast guys again, and then it's really good. There's no replacing gate time and experience.