Lakewood, CO
Thunder Valley
Lucas Oil AMA Pro Motocross Championship
If you wanted to take someone new to the sport and show them just how amazing and exciting motocross can be, this year's True Valley Thunder Valley National in Colorado could serve as the model example. All four motos offered incredible racing, as well as some unpredictable winners. "You've seen three different winners in three different rounds and four different moto winners," said Jason Anderson of the current state of the 450 class. "I think the door's open for there to be another winner. I think it's cool. I think it's good for the sport and I think it's cool to keep it fresh. You don't know what's coming every weekend as a fan. Even for us, between Blake [Baggett], Marv [Musquin] and [Eli] Tomac, you don't know who's going to step up the weekend and be the dude. Every weekend there's been one guy that's been the fastest. It's pretty killer."
What was the secret ingredient this weekend? Maybe the altitude slowing the bikes? Maybe the track layout or prep? Alex Martin, who won the first 250 moto and finished third overall, thinks one of the biggest factors might have been the weather, as it was relatively cool in Colorado so everyone was able to pin it the whole way and battle. Jeremy Martin thinks it's just competition, saying that now the 250 class is so closely matched the motos often just come down to who finds the good lines. Whatever the reason, this season is off to a roaring start, as last week's dramatic tilt at Glen Helen was actually eclipsed in Colorado, with four scintillating motos, and all sorts of changing momentum and math in the series standings of both classes. One week of craziness? That's just random. Two weeks in a row? This might really be something.
The 450 class started with fire. Literally. An hour and fifteen minutes before the first moto, the RCH/Yoshimura Suzuki pit caught on fire when one mechanic lit a blow torch a little too close to another who was gassing up Broc Tickle's bike. Tickle's gas tank ignited, but the team quickly got fire extinguishers and put the fire out. The bikes, apparently, were good, because Tickle and Justin Bogle started second and third behind Martin Davalos, and when Davalos crashed Bogle found himself in the lead. Then…he just started checking out! Bogle was in complete control the whole way, and was even able to celebrate with leg swag, whips and nac-nacs while holding a 12-second lead most of the way. For a rider who struggled mightily in Monster Energy Supercross this season, Bogle desperately needed a change, and he credits moving to Ricky Carmichaels GOAT Farm for a lot of his recent improvements. Whatever the reason, Bogle was on fire in the first moto. In moto two, he took ninth.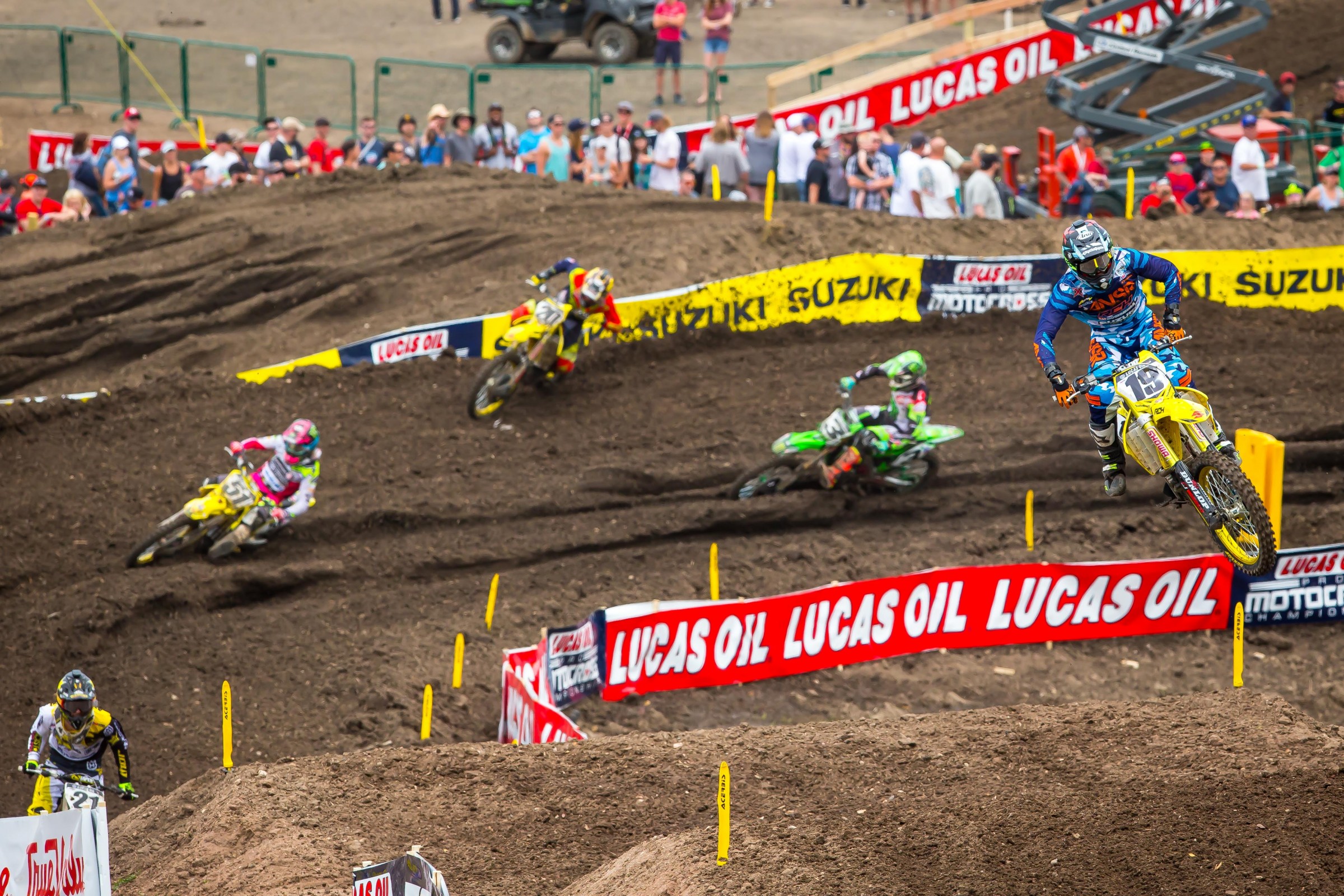 Yes, Justin Bogle won the first moto. That might not have been the craziest thing that happened, though! Points leader Marvin Musquin went down in turn one along with Blake Baggett and Josh Grant. Grant DNFed, but somehow Musquin and Baggett logged epic charges through the field. Baggett would go around series' leaders Musquin and Eli Tomac on his way forward, and finish the moto in third. This set the tone—Baggett, after making big bike changes at the first two races, was dialed in, and when he grabbed the lead early in moto two, it seemed like he would be set for the win.
Meanwhile, everyone was waiting for the regular Eli Tomac to stake his claim. In the first moto Tomac got to third and then crashed in a rut, he was later passed by the Baggett/Musquin train, and Justin Barcia got him near the end. In moto two Tomac was better, and even took the lead from Baggett and started to move away. At the halfway mark, though, El Chupacabra returned to the races, and Baggett started hunting Tomac down. Using a crazy outside line on top of a hill—almost like a half pipe vert ramp—Baggett stormed past to take the lead from Tomac and start pulling away. With 3-1 scores, he took the overall win, the first-ever for his Rocky Mountain ATV/MC-WPS KTM team.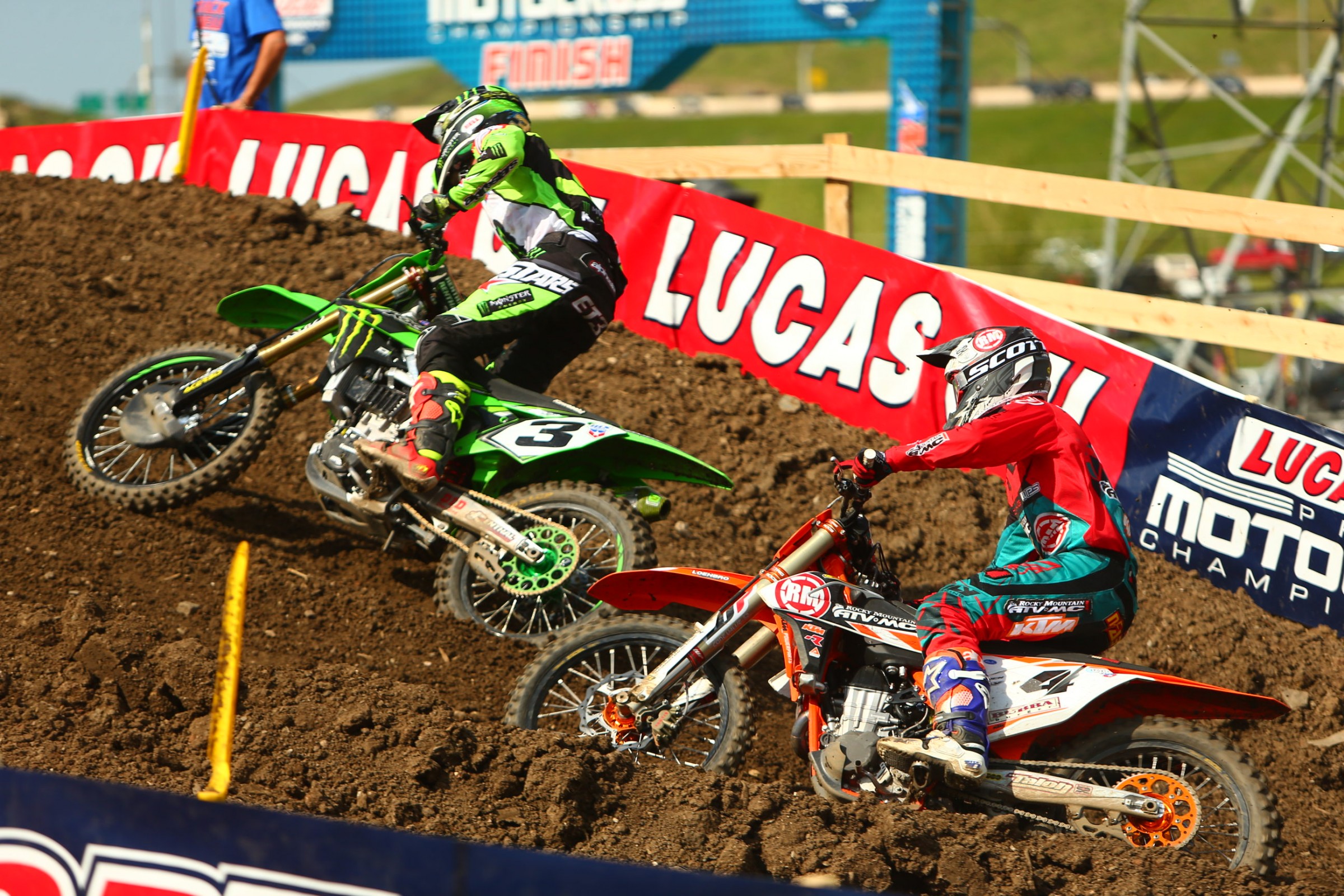 "The goal is to do with him what he's [Tomac's] done to all of us many times, and that's break him," said Baggett. "He's done it to all of us. And when he gets confidence he really gets on a roll, so I knew the time was right to try to stop it, and for the whole KTM and Husqvarna group I was glad to be able to do it."
Baggett made huge changes to his bike for last week, and revised his fork and shock this week. He also said he studied his battle with Anderson for the moto win last week, and tried to "adjust the way my brain is thinking" when it comes to line choice. After [last week] I knew that we had the pace and I had the speed," said Baggett. "So I just went back and worked on a few things on the bike. The goal is to win races, and I've done it before so it's not like we're trying to do something that's never been done before. But it's a new bike, new team. Everything's new, so still trying to get everything figured out and figure out what I like. Coming in, first lap of practice I just felt good today."
Down in the first turn of moto one, it looked certain Musquin would lose part of the 15-point lead he held on Tomac entering the race. Somehow he bounced back, with 4-3 scores giving him second on the day, and two more points that Tomac's 7-2.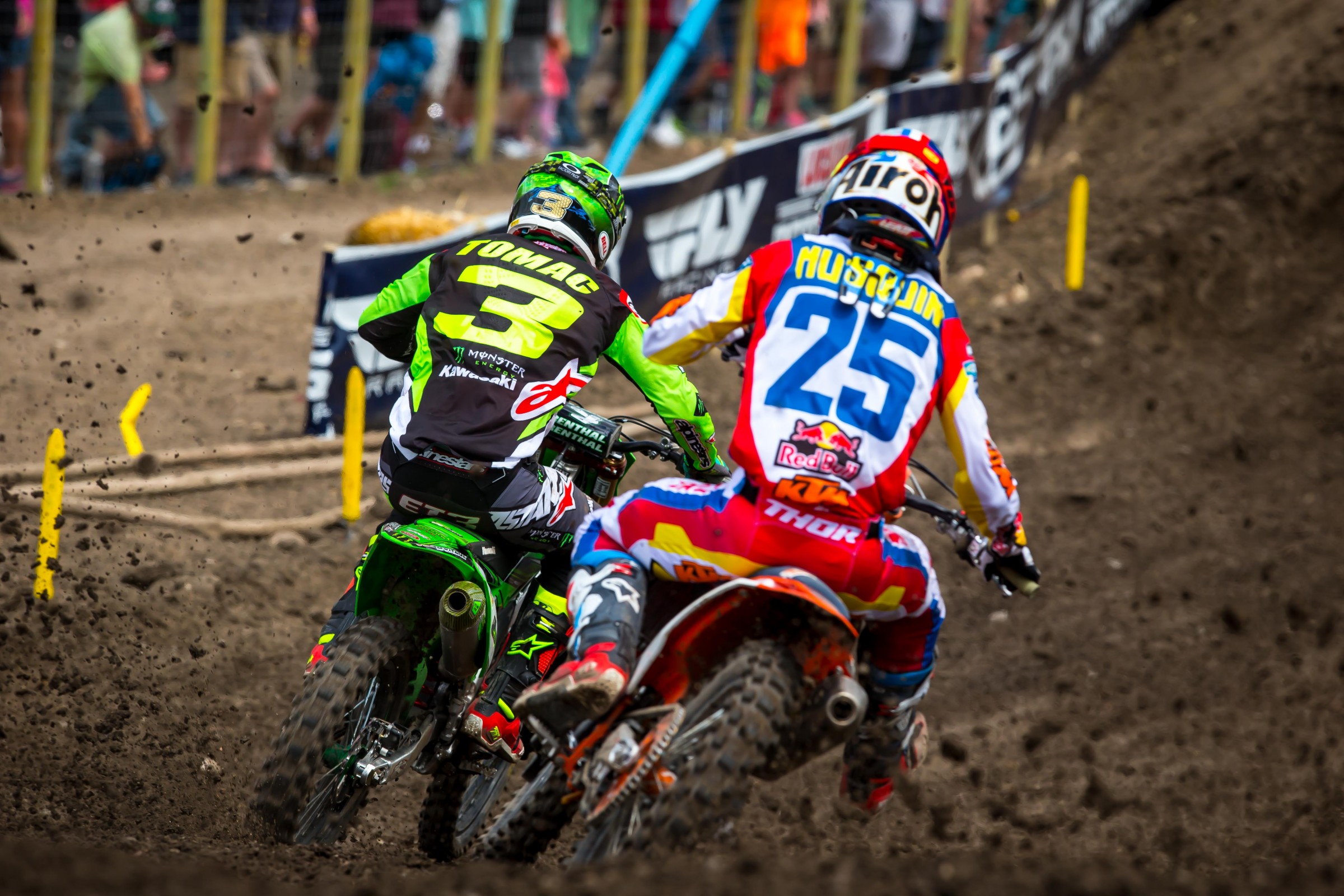 "When you look back at Hangtown Eli was much faster than me," said Musquin. "At Glen Helen we were able to be in front of him, but he was still faster. To be with him that first moto, especially after the crash on the start, it was good to battle with him and then be able to pass him and make up some points. It was a tough first moto. It was a boost of confidence for sure. Both of my levers were pretty far down from the crash, so that was a little bit tough, but I'm happy I made it happen."
Also happy on the day? Jason Anderson, who went DNF-DNS here last year while struggling with altitude sickness. This time he did more than just survive, he landed on the podium with 2-6 scores. This is the second-straight race with Baggett, Musquin and Anderson taking the overall podium spots.
"Obviously, I struggle here and even this track in general I'm not good at riding it," said Anderson. "I feel like Blake rips here. I just feel like for me getting through the day and getting good starts, that first moto luckily my start put me in a good spot. I kind of just rode around and tried to stay within myself. I really wanted to make it strong through both motos. To be on the podium is great for me here. So, from here on out I kind of want to do what I did last weekend and battle for those wins and definitely stay on the box. I feel like I've been settling up here, but to be honest I really want to get some wins. That's where I'm at right now."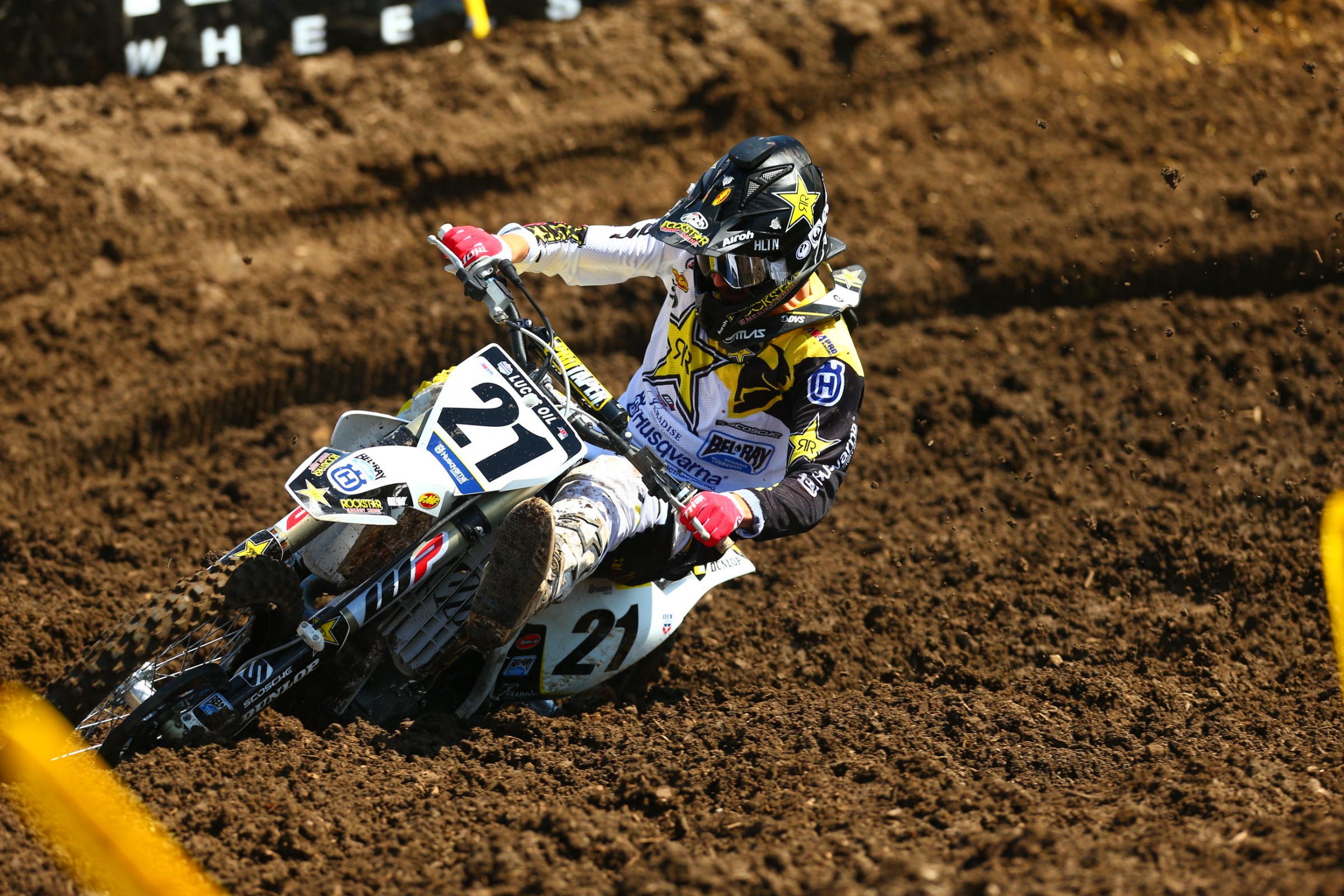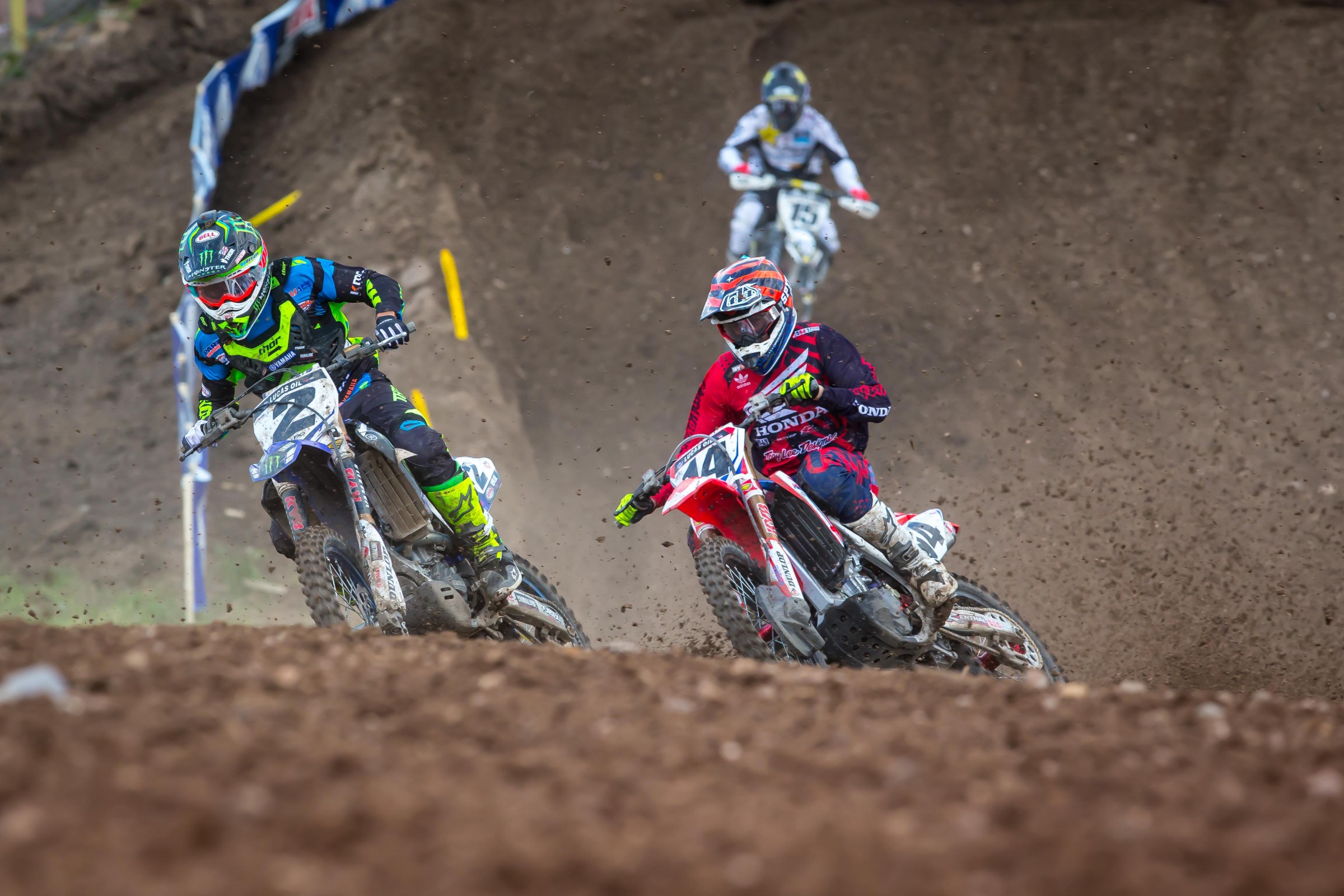 As for Tomac, the word from the Monster Energy Kawasaki team was arm pump for Eli. He still sits second in points, but is now 17 down on Musquin, and a fast-closing Baggett is just two points further back.
The first 250 moto was just insane. It might set a new record for number of passes in a race, as Alex Martin jumped out to the early lead, but an incredible seven-rider freight train followed just behind him. Points leader Zach Osborne crashed out of third, Adam Cianciarulo crashed out of second, Jeremy Martin struggled and lost some spots, for awhile Aaron Plessinger and Colt Nichols were vying for podiums, Joey Savatgy was in the hunt, and then Austin Forkner started blitzing them all to climb from seventh to second and even start catching A-Mart for the lead.
"So, first moto I had a little bit of a gap and I made the mistake of kind of looking back and seeing that I had a gap," said Alex Martin. "Then I was like, I'll just kind of chill out for a little bit. Then I just couldn't get going. I started riding tight and picking some crappy lines. Then basically it was like a train of Joey, Jeremy and Forkner were all over me. I looked back and they were just battling. I'm like, I need to get going here. So I put in a pretty good sprint there with two laps to go and tried to get a little gap on Forkner. It was tough though. It was good. I was pumped on the win."
Alex started ahead of that train in moto one, but behind it in moto two, and he thinks that made all the difference. Plessinger led the second moto and looked good to possibly win it until he crashed, and then his bike was stuck on a blind jump, and he had to wait for the entire field to go past before he could get to (it prompted Nick Wey to grab a yellow flag from a flagger and literally stand in the center of the track to better move traffic away from Plessinger's bike). This left Savatgy in the lead, and Jeremy Martin shadowed him the whole way, staying right in his roost but never able to make a move.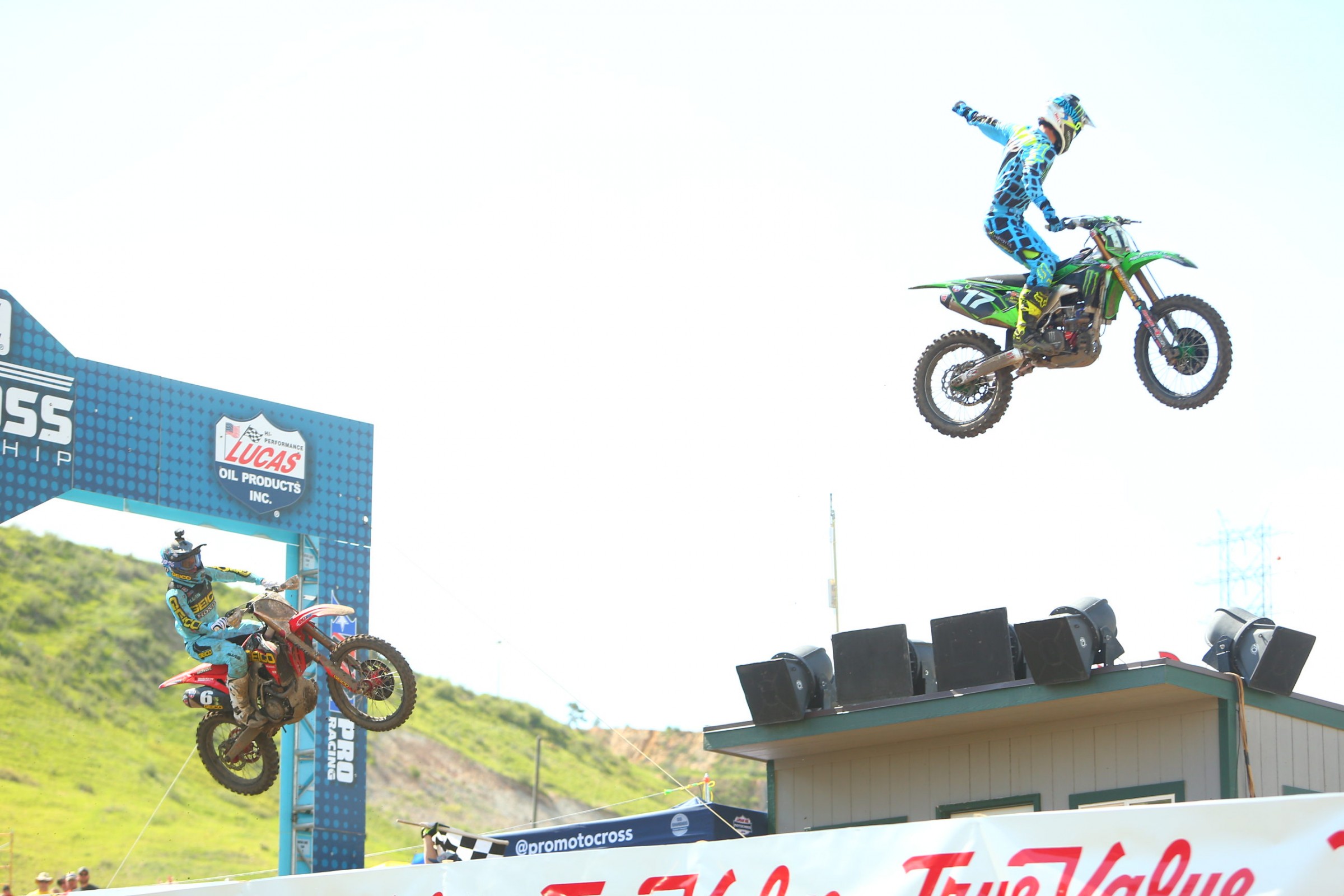 "It's frustrating," said Jeremy Martin. "You're just getting pelted. My face kind of hurts right now. He was fast. He had some good lines. And then he would stick it in a corner because it was so deep, and then I would come up on him, or he'd hit a lapper and then I'd catch him. And then he'd get through the lapper and the lapper would screw me. So it was like we were playing this cat and mouse game. I had a section where I was a little better and he was a little better on the one side. I knew I needed to get him for the overall and I was trying. I was trying hard. I think I got up alongside of him one time over here but the ruts were so deep. Joey was taking good lines. He was taking the main good line. Then you had to like dive bomb it into this deep rut and then when I got alongside of him it was so deep that I went into false neutral."
Savatgy held on, and the overall came down to one point—Savatgy scored 43 on the day and both Martins and Forkner tied at 42. That's how close it was. For Savatgy, the overall win was huge after a disappointing supercross season, and a mechanical problem last week at Glen Helen.
"It does feel like the first win all over again," said Savatgy. "I say that in a sense of we had an up and down supercross season. There was two races that we were leading and had a little bit of a lead and just mistakes. You look back on those and you add up the points, and you add up the points that I lost in Toronto. It's a what-if game. There's always something that you look back on and you think, man, I wish I would have done something different, but that's how it goes. You can't change it. It's good for the confidence. The confidence has never not been there. Obviously there's been times where I've struggled and get frustrated, but I've always believed in my ability and know that if I show up on the weekend and I ride like I know how to ride that there's no reason why I can't win or be fighting and battling like we did today for a win."
Forkner got squeezed off the podium despite 2-3 scores—amazingly. But Monster Energy/Pro Circuit Kawasaki's bike woes were not completely left behind, as Cianciarulo's bike quit in the second moto, leading to a DNF.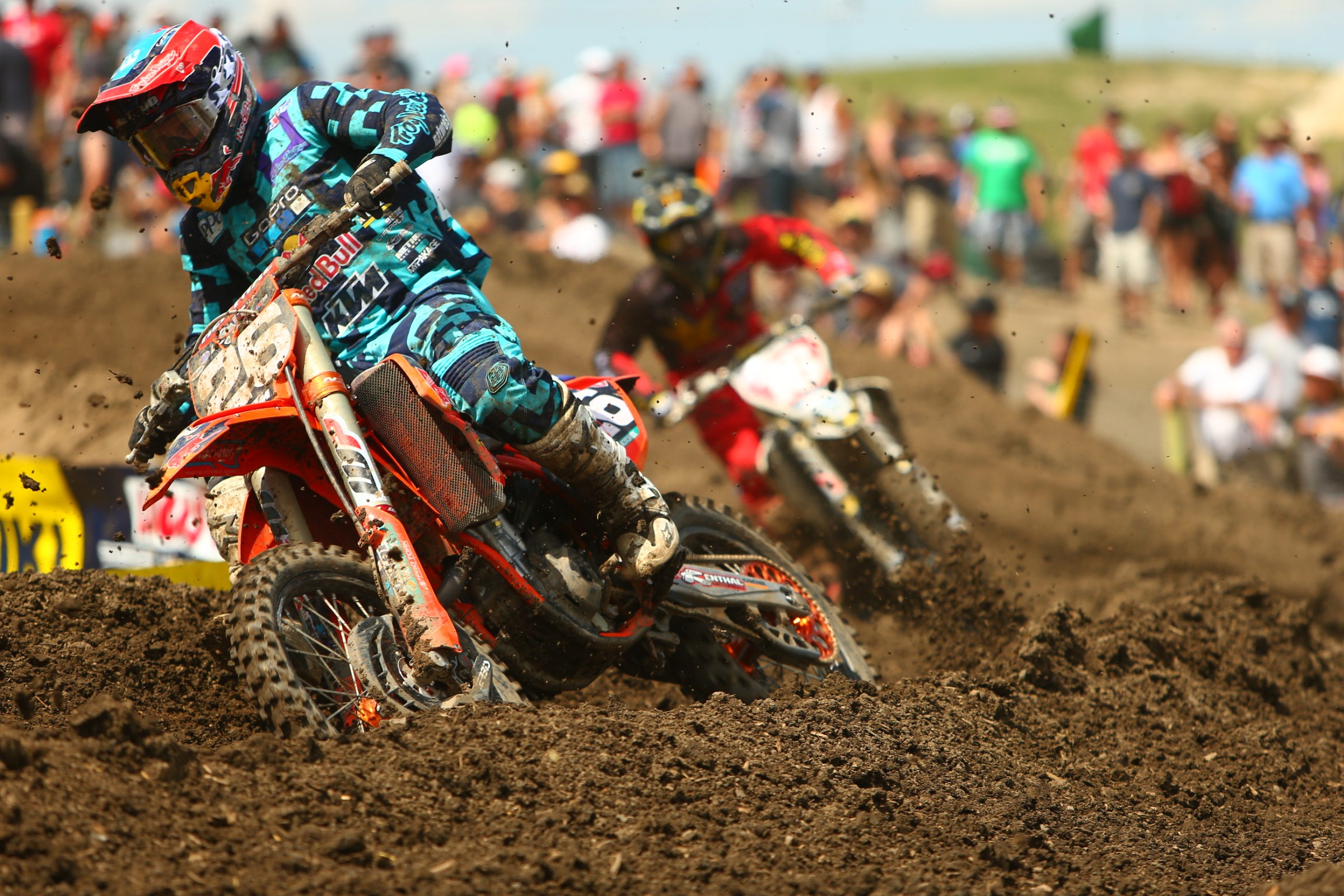 As for points leader Osborne, it was a survival day since he came into the weekend feeling sick. He also had the first-moto crash, and was able to salvage 8-5 scores for fifth overall. Last week's second-moto winner, Dylan Ferranis, got stuck in the gate in moto one and came back for ninth. He was in the hunt early in moto two but ended up sixth.