Thunder Valley Motocross
Lakewood

,

CO
Thunder Valley
Lucas Oil AMA Pro Motocross Championship
Welcome to the Racer X Race Day Feed, your one-stop shop for round three of Lucas Oil Pro Motocross from Lakewood, Colorado, at the True Value Thunder Valley National. We'll be updating this post throughout the day with news, notes, and results from qualifying and the motos, so be sure to check back throughout the day. You can also follow Racer X on Twitter, Instagram, and Facebook to stay up on all the action.
(Note: All updates will run top to bottom, starting with the morning report and going through the motos. So, make sure to scroll down for the latest.)
MORNING REPORT
After the first round of Lucas Oil Pro Motocross at Hangtown, several riders and media members made mention of how tough the conditions were for an opening round. This was due to the rough track and high temperatures throughout the day. The second round at Glen Helen was a little bit cooler, but our Steve Matthes still felt it was pretty hot. Today, in Lakewood, the weather is looking perfect for a day of riding with temperatures expected to be in the mid-70s, low humidity, and no rain in sight on the radar.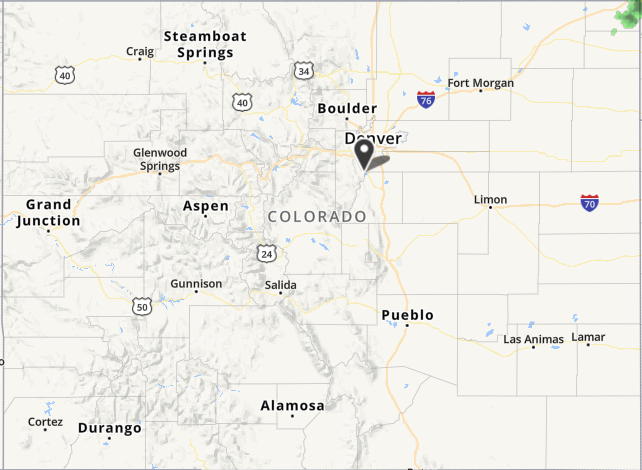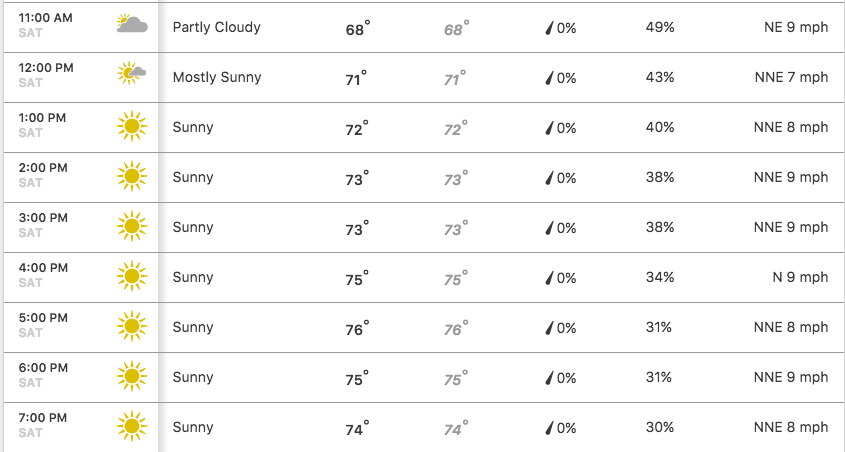 The one thing the riders will have to deal with is the altitude at the track, which sits at just above 6000 feet. We know 6000 feet seems pretty insignificant to those of you who have lived or currently live in mountainous regions, but you have to remember, most of these riders either train in Florida which has a max elevation of 345 feet above sea level, or they train in Southern California (San Bernardino sits at about 1,053 feet). The jump in elevation and decrease in the amount of available oxygen will cause the riders' heart rates to climb faster and the bikes will be down on power compared to other tracks.
One rider known to suffer from the elevation change is Jason Anderson. Our own Aaron Hansel talked to the Rockstar Energy Husqvarna team owner Bobby Hewitt this week to figure out just what Anderson struggles with. He said, "What happens, like most riders, [Anderson's] heart rate elevates in the first couple laps. It happens all the time, and under normal circumstances, he's able to control his breathing and bring his heart rate back down and finish the moto. When he's at altitude, he can't get his heart rate back down, and it continues to climb. If your heart rate is beating 200 times a minute, you feel that, and because he can't control it and bring it back down like he does at the other races, he starts to get panic attacks. It's something that's very serious, and it's not a joking matter. There have been people who have died from this stuff. Last year, he was leading, but it got to a point where he felt his heart was going to explode in his chest. He was scared he was going to die if he didn't pull off."
Hewitt's plan to combat this is pretty simple, get Anderson in and out of there as fast as possible. "All the doctors I've spoken to, he's spoken to, and Aldon [Baker] has spoken to, they say it takes at least 24 hours for the body to really start feeling the effects of altitude," he said. "So if he can keep it to a 12-hour period, he hopefully won't feel the effects as much. That's what we're going to do this week. We've tried all kinds of things to help him with it, but this is the one thing that seemed to work at Salt Lake, and we'll try it again this Saturday." Anderson is currently 39-points down in the championship, so getting through this weekend will be huge for his title chances.
One rider who also needs a good weekend is Eli Tomac. After getting a poor start in the first moto last weekend, he ended up finishing second to Marvin Musquin. Then in the second moto, a rock hit his front master cylinder and his front brake locked up, requiring a lengthy stop in the pits and him riding the rest of the moto without his front brake. In the end, he gave up 21 points to Musquin on the day and now trails in the championship by 15.
The front brake issue has to be frustrating for Monster Energy Kawasaki, but what might be more concerning is Tomac's starts. In three out of the four motos this year Tomac has found himself buried in the pack to start the race, and Musquin showed at Glen Helen that he can capitalize on Tomac's poor starts and snag a win. Keep an eye on how Tomac gets out of the gate today.
In the 250 Class, Zach Osborne has gone two-for-two in the overalls this summer. He didn't get a moto win last weekend, but was able to extend his points lead out to 21. Jeremy Martin and Dylan Ferrandis are the only other riders to get a moto win, we'll see if either of them can put two motos together for an overall today.
Practice just started so be sure to check back for a report on who's topping the field. For now, take a minute to refresh yourself on the points standings as we get ready to kick off the third round of the year.
250 Class Qualifying Report
The top qualifying time for the 250 Class came from Zach Osborne in the first timed session with a 2:14.143. He appeared to be struggling in the second practice session, making mistakes in the ruts, really having to stretch out the two big triples, and even going down at one point. After the session he talked to Georgia Lindsay and revealed that he was sick during the week and was just trying to ride conservatively in that session to save as much energy as possible for the motos later today.
Alex Martin was also fast in the first practice session, coming in just .104 seconds behind Osborne. And like Osborne, he was much slower in the second practice session.
Most of the top times came from the first session as the track in the second session appeared to be heavily watered and the lines seemed to change every single lap. Joey Savatgy was one of the few riders that got faster in the second session. He looked loose and fast, clearing both triples with ease and getting through the deep ruts smoothly. Adam Cianciarulo and Jeremy Martin rounded out the top five in qualifying, both coming within a second of Osborne's time.
Aaron Plessinger and Dylan Ferrandis, who were both fast last weekend at Glen Helen, qualified eighth and 10th respectively. Many are wondering how Ferrandis will do once the series goes to tracks that are new to him, and it looks like we are seeing that affect him now. There's a lot less time to learn the tracks in Lucas Oil Pro Motocross when compared to the time the MXGP riders are given, so it's not a surprise to see him qualify further back than he did at Glen Helen.
One name you won't see on the qualifying sheet is Cameron McAdoo. We previously reported that he would be racing this weekend after taking a massive hit in his crash at Glen Helen. Turns out his shoulder is still sore from the crash and he's out for this weekend.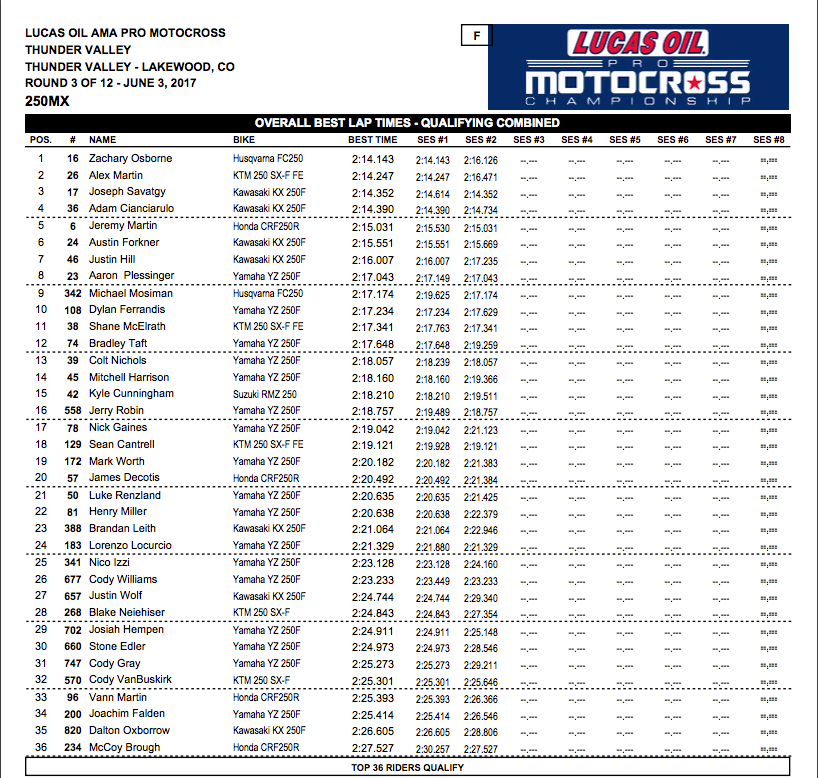 450 CLASS QUALIFYING REPORT
Last weekend's moto winners Marvin Musquin and Jason Anderson topped the 450 Class qualifying sessions, both dropping into the 2:12 range on the final laps of the second session when the track was starting to harden up. After qualifying, Musquin talked to Georgia Lindsay and said that the track was much better in the second practice and the ruts are really deep so it's hard to get a good drive out of the corners.
Anderson was fast, but we'll have to wait until the motos to see how he is really feeling. He was actually trying to fly into Dallas last night and catch a flight to the track early this morning, but he was unable to find a flight early enough so he flew straight to Denver on Friday night.
Tomac rounded out the top three in qualifying with a 2:13.705 which is 1.548 seconds slower than Musquin's top time. He was the top qualifier for a lot of the second session before getting bested by Musquin's and Anderson's final laps, so don't go panicking too quickly. There's lots of focus on Tomac's front brake and it looks like the Monster Energy Kawasaki team have added a new carbon fiber guard over his front brake master cylinder to prevent any damage.
Blake Baggett was fast in the first session, being the only rider to drop into the 2:13s. Word is that Baggett is working with a new shock and fork this weekend, so keep an eye on him to see if there is any improvement. He finished sixth and third overall at the first two rounds.
Cooper Webb qualified sixth which is on par with how he's qualified at the previous two rounds (fourth and fourth). There were some rumors last week that we might see Webb on a 2018 YZ450F by as early as Thunder Valley, but he's on the 2017 model today.
Next up are the motos so be sure to check back here in a couple of hours to get another update.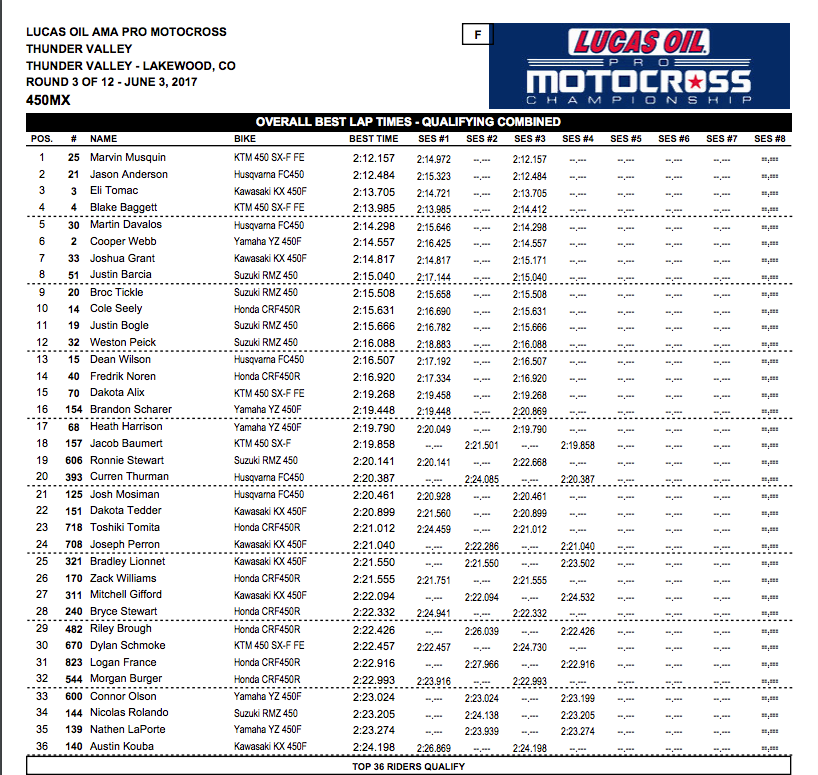 250 Moto 1
What. A. Race! Alex and Jeremy Martin went 1-2 across the holeshot line and for a little bit it looked like we were going to be in for a grudge match between the two brothers. We definitely got a fight to the finish, but it included a lot more people than the brothers from Minnesota.
Alex Martin went on to lead every lap of the moto, but it wasn't that simple. With about six minutes to go, there were five riders behind him that all had a legitimate chance at taking the moto win from him. He fought off challenges from his brother, Joey Savatgy, and Austin Forkner at the end of the race to take his first moto win of the year.
At that six minute to go mark, Forkner was in fifth place, but he was only four seconds back of the lead. He put his head down and quickly picked off the three riders in front of him until is was just A-Mart ahead of him. He wasn't able to make the pass, but he was darn close. After the race, Forkner said that it took him a while to get going, but around the halfway point in the race he found some good lines that allowed him to make up time.
Jeremy Martin's positions throughout the race went like this: second, third, second, third, fourth, third. At times it looked like he could go for the lead and at other times it looked like he could fall outside of the top five. After the race he told Georgia Lindsay that the middle of the turns were really soft and it was easy to bury the front end. He finished third.
Just like J-Mart's race, Joey Savatgy's positions were all over the map and he too looked prime to go for the lead with a few minutes remaining in the race. He eventually dropped back to finish fourth.
Adam Cianciarulo rounded out the top five. He finished the first lap in third place, but a slow tip over in a corner dropped him back to seventh. He was running a good pace, but never made it up further than fifth. He and Colt Nichols went back and forth a few times and Nichols finished sixth.
Championship leader Zach Osborne went down early in the race in the same corner that he crashed in during the second qualifying session this morning. He got up in 16th place and steadily made his way up to eighth. He ended up losing 12 points to A-Mart.
Mitchell Harrison surprised many by passing Jeremy Martin early in the race and running second. Eventually Jeremy got back by and Harrison would fall back to 11th place by the end of the race, but it was a strong showing at the beginning of the race for the Yamalube/Star Racing Yamaha rider in his sophomore year.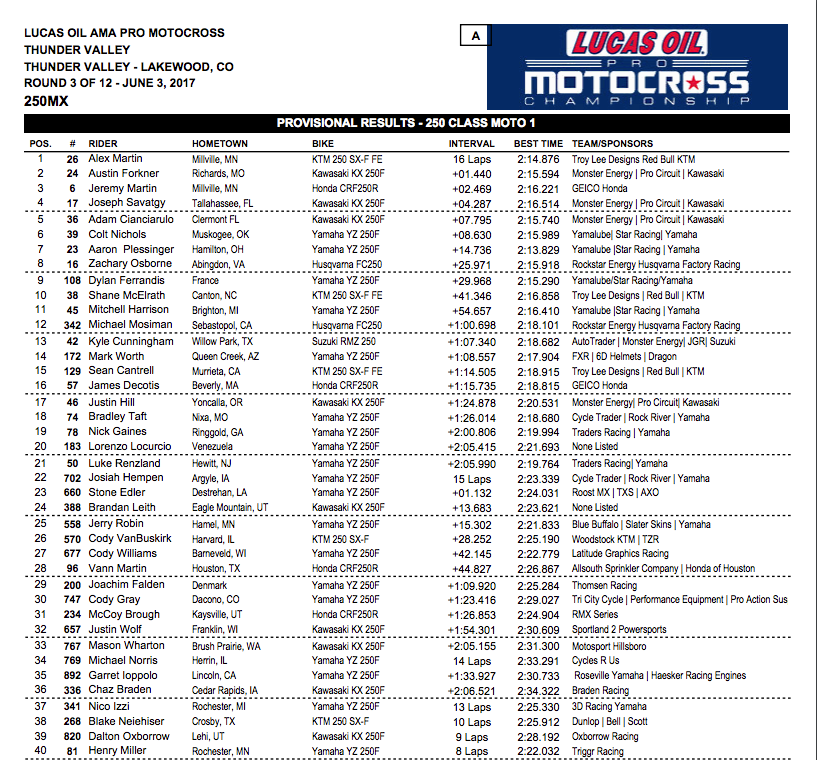 450 Moto 1
What. A. Race! Again! Our own Jason Weigandt is already claiming the past hour as the best hour of motocross racing he's ever seen. And it's crazy to think that RCH/Yoshimura Suzuki's Justin Bogle winning his first 450MX race of his career might not even be the biggest story coming out of the first moto. Bogle got a great start and inherited the lead when Martin Davalos went down, and then he absolutely checked out. His lead was up to around 12 seconds at one point in the moto, and then he finished off the race in classic Bogle style by throwing huge whips and taking a foot off the bike every now and then. It's his first 450 moto win and it sets him up nicely to win his first overall of his career, 250 or 450. And all this came after the RCH team experienced a small fire over at their rig about an hour before the moto and almost stopped Bogle and Broc Tickle from lining up. Incredible.
Jason Anderson had the quietest race of the bunch, riding in second place in no man's land for pretty much the entire race. After having to pull out of the race last year, I'm sure Anderson is happy with that result.
El Chupacabra is back! Blake Baggett put on an amazing charge to come from being down in a pileup in the first turn to finish third and even challenged Anderson for second. Baggett was clearly the fastest rider on the track using unique lines in the corners and staying off the brakes on the rutted-up downhills. His fastest lap time was over half a second faster than anyone else and he was the only rider in the 2:19s on the last lap. After the race Baggett said that it's taken a while to get used to the new-to-him Rocky Mountain ATV/MC-KTM-WPS bike, but he feels they finally have it figured out and he has the speed to win.
Marvin Musquin was also down in the same pileup as Baggett and he put in an incredible charge to finish in fourth. About halfway through the race, Musquin found himself directly behind Eli Tomac after Tomac went down in the same corner as Zach Osborne did in the first 250 moto. Musquin eventually made the pass on Tomac, and that seemed to take the wind out of Tomac's sails as he dropped back to seventh by the end of the race, losing four more points to Musquin.
Cole Seely was running in third for a good part of the moto, but he was unable to withstand the charges of Baggett and Musquin and he dropped back to fifth to round out the top five.
Here's your top three in championship after moto one: Musquin 107; Tomac 88; Baggett 83.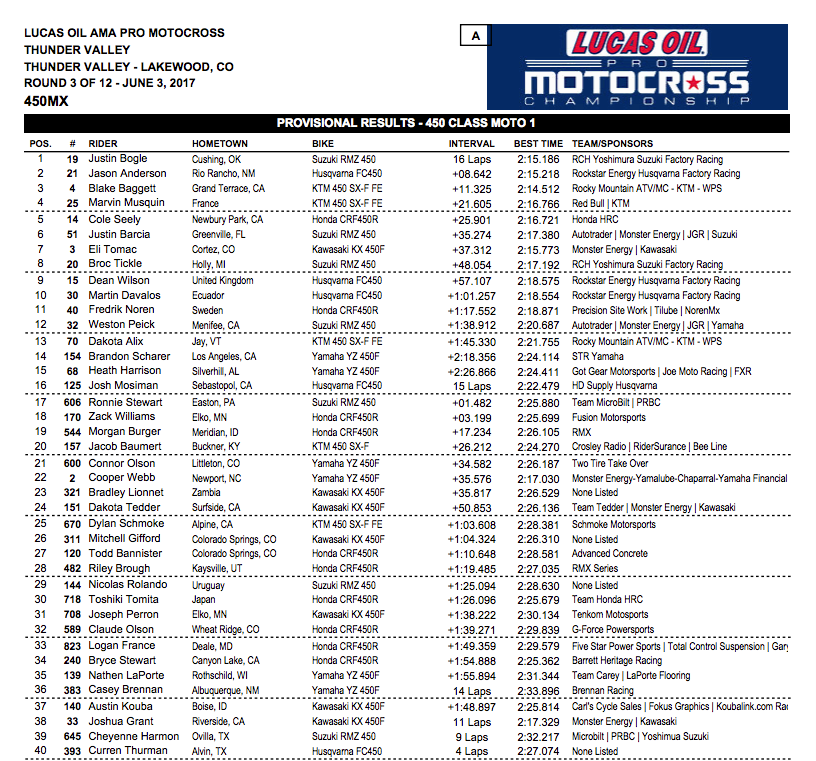 250 Moto 2
The second 250 moto came down to Joey Savatgy and Jeremy Martin. Once the two got into first and second place respectively, they stayed locked together for the final eight laps. Savatgy finished in first just .497 seconds ahead of Martin and his 4-1 moto scores were good enough for his first overall win of the season. On the podium after the race Savatgy said it was nice to get his first win of the season after a rough couple of weeks going all the way back to the Las Vegas Supercross.
J-Mart was fifth after the second lap of racing so he had some work to do to catch up to Savatgy, but once he got there he couldn't find his way around. He finished the day with 3-2 moto scores for third overall
Alex Martin finished fourth in the second moto which would be good enough to tie Savatgy in points for the day, but not enough to take the overall.
Austin Forkner finished on the podium in both motos, but tied J-Mart in points on the day and finished fourth overall. To illustrate just how crazy of a day we just witnessed in the 250 Class, the top four finishes were only separated by one points. One! It doesn't get closer than that.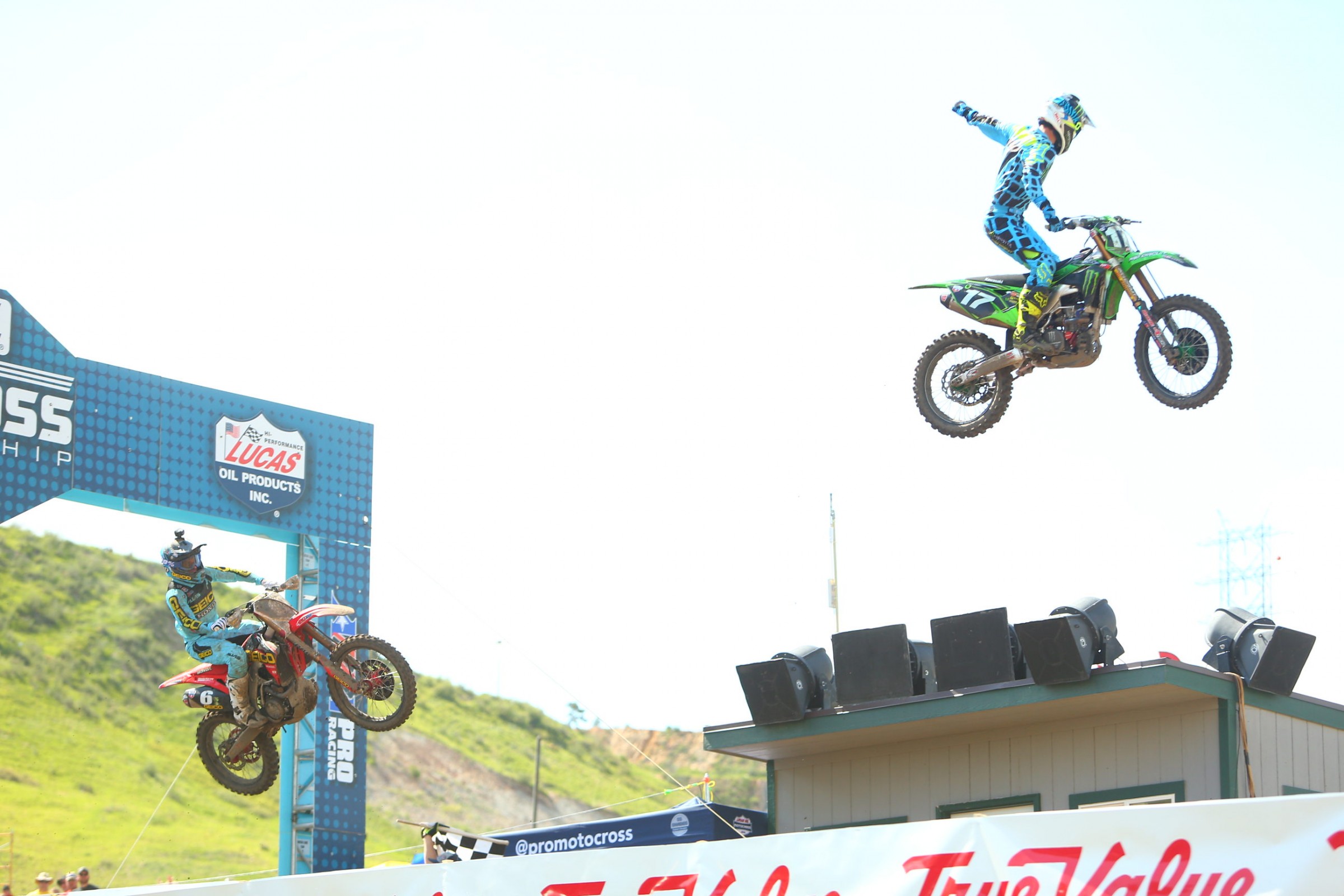 Going into the weekend it seemed like every 250 rider had already gotten their bad weekend out of the way, a few had even gotten two bad weekends out of the way. Many were wondering when it would be Zach Osborne's turn, and it looks like this week was it. After crashing in the first moto and finishing eighth, he just couldn't seem to get it going in the second moto. He finished the day with 8-5 scores and lost a large chunk of his points lead. He now leads A-Mart by just nine.
Switching to the topic of bad luck, Adam Cianciarulo wasn't able to finish the second moto due to bike issues. There's still no word on what exactly went wrong, but it's not what the Pro Circuit Kawasaki team needed after having several bike issues a week ago. Aaron Plessinger also suffered some bad luck. After crashing and running off the track he was unable to get back to his bike due to it being on the blind side of a jump and the flaggers being unwilling to step into the track. He didn't finish the race.
Thunder Valley - 250
| | Rider | Hometown | Motos | Machine |
| --- | --- | --- | --- | --- |
| 1 | Joey Savatgy | Thomasville, GA | 4 - 1 | Kawasaki KX250F |
| 2 | Alex Martin | Millville, MN | 1 - 4 | KTM 250 SX-F FE |
| 3 | Jeremy Martin | Millville, MN | 3 - 2 | Honda CRF250R |
| 4 | Austin Forkner | Richards, MO | 2 - 3 | Kawasaki KX250F |
| 5 | Zach Osborne | Abingdon, VA | 8 - 5 | Husqvarna FC 250 |
| 6 | Dylan Ferrandis | Avignon, France | 9 - 6 | Yamaha YZ 250F |
| 7 | Colt Nichols | Muskogee, OK | 6 - 12 | Yamaha YZ 250F |
| 8 | Mitchell Harrison | Lansing, MI | 11 - 8 | Yamaha YZ 250F |
| 9 | Shane McElrath | Canton, NC | 10 - 9 | KTM 250 SX-F FE |
| 10 | Michael Mosiman | Sebastopol, CA | 12 - 10 | Husqvarna FC 250 |
| 11 | Justin Hill | Yoncalla, OR | 17 - 7 | Kawasaki KX250F |
| 12 | Sean Cantrell | Murrieta, CA | 15 - 11 | KTM 250 SX-F FE |
| 13 | Kyle Cunningham | Aledo, TX | 13 - 13 | Suzuki RMZ 250 |
| 14 | Adam Cianciarulo | Port Orange, FL | 5 - 37 | Kawasaki KX250F |
| 15 | Aaron Plessinger | Hamilton, OH | 7 - 39 | Yamaha YZ 250F |
| 16 | Jimmy Decotis | Peabody, MA | 16 - 14 | Honda CRF250R |
| 17 | Bradley Taft | Nixa, MO | 18 - 15 | Yamaha YZ 250F |
| 18 | Mark Worth | Queen Creek, AZ | 14 - 19 | Yamaha YZ 250F |
| 19 | Nick Gaines | Ringgold, GA | 19 - 16 | Yamaha YZ 250F |
| 20 | Jerry Robin | Hamel, MN | 25 - 17 | Yamaha YZ 250F |
Full Results
Motocross 250 Standings - 2017
| | Rider | Hometown | Points |
| --- | --- | --- | --- |
| 1 | Zach Osborne | Abingdon, VA | 501 |
| 2 | Jeremy Martin | Millville, MN | 420 |
| 3 | Adam Cianciarulo | Port Orange, FL | 374 |
| 4 | Aaron Plessinger | Hamilton, OH | 337 |
| 5 | Joey Savatgy | Thomasville, GA | 324 |
| 6 | Dylan Ferrandis | Avignon, France | 305 |
| 7 | Colt Nichols | Muskogee, OK | 303 |
| 8 | Alex Martin | Millville, MN | 296 |
| 9 | Mitchell Harrison | Lansing, MI | 279 |
| 10 | Shane McElrath | Canton, NC | 248 |
| 11 | R.J. Hampshire | Hudson, FL | 222 |
| 12 | Chase Sexton | La Moille, IL | 188 |
| 13 | Austin Forkner | Richards, MO | 184 |
| 14 | Sean Cantrell | Murrieta, CA | 176 |
| 15 | Kyle Cunningham | Aledo, TX | 144 |
| 16 | Luke Renzland | Hewitt, NJ | 141 |
| 17 | Nick Gaines | Ringgold, GA | 124 |
| 18 | Lorenzo Locurcio | Venezuela | 119 |
| 19 | Justin Hill | Yoncalla, OR | 110 |
| 20 | Bradley Taft | Nixa, MO | 90 |
Full Standings
450 Moto 2
Blake Baggett put on a show in the second moto. After finishing the first lap in second place it took him seven laps to pass Eli Tomac, but when he finally did make it around Tomac, it was spectacular. He used a creative line at the very top of the track, banking off a small hill and using every inch of the track to slingshot around the outside going back down the hill. It reminded me of another spectacular Baggett pass from 2012, wide open and fully committed.
After making the pass on Tomac he put the hammer down and stretched out his lead to 12.172 seconds at the end of the race. His rapidly growing lead appeared to catch him off guard as he kept looking back to spot where Tomac was. This is Baggett's first 450 overall and is the first overall win for the Rocky Mountain ATV/MC-KTM-WPS team.
For Tomac, he may have gotten passed in the second moto, but it was still a much better performance for him than the first moto was. He was able to pick two points back up on Musquin, getting his points deficit down to 17 instead of 19 and finish fifth overall on the day.
Musquin got another bad start, but this time it was just due to getting a poor jump out of the gate, not a first turn pileup. He finished the first lap in ninth place so it was a solid effort for him to get back up to third place by the end of the race. Marvin finished second overall.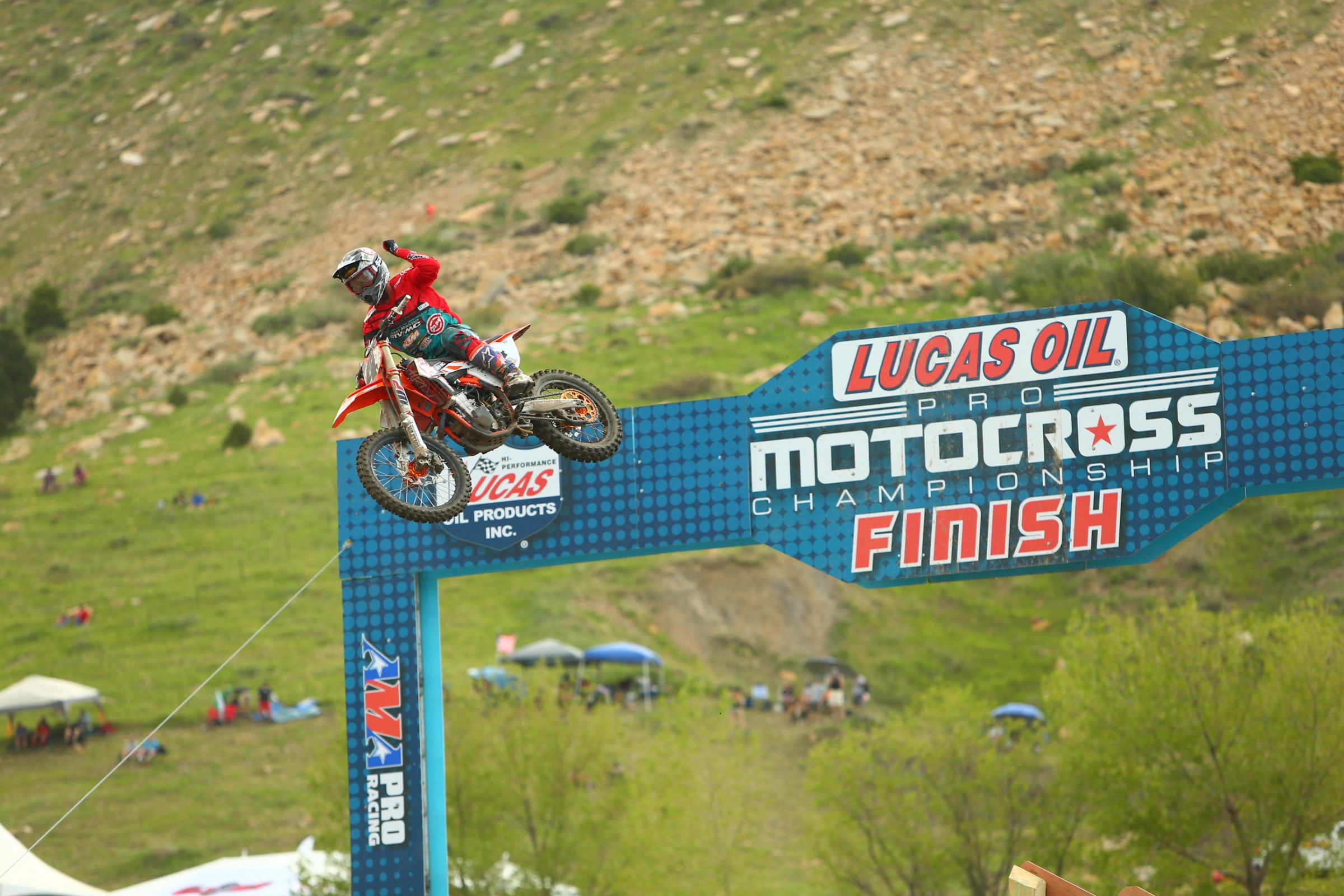 Going into the weekend, Bobby Hewitt said this about Jason Anderson, "We're going to try to get in there this weekend, and hopefully he [Anderson] leaves with top-fives in both motos. That'd be like winning, and it'd be a lot better than last year." It's pretty clear they were unsure of how Anderson's weekend was going to go, but they have to be happy with 2-6 moto finishes for third overall.
Justin Bogle's second moto didn't go as well as his first, but he still managed to pull off a fourth place overall finish with 1-9 moto scores.
Dean Wilson's day will go unnoticed by most when you consider all the drama that happened throughout the day, but his seventh overall is a solid finish that puts him inside the top 10 at every round so far. According to our Steve Matthes, the Rockstar Energy Husqvarna team has re-signed Wilson for 2018, so they must be happy with the results they are getting from him.
As per our Podcast yesterday, Dean Wilson re-signed with the Rockstar Husky guys for 2018. Nice work!

— Steve Matthes (@pulpmx) May 29, 2017
We've got one weekend off for the riders to regroup or savor any momentum they might have gained this week and then it's back to the grind as the series returns to High Point in Mount Morris, Pennsylvania.
Thunder Valley - 450
| | Rider | Hometown | Motos | Machine |
| --- | --- | --- | --- | --- |
| 1 | Blake Baggett | Grand Terrace, CA | 3 - 1 | KTM 450 SX-F FE |
| 2 | Marvin Musquin | La Reole, France | 4 - 3 | KTM 450 SX-F FE |
| 3 | Jason Anderson | Edgewood, NM | 2 - 6 | Husqvarna FC 450 |
| 4 | Justin Bogle | Cushing, OK | 1 - 9 | Suzuki RMZ 450 |
| 5 | Eli Tomac | Cortez, CO | 7 - 2 | Kawasaki KX450F |
| 6 | Cole Seely | Newbury Park, CA | 5 - 10 | Honda CRF450R |
| 7 | Dean Wilson | Scotland, United Kingdom | 9 - 7 | Husqvarna FC 450 |
| 8 | Broc Tickle | Holly, MI | 8 - 8 | Suzuki RMZ 450 |
| 9 | Justin Barcia | Monroe, NY | 6 - 12 | Suzuki RMZ 450 |
| 10 | Martin Davalos | Quito, Ecuador | 10 - 11 | Husqvarna FC 450 |
| 11 | Cooper Webb | Newport, NC | 22 - 4 | Yamaha YZ 450F |
| 12 | Weston Peick | Wildomar, CA | 12 - 13 | Suzuki RMZ 450 |
| 13 | Josh Grant | Riverside, CA | 38 - 5 | Kawasaki KX450F |
| 14 | Fredrik Noren | Sweden | 11 - 15 | Honda CRF450R |
| 15 | Dakota Alix | Jay, VT | 13 - 14 | KTM 450 SX-F FE |
| 16 | Heath Harrison | Silverhill, AL | 15 - 16 | Yamaha YZ 450F |
| 17 | Brandon Scharer | Gardena, CA | 14 - 17 | Yamaha YZ 450F |
| 18 | Zack Williams | Elko, MN | 18 - 18 | Honda CRF450R |
| 19 | Josh Mosiman | Sebastopol, CA | 16 - 31 | Husqvarna FC 450 |
| 20 | Ronnie Stewart | Easton, PA | 17 - 22 | Suzuki RMZ 450 |
Full Results
Motocross 450 Standings - 2017
| | Rider | Hometown | Points |
| --- | --- | --- | --- |
| 1 | Eli Tomac | Cortez, CO | 470 |
| 2 | Marvin Musquin | La Reole, France | 453 |
| 3 | Blake Baggett | Grand Terrace, CA | 451 |
| 4 | Dean Wilson | Scotland, United Kingdom | 340 |
| 5 | Cole Seely | Newbury Park, CA | 330 |
| 6 | Justin Bogle | Cushing, OK | 308 |
| 7 | Weston Peick | Wildomar, CA | 268 |
| 8 | Cooper Webb | Newport, NC | 268 |
| 9 | Martin Davalos | Quito, Ecuador | 263 |
| 10 | Christian Craig | Hemet, CA | 216 |
| 11 | Jason Anderson | Edgewood, NM | 216 |
| 12 | Fredrik Noren | Sweden | 202 |
| 13 | Justin Barcia | Monroe, NY | 191 |
| 14 | Dakota Alix | Jay, VT | 152 |
| 15 | Broc Tickle | Holly, MI | 146 |
| 16 | Josh Grant | Riverside, CA | 143 |
| 17 | Henry Miller | Rochester, MN | 108 |
| 18 | Matt Bisceglia | Weatherford, TX | 78 |
| 19 | Benny Bloss | Oak Grove, MO | 73 |
| 20 | John Short | Pilot Point, TX | 70 |
Full Standings