Out of all of the consistent things Ryan Dungey slides into his podium speeches, "try to enjoy it" has been one of his most reliable, even as much as thanking his team and the good Lord above. For a long time, "try to enjoy it" seemed like a goal for him instead of an actual accomplishment. Yeah Dungey might be an all-time podium master, but he never seemed to enjoy the second or third place finishes. Unless he won, he seemed bummed, and even when he did win, the drive to do it again didn't leave room for much enjoyment. It's part of the reason the competition started to think of Dungey as vulnerable, mentally. He wanted it, he was consumed by it, and it showed.
But Ryan Dungey 2.0 (2015 through the present) changed that. He really does seem to be having the time of his life at the races. He absolutely is enjoying it. Yes, Ryan Dungey 2.0 wins more often than the original, but even the losses don't seem to change his demeanor much. Hey, he's got it all, right? Money, fame, family, records, endorsement deals, respect … okay, let's just say it: his beautiful wife seems to have a permanent smile, and we know he's making a lot of money. To race dirt bikes. How can he not be happy?
List Dungey's life out as a series of bullet points and it would be impossible not to be super pumped. For those of us who dream of reaching the top as a motorcycle racer, he is literally living that dream. And now he seems to actually like it, unlike past champs like Ryan Villopoto, who we know soured on the whole deal at the end, or even Chad Reed, whose wife Ellie recently revealed in the 2017 Monster Energy Supercross Preview Show on Fox Sports that he was miserable even during his 2008 championship season.
It is the plight of those that are competitive on an elite level. Those of us who experience highs and lows through fantasy football cannot understand. You're mad for four hours when "your" QB lays an egg. Then your kids attack you and fantasy football goes back to the periphery.
Meanwhile, at the level these men compete, success is measured by the world's longest yard stick. It literally never ends. You literally never win enough. We can achieve success by paying the mortgage, happy wife=happy life, and seeing the kids smile on Christmas morning. Single dudes? You know what success is. Even when you strike out, the previous success is still worth celebrating.
For the racers, no previous win sticks that way. Maximum success is the goal, but there is no number that officially denotes the maximum has been reached. Today, the McGraths, Carmichaels, Stewarts, and Villopotos of the world are no longer winning races. It will end. It always does.
At some point, these fellows have come to peace with it—RC and MC probably still hold some competitive opinions in their heart, but they wear retirement proudly on their sleeve. Villopoto is the epitome of this. He seems absolutely thrilled to be done. Stewart? We don't know. We don't even know if he is done. But at one time, for these men, it was just winning, winning, winning, and nothing else was acceptable. It takes an entirely different perspective on life to understand being happy only when achieving something so difficult to achieve—almost literally, you would have to accept nothing but perfection, because winning nearly requires it. In fact, winning almost negates being happy. Winning requires never being satisfied. Winning requires leadership, which means getting mad at people who don't pull their weight. Nice guys finish last, right?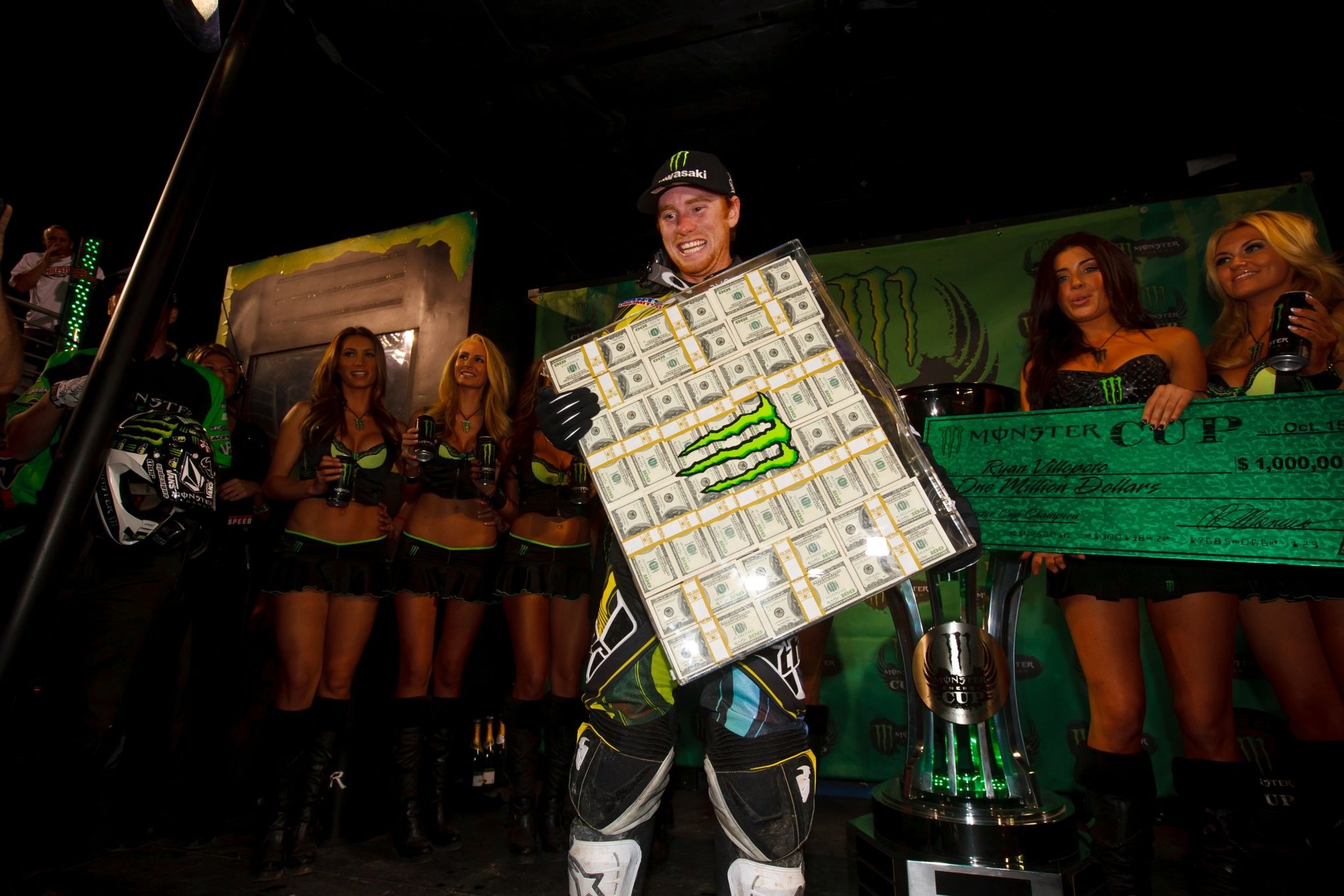 This isn't even like most other sports. Even in a loss of a game in a team sport, a player can still find some space because of a great pitch thrown, or a great shot made. There are many small wins even in an overall loss. Golfers can lose but still have a few great drives. I doubt Eli Tomac went 2-2 at any race over the summer and fist pumped because he blew up a berm real sweet on lap eight.
That's a tough life. We can see the great things on the outside—mainly, the money, and the idea that the money came from racing dirt bikes, which is awesome—but we understand the frustration when Ryan Dungey is trying to solve Ryan Villopoto. KTM could have added a zero to his paycheck. Second place still sucks. Further, Kawasaki could have added a zero to Villopoto's check and it wouldn't have mattered. The work and pressure required to hold off Dungey still sucked, too.
Which brings us back to the happiness of Dungey 2.0. His 2017 championship quest will be tough. He was somehow nearly under the radar coming into 2015, and was so dominant early in 2016 that pressure never even had a chance to build. The three-peat will be hard, as the dudes teased as #WhoseNext two-years ago have only gotten older, smarter, and more mature. And probably faster. There's yet another hot rookie on the scene in Cooper Webb. Even Dungey's own training mates, Marvin Musquin and Jason Anderson, should be sharper this year. There is pressure to win on everyone, but there is the most pressure on the champion. Our man David Pingree said it on our preview show a few weeks ago: "At some point, the champion goes from racing to win, to racing not to lose."
Success this year might be measured in two ways. Can Dungey keep his 2.0 spirit alive, regardless of result? Winning would help, but even Villopoto can say that winning alone isn't quite enough. Further, if Dungey doesn't win as often, if this season becomes a true slog, a real battle, with the possibility of finally coming up short, how will he react? If you've accomplished what he's already accomplished, it shouldn't matter. We'd all take Ryan Dungey's career right now and be happy forever, regardless of how 2017 turns out.
But he can't possibly think that way. It's hard to summon championship-level performance without finding some reason to strive for more. To be completely and totally happy with previous accomplishments is to settle. Work through enough Dungey interviews and you'll realize "Don't settle" is something he uses quite reliably, too.
So we'll be watching closely, not only his results, but also his reaction to the results. Can Dungey continue to be the top dog while also loving life forever? He seems to have built in several mechanisms to help, trying to separate the good stuff in regular life from his results on the track. He will undoubtedly try to live by this: "I think the thing to remember is just give it my best. My best is my best. I'm going to give it my all, and I hope that's enough." That's what he told us a few weeks ago at the KTM team intro.
Be satisfied with your best, be satisfied with your life, try not to live solely by the results. And in that catch-22 scenario of racing, that is what might actually result in better results. Happier riders generally ride better. Can Dungey keep that feeling?