Welcome to Racerhead on the eve of Christmas Eve. All is quiet, for the most part, on the motocross front as everyone takes a short break for the holiday, then it's right back on the gas getting ready for the Anaheim opener on January 7, 2017. If you're involved in the sport in America, there really isn't time to get too wrapped up in Christmas because there's too much to do in getting ready for the start of the new season. This year it's a little later than normal because the first Saturday in January doesn't come until the 7th, but you still don't want to get all crazy with the eggnog or too extravagant in decorations because it's all got to come down before you hit the road to go to the races!
With two kids of my own eagerly awaiting Santa Claus, my week has been a whirlwind of shopping, attending Christmas plays, and helping everyone put the finishing touches on not only the new issue of Racer X Illustrated, but also the souvenir yearbooks for Monster Energy Supercross and AMSOIL Arenacross. In the moto publishing (and parenting) business, December is the toughest month! But in the online moto reporting business, the week before Christmas is a slow one, with not a lot going on.
The only real news that ever seems to develop this late in the game is the news you don't want to hear, like an injury to one of the riders, or the demise of a business. Knock-on-wood, nothing to report there. The positive news I was hoping for this week was word out of Florida on what exactly the Stewart brothers are going to do, but that didn't happen either. There were lots of rumors flying around that James will retire, but I'm hoping he doesn't. I also expect Malcolm to be the first guy a 450 team calls if someone does get hurt. Stay tuned.
As I mentioned last week, there was the passing of longtime AMA District 5 rider Mike McDonald, apparently of a heart attack while out in Phoenix. My mom and I attended the memorial on Wednesday, along with a bunch of others who knew the McDonald family—three boys, a sister, and the parents—from the races. Throughout the hall people were talking about motocross, and what it had meant to them and their families. Todd DeHoop, the 1988 AMA 125cc East Region Supercross Champion, was there to see Mike's family, and he told me how great the last couple of years have been as he's gotten back into the sport a bit, doing vintage races around the country and in Europe, even getting to take his wife and two daughters to Paris and London when they did the Vet MX des Nations at Farleigh Castle. It was great to catch up with someone I grew up racing with, and then covering in Cycle News and Dirt Rider and eventually The Racing Paper and eventually Racer X.
It wasn't until we got to visit with Mike's family for the first time in quite awhile that I realized what motocross had meant to them. His older brother Ray and his younger brother Tim and his sister Lisa all talked about growing up at the races, jumping in the back of the pickup truck every Sunday to go racing at High Point, Steel City, Pleasure Valley, Challenger, and more. Mr. McDonald joked that had he not gotten all of his kids into motocross, he might be a rich man right now, and Mike's mom talked about how Mike's friends like Kirk Kruze wanted to bring his motocross gear and set it up at the memorial, so her kitchen was filled with old JT Racing gear, racing helmets and more.
The whole hall was filled with countless photos of Mike and his family racing. One was Mike on the cover of The Racing Paper, Volume 2, Issue #2. It was 1991, the second year of the newspaper that eventually became Racer X Illustrated, and I had forgotten that he was on there, let alone where I shot the photo. It wasn't much of a photo or even a newspaper, but it obviously meant enough to Mike and his family that they kept it all of these years. It made me wish I had taken the time to dig out more photos of him before going to the memorial service, and I will definitely be doing that after Christmas.
Afterwards, on the way out, my old friend Keith Biddle, a longtime tool and parts maker, told me he had something he wanted to give me out in the parking lot. He opened the trunk of his car to show me six boxes of motocross memorabilia. There were all four issues of Inside Motocross, every issue of the old Super Moto Cross magazine (MXA's sister publication in the 1980s) by Hi-Torque, programs from the Motocross des Nations and various Grand Prix races, Nationals, and supercross events, an original Loretta Lynn's program from 1982, some books on the old Blackwater 100, 1980s race team media kits, old pit passes, and tickets, and even a jersey from GP rider Marnicq Bervoets of Belgium. It was an incredible haul! Keith said he wanted to donate them to the Racer X Collection. I was stunned. It was a sad day overall, but then Christmas came early.
With that, I need to get back to hiding elves and avoiding candy canes. Merry Christmas, everyone. Here's wishing a happy holiday to everyone.
The 125 Pro Class is Coming … To GNCCs (Weigandt)
The Amsoil Grand National Cross Country Series recently posted its final 2017 rulebook after a few weeks of collecting feedback from the racers. The series also holds a big rider's meeting to collect ideas after the championship banquets, which take place just after Thanksgiving. From my personal experience working for this series back in that day, it takes A LOT of hours to listen to everything everyone has to say, especially in a series with literally thousands of riders competing each weekend. But you end up learning a lot, as well.
What are riders asking for these days? You can probably imagine: 125 classes! We all know 125s are fun to ride, but for racing purposes they're a tough sell as long as 250Fs are allowed to start alongside them. There are moves coming to help boost the 125, though, including a new 125cc C class coming to Loretta's (nice transition for new riders) and the new XC3 class in the GNCCs for 125s. XC3 will carry a Pro-Am designation, making it a transitional class for young riders, but also veteran pros can enter as well. The XC1 class remains for big bikes (350 and 450 four strokes) and XC2 for 250s (both two-strokes and four-strokes) and now XC3, which allows for up to 125cc bikes.
I know what you're thinking ... wait, all the 250s, both two and four-stroke, race against each other? Yes, they do in GNCC. Wait, they have a class just for 125s? Yes, they do in GNCC. Wait, aren't these the classes fans in all forms of dirt bike racing are asking for? Yes. Merry Christmas to the woods set.
POWER POLL (Matthes)
A couple of weeks ago I put together a list of the most powerful and influential people in the sport of SX/MX. DC (who it turns out does read Pulp MX) had asked me to touch on it last week here but I missed the message from the man I listed as #3 in the rankings. I love these types of lists whether they're in Sports Illustrated, Hockey News, Rolling Stone, or whatever. This column was an homage to that same list I've read in other industries a few times.
I asked three or four people in the top 15 what they thought of my initial list, I had four or five people in a group text I sent it to, I emailed it to a couple of people to see what they thought and then at the end, I moved some people up or down based off everyone's thoughts. The reaction was pretty strong. I had one person on the list thank me for putting them on but thought they should be higher. I had one person on the list tell me I got it real close to what they thought. Chad Reed said on Twitter that Guiseppe Luongo should be number 1, though I'm not sure how he would be above those involved with companies like Feld Motor Sports (#1 Todd Jendro and #6 Dave Prater) and Monster Energy (#2 Mark Hall and #4 Mitch Covington). Ricky Carmichael was left off and that upset JT. Someone at a competing company thought Gabrielle from Alpinestars should be way higher, and on and on it went. There were also people in emails and on Twitter that thanked me for putting this together and helping them understand this sport they love a little better.
In the end the list did exactly what I had hoped it would do: It got people talking/bench racing about who should go where. Who knows if I'm right and got everyone on there? It's subjective and that's what makes these types of articles awesome!
(Note from DC to Matthes: Thanks for listing me and my sister. I would have put Luongo and Gabrielle higher too.)
ICYMI: GEICO Honda Rookie Hurt (Chase Stallo)
Earlier this week, Racer X's Steve Matthes confirmed a report by Transworld Motocross that GEICO Honda rookie Chase Sexton had broken both his wrists during a training session in California.
If there is a silver lining in breaking both wrists, its that the injuries will not require surgery and Sexton is expected to be ready for the 250SX East Region opener in Minneapolis, Minnesota, on February 18. The injury will require Sexton to wear a cast on each wrist, though.
The 2016 AMA Horizon Award winner was expected to make his pro debut at the Unadilla round of Lucas Oil Pro Motocross this past summer, but sustained a knee injury prior to the event.
Sexton won the Open Pro Sport Championship and finished second in the 250 A class at the Rocky Mountain ATV/MC AMA Amateur National at Loretta Lynn's presented by Amsoil, this past August.
Paige Craig, wife of Christian Craig and the daughter of GEICO Honda co-owner Jeff Majkrzak, posted a funny vlog with Chase and Christian filmed before and after the injury.
The Lone American (Andras Hegyi)
Yesterday the promoter of the FIM World Motocross Championship, Youthstream, issued the provisional list of Officially Approved Teams for the 2017 MXGP tour.
The definitive and official version will be released at the end of January. Listed are the riders' names participating in the 61st season of the World Motocross Championship. On this list as of now is two Americans, Thomas Covington and Darian Sanayei. Originally from Alabama, Covington was the lone American to race the full series in 2016 as well, though several came out for the two U.S. rounds at Charlotte and Glen Helen, including double MXGP winner Eli Tomac and Charlotte MX2 winner Cooper Webb. Covington will begin his fourth season abroad, and his second season riding with former Formula One World Champion Kimi Raikkönen's Rockstar Energy Husqvarna Factory Racing squad. Thomas will again race in the MX2 category, as he will only turn 21 next year. His biggest success so far has been the MX2 Grand Prix win he took in Mexico in 2015. With incumbent champion Jeffrey Herlings moving up to the MXGP class, Covington has a good shot at adding wins in 2017, and maybe even becoming the first American FIM World Motocross Champion since Bob Moore back in 1994.
Sanayei, a native of Washington, raced the EMX250 Class last year and finished second overall. He's signed with Monster Energy DRT Kawasaki and will compete in MX2 for the first time in 2017.
REMEMBERING NAMUR (DC)
It's been awhile since a motocross race was held at the famous Citadel circuit in Namur, Belgium. It's arguably the best known track in motocross history, the cradle of great Belgian riders like Joel Robert, Roger DeCoster, Gaston Rahier, Georges Jobe, Andre Malherbe, Joel Smets and both Harry and Stefan Everts. The Citadel was an old fort that was a World War I battlefield, and after World War 2 it was open for one motocross race year, usually a 500cc Grand Prix. That's like holding an outdoor national at Gettysburg! Here's how my longtime friend and artist Rob Kinsey described it recently:
"Every sport has it's own iconic venue, Wimbledon, Wembley, Monaco F1, Golf Masters from Augusta Georgia, they all evoke special memories amongst fans and competitors the world over. In motocross we have fantastic venues like Farleigh Castle, Gaildorf, St jean d'Angely, Unadilla etc., but nowhere is held in such high esteem and revered by fans as the Namur circuit in Belgium. Used since the 1940's the circuit starts on an esplanade in front of the terraces, then drops off and swoops through the woods, under ornamental metal bridges, past the children's playground down massive drop offs to emerge in front of the Old Cafe Monument before a steep terraced climb back up alongside the ancient fort's moat to emerge from the darkness of the woods out onto the esplanade."
Here's more on Rob's work and the Namur track.
Namur is where Hakan Carlqvist famously stopped on the last lap while winning a GP and chugged a beer alongside the Monument Cafe, and where the 2001 Motocross of Nations was held, but sadly Team USA did not attend due to the 9/11 terror attacks. That was the one and only chance Ricky Carmichael would have gotten to race there, and I can't imagine how big that crowd would have been to see RC battle Stefan Everts at Namur when both were in their prime.
I never got to see an actual race there but I did go visit once, along with Jeff Cernic and Larry "Moe" Sidor as we were headed to the 1997 Motocross des Nations (as it was called back then) and walk the whole track.
So what's the place look like now? Check out this Men's World Championship of Mountain Biking video that "jtmaster" posted on the Vital MX Forum—the place still looks amazing!
And here's a cool piece Vurb Moto's David Bulmer did a few years back:
If you ever get to Belgium, you should still go seek out Namur, the most sacred ground in all of motocross!
First Christmas (Weigandt)
My son was born in September, 2014, so this is actually his third Christmas. It's his first real Christmas as far as I'm concerned, because this is his first year as a moto fan. And I mean crazy, obsessed, one-track mind motocross fan. My son doesn't want to be read children's books like Curious George, he wants me to read him Racer X. Around 18 months he started rejecting the books and running for the magazine. That started the obsession—we did not show him races on TV and I wouldn't even let him see me on my dirt bike, but he caught the bug anyway. As we thumb through the pages of the magazine, he tells me who he sees: Ken Rock-sun, Jeremy A-Grath, James Tewart, Ricky Carmichael, Jason Anderson, Travis Patrana, Ryan Villopoto, Ryan Dungey, Justin Barcia, and his favorite, Chad Reed. For toys, he's had to make due with the old Road Champs toys I had sitting in the attic (circa 2000) so his morning ritual—making races with the bikes—is distinctly old school, with Mike LaRocco, Greg Albertyn, Jeff Emig, Reed, Stewart, Carmichael, and Larry Ward lining up to do battle. Every morning. Then when the temp gets warmer we head outside and do motos on the Stryder bike until we can force him to stop, because he will never, ever tire of it. Once he turned two we started letting him watch some TV, so now Chad Reed's win at the AUS-X Open runs on perma-loop, and if he sees a computer he wants YouTube and some clips of bikes going over logs and climbing mountains, like the Erzberg Rodeo, and the Best of Graham Jarvis. That's cool because I'd like to steer him toward off-road racing, and away from 120 foot jumps and home schooling. Sorry, not sorry.
Anyway I have a feeling Santa will be delivering motocross toys, since his entire list consisted of just two things: Bikes, and bike guys. He just wants new toy bikes to replace the haggard #259 Stewart KX125 and RC's KX250 that get used every day. Yeah, the first moto Christmas is coming!
Not the last, though. He's ripping on his Stryder bike these days. The other day, I started perusing Craigslist for Yamaha PW50s. Next year he will be three, and next year will be here before you know it!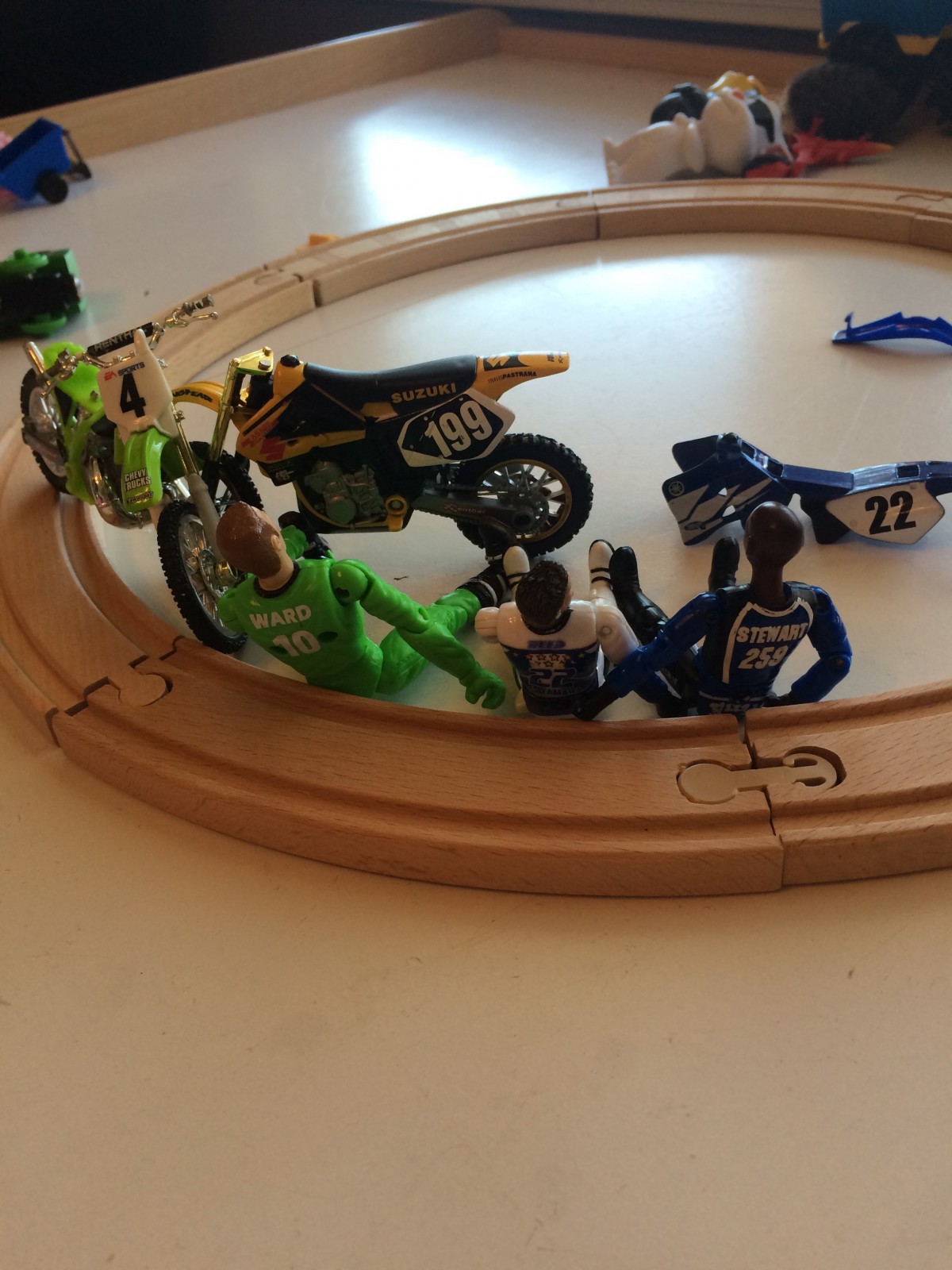 Hey, Watch It!
Racer X Films: SX Preview Show: Which Way From Here?
Head-Scratching Headline/s of the Week
"Horse named 'Party Till Dawn' busted for meth." – Vice Sports
"San Diego Charges Security Guard Fired Over Alleged Masturbation Video" – TMZ
Random Notes
Every year fans and people within the industry send Christmas cards to us here in Morgantown. Here are some of our favorites.
TPJ (The Privateer Journey) Racing will return for the 2017 Monster Energy AMA Supercross season, the team announced today. Similar to their 2016 program, the team will feature TPJ Racing Team Riders, as well as TPJ Racing Support Team Riders. The team riders will all compete on Suzukis. Dustin Pipes and Nick Schmidt will compete in the 450 Class, with John Short contesting the 250 Class. The riders on the support team will ride Hondas and KTMs. The Enticknap brothers, Adam and Tyler, will both race the 450 Class aboard Hondas. Chad Cook and Chad Gores, also racing the 450 Class, will ride KTMs.
---
A message from Lance Smail:
After seeing the article on all the cool toy bikes (a few weeks ago) I had to share this. I have had it since new but lost the bike. Check out the tools in the bed. The design is cool for the era (1974). It must have been a Honda endorsed deal. Since I am on your level of moto geekdom I thought you would enjoy. Braaap!
---
Foremost Media is pleased to launch Road Dirt Digital, an Australian-based online magazine covering motocross, supercross, off-road, superbikes, grand prix, and more. Road Dirt Digital joins Foremost Media's leading website titles MotoOnline.com.au, CycleOnline.com.au and BikeOnline.com.au. Click here to read.
---
For the latest from Canada, check out DMX Frid'Eh Update #52.
Thanks for reading Racerhead, Merry Christmas and see you at the races!