Welcome to Racerhead. The off-season is off this weekend, as a few races are going on all over the world. Here in the U.S. there's a big race at Ponca City, and although a serious storm hit the Oklahoma facility yesterday, they are getting the track drained and in shape for racing. Over in Europe, the new SuperMotocross Riders' and Manufacturers' Cup is happening in Germany, which will have three riders per OEM line up for a match race of sorts. Red Bull KTM's Ryan Dungey, the reigning AMA Supercross Champion, will be lining up for his first race since fracturing a vertabra the first weekend of June in Colorado. He will have some fast company on his KTM side, as a pair of multi-time MX2 World Champions—Marvin Musquin and Jeffrey Herlings—will make the Orange Brigade a tough one to beat. Zach Osborne will line up for Husqvarna, and Jason Anderson was supposed to as well before getting injured in that bizarre crash after the checkered flag when he won the second moto of the Motocross of Nations. Yamaha was going to have Justin Barcia on their side, but with the JGR team switching over to Suzuki, Justin will just spectate now. And top European riders like Tim Gajser, Romain Febvre, Gautier Paulin, and more, will be in action. As far as other Americans go, Jake Weimer will be there for Suzuki and Thomas Covington will be racing for Husqvarna. If you get the CBS Sports Network, remember to tune in at 1:00 p.m. Eastern Time on Sunday to see how this all shakes out. If you want to keep up with the happenings as they happen, we suggest following our friends from @motocrossvice on Twitter, they'll have it covered well.
There's also a supercross race happening in Sweden, and nearly a dozen Americans are racing there, including Lucas Oil Pro Motocross' 450 Rookie of the Year, Benny Bloss, Ronnie Stewart, Dustin Pipes, Adam Enticknap, Gannon Audette, and Martin Davalos, who won two 250SX main events this year in Monster Energy AMA Supercross.
And then next week it's the International Six Days Enduro in Spain, where an American will try to win the overall for the second straight year, following nearly a century of no American wins. The full U.S. Trophy Team will try to win the event for the first time ever. But last year's breakthrough individual winner, Ryan Sipes, will not be one of the guys lining up for Team USA. More on that below.
Finally, next Saturday night will mark the annual Monster Energy Cup at Sam Boyd Stadium in Las Vegas. That's where we will likely see Ken Roczen make his racing debut on his new Honda, as well as a rested Eli Tomac, a returning Ryan Dungey, Trey Canard on his new KTM, and many more.
Meanwhile, there are riders all around the country waiting for the phone to ring and see if they have a ride for 2017 or not. There are two big question marks in the Stewart brothers, as James' Yoshimura Suzuki team morphed into the RCH Racing squad, and Malcolm is trying to find a full-time 450 seat after winning last year's 250 East Region SX title for GEICO Honda. Justin Bogle will no longer be with the GEICO team, and seems to be heading to RCH Racing and a Suzuki. Justin Brayton, Dean Wilson, Chris Alldredge, Arnaud Tonus—lots of guys are seemingly still up in the air on what they are going to do in 2017. Stay tuned, because the music hasn't stopped yet in this annual game of musical chairs, but it's starting to wind down.
Here's what else is happening in moto this week.
Pro Perspective (Jason Thomas)
While many in the professional racing world are enjoying a nice weekend off, there are others who are racing somewhere abroad. The biggest race this weekend is the debut of the SMX Riders' Cup, held in Gelsenkirchen, Germany. I raced here back in 2001 at a one-off supercross event along with Nick Wey, Joaquim Rodrigues, and others. The event is held in the VELTINS-Arena soccer stadium, which is a bit smaller than an American football dome but still has capacity for 40,000-50,000 fans. It should be an interesting event, pitting the manufacturers against each other in a super-motocross type setting.
The biggest challenge for the riders at events like this is of course the time-zone difference and cultural oddities. Finding food that fits the bill, sleeping through the night, and fighting through the jet lag "fog" all make racing a bit more difficult than, say, Anaheim. Above all else, these races for a guy like Ryan Dungey are a big nuisance. Ryan makes a lot of money, so his motivation for going to an event like this would be much different. He is fulfilling contractual obligations and, while smiling on the outside, would much rather be at home putting in laps in preparation for January. You won't read that in any PR for the event, of course, but that's the truth to it.
The off-season races are simply cash grabs for most riders but for those already making millions, they are more risk and trouble than they are worth. That's why you don't see riders like Ken Roczen and Ryan Dungey at races like Bercy or Geneva. Their money can be made during the season, and they value their off-season and also recognize the importance of training consistency. For example, I can remember back in Ryan Villopoto's prime, he got an offer to race back-to-back weekends in Australia. The compensation was somewhere in the $185,000 range total. Now, if you are like me, that's a crapload of money. I would do unforgivable things to make that much money in 10 days. Unfortunately for Ryan, however, his trainer, Aldon Baker, decided the travel and interruption to the program was too much strain. Turning down that much money couldn't have been easy, but Ryan understood it was a drop in the bucket compared to the money he would make with race wins and another championship. It was a hefty sacrifice but one made with a purpose.
That very reason is why these guys avoid and dread off-season races. Any distractions or interruptions are perceived as taking a step back when thinking about January. Any trainer will tell you that improvement is all about consistency. Logging day after day slowly adds up. Putting in a few solid weeks followed by missing several training days because of flights, sleepless nights, and recovery really doesn't accomplish much. I know this all too well, as I would typically show up for 10 or 12 off-season supercross races somewhere around the world. Sounds fun, right? Sure, but the trouble was, when I showed up for Anaheim—much like Darryn Durham's video series from the East Coast—I was toast. I was so burnt out and worn out that I had nothing to give. The rest of the riders were so much more energized and rested than I was. I just wanted time off at that point, and I should have been itching to race. It was tough to know there were four or five months of supercross racing ahead of me when I had just finished three months of worldwide travel. But, for me, the money was too enticing, and I had made my decision. I wouldn't change the decision now, and I made the same choices year after year. I got to see the world and made good money doing it, but there is zero doubt I suffered in some of the supercross rounds because of it.
So when you see riders turning down big money to go race overseas, hopefully you have more insight as to why. The elite guys have plenty of revenue sources if they perform when January rolls around. Having said that, even if Ryan Dungey and KTM win this weekend, his real goal will be to get home quickly and continue preparing. There is a big showdown looming January 7, and the racing world is already counting down the days.
Sipes Sapped from ISDE (Jason Weigandt)
The International Six Days Enduro (ISDE) was never really a big deal in the U.S., as the American team was never a contender. But the last decade has witnessed the Americans get faster and better prepared for a race that is much different from most of the traditional off-road races that take place here. Now it seems any year could be "the year" when Team USA finally wins the World Team Trophy. Last year, the team led the standings for a few days before Kailub Russell crashed and tore his ACL. Team Australia and Team France battled it out for the win in a controversial finish, but Ryan Sipes salvaged some honor for the Yanks by winning the event overall. The team still wants the win, though.
This year's U.S. squad took a huge blow when Sipes broke his arm Sunday at the Amsoil GNCC in Ohio. Injuries happen in racing, but this stings even more, because Sipes got hurt before the race even started! The GNCC pros usually warm up in a remote parts of the pits, and Sipes was doing that when he turned a corner in the pits around a truck and suddenly saw another rider coming right at him. Sipes laid his bike down to lessen the collision, but the crash broke his arm. He was scheduled to fly to Spain the next day.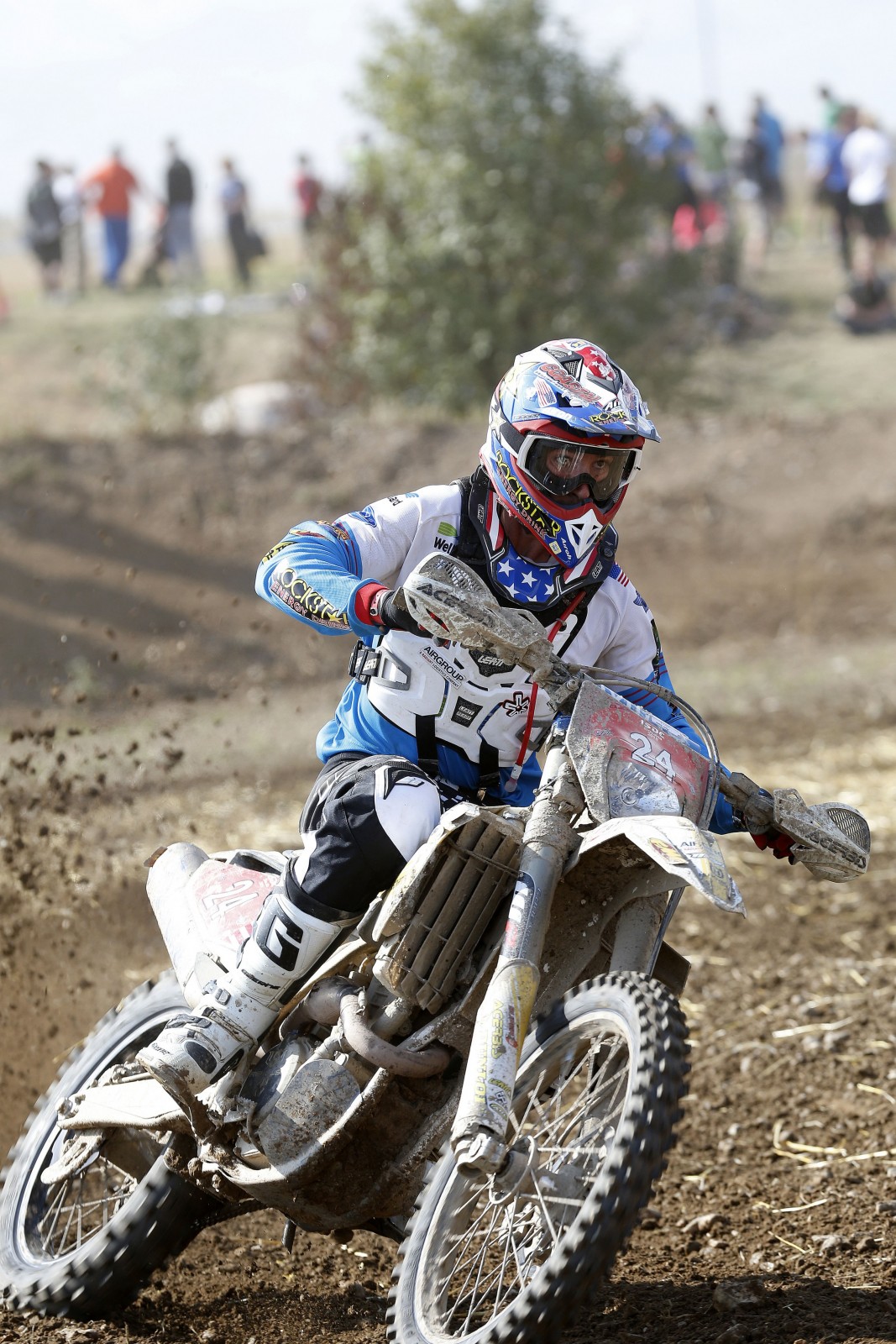 Each Trophy team uses four riders. With Sipes out, Team USA quickly dispatched Sipes' Coastal Racing Husqvarna teammate Layne Michael to Europe. The U.S. might put Michael on the Junior team (a separate squad for riders under age 23) and bump current Junior team member Stu Baylor to the Trophy team in Sipes' place. We talked to Sipes today and he's still confident Team USA can win without him.
"I think if everybody rides as good as they can and doesn't make mistakes all week, I think they're fast enough to do it," Sipes says. "Stu has a lot of experience racing this event, but he's had some crashes and stuff. Layne has three corners of ISDE experience; the first test last year, he broke his wrist. Not a lot of experience but he's super, super fast. But I told him last week he doesn't have to win every test, you just have to be solid and not make mistakes. Either one of them is good enough to get it done if they can avoid the mistakes."
The other three trophy team members are Kailub Russell, who just locked up his fourth straight GNCC title; Thad DuVall, who finished second behind Russell at the GNCC over the weekend; and Taylor Robert. Robert gives the U.S. team a huge advantage because he actually raced the Enduro World Championship in Europe this year, so he's the rare American ISDE rider with a lot of experience with this format.
It also helps that France, one of the strongest teams, isn't even competing. Last year, Australia looked to have the team win, then a disqualification situation was overturned, and France got the victory in controversial circumstances. Australia refused to take the podium and accept second place. Then, months later, that decision was overturned, and Australia was named as the winner long after the race had ended! The French were apparently pissed off, and so they're boycotting this year's event.
Silly Season (Kyle Scott)
On Tuesday, I stopped by Milestone MX in Riverside, California, to see who I could find spinning laps. Who'd I find? Tristan Charboneau, Mitchell Harrison, Mike Alessi, Vince Friese, and more.
Alessi and Friese were prepping for the Monster Energy Cup, whereas Harrison and Charboneau were just getting some supercross laps under their belts as the Monster Cup swaps the 250 class for the Super-Mini and Amateur All-Stars class. Charboneau debuted as a pro at Hangtown this summer, so he hasn't even raced supercross yet. He doesn't look like a rookie out there, though. Charboneau started the season great with a top-10 overall at Hangtown. He got seventh in the first moto at Glen Helen before breaking his collarbone in the second moto, forcing him to sit out five rounds. He had it plated right away and wanted to get out back on the track as soon as possible but feels maybe he did too early.
With the unspoken pressure of being expected to be at the races and perform, he tried riding each week after the surgery, and even though he wasn't quite ready for Millville, he lined up anyway. He's still building up strength after that injury and seemed frustrated that he was unable to ride to his potential this summer. He finished 14th overall at Ironman, and since you're only as good as your last race in this sport, he feels it may be why he hasn't locked down his home for 2017 and beyond yet. He has some offers but hasn't committed to anything just yet. It's the classic situation of committing with a smaller team for a sure spot or waiting for someone to get hurt and grab a fill-in spot with a larger team. It's a tough way to go, but also the reality of the business.
Harrison finished 19th in West Region Supercross and 13th in 250 motocross in his rookie year. He's got a few days of supercross under his belt again and is feeling really good. I'm calling it now: I think Harrison will do well next year. He had some ups and downs this year but caught his stride outdoors, finishing seventh at Ironman and third overall at the MXGP at Glen Helen. With Jeremy Martin on GEICO Honda, Alex Martin on TLD KTM, and Cooper Webb moving up to the 450s with factory Yamaha, Harrison and Aaron Plessinger will be the only two returning riders to the Yamalube/Star Racing Yamaha team.
Alessi and Friese were up north this summer in Canada. Alessi finished fifth in the series and this was his first week back on a supercross track. Friese had some injuries this summer and wasn't able to finish the series after round four, but he's feeling much better now and on his second week of supercross. Alessi and Friese were battling on the track and will be riding 2015 Hondas next year. Why not 2016s? Because the 2015s and 2016s are the same bike, and they can get the 2015s for $1,000 less. Why not the 2017s? That's a great question I should have asked.
Loretta's on TV (Jason Weigandt)
Believe it or not, Racer TV has been producing coverage of the AMA Amateur National at Loretta Lynn Ranch since 2005, which means we're building a nice archive of all the footage of past great amateurs. Now it's time for the 2016 show, and the next generation. I've spent the last two weeks finishing up this year's shows along with producer Brad Jones (my announcing is about two percent of the work that goes into this) and I think they've turned out well. Part one airs this Sunday at 4:00 p.m. EST on NBCSN, and part two will air in that slot next weekend. Part one focuses on the 250 A class and star graduate, Bradley Taft, as well as some minicycle racing, and a cool feature on Tim Ferry and his son Evan. Next week's show will feature Open Pro Sport and Chase Sexton, as well as the Women's class, Austin Stroupe's return to the Ranch, and as many other classes and faces as we can fit in there. So lock it in this weekend and get a preview of the pros you're going to be watching for a long time.
Your Weekly News Recap (Chase Stallo)
Sometimes life gets in the way of reading about dirt bikes. We get it. So, we've made it easy to track the latest news that dropped this week. Read on.
- Is JGR headed to Suzuki? Certainly looks that way. Steve Matthes' initial report of the switch picked up steam this week after Justin Barcia pulled out of the SMX Riders' Cup due to a "conflict of team contracts." Jason Weigandt followed up with more news about the impending change yesterday.
- The first big announcement after the October 1 deadline dropped on Monday, when Red Bull KTM announced a deal with Trey Canard. The move marks the end of one of the longest-running partnerships the sport has seen, as Canard started with the GEICO Honda squad in the final year of his amateur career in 2007.
- Just as we were about to publish, Butler Brothers MX and Rocky Mountain ATV/MC have agreed to a multi-year deal which will see Rocky Mountain ATV/MC serve as the title sponsor of the new Rocky Mountain ATV/MC-KTM-WPS team. They've signed Davi Millsaps, Blake Baggett, and Benny Bloss for the 2017 season.
- Troy Lee Designs/Red Bull KTM's 2017 lineup will feature at least two new riders. Both Alex Martin and Jordon Smith confirmed this week via their personal Instagram accounts that they have signed with the factory KTM 250 outfit. Smith joins the team after two years with GEICO Honda; Martin comes over after a year with Yamalube/Star Racing Yamaha.
- Yamalube/Star Racing Yamaha is losing a lot of talent, as Cooper Webb (moving to 450), Alex Martin (TLD KTM), and Jeremy Martin (GEICO Honda) will not return in 2017. One of their replacements was announced this week, as Colt Nichols is moving over from CycleTrader.com/Rock River Yamaha. Dylan Ferrandis, Aaron Plessinger, and Mitchell Harrison will also be on the team next year.
- Chris Alldredge, who's spent the last two years with Monster Energy/Pro Circuit Kawasaki, has yet to announce plans for the 2017 season. In the meantime, he'll join an already strong American lineup in the Australian Supercross Championship. The Oregon native is replacing the injured Dylan Long at Crankt Protein Honda Racing. He'll debut in the SX1 Class next weekend at Round 2.
- Today, American Honda announced that Andrew Short would be brought on to fill the role of brand ambassador. Short, who rode for Honda from 2005-2010 and then again in 2012, will have a multitude of roles with the brand.
- Electric vs. Gas: The now retired Josh Hill will debut the electric Alta RedShift MX bike at Red Bull Straight Rhythm on October 22 in the Lites (250) Class. Check out a recent testing session with Hill:
RACER X AMATEUR FILM FESTIVAL (Jordan Roberts)
Have you began filming and editing your entry for the 2016 Racer X Amateur Film Festival presented by MotoSport, WASPcam, and BAK Industries yet? If not, you better get on it! The submission deadline of October 20—one day short of two weeks from now—is quickly approaching. It's best to submit your entry well before the deadline in case you have make some changes. The most common rule or guideline not met is squaring away music usage rights, so make sure to read over that carefully in both the rules and contest guidelines and send any questions to contests@racerxonline.com.
Looking for a benchmark or inspiration? We've been rolling out with past film fest finalists' and semifinalists' videos over the past few weeks, so check those out. Here are a couple we ran this week from second and third runners up Max Hind and Maxime Messier. Good luck!
It's been a breakout season for Trevor Bollinger: the JCR/Honda rider scored eight wins and wrapped up the 2016 GNCC XC2 Championship with one round to go in the series. Take a look at season highlights during Trevor's amazing run to his first GNCC Pro title. Congratulations to Trevor, his family, and Team JCR/Honda.
Check out the 2017 fall line from Seven.
This 4-wheel pressure washer follows you as you clean around vehicles, home exteriors, driveways, and more. The compact, horizontal design, delivers optimal stability and takes up little storage space. For a chance to win, take 10 minutes and complete our Racer X Reader survey, leaving your contact information at the end of the survey. Participate now!
---
UNCHAINED: The Untold Story of Freestyle Motocross, a feature documentary from Taublieb Films, is now on Netflix. Directed, produced and written by PT, with EPs including Mitch Covington, Sam Pontrelli, Jeff Bowler and Susan Cooper, and co-Produced and co-Directed by Jon Freeman. Consulting producer Eric Johnson. Stars Brian Deegan, Travis Pastrana, Mike Metzger, Seth Enslow and Carey Hart. Narrated by Academy Award-nominated Josh Brolin! And featuring Micky Dymond, Jeremy McGrath, Tony Hawk, Jeff Emig, Tes Sewell, Ronnie Faisst, Marissa Deegan, Dana Nicolson, Danny Way, Nate Adams, Josh Sheehan, Jeremy "Twitch" Stenberg, Susan Sanders-Stenberg, Tony Hawk, Jordan Burns, Dana Nicholson, and many more. Go to www.unchainedfmx.com to join us at special Vegas screening.
---
What's new from Ogio in 2017? Check out their 2017 catalog, now in flipbook format.
---
Want the latest from Canada? Check out DMX Frid'Eh Update #41.
---
Keep an eye out for the launch of our Racer X Brand Fall Collection. New product is starting to roll through our doors and we'll have it available for sale soon, most likely mid next week. It all depends on how fast our intern, Dustin, can fold shirts.
That's all for this week. Thanks for reading. See you at the races.