Maggiora, Italy
Motocross of Nations
Motocross of Nations
When Team Puerto Rico first started racing in the Motocross of Nations, the squad made for a curious tale, since any rider with an American passport was eligible to compete. That put Zach Osborne, who was racing in the GPs at the time on the team. Travis Pastrana was once rumored to compete, and then female racer Tarah Gieger, who actually is from Puerto Rico, joined up and competed against the boys in 2008. But while the list of American riders on this team is long—Osborne, Alex Martin, Jimmy Albertson, Kyle Regal, Kyle Chisholm, and more—there was always one rider who stuck out because he fit right in. The Genurican—the genuine Puerto Rican—Gino Aponte.
These days, Gino is retired and works full-time for JGRMX in North Carolina, helping with its retail line of hop up parts, and also with Pirelli tires. Then suddenly this year, he was back at the Motocross of Nations!
Racer X: Okay, you were the Genurican! Then you were gone! Now you're back! What happened. Were you even racing at all for the last few years?
Gino Aponte: No, my last professional race was in 2012 at Lommel, for the des Nations. After that I just started working here at JGR, and I was just a weekend warrior. Just rode on weekends when the weather was good. But this April, I went to Puerto Rico for a race, they invited some people from the Dominican Republic, and I went down there and won the race. So then Gabi [Gabriel Catala], the team manager for Puerto Rico, he came up to me and asked me if I wanted to do it again. I said, "Yes, but I'm not in shape!" But he believed I was the best one for the team, still, from Puerto Rico, so why not.
Where you racing against the best guys down there?
I was, and also the best from the Dominican Republic was there, and I won, so it was fun. It was also great to see my family down there. So I said I would do the race if they paid for everything! I got a trip to Italy—flew there Tuesday, went sightseeing for a little bit on Wednesday, tested on Thursday, did all the tech stuff on Friday, then raced Saturday.
So how does this all work? Who puts this together? Who pays for it?
So, Puerto Rico has a Federation of Motocross, and they put on some events. It's about 10 races a year, they keep it around one race a month. So, Gabi, he's the vice president of the Federation of Puerto Rico, and he speaks the best English so he can put it together the best. On the money part, the Federation helps a bit, the government helps out, and then it depends on who else is on the team, sometimes the rider might get people to chip in. Like, back in the day when Zach Osborne was on the team, he was riding for Dixon Yamaha and he was able to get some help for us so it didn't cost the team as much. So everything kind of makes sense.
We got Noah McConahy's story this year where he was on the team and actually raised some funds for it.
Yes, correct, and also Jason [Astudillo] who was also on the team, he did the same thing down at South of the Border MX.
So what's your background? At one point you were racing professionally here in the U.S.?
Yeah so I'm 30 years old now. When I was in Puerto Rico racing full time, I won about six championships in both the 250 and 450 class. So I decided to move to the States to race professionally. I had a friend, Josh Whitmire, who is one of the head guys at Pirelli, he used to race so we were friends. I asked him if he could give me a hand to come race up here, and he did, so in my 20s I was able to move here. I just wanted to pursue the dream. But in five years, I had a lot of bad luck. Probably broke six bones and had four surgeries in six years. Decent results, but not what I wanted. So once I turned 25 years old, I decided I should start looking for a job. I was already doing some part time work with JGR doing tire stuff with Pirelli. They needed someone full time for their retail operation, so I moved up here to North Carolina. From then, racing was just something I did for fun.
How weird is that race to compete in? You've got some of the best riders in the world out there, you have teams like your own that are trying to get in, then you probably have some countries that almost have no clue what's going on. Has to be a weird race to be in.
Oh yeah, totally weird. The track is completely different, too, especially this one, and also Lommel, for the des Nations. The tracks are pretty gnarly out there. And also the fans. They're just unbelievable. They're so crazy over there. We saw one guy, he was lighting his hair on fire!
What did you ride?
I guess Gabi kept in touch with Team Dixon over there, and they're riding Kawis. I rode a KX250F.
So you were in MX2?
Yeah, MX2. I hadn't ridden a 250 in probably six years, and I'd never ridden a Kawi in my life! [Laughs] So it was a little struggle to get used to the bike, but it was a good bike. It was a race bike, it had only three speeds. It only had second, third and fourth gear. So that was something new for me, but it was a good bike, it was strong. Definitely not a 450, but it was good.
How do you figure out your goal for the event? I'm sure you always want to win any race you're in, but what's realistic for your team? Just to make the main motos?
At least make it to the A-Final, that's our goal, I guess. Everyone wants to win, of course. Everyone wants to put in 100 percent, but in my case it's hard to do that because I have a real job.
Did you ramp it up?
Yeah, I did for about a month and a half, riding after work and training when I could.
So you weren't where you were in say, 2011?
No, not at all! Nowhere near that. But I have more fun now then when I was training seriously, and I feel like I'm at the exact same speed, but the lap times don't show that.
How did the races go?
Noah [McConahy] did an excellent job, I think in the B-Final he finished in third place. I can't remember where he finished in his qualifier. My race was okay, I expected to be a little bit better and to have lap times a little closer to the front guys. But, like I said, I've never ridden a Kawi before, and I work a full-time job. I'm probably the only one out there doing that.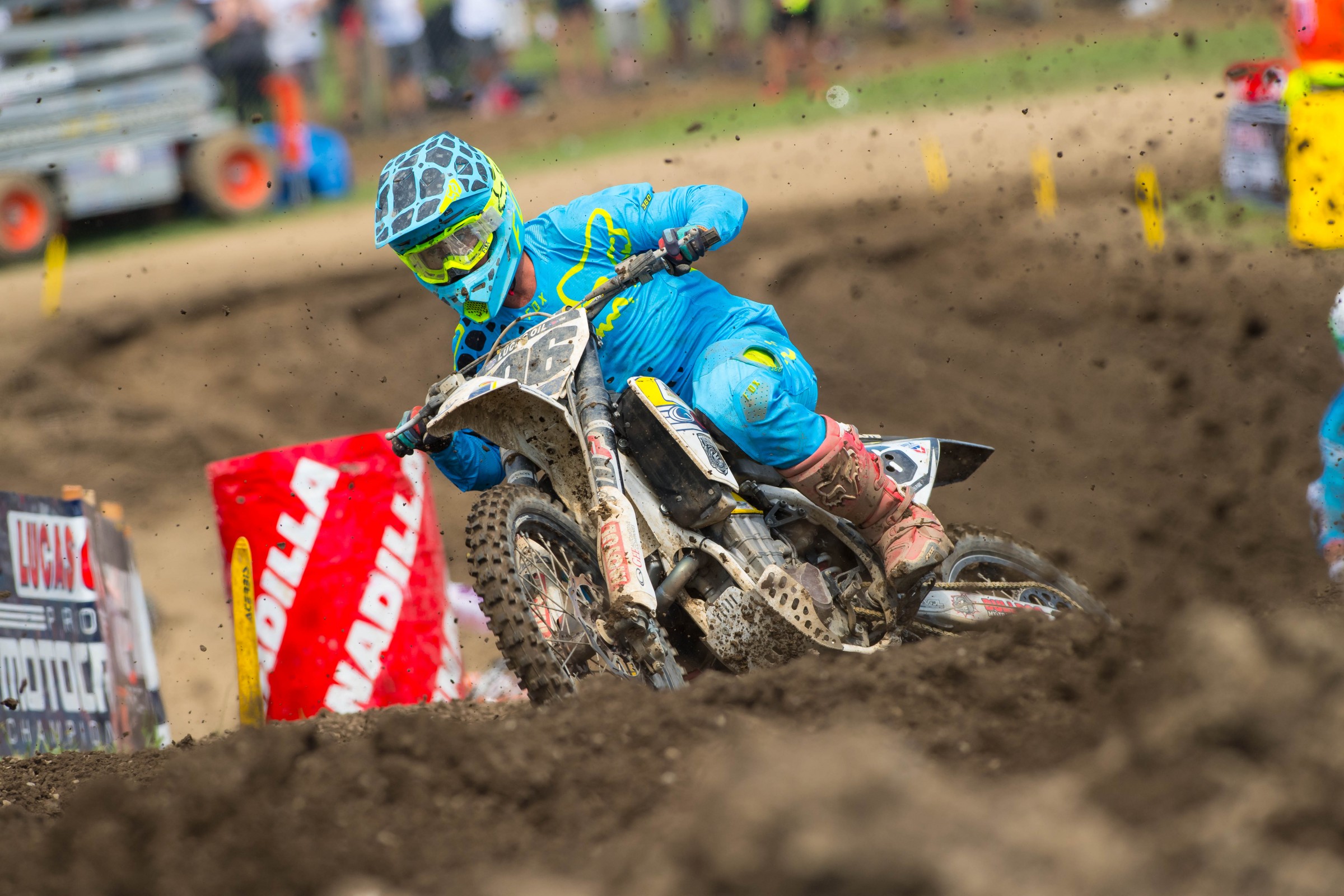 You could technically say the MXoN is the biggest race of the year. And you're out there while working a full-time job, bike you've never ridden, technically stopped racing pro five years ago, that's super weird.
Yeah it is, and on top of that, when I was racing in the States, I usually wouldn't have any family with me except my uncle who would come up to visit sometimes. Then this race, fortunately, my whole family came up! My mom, my uncle, three aunts, I had a full crew to watch! And I'm like, "Wait, you're coming here? Why couldn't you have come to the races to support me when I really needed it?" [Laughs]
Hmm… so they couldn't make it to a National in the U.S., but they suddenly could make it to Italy.
Yeah. I guess they like the wine!
[Laughs] Overall this had to be super fun. Can you actually think about any of this stuff during the race, or are you just in racing mode?
Oh yeah, I had a blast. I had a bad start in the B-Final, I was around 18th place and I ended up crashing and getting run over. By the time I got up and going they had lapped me, and I knew we weren't going to qualify. So I just got up and rode and was just having a blast. It was so much fun. Then I decided to pull off. I didn't want them to lap me again and get in someone's way out there. But I was definitely able to enjoy it.
Have you been on a team that made the A-Final?
Yeah, in 2008, in England, that was me, Zach, and Tarah Gieger and we made it. That was big because they use two of the team results in the qualifying to go to the A-Final, and they used Zach and my scores. So me, being from Puerto Rico, that was a good feeling, it was my result that got us in. But the big race for them was Colorado in 2010, they had Zach, [Kyle] Regal and Christian [Craig]. I think we finished like fifth. But in 2008, more bad luck, we made the A-Final, then I crashed and broke my collarbone in practice on Sunday morning. We got in but I didn't get to race! But at least I had a part in us making it in.