Welcome to Racerhead on one of the busiest days of the year, even though we're smack dab in the middle of the off-season. Racer X and the rest of our little world are fighting on two fronts on two coasts, with the Monster Energy Cup out in Las Vegas, Nevada, and the AIMExpo (the powersports industry's annual trade show) in Orlando, Florida. Our man Davey Coombs attempted to get a piece of both, with some meetings with the Lucas Oil Pro Motocross track promoters in Las Vegas, and then a flight to Orlando. Now he's stuck on a plane, so he has handed off Racerhead to me. I, too, had to trade the Monster Energy Cup for the AIMExpo. That might seem crazy to racing fans, but the AIMExpo is a much bigger deal than many realize.
For years, the industry met up at the old Indianapolis dealer show in February (and before that, the Cincinnati show), until the AIMExpo hit the scene in October of 2013. These shows allow dealers to check out all the latest products under one roof and decide what to stock in their stores. The new AIMExpo attempts to take that concept to the next level, adding consumer days (if you're in the Orlando area, come to the Orange County Convention Center and check it out this weekend) and even demo rides for street and dirt products. Also, Orlando in October offers better weather than Indy in February. The show is definitely growing, and now the AMA has added its annual Hall of Fame ceremony to the festivities. The Hall of Fame Class of 2015 includes road-racing champion John Kocinski, off-road racing champion Rodney Smith, former Harley-Davidson CEO Richard Teerlink, entrepreneur and industry patron John Parham, dirt tracker Alex Jorgensen, and longtime Yamaha Motor Corp. U.S.A. race team manager Keith McCarty.
The Hall of Fame induction is Saturday night, and that's when the Monster Energy Cup blasts off in Las Vegas. That event, now in year five, has developed quite well, and today's press conference looked like a future AMA Hall of Fame ceremony, with Ryan Dungey, Ken Roczen, James Stewart, Trey Canard, Davi Millsaps, Justin Barcia, and Amateur All-Star Austin Forkner in attendance. Chad Reed will also be racing the event with Yamaha (the Yamaha people actually announced this deal at the AIMExpo). There are so many storylines and angles for this weekend that we had a tough time picking just ten things to watch. Like, seriously, try to figure out (or bet on) who will win in Vegas tomorrow and you're just guessing. There's literally no way to know for sure what will happen.
One rider who will be at the Monster Energy Cup but won't be racing is Eli Tomac. He'll be talking about his new deal with Monster Energy Kawasaki, but Eli won't be on a bike until November following double shoulder injuries dating back to the Thunder Valley National in June. Tomac to Kawasaki is huge news (and again, it was announced for the first time at the AIMExpo on Thursday morning). Honda was trying to shift the power balance back in its favor by bringing its Japanese HRC back on board for bike development, and Tomac is top-line talent. Honda wanted to keep him, but Eli chose to move on. He summed it up like this in an interview we posted yesterday: "I feel like I have more potential with this team and with this chassis, so that's where I'm at with it right now."
Tomac's deal highlights the new math in this sport, where energy drink money really drives the factories. Monster Energy has struggled post-Ryan Villopoto, and the Monster Army has been going down to the lab to find new beasts to unleash. From what I've heard, Monster is going all out, even showing up on KTM's doorstep in Austria and making them an offer, although KTM chose to stick with fellow Austrian brand Red Bull. Monster is also partnering more closely with Yamaha, but there were rumors that its long partnership with Kawasaki might end. Now all is patched up, especially with Bruce Stjernstrom, who once worked at Kawasaki, and then Monster, now back as Team Kawasaki team manager. Tomac is the one charged with bringing titles back to both green brands. That's a lot of weight on those, ahem, shoulders.
As for Reed, we've heard about a Monster/Discount Tire/Yamaha factory team for him, but for now, his deal for the weekend is just a one-race affair. Will it turn into a full-blown factory Yamaha effort for 2016? A few weeks ago it seemed this was definitely going to happen, then this week I heard maybe not. It just seems impossible to me that Chad won't find a way to be on the gate at Anaheim, so this should get interesting.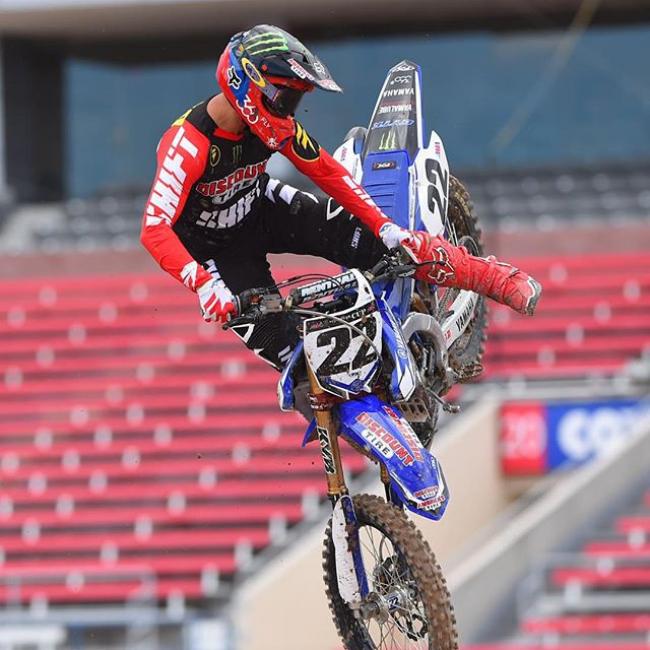 Assuming Reed gets something going, Justin Bogle is the biggest name still on the market. Bogle is just seventeen months removed from a 250SX East Region Championship; he's likeable, marketable, well spoken, and stylish. But he has pointed out of 250SX, and this is a bad time to be a free agent. Most riders are locked into two-year deals spanning 2015-2016, so Bogle just needs a place to stay for next year until there are more openings for 2017. I've heard a million rumors on Bogle, from BTOSports.com KTM to Smartop MotoConcepts, and most recently that Reed/Yamaha effort. Now that team is in flux, so GEICO Honda might just build a one-year 450 deal for Bogle so he has a landing spot. Kudos to that team if they can make it happen.
With all of that news, it's hard to believe something else broke this week! Youthstream announced the 2016 FIM World Motocross Championship Calendar, with the shocking addition of a second USGP, this one East Coast-based at Charlotte Motor Speedway. I live in Charlotte these days, so it's exciting to have a big race close to the area—a LOT of people are dying to see a supercross around here, if only Bank of America Stadium, where the NFL's Carolina Panthers play, had more room to set up a pit area.
The odd thing is, a generation ago they tried holding a supercross on the infield of Charlotte Motor Speedway (1996-1998), with a layout similar to the Daytona SX, but it didn't really catch on. As a GP, this will be a motocross race, so the track will be different than that, but the race is scheduled to take place at night. There has always been this quest to modernize motocross and find a way to hold races at tracks with better facilities—and there's definitely an upside to that. The problem is, while I think the GP at the road-racing track in Assen looked pretty cool this year, most of these car track/road-racing experiments just haven't led to a good motocross track (Daytona works, but that's a supercross). Everyone tried to be cool and not say anything bad about the Utah National at Miller Motorsports Park, but I don't think it was anyone's favorite track.
Now Lucas Oil Pro Motocross going back to a traditional motocross track at Southwick, while the GPs try a few more of these man-made tracks at dedicated facilities. The concept is great, but execution is tough. Dirt bikes work awesome as a supercross in a stadium or an arenacross in an arena, but making a race feel like motocross when it's not an actual motocross track has been a challenge. I'll be there for sure, and personally I hope it works, because this could be cool.
Of course, most everything depends on which American riders show up. A few more names came to Glen Helen this year than in years past, and the crowd seemed a little better, but if you can't get all the factories to that race, right in their backyard, I can't see them hanging east after the Ironman National to race the GP. I'd love to see it, but there's no proof so far, and with Red Bull Straight Rhythm gaining traction, and the Monster Energy Cup a permanent part of the schedule, the calendar keeps getting tighter. I bet you'll see the JGR guys and North Carolina's own Cooper Webb out there, though.
Now here's Matthes checking from Las Vegas.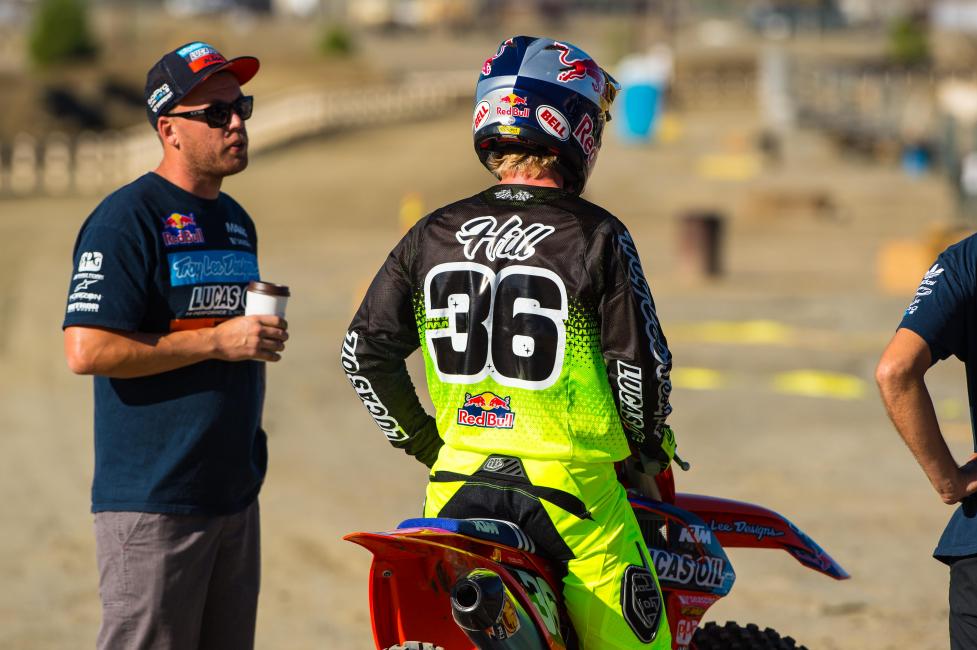 MEC PRESS DAY (MATTHES)
Okay, the riders just finished riding here after the Monster Energy Cup press conference, and things are rocking and rolling for tomorrow's big race. ONE MILLION DOLLARS (say it in Dr. Evil's voice) is up for grabs if a rider can sweep all three ten-lap main events. Here are some news and notes from today's press conference and riding session:
-The elevated start is going to be pretty cool. I like what they've done (check Pulpmx Periscope for it in action), although the little turn and tight right-hand corner at the end are going to prove to be chaotic in my opinion. Bringing the start into the stadium is a good move, and putting it up on top of the building is great. Pretty cool. I like the rest of the track, also. It should make for tight racing; there's nothing to really separate the dudes.
-Chad Reed wasn't in the press conference for some reason, but he was out there on the Yamaha riding around. No, I didn't put a stopwatch on him, so don't ask me what his times were. I reported a month ago that it looked like Yamaha was coming back with Monster Energy as a title sponsor, and with Reed and Justin Bogle as riders, but that seems to be on shaky ground. This Yamaha deal for #22 is only for this weekend. Bogle's new ride is going to be announced soon, and it's not on Yamaha. Also, Reed posted a cryptic social media message about not trusting anyone. Then he pulled that down. So we'll see where we go from here, but I hope it works out for Chad—we need him out here.
-The Suspension Wars: Return of the Oils saga is still going on with Kenny Roczen, who is now running KYB on his RCH/Soaring Eagle/Jimmy John's Suzuki, while teammate Broc Tickle sticks with Showa. And new Monster Energy Kawasaki rider Eli Tomac will also run KYB while his teammate Wil Hahn stays with the Showa components that they've been running. And Reed, who's been perhaps the most vocal about the newer air forks is now running KYB air forks on his Yamaha. The difference is supposed to come in the way these two companies work the air/oil, but the companies will tell you it doesn't matter. The riders say that it does. Stay tuned for more of this kind of stuff as we get closer to Anaheim and the riders get weirder and weirder.
-Stew was back and had the line of the press conference when he said that if any rider has two main event wins that he'd better offer to split it with the other riders, because, as Stew says, "We're not going to let him win the million." Then he went out on the track with his pink Vortex sprocket supporting breast cancer awareness (second-best line of the PC was Race Day Live's Jim Holley forgetting the "cancer" word and saying that James is out there for "breast awareness," which is awesome). James looked good. There's a single into a sand section that's just made for James "Crazy Balls" Stewart to launch off and fly into the sand.
-Ralph "Rocker" Sheheen told me he's upset that Judas Priest is playing tomorrow night here in Vegas and he's forced to work at this race.
-As usual the riders up on stage all spoke about how this race isn't the end all and be all for them. Their supercross boot camp programs haven't ramped up yet, so while they want to win this race, they'll also say it doesn't matter that much. Sigh…. This is what happens when you have guys that don't want to piss anyone off. Interestingly, though, Trey Canard admitted that last year all he could think about after winning the first two mains was the million dollars, and it did affect him early in the race when he went down. He joked about how he hit a million-dollar bag of money out there in a turn. I do admire this bit of honesty from a rider.
-JGR Yamaha is going to have a new sponsor next year, and it's the green claw company, but it remains to be seen if it's a title sponsorship or what. I've heard both, but I don't think anything's set in stone yet. Remember that JGR's NASCAR team has had a nice relationship with Monster over the years.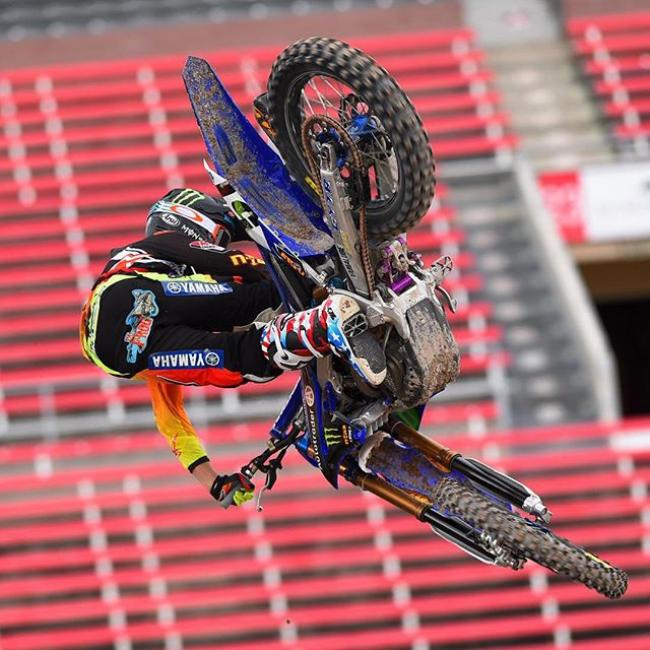 MEATHEAD DOWN (MATTHES)
Moto vet Bobby Kiniry, who's about as nice and hard core of a racer as one can get, went down hard up in Canada at the last arenacross round and jacked himself up pretty good. A broken femur and dislocated hip is what I've heard from people close to the situation, and that's not good. I know he was up in Canada for a bit and might be back home now, but he's got some time on the sidelines to heal up. Kiniry is motocross and a great guy. Let's wish him well in his recovery. I can't wait to see him back out there.
Here are some links to read from my Pulpmx site:
Troy Boy got in touch with KTM's Daniel Baker to find out about his season and what he's doing next year HERE.
Frank Blunt talks about the Red Bull Straight Rhythm in his weekly column HERE.
PRO PERSPECTIVE (David Pingree and Jason Thomas)
PING: Lots of announcements this week, with Reed putting his deal out there a bit and Tomac finally coming out with his news. I'm a little disappointed that Chad hasn't locked in his deal for 2016, though probably not as disappointed as Chad himself. It's never good to be this far along in the off-season and still have your program up in the air. Early rumblings were that this team was coming together nicely, and Justin Bogle would join Reed. But now Reed's announcement is very specific about being for this weekend only, and Bogle is rumored to be back with GEICO Honda on a 450. It seems like something may have come unraveled with the Yamaha/Monster deal. Maybe JT knows more?
As for Tomac, his new situation is going to be one of the biggest unanswered questions going into the season opener. How strong are his shoulders? Where will his speed be? Has he had enough time on the bike? Does he have his setup dialed? Eli does not intend to race until Anaheim, so we won't have any type of gauge going into January. The countdown to A1 is officially underway.
JT$: The Monster Energy Cup is usually the first time we see riders break out their new bike, gear, girlfriend, etc. With contracts generally ending October 1, it gives everyone a chance to put their new steed through a race situation, gauging what the main focus should be over the next months. The biggest change on this year's radar is Chad Reed going back to Yamaha blue. While his deal doesn't seem to be confirmed as of yet, it will still give a glimpse as to what he and Yamaha have been cooking up for the past couple of months. Also a very important aspect of this weekend: if he is still waiting on final word on his deal, there is a huge opportunity tomorrow to sway those with the almighty pen. If he can go out and run up front, bring the crowd to its feet, and prove he will once again be winning in 2016, he can make a strong case for financial support from any avenue he is pursuing.
For Eli Tomac, he is just getting back into the riding program. He will have the next ten weeks or so to get back to the level we saw this summer. The Kawasaki is sporting a brand new chassis, and having ridden the production unit, I can verify that it is much improved. I don't see much trouble in Eli's future as far as adapting to a new bike and team; his real challenge will be finding his absolute best form in the limited time leading up to Anaheim. He's been off of the bike for nearly five months and is coming off of major shoulder surgery on both shoulders. It's simply going to take some time to overcome a setback like that. Exactly how much time is the big question. Ten weeks or less is the answer he is hoping for.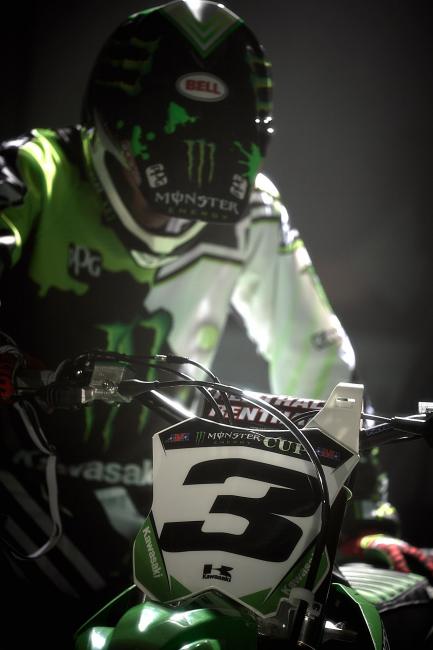 HOW TO WATCH THE MONSTER CUP (Chase Stallo)
Action kicks off live from Sam Boyd Stadium with qualifying at 3:00 p.m. ET on SupercrossLive.com. The evening program airs live at 9:30 p.m. ET on FOX Sports 2 (there's a big college football game on FOX Sports 1, sorry), but if you don't get that channel, you can watch on the FOX Sports Go App, and the race will replay on Sunday, October 18, on FOX, the regular (non-cable) network. That's great because the race will air either right after or right before an NFL football game, so expect lots of eyeballs. On Tuesday, October 20, there will be a re-air on FOX Sports 1.
Check out the full schedule below:
TV Schedule
Saturday, October 17 | FOX Sports 2
Monster Energy Cup | All times are live
Main Events: 9:30 p.m. ET/6:30 p.m. PT
Sunday, October 18 | FOX
Monster Energy Cup
Main Events: 2:30 p.m.–4:00 p.m. ET / 11:30 a.m.–1:00 p.m. PT (Pre-NFL)
Main Events: 4:30 p.m.–6:00 p.m. ET / 1:30 p.m.–3:00 p.m. PT (Post-NFL)
Broadcast schedule here
Tuesday, October 20 | FOX Sports 1
Monster Energy Cup
Main events: 8:00 a.m. ET / 5:00 a.m. PST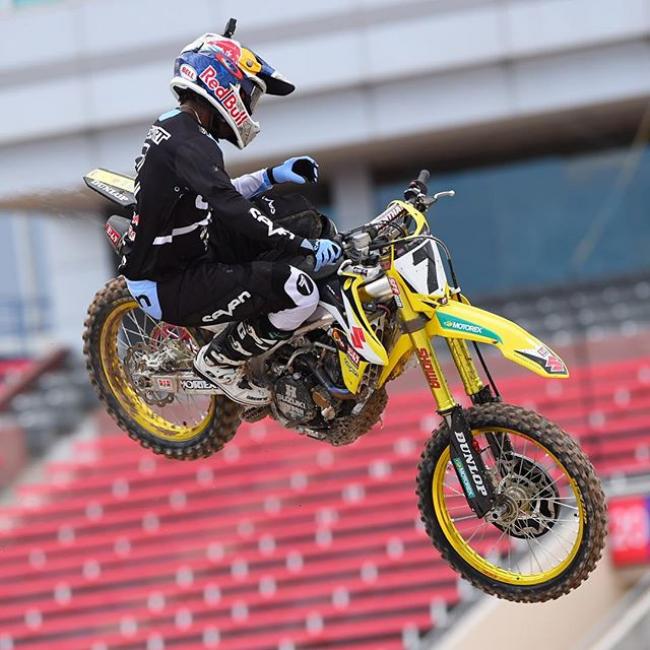 Online Schedule
Monster Energy Cup | All times are live
Press Conference: 2:00 p.m. ET/11 a.m. PT
Monster Energy Cup | All times are live
Qualifying: Race Day Live! – 3 p.m. ET/Noon PT
Saturday, October 17 | FOX Sports Go
Monster Energy Cup | All times are live
Main Events: 9:30 p.m. ET/6:30 p.m. PT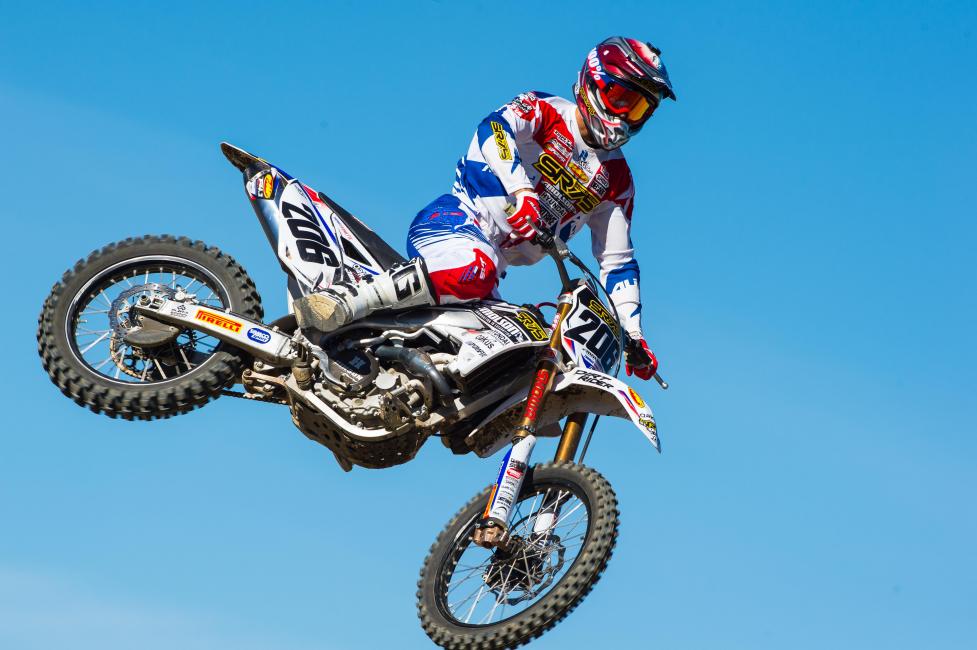 Also, don't miss the live online coverage from round twelve of the 2015 Amsoil Grand National Cross Country Series presented by Maxxis, an AMA National Championship this Saturday at 1:00 and 4:30 p.m. EST and Sunday at 1 p.m. EST. GNCC Champion Kailub Russell is now out with a torn ACL, and the last few rounds have been crazy as riders fight for wins in his absence.
If you miss a race, full replays will be archived on RacerTV.com throughout the season.
Saturday, October 17
ATV Racing

Online: 1 p.m. EST, www.RacerTV.com (LIVE)
UTV Racing
Online: 4:30 p.m. EST, www.RacerTV.com (LIVE)
Sunday, October 18
Bike Racing

Online: 1 p.m. EST, www.RacerTV.com (LIVE)
And don't miss coverage from the 2015 Rocky Mountain ATV/MC AMA Amateur National Motocross Championship, presented by AMSOIL, which took place July 26 through August 1 at the historic Loretta Lynn Ranch in Hurricane Mills, Tennessee.
Before the second feature show airs, the first feature show will re-air in its entirety at 1:30 p.m. EST. The Bank of America 500 at Charlotte Motor Speedway was rain delayed last Sunday, October 11 and moved the original broadcast time. The NBCSN feature shows will be archived online at RacerTV.com, with the first feature already available HERE.
Sunday, October 18
First Feature Show
Television: 1:30 p.m. EST, NBCSN
Second Feature Show
Television: 3:30 p.m. EST, NBCSN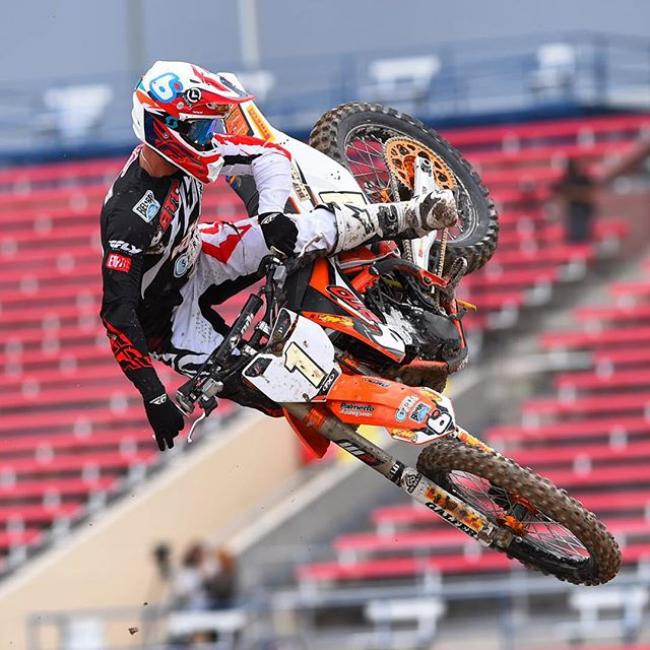 AIMEXPO BREAKDOWN (Jordan Roberts)
We rolled into Orlando earlier this week, set up our fresh Racer X Then & Now booth, and are now at the tail end of the dealer days. Aside from getting to catch up with some industry friends, we've also had the pleasure of checking out everything the show has to offer. You're not going to find a more complete collection of motorcycle enthusiasts in the country, so when you pack them all under the same roof, you know every brand is going all out to stand out in a sea of cycles, ATVs, and side-by-sides.
So far we've seen the release of new bike models, custom bikes that defy convention, collections of mint classics, and an abundance of more on display. There's certainly plenty to look at, but if you're not into the whole spectating thing, you can always head across the street to AIMExpo Outdoors! We took a trip out there and found that the OEM participation has more than doubled from the previous year. You can hit the road on various models of Honda, Star/Yamaha, Suzuki, Harley-Davidson, Zero, KYMCO, and Can-Am motorcycles for the street demo, or take to the off-road course on an Arctic Cat, BRP, Honda, KYMCO, Massimo, Suzuki, or Yamaha UTV or ATV. Seriously, you get to go riding!
The show doesn't stop with OEMs. You'll find just about every motorcycle-related product under the sun here this weekend. When a hobby can get as expensive as you'd like to make it, it's nice to get a firsthand experience with some of the products along with some insight from the people behind the brands before you dip into the piggy bank.
We'll be here until Sunday evening, and the show opens up to the public tomorrow morning. Stop by and see Racer X at booth 2147 if you're in the area!
HEAD-SCRATCHING HEADLINE OF THE WEEK
Controversy after scientist finds rare bird—and kills it...www.CNET.com
RANDOM NOTES
Langston Motorsports in Perris, California, will be hosting a Suzuki Open House tomorrow from 10 a.m. to 5 p.m. You could win a Suzuki DR -Z70 just for checking out the new 2016 Suzuki line-up. If you decide to take a Suzuki home, you could get financing as low as 0 percent down for sixty months on approved credit and we will pay your sales tax. There will be free giveaways throughout the day and lots of discounted product. So if you are in the area, pop in by taking the Ethanac turn-off on the I-215. For more info visit www.langstonmotorsports.com
That's it for Racerhead this week. Hey, only 3,500 words! It's been a busy week and I suggest check the site for stories you might have missed, like Matthes and I talking about Reed/Stew here; my piece on James Stewart's emotions as he returned to racing here; the List of the previous U.S. Open and Monster Energy Cup winners here; and, just to prove I don't only provide links to my own stuff, Eric Johnson's Eli Tomac interview here. Austin White also did amazing work with the Untold Story of Jessy Nelson here.
I don't think you need much more than this. Enjoy the weekend and thanks for reading Racerhead. See you at the races!