Las Vegas, NV
Monster Energy Cup
Monster Energy Cup
Monster Energy Cup is on the way. Let's go year by year through Las Vegas' October SX events and see what we can learn in this week's List.
1998 U.S. Open, Damon Huffman: French-born, Las Vegas-based race promoter Eric Peronnard brings a European-style off-season supercross, like the famous one in Bercy, France, event, to the U.S. That means three things: big money ($100,000 to the winner, in this case), a small track (this one was built inside the MGM Grand Garden Arena, making it similar to an arenacross) and nut-ball opening ceremonies. The event featured racing on Friday and Saturday nights, with an overall winner crowned combining both results. This was expected to be a Jeremy McGrath show, but the King suffered from bad starts all weekend, and Team Kawasaki's Huffman took advantage. Huff-Daddy had crashed out of the '98 SX season with a broken femur, so this was a nice bounce back.
1999 U.S. Open, Jeff Emig: An all-time change and redemption story, as Emig had been fired from Team Kawasaki over the summer after being caught with some, ahem, paraphernalia in Lake Havasu. He built his own privateer effort on a Yamaha with the help of some friends, won the race and the $100,000, and then famously said, "Winning this race is a whole lot better than being in jail."
2000 U.S. Open, Ricky Carmichael: RC's 250 supercross transition had not gone well, with a crash-filled 1999 rookie season and a quiet sophomore year in 2000. Then he hired Aldon Baker, dominated the 250 Nationals, and showed up to the U.S. Open vowing to solve supercross. He delivered the win here, although current supercross champion Jeremy McGrath wasn't in attendance.
2001 U.S. Open, Ricky Carmichael: RC indeed improved massively in supercross, dominating the 2001 season with thirteen straight victories. Then he shocked the world by switching from Kawasaki to Honda. This race marked his debut on the new bike, and when the promoters lowered RC from the ceiling with him wearing a crown and holding a scepter, well, it seemed like a direct shot against the King (McGrath). The fans let him have it and booed Ricky like crazy. But he won the race anyway. McGrath was there and looked fast and fit, but he struggled with starts again. Oddly, the best supercross rider ever never won this event.
2002 U.S. Open, Mike LaRocco: Carmichael was the favorite again after taking another SX title in '02 and then winning every single moto of the 250 Nationals. His nearly perfect year came undone when he crashed on the first night, opening the door for Mike LaRocco to get the win. RC bounced back in night two, but LaRocco got the overall.
2003 U.S. Open, Chad Reed: Reed ended the 2003 SX season with a flurry, posting six straight wins but coming up just short of Carmichael in the title chase. He picked up right where he left off here, passing Carmichael and winning the event. It would end up being RC's last supercross ride on a Honda, as RC soon announced he'd miss the 2004 SX season with a torn ACL.
2004 U.S. Open, Chad Reed: Now Carmichael was on a Suzuki, and made his debut on the bike here. He waved Reed by on one night and had bike problems on another. Reed was simply the man in supercross during this time, and he pocketed some good money showing that off.
2005 U.S. Open, Ricky Carmichael: Carmichael took the 2005 SX title on a RM250 but made a surprise decision to race the RM-Z450 four-stroke at this race. Reed didn't compete at this event due to shoulder problems, but James Stewart was ready to challenge RC on his old KX250 two-stroke. Then, the morning of the event, Stewart got sick and pulled out. RC dominated.
2006 U.S. Open, James Stewart: Now Stewart was ready with a KX450F. Carmichael was there, too, and they battled to the final laps until RC punted a Tuff block and went down. Stewart not only won the $100,000 grand, but his buddies at Red Bull surprised him with the keys to a brand-new Bentley! Now you know why he's so loyal!
2007 U.S. Open, Grant Langston: For the tenth edition, the SX promoters at Feld Motor Sports (who had purchased the event from Peronnard) wanted to spice things up. Enter the Trifecta, which would pay $250,000 to a rider who could sweep the main events, grab both holeshots, and also log the fastest hot-lap qualifying times each night. RC was retired, Stewart was out with a knee injury, but Reed was back and swept everything on Friday. He took Saturday's fast qualifying time, putting him a holeshot-and-win away from the quarter mil. He got a bad jump, but gave it hell by bombing to the inside of turn one, igniting the mother of all first-turn crashes. Some dudes ended up under the bleachers! Jake Weimer, on a GEICO Honda 250, avoided it, got a huge lead, and went on the win the main event. When the smoke cleared, Langston recovered from the massive first-turn crash best to snag the $100,000 overall win. We also hear he doubled down a big chunk of that at the casino that night and won a whole bunch more!
2008 U.S. Open, James Stewart: Stewart made his Yamaha debut here. And Reed was on a Suzuki! Stewart put the $250,000 Trifecta in effect by dominating Friday and taking the hot lap again on Saturday, but his old buddy Reed edged him for the Saturday start, ending Stewart's shot at the big loot. Reed led most of the way, Stewart caught him, the rivals battled and bumped as usual, and then Reed made a mistake and went flying off the track. Stewart took the win.
2009 U.S. Open, James Stewart: Now twelve years old, the event was losing some of its hype, so another format change came in the form of head-to-head bracket racing, and even a mechanic's challenge, all paying points toward the overall. It didn't really matter, though, since James Stewart was there and flying. Reed had just announced a switch to Kawasaki but wasn't ready to race yet, but Ryan Villopoto, in his return from ACL surgery, made a late decision to show up on his KXF. RV took his best shot at Stewart but was ultimately no match. James went on to get the win.
2010 No Race: There were rumors of a switch to a bigger track at Sam Boyd Stadium, perhaps backed by Monster Energy, but the rumors took an extra year to become true.
2011 Monster Energy Cup, Ryan Villopoto: The Monster Million bonus for sweeping all three ten-lap mains on one night was the headliner, but this event was also billed as a hybrid between motocross and supercross. A faster, more open track, and a lack of SX whoops could maybe even entice the likes of Antonio Cairoli to give it a shot. But the Europeans stayed away, and so did many American-based riders, who always want to watch an event first before trying something new (note last year's thin roster at Red Bull Straight Rhythm). Luckily, Ryan Dungey showed up at the last moment to give his new KTM 450SX-F a shakedown, but he wasn't really ready to challenge Villopoto. RV dominated and won the million, capping a year with 450 SX and MX titles, and a Motocross of Nations triumph. Years don't get much better!
2012 Monster Energy Cup, Justin Barcia: Now that everyone was on board and the comp was much deeper, this was really one of the most fun nights at a race ever. Villopoto dominated the first main but crashed out of race two, Dungey bent his shifter twice and shifted his bike BY HAND IN THE AIR OVER A TRIPLE (!), and Justin Barcia, Chad Reed, Eli Tomac, and Mike Alessi all had shots at the win. Plus, the Joker Lane was new. The racing was nuts, but Barcia went 2-1-2 to take the overall and $100,000. He hadn't even started his 450SX rookie year yet!
2013 Monster Energy Cup, James Stewart: Everyone handled the Joker Lane smoothly in its 2012 debut, but it was a game changer for year two. Dungey forgot to take it in race one, and thought he won the race until Villopoto reminded him after the finish. Dungey slammed his hands into his helmet when he got the news. James Stewart missed the first two "Cups" due to injuries and bike switches, and was a lowly eighth in the first 2013 main event due to an early crash. Then he came roaring back in race two to challenge Villopoto, and then RV made the same mistake Dungey did by forgetting the Joker Lane. Moments later, Villopoto wadded up big time and crashed out! Stewart would have to deal with Barcia and Ken Roczen to sneak out the overall win, and he made it happen.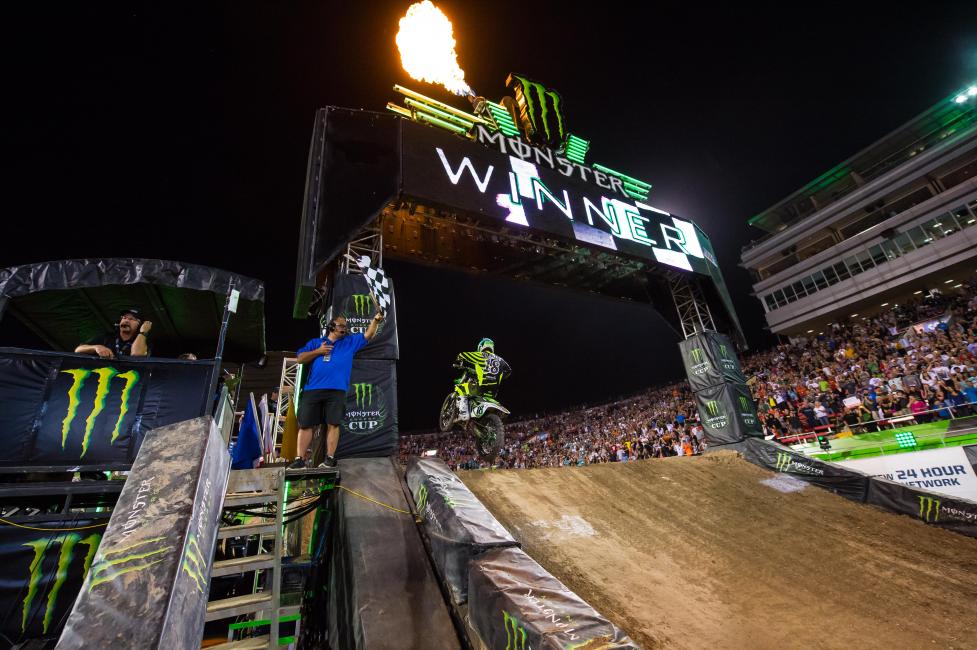 2014 Monster Energy Cup, Davi Millsaps: Trey Canard didn't just flirt with the Monster Million; he took it out on dates, and was ready to head to the Vegas chapel and make it official. But after dominating the first two main events, he found himself second behind Davi Millsaps and looking for a place to make a pass. He crashed, shelving the million-dollar sweep, and then crashed again trying to salvage the overall. This left Millsaps with the win, a shocker since it was his Monster Energy Kawasaki debut, and he hadn't even raced at all since May of 2013. Outside of Villopoto's win in the 2011 debut, this event has been dotted by upsets.