Affixed to the walls of the Monster Energy Kawasaki race shop in Irvine, California, are framed AMA Pro Racing #1 plates. Circling the shop in a counter-clockwise fashion, these plates illustrate the championships that have been won by Kawasaki Motors Corp., USA since the outfit first went racing back in 1972. One of these plates symbolizes the 1984 125cc National Championship won by Jeff Ward. A great achievement in its own right, what makes that plate even more significant is that it lit the fuse on a championship run that ran all the way up to the 2014 Monster Energy Supercross Championship clinched by Ryan Villopoto. And that's the exact point where the unbroken run of Kawasaki championship #1 plates comes to an end.
"That's why we're all here," says Monster Energy Kawasaki racing manager Bruce Stjernstrom, pointing directly at the '14 supercross plate. "We didn't win a championship this year and that hasn't happened in over thirty years. We're here to start the streak back up and get another #1 plate up on these walls. That's why Eli Tomac is here."
Earlier this week, Eli Tomac, with his father John at his side, came walking into the Kawasaki race shop for the very first time. He was there to meet his new team, see his new bike, and get his first true look around at the reality of his new surroundings. In one of the worst kept secrets in all of global motocross, Eli Tomac was making it official: He was now Monster Energy Kawasaki's hand-picked racer to make a run at the 2016 Monster Energy AMA Supercross Championship.
Runner-up to Ryan Dungey in 2015 Monster Energy Supercross, Tomac, who won three main events and kept the streaking KTM veteran rider somewhat honest, reached for another gear when the AMA circuit roared into the great outdoors. The Colorado-born racer won the first five motos of Lucas Oil Pro Motocross before going down in a huge, untimely way at the Thunder Valley National and damaging both shoulders.
Tomac is now in Orange County, California, to begin working with his new team, a team that is, for all intents and purposes, totally built around him. And that's just the way he (and Kawasaki) want it. Winning is all that really matters in the racing business, and for Tomac and his guys, the time has come to go to work.
Racer X: Eli, how was it walking into the Monster Energy Kawasaki race shop today? I could sort of tell that you were trying to absorb it all and take it all in. Talk about wholesale changes to your racing efforts for 2016.
Eli Tomac: It's a shock at first. Honestly, though, it's a breath of fresh air, too. It's something I've really been wanting and have been looking forward to getting to. It's more exciting than anything.
Had the deal with the Monster Energy Kawasaki team been in the works for a while?
This is just a team that I have always just looked up to. Seeing Villopoto's success, you know, looking at the guy who was winning all the races, and you wonder why he is winning everything. I looked at that and it was something I wanted to get to, and I believe that I can do the best I can do on this team.
You had been with Honda since you turned professional at Hangtown in 2010. Was it a difficult decision to leave, or was it time to move on?
I feel like I have more potential with this team and with this chassis, so that's where I'm at with it right now.
You've been on the sidelines since your crash at Thunder Valley way back in May. Now five months removed, how is your health?
My shoulders are coming around. By no means am I 100 percent, but I feel like I'm making good progress and where I should be. My final checkup is this month, that should be the final go ahead and when I can really know when I'm going to be able to ride. It should be around November 1.
What have you been doing during the down time? Has been hard to just sit back and watch all of the racing go on without you?
It was hard at first. Those first couple weeks were pretty painful just watching. Then, after that, I thought, Man, now this is a good time to kind of take a step back and relax for a little bit because I'm going to be down for six months. At first it was tough, and then it was kind of nice to take a step back, but then there comes a point where you want get back out there and race and do what you know how to do. I'm really just itching and ready to go again.
Did you watch the races on TV this summer?
It was hard to watch—especially the 450 Class. To be honest, I watched more 250 races than I did 450 races just because it's tough watching, especially when you come from winning those races and I knew I should have been up there. It was tough.
Before that second moto at Thunder Valley, you had won five straight motos and won them very convincingly. If not for the misfortune in Colorado, do you think you would you have walked off with the title?
I mean, in that moto I crashed in, I know a lot people said, "Why was he pushing like that the whole time?" Honestly, though, I was just doing my thing and riding. I don't know…. That crash came out of nowhere.
The 2015 supercross season was good for you. You ended up second to Ryan Dungey in final points, won three main events, and placed on the podium in eleven of seventeen races. All things considered, what did you think about your supercross season?
A huge improvement over the year before. Huge. I always wanted to get a win in the first year, but that's not an easy thing to do in the 450 Class. We got a few wins this year, and just to be able to get that feeling is huge and adds confidence. I think even getting those wins in supercross actually carried over to motocross and helped me get those wins there.
Once you find out from your doctors where you are at physically, what will come next? What will your off-season consist of?
I'll be based out of Corona, California. As most people know, most of the test tracks are out there in Corona. It'll be full-bore once I'm able to get back on the bike and all the way to Anaheim 1. I think we'll be in a little bit of a time crunch, but at the same time, supercross is so long that I think you can almost get a little ahead of yourself before the season even starts and get burnt out. It could be a blessing in disguise in not burning myself out before the season.
Obviously, you're not going to be able to push very hard when you first get back on the bike. Even though the amount of time you'll actually have on the bike before the season starts will be abbreviated, are you going to take it slow and not rush?
Absolutely! I'll start on an outdoor track and start taking it easy, and then I'll work into supercross as soon as I feel comfortable. That just all depends on strength and how I feel right away. I'm going to have to race myself into the new season because I've never had this much off time before. Obviously, I'm doing anything that I can to stay in shape, being away from the motorcycle. I'm doing my bicycling and running and gym work, but you can't ever totally simulate a motorcycle, so that's something I'm just going to have to race myself into.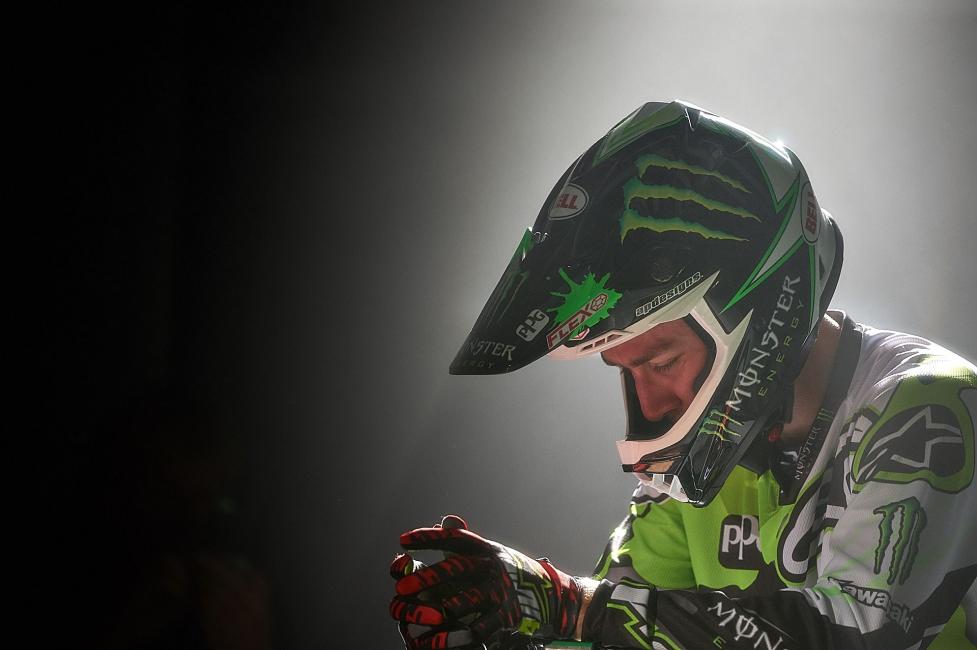 No pre-season races?
No, I'll just focus on Anaheim at this point.
And the Monster Energy Kawasaki team itself—do you know the guys yet or are all of you still new to one another?
Yeah, everything is new. Obviously, you see these guys at the races and you're competitors, so I was competitors with them at one point. It's not like you really, really know them. Everything is new.
What did you think of your competition this year in supercross, and how will you view it come January 2016?
I think, going into the next year, it's all pretty much the same playing field. Well, other than you have the James Stewart card in there now. That's going to be the kicker because he's always fast, and that's another new guy that's in there. [Marvin] Musquin will also be moving into the class. There's a few other guys that will be in the class, but like every year there's usually two or three or four guys that really stand out in the end. That's just the way it is.
You hit the podium eleven times in 2015, but there was also a small section of the schedule—San Diego, Arlington, and Atlanta, to be exact—where you suffered a streak of poor results. Is consistency going to be one of the things you work on come 2016?
Yeah, I mean, that's the difference between getting second place in the championship and winning it. You have to be on that podium in almost every race. That's where Dungey ate us up this year. I think he was on the podium sixteen out of seventeen times. If someone does that it's impossible to beat them. You have to be that guy, for sure. For me, my biggest issue was some of my main event starts, honestly. That's where Dungey was beating me out. He was starting in third or first, and I was starting in sixth or seventh, and that's the difference between getting through guys those first couple laps and breaking away.
It's a dumb question, but I'm going to ask it anyway: what are Eli Tomac's goals for 2016?
[Laughs] I mean, the goal is to win. I've gotten enough second places and I've gotten enough podiums that you just want to win as much as possible and get the big #1 plate and the championship.
Your entire life has basically been centered upon winning the 450 supercross championship, hasn't it?
Absolutely. When you're a young kid, that's the pinnacle and that's what you're shooting for.