Saxony-Anhalt, Germany
Motocross of Nations
Motocross of Nations
The 2013 Monster Energy FIM Motocross of Nations is coming up fast, and our countdown of Team USA's Top 25 riders of all time is also coming up fast on its conclusion. We've been ranking the riders according to their success in the event—as a member of Team USA and as an individual competitor—as well as their importance to the team's success and their longevity. From 1981 through 1993, Team USA won every Motocross and Trophee des Nations ('81-'84) event, the longest streak of any kind in professional motocross. Along the way numerous heroes emerged from the event as a result of their truly exceptional performances.
But every now and then at this event comes one extraordinary effort by a rider that truly captures the world's attention. Ryan Villopoto did it in 2007 when he swept both motos on his 250F. Great Britain's Paul Malin shocked the world with his 1-1 sweep of the 125 class in 1994, anchoring the upset of Team USA. Johnny O'Mara raced his 125 around the hills of Maggiora, Italy, at such astonishing speed that he beat every 250 and 500 rider except his own teammates.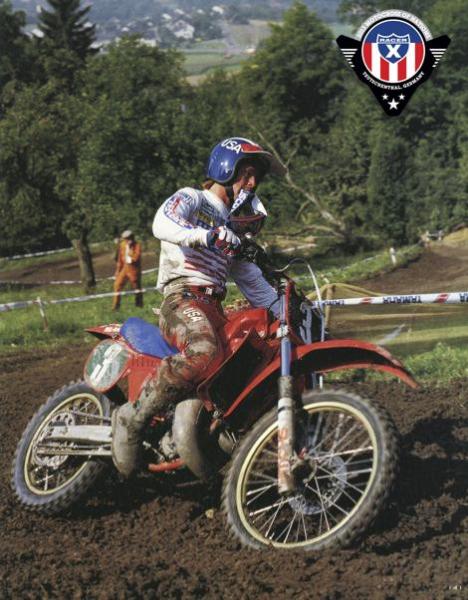 Danny Chandler finished his 1-1 masterpiece at the Trophee des Nations in Switzerland holding his goggles in his mouth. He was way, way out front.
Jack Burnicle photo
Those were all unforgettable efforts by men who helped their respective nations to victory. However, no one in the history of the Trophee and Motocross des Nations events ever managed to do what Danny "Magoo" Chandler did over two glorious weeks in 1982. Riding for Team Honda, Chandler obliterated the competition in the Trophee des Nations' 250 class and the Motocross of Nations on the 500. Chandler went 1-1 in Gaildorf, Germany, and then 1-1 again in Payerne, Switzerland. And he didn't just win—he literally disappeared from the world's best riders all four times.
At the time, Chandler was not regarded highly on the world stage. He had never won a major race before 1982, then he not only won his first national, but the 500cc U.S. Grand Prix at Carlsbad, too—despite being stung by a bee at the end and suffering an allergic reaction. But it still wasn't enough to make anyone suspect that he might do something extraordinary in September on the biggest stage of all.
Chandler was initially regarded as a weak link, his wildness over the years making him an afterthought before American Honda signed him to its Support team for the season. And when the team's top 500 rider, Darrell Shultz, could not go as part of the four-man, all-Californian, all-Honda riders that would make up Team USA, Chandler was given the nod. He would join 250 MX and Supercross Champion Donnie Hansen, rising star Johnny O'Mara, and journeyman pro Jim Gibson. But then Hansen was badly injured in Germany before the Trophee race, so David Bailey was immediately dispatched to take Hansen's spot.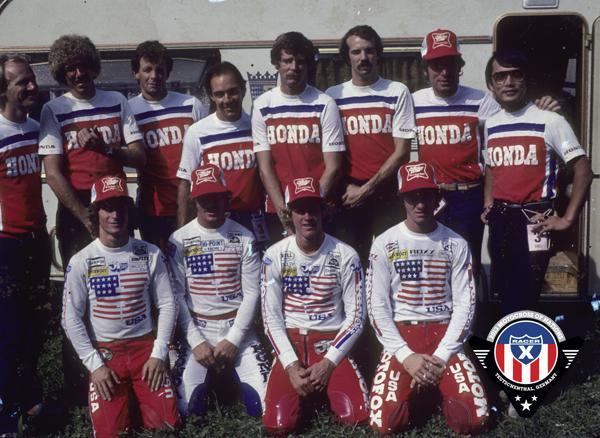 Team USA was again an all Honda affair in 1982 with riders Jim Gibson, Chandler, Johnny O'Mara and David Bailey.
Dick Miller photo
In Germany, Chandler completely stole the show, then did it all over again one week later in Switzerland. These were forty-minutes-plus-two-laps motos, and while European fans and competitors did not know just how good Magoo was, they had heard of his penchant for crashing spectacularly. Everyone seemed to watch and wait for disaster to hit—but it never did. Chandler walked on everyone, including his Team USA teammates O'Mara and Bailey (who each had runner-up rides) and Gibson. Team USA won both races for the second year in a row, and Magoo became a global motocross sensation.
Here is some rare footage from both both the Motocross and Trophee des Nations of 1982, featuring Magoo's walk-offs in all four motos, much to the astonishment of the two British men doing the broadcasting.
Fast-forward to 37:10 to see Magoo's legendary holeshot in the first moto of the 500 race in Switzerland, and then 57:00 when he pulls a mega holeshot the second time out, and from the outside!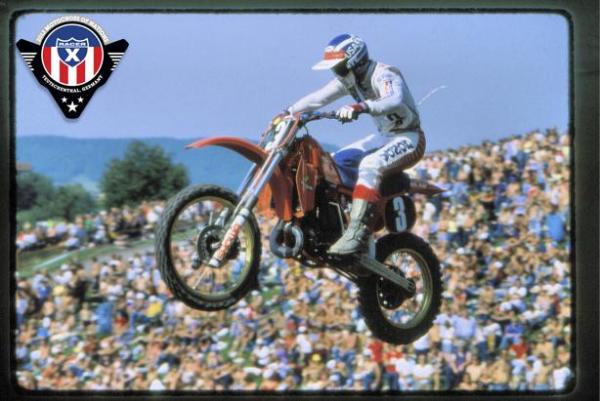 Magoo's extraordinary fortnight in Europe marked the single greatest individual effort in the history of the Motocross and Trophee des Nations.
Racer X Archives
It should be mentioned that Magoo's career following his triumph with Team USA was not so easy. He won a couple more races the following year on the 500 National circuit, but injuries mounted, especially in supercross. By 1985 he found a new home in Europe, riding a KTM on the 500cc Grand Prix circuit and even winning the French GP. Sadly, Chandler crashed the following winter at a supercross race and suffered a broken neck that left him paralyzed. His career over, he tried his hand at teaching motocross schools, but the cruel injury made that too painful, both physically and emotionally. Chandler, an AMA Motorcycle Museum Hall of Famer, passed away in 2010. He was 50 years old.
Every man on this list did big and important things on behalf of Team USA over the years—in some cases multiple times. Chandler packed his contribution to the cause into one wild fortnight of extraordinary speed and success. It was the best two weeks anyone ever had in the Trophee and Motocross des Nations, and it will never be matched.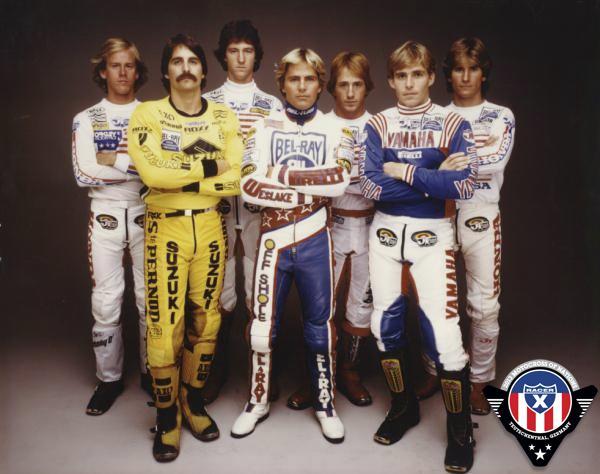 Henry Ray Abrams shoot this iconic photo of Cycle News' 1982 Riders of the Year. Front row: 500cc World Champ Brad Lackey, Speedway World Champ Bruce Penhall, 250cc World Champ Danny LaPorte. Back row: O'Mara, Bailey, Chandler, and Gibson.
Hennry Ray Abrams photo
Tracker: