We are now a dozen days away from the start of the 2013 Monster Energy FIM Motocross of Nations, which means twelve riders are left in our countdown of the Top 25 Team USA riders of all time. Today, we reach back into the thirteen-year winning streak by Team USA that redefined the motocross world in the eighties and up through the day the streak ended in 1994.
Mike Kiedrowski came out of practically nowhere to win the 1989 AMA 125 National Championship on a Honda Support bike with #762 as his Pro-Am number. But Kiedrowski, a late bloomer who hailed from Canyon Country, California, was not a shoo-in to be Team USA's 125cc rider at the Motocross des Nations that year, as Team USA's Roger DeCoster had made a habit of not necessarily choosing the 125 champ for the role. In fact, George Holland had been passed over the year before ('88) and Micky Dymond was passed over twice (1986-'87)—and both of those guys rode for DeCoster at Honda!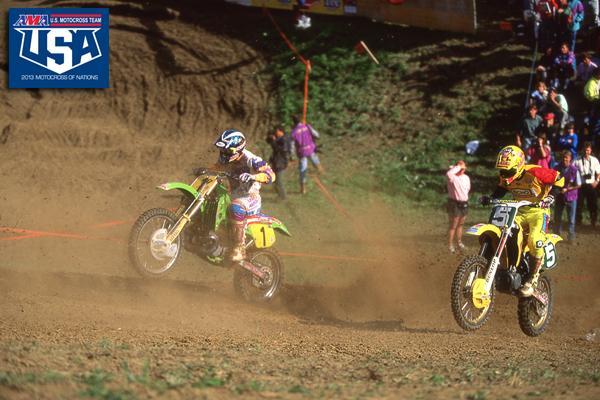 After riding for Team USA twice on a Honda CR125, Mike Kiedrowski (#1) got the call to ride the 500 in 1993 in Austria and helped deliver a thirteenth straight win.
DC photo
But things were different in 1989 due to the wrist injury suffered by Rick Johnson, the best rider on the planet at the time. Johnson first injured his wrist at the Gatorback National in March but appeared ready to make a comeback by midsummer. That led his teammate and newly crowned AMA Supercross Champion Jeff Stanton to ride a CR125 in the 125 Support class at the U.S. 250cc Grand Prix at Unadilla, signaling to DeCoster his willingness to take a supporting role to Johnson when the captain returned. But then RJ got hurt again, and suddenly DeCoster had to draft Kiedrowski on the 125 and Stanton on the 250, with the war horse Jeff Ward ready to go on the 500.
Neither Kiedrowski nor Stanton had ever been to the Motocross des Nations, set that year at the high-speed circuit at Gaildorf, Germany. Stanton came through with two resounding wins on the 250 while Wardy won a masterful first moto from Dave Thorpe, who was driven to avenge himself for his 1986 defeat to the Americans. Kiedrowski also proved to be clutch, finishing as top 125 in the first moto (tenth in the combined 500/125 field) and then second to Italy's Alessandro Puzar the second time out, but good for the 125 individual honors—not to mention a Team USA win, their ninth in a row.
Here's footage of the first moto, starring Ward in the lead role as the winner of the 500 class and the race outright over Dave Thorpe, with Kiedrowski winning the 125 class.
Kiedrowski did not return to the team in 1990, the 125 gig going to Damon Bradshaw instead, rather than that year's eventual 125 National Champion, Guy Cooper. But Kiedrowski got his #1 plate back in 1991 on a Kawasaki, and with it another invite to race for Team USA. This time the race was in the sand of Valkenswaard, and while Kiedrowski did not have his best day—the then-very-young Belgian rider Stefan Everts topped both 125cc group results—he helped Team USA's Stanton and Kiedrowski extend America's streak to eleven.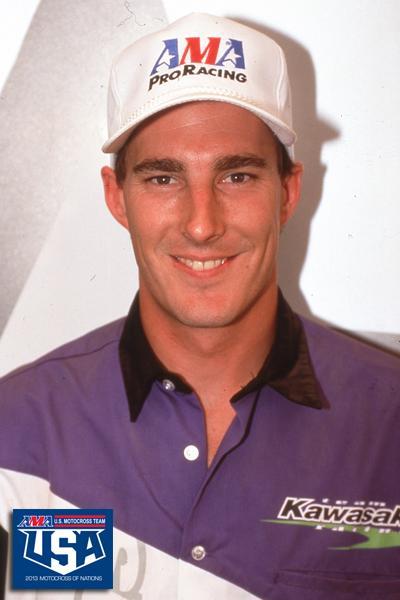 In 1992, Kiedrowski, Stanton, and Bradshaw all made the regrettable decision not to attend the Motocross des Nations, which was being held all the way Down Under in Australia. It's a decision all three will likely now tell you they regret. Jeff Emig, Mike LaRocco, and Billy Liles all went instead, managed by Roy Janson in place of Roger DeCoster. The "B Team," as they were soon called (since none of them had been to the race before) upset the world again.
Kiedrowski was back in '93, this time on a 500, and the race was held in Schwanestadt, Austria. His teammates were Emig (125) and Jeremy McGrath (250). Again, the Americans were expected to lose—many thought it was Belgium's turn, or maybe the strong Italian team's—yet once again, Team USA came together for the overall. Kiedrowski won the first moto outright over Sweden's Jorgen Nilsson and Belgium's Marnicq Bervoets, then made a valiant charge at the end of the final moto to reach seventh place (and third 500) and help Team USA beat a very pissed-off Belgian team by one point. The streak was at thirteen years!
Of course, all good things end, and Team USA's streak would do just that in 1994 on the hills of Roggenburg, Switzerland. Once again, Kiedrowski was on the squad, this time on a Kawasaki KX250, teamed with Emig (125 Yamaha) and LaRocco (500). He did not have a good day. In fact, none of the Americans did, and the British team of Paul Malin, Kurt Nicoll, and Rob Herring ended the Americans' run before they could hit fourteen. The nearly complete race that ended Team USA's winning streak is here.
All told, Mike Kiedrowski's time with Team USA helped result in a 3-1 tally over the years. He rode two different brands in three different classes and proved valuable in all three wins. That's why he's #12 on on our list of Team USA's Top 25 riders of all time.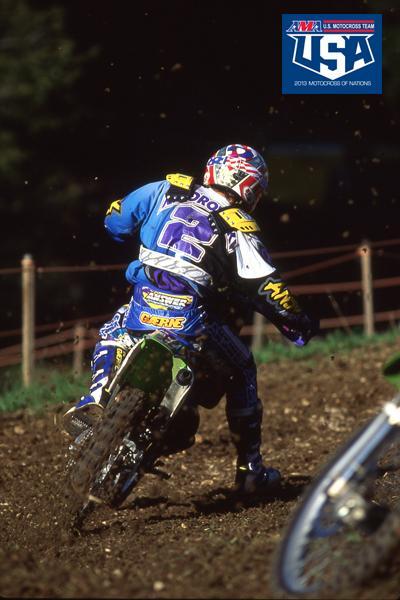 Kiedrowski was also a member of the first team to lose in thirteen years, the 1994 squad, along with Jeff Emig and Mike LaRocco.
DC photo
Tracker: