The Racer X Countdown of the Top 25 Team USA riders of all time just grabbed another gear. There's probably not enough space in the comments section for the fast man who is #16 on our list as we count down the days to the 2013 Monster Energy FIM Motocross of Nations in Teutschenthal, Germany, where Team USA will try to get back on top of the motocross world. Love him or hate on him, he's a badass on a dirt bike and one of the most talented riders the sport has ever seen.
Yet it's hard to believe that, in his eleven-year professional racing career, James Stewart has only been a member of Team USA twice. He was a rookie in 2002 and the race was canceled anyway; in 2003 it was a run-what-ya-brung format in the Belgian sand, and Stewart was still on a 125. The team didn't come together in 2004 because Ricky Carmichael was switching from Honda to Suzuki and James was moving up to big bikes. In 2005 Stewart was on a Kawasaki KX250 but he had a rough summer trying to keep up with RC, and Kevin Windham took the MX3 slot alongside Carmichael (MX1) and Ivan Tedesco (MX2). In 2007 Stewart was in, but then he tore up his knee at Washougal and was out. In 2009-'11 he had a supercross-only contract. Last year and this year, James got himself banged up during the season.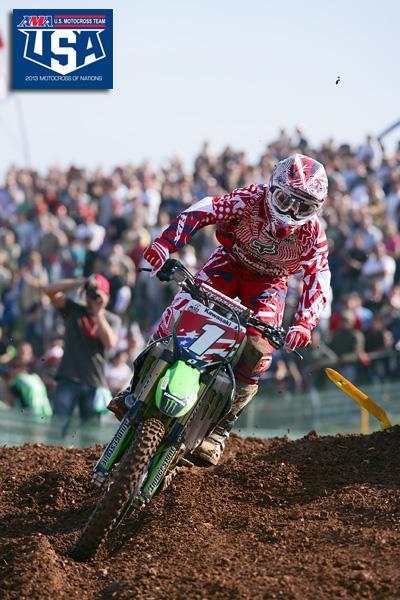 In two tours of duty with Team USA, James Stewart led winning team both times.
Steve Cox photo
The two times Stewart did race—2006 and 2008, both in England—Team USA was victorious, and Stewart was vital to both victories. In '06 he anchored the team after Carmichael crashed at the Glen Helen MX finale and separated his shoulder. So Stewart moved up to the MX1 class on his Kawasaki KX450F while Tedesco was brought in to race Carmichael's Suzuki RM-Z450 at Matterley Basin, with Ryan Villopoto making his Team USA debut.
Of course few recall that Team USA won, and that's understandable. The King of Motocross, Belgium's Stefan Everts, had announced that the '06 MXoN would be his last race, then went out and put on a riding clinic few will ever forget. Everts' fluidity sharply contrasted with Stewart's lack of rhythm in his own Team USA debut. And after crashing in the first moto, James seemed rattled for the rest of the afternoon, and he simply could not hold off the force of nature that was King Stefan. Team USA won the day, but Everts won the battle everyone came to see, then rode off into the sunset. Here's a look at the last moto, with brilliant commentary from Sir Jack Burnicle.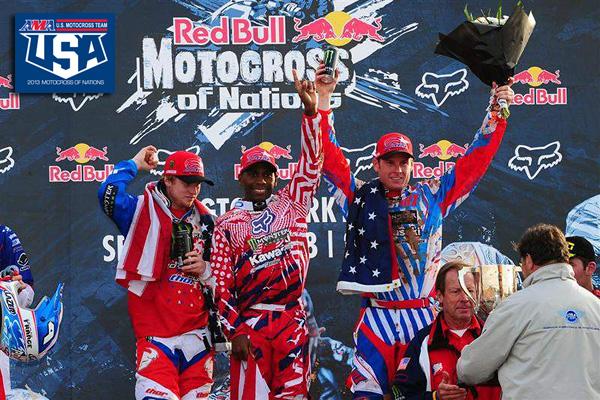 Stewart (center) joined Ryan Villopoto (left) and Tim Ferry (right) on the podium after winning the first moto outright and DNFing the second in 2008.
Steve Cox photo
Two years later Stewart was back on the team, coming off a dominant 24-0 summer season that saw him win his first and only 450 AMA Motocross Championship. He went into England (Donington Park this time) with more confidence and won the first moto over everyone, though he did get some surprising pressure from Sebastien Pourcel, the older brother of Christophe, a Grand Prix winner in his own right. But while leading the second moto, James crashed on a tabletop, then couldn't get his bike started. Suddenly, the finish of his Team USA (and Kawasaki) teammate Tim Ferry was needed for the win, and Ferry came through with a late charge for fifth.
James Stewart, like Bob "Hurricane" Hannah, is one of the best riders American motocross has ever produced, but like Hannah, he just didn't have the body of work in the Motocross of Nations—nor the world-shaking wins—to rate higher on this list. But when he did show up for Team USA, we won, and that's what matters most at the Motocross of Nations.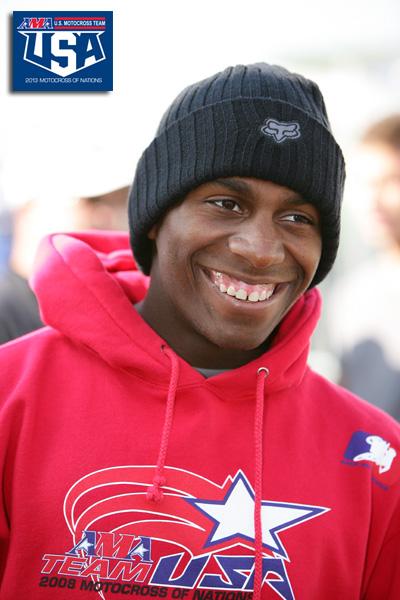 Steve Cox photo
Tracker: