As we count down the days to the start of the 2013 Monster Energy FIM Motocross of Nations in Teutschenthal, Germany, on September 28-29, Racer X Online is counting down the Top 25 Team USA riders of all time. Today, we reach #24.
Jim Pomeroy is an American motocross icon. He is the first American ever to win a Grand Prix race (the Spanish 250 Grand Prix) and one of the first true superstars our nation produced. He won races in both Europe and America, and he likely left a few national championships on the table as a result of his quest to become the first American to win an FIM World Motocross Championship, just as Brad Lackey did in the 1970s. But unlike Lackey, Pomeroy came up short of that world crown. He was also never on a winning version of Team USA at the Motocross or Trophee des Nations. In fact, he's the only man on our list who was not on a winning version of Team USA.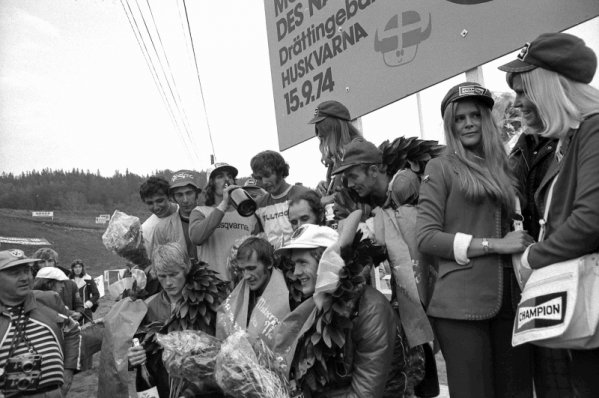 Jim Pomeroy (center, Bultaco jersey) watches Team USA teammate Brad Lackey sip champagne after they finished second at the 1974 Motocross des Nations.
Terry Pratt photo
But what the late Jim Pomeroy did do—race for Team USA every year from 1972 to 1975, in the process becoming the first American ever to win a moto outright (Maggiora, Italy '75)—merits his presence on this list.
Pomeroy came up as a fast young rider in Yakima, Washington. He quickly became the man Bultaco would bet on to carry the brand in America, though Pomeroy himself had his eyes set on Europe, then the undisputed capital of global motocross. Pomeroy used his debut for Team USA at the 1972 Motocross des Nations in Norg, Holland, to help land a deal to race in Europe the following season. The Americans—Pomeroy, Lackey, Gary Jones, and Jimmy Weinert—finished seventh in that race, which was won by the Roger DeCoster-led Belgian team.
The following year was a strange one. It started with Pomeroy winning the season-opening Spanish 250ccc GP at Sabadell, on a Spanish brand, near Senor Bulto's factory. To this day, that race marks one of the most remarkable upsets in the history of motocross. Meanwhile, Brad Lackey was also in Europe, racing for Kawasaki but in the process of moving to Husqvarna. For reasons still not apparent, Lackey did not show up at the '73 MX des Nations in Wohlen, Switzerland, leaving a three-man team of Pomeroy, John DeSoto, and Mike Hartwig to battle with the quartets of other countries. Still, the Americans ended up fourth overall.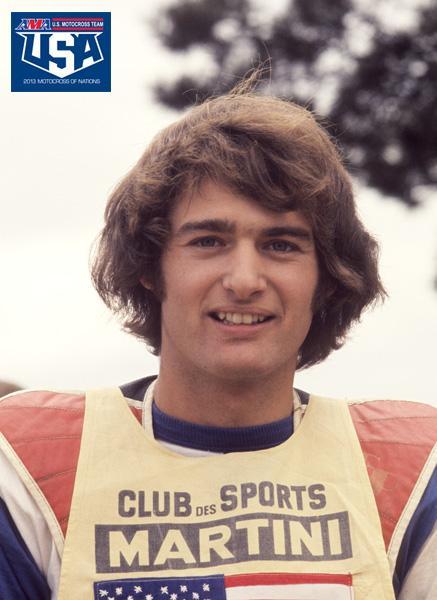 Moto Verte photo
In 1974 Lackey was back, joining Pomeroy, Weinert, and the young Tony DiStefano at the MXdN in Stockholm, Sweden. That race aired on TV in America, albeit months later. This time they finished second overall, with strong individual showings by both Lackey (fifth) and Pomeroy (sixth).
In 1975, Team USA decided to race both the Motocross (500) and Trophee (250) des Nations. In Czechoslovakia on the 500s, they would struggle to ninth-place finishes. But on the 250s in Maggiora, Italy, the Americans—Pomeroy, Lackey, DiStefano, and Kent Howerton—fared much better, finishing third overall. The race also marked that breakthrough moto win for Pomeroy, who beat DeCoster and the rest of the world on his Bultaco.
Unfortunately, that was the end of the Yakima Flash's tenure with Team USA, as Bultaco's time as a motocross power was waning; Pomeroy would end up back in the U.S. for the 1977 season with Team Honda. He never did win that elusive world title like Lackey (and Danny LaPorte) would in 1982, but there were some flashes of brilliance in the twilight of his career. In his later years he became enamored with vintage racing, and he was a world-class bench racer with a huge smile to boot.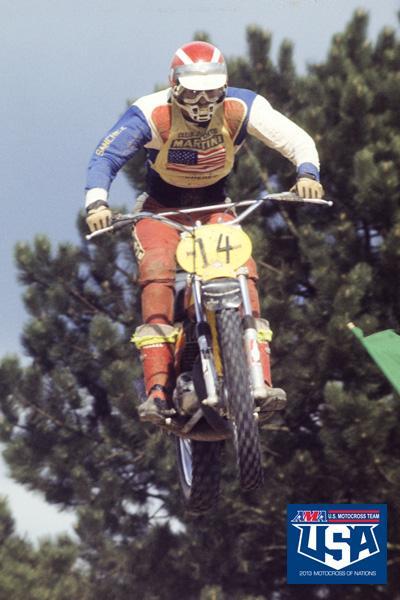 Pomeroy rode for Team USA from 1972-1975.
Moto Verte photo
Jim Pomeroy died on August 6, 2006, after crashing his Jeep about 20 miles from his home near Tampico, Washington. He was 53 years old. Pomeroy will always be remembered as the first American to win a Grand Prix motocross race, and we also remember him as a solid Team USA performer who led the rest of the young Americans against the Europeans as the United States grew into the global motocross power.
Tracker: