We are counting down the days to the start of the 2013 Monster Energy FIM Motocross of Nations by ranking Team USA's Top 25 riders of all time in the "Olympics of Motocross." Today we are at #20, which means a revisit to the most important year in Team USA's history, 1981.
Danny LaPorte was the elder statesman of the 1981 Honda team, as well as the Motocross and Trophee des Nations squad organized by Roger DeCoster. LaPorte, who hailed from Yucca Valley, California, was a hardworking, fast-riding kid who won his first 125 Nationals back in 1976, when Bob Hannah and Marty Smith were battling for supremacy in the class. LaPorte narrowly lost the 1977 title in the class on a tie-breaker to Broc Glover, then finally took a title for himself in 1979 in the 500cc Nationals, beating out Yamaha's Mike Bell by just three points.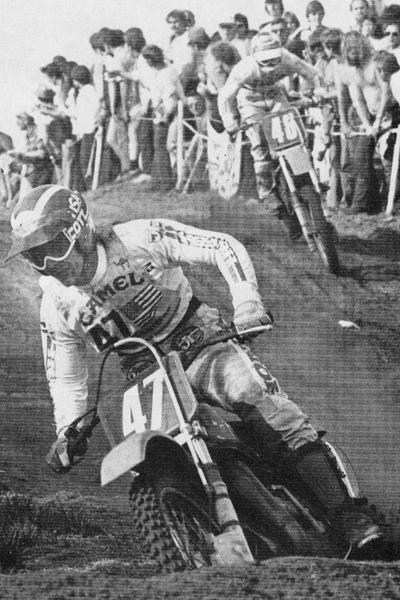 LaPorte (47) at Lommel for the 1981 Trophee Des Nations.
Moto Verte photo
But 1980 did not go so well for LaPorte, and he ended up leaving Suzuki after five fruitful years with the brand. Honda seemed an unlikely destination, with its already strong lineup of fast young men like future Team USA teammates Donnie Hansen and Johnny O'Mara, as well as the slightly more seasoned Chuck Sun.
Unfortunately, LaPorte didn't win anything on the Honda in 1981—at least not until he went to Europe on the soon-to-be-legend quartet that DeCoster led across the Atlantic in a bid to uphold American honor. As mentioned here before, few gave the Americans a chance in the deep sands of Lommel, Belgium, probably not realizing that guys like LaPorte, O'Mara, Hansen, and Sun had vast riding areas and enough sand tracks at their disposal for a decent attempt at a good result.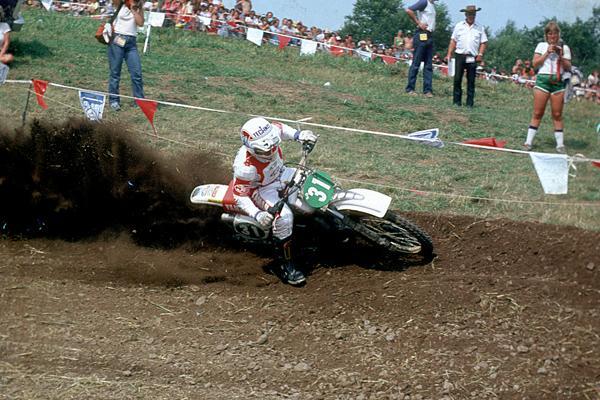 LaPorte turned his 1981 success into a factory Yamaha ride, racing in Europe for 1982 and taking home the 250cc World Title over Georges Jobe.
Dick Miller Archives
Of course, the motocross world changed during the fortnight to come. First the Americans steamrolled the top Grand Prix riders in Lommel at the Trophee des Nations, catching Europe's elite off guard in their matching all-white JT Racing outfits. LaPorte was the best of the Americans, finishing 3-2 to O'Mara's 2-3 (Belgium's own Andre Vromans won both motos). A week later in Germany for the Motocross of Nations, the Americans were again victorious, and LaPorte was again the top overall finisher among the four with 6-2 moto scores.
All of what Team USA did in 1981 is the stuff of legend, and well-known by motocross fans all over the planet. What few may recall is that LaPorte decided not to rejoin Honda in 1982, instead using his newfound notoriety in Europe to line up a 250cc Grand Prix ride with Yamaha of Europe. From there he would make history again, becoming America's first 250cc FIM World Motocross Champion, just three weeks after "Bad" Brad Lackey won America its first world title in the 500cc class.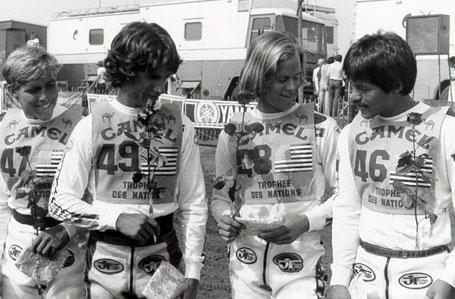 Danny LaPorte (far left) with the rest of Team USA (Hansen, O'Mara, Sun) in 1981.
Moto Verte photo
Like O'Mara, Sun, and Hansen, LaPorte ended up in the AMA Motorcycle Museum Hall of Fame. But like Sun and Hansen, he would not race for Team USA again at the Motocross of Nations. O'Mara would return often (and always successfully), but his teammates on that epic squad would not, for various reasons. Still, what "Danny the Door" did in 1981 as Team USA's high-scorer merits his place on this list at #20 of Team USA's Top 25 riders of all time.
You will see LaPorte and the story of the Team USA success in 1981 beginning around the 15:00 mark in the epic Motocross des Nations film Sixty Years and a Day, by Troy Adamitis and company, based on the history of the Motocross and Trophee des Nations and the '07 race at Budds Creek.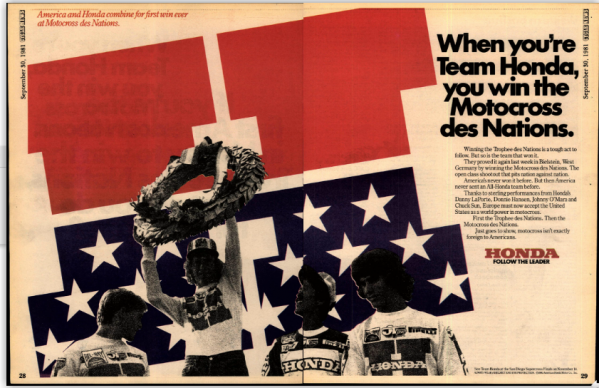 Tracker:
#25 Mark Barnett