Lake Elsinore
Lake Elsinore

,

CA
Lake Elsinore
Lucas Oil AMA Pro Motocross Championship
Monster Energy Pro Circuit Kawasaki Broc Tickle's unanticipated transition to the 450 Class had its ups and downs early in 2012. But Tickle really began to hit his stride outdoors and finished off a remarkable 450 rookie campaign fifth in points. We talked with Broc about his season and his plans for 2013.
Racer X: Congratulations on another podium finish. How would you sum up your rookie season in the 450 Class?
Broc Tickle: I can't complain about the whole year. There's been progress, I think, throughout the whole year and obviously it motivates me. I'm looking forward to a good off-season, stay healthy and see some progress in training and running and what not, and come to Anaheim 100 percent prepared and just keep moving forward. I think that's the main thing. I've seen progress and I'm hungrier now to make even more.
Earlier in the season we talked and your goal was to be a top five guy. Now you're fifth in the points standings.
Yeah, it was a goal and I accomplished that. So that's another thing that's good. I got some podiums along with it. It's been a good season. I never have gotten an outdoor podium, so I thought it was out of the question. I'm just happy to be up here and happy to be healthy. I couldn't have done it without everybody that's behind me. Mitch and my mechanic and my wife, everybody that's been a part of this, a lot of credit goes to them. I've put in my hard work and I think it's been showing.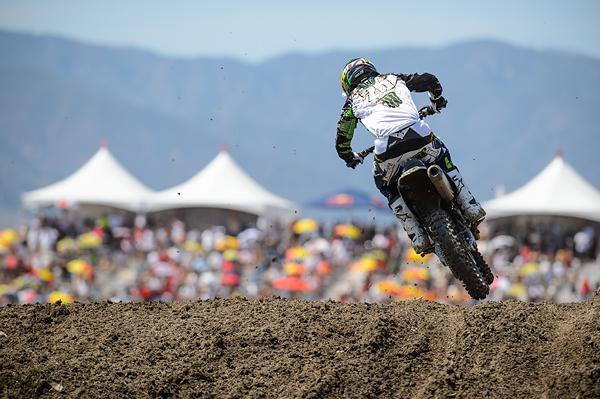 Tickle finished his rookie 450 season fifth in points.
Simon Cudby photo
How do you feel for next season? Can you tell us anything about your plans?
I can't say anything as of yet, but I'm looking forward to it. I think there'll be a press release here around October 1, so it's gonna be a good change even though I couldn't stay where I was at. It's going to be good and I'm looking forward to it and, hopefully, I can end here and take my momentum with me and get everything going in the right direction again. Then when we start riding supercross, just take it slow and build from there.
I know that during supercross, you were down. How hard was it to keep pushing and be mentally tough to get all the way to where you are now?
It was like six races in, I was really frustrated. It just wasn't happening on race day. We sat back for a couple of days and looked at everything and looked at what I was doing and decided I really wasn't having much fun. So the main focus from that point on was to go out and have fun. That's why we do this. We love to do it. My focus was to get my work in, but have fun while doing it. Like I said, I made progress. It's awesome to see my goals right now. I wanted to be healthy all year, and I did that, and to make progress. I never thought I would honestly get a podium before the end of the year, but now that I'm here, it's been a good outdoor season. I'm looking forward to the off-season and getting everything going and I'll hopefully be 100 percent ready for Anaheim 1 and do this again.
You mentioned on one of the podiums that you live pretty close to here. Do you think that knowing California in general – knowing the soil, the terrain – might have helped a little bit?
Yeah, you know, it was weird. I woke up this morning and I just knew I was going to do good today. I don't know, it's weird. It took me five minutes to get here and it's cool to do that. We don't do that anywhere else. We'd have to fly. I got to sleep in my own bed, obviously. It was good. I think this place will get better each year. I, honestly, liked it. It is what it is and I think I ride this good, that's why I like it. I think you just have to be patient here. When they put water on this, it's slippery. It's like ice skating. I think today was all about being patient as well as being aggressive. I didn't get very good starts today, but I made a lot of passes the first couple of laps and got myself into third and just rode my own race kind of.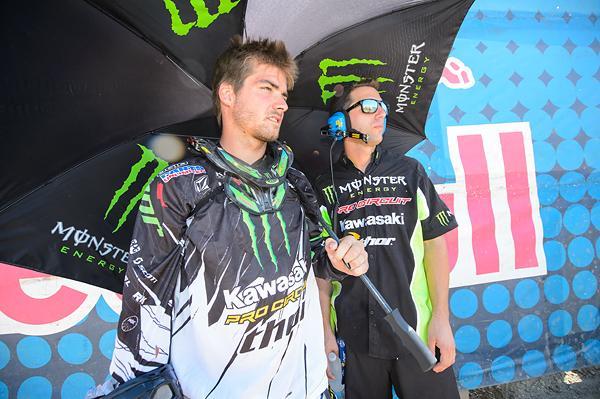 Tickle already has his plans set for 2013... but we'll have to wait a few more weeks to find out where he is going.
Simon Cudby photo
You mentioned that it was kind of like ice skating at points. First moto, there were parts that were super hard and dry and others that were mushy. Was the track any better second moto?
Second moto the track was a lot better. They quit the water, at least. It didn't really get that rough, but it was hard to ride. I thought, during the first moto, I got pretty tired. Derek didn't know I was struggling, but I had a big enough gap to where I could relax and take the last couple of laps to take it all in, seeing as I knew there was still the second moto. But the main thing that bothered me today was my hands just because the ground's so hard and there's straight-edge bumps. I'm pretty happy with my day here today.
That first moto was almost back east hot.
Yeah, you know, it's weird, I don't even know what the hardest race we had was, but I honestly felt more tired here than I did at any of those other races this year. It was hot, for sure. I wanted to get my clothes off as soon as I got back to the truck and get regrouped. I'm kind of glad the women were racing today so I got a little more time. But, like I said, I'm happy with how the whole year went. I can't thank Mitch and my mechanic, Dave, everybody that's helping me and making me better, I think that's why I'm up here today.