Lake Elsinore
Lake Elsinore

,

CA
Lake Elsinore
Lucas Oil AMA Pro Motocross Championship
By Chase Stallo and Jason Weigandt
Newly crowned WMX World Champ Kiara Fontanesi made quite an impression….wait, is her name Chiara or Kiara? Results sheets from both the AMA and FIM (and, even back to her championship at Loretta's in 2007) list her as Chiara. But her own website and Twitter handle say Kiara. Her jersey even said Kiara! Someone explain this to us!
Where were we? Yes, Kiara (?'s) American debut at the Red Bull Elsinore National could not have gone better. Despite a reluctance to launch some of the bigger jumps, the Italian was clearly faster than the competition and rode to nearly uncontested 1-1. The victory didn't come without some drama however. At the conclusion of the first moto, Fontanesi stopped at the finish line to celebrate with a fist pump, only to have her bike start rolling backward and downhill as several of her competitors crossed the line. There were a few tense moments as the crowd waited to see if Fontanesi had actually crossed the line, but it was determined that she had indeed broken the plane, and was awarded the moto win. - Aaron Hansel
[This just in from Fontanesi's sponsor: "Chiara is the proper way to spell it, she changed it for racing so people can pronounce it the right way." So, there's your answer!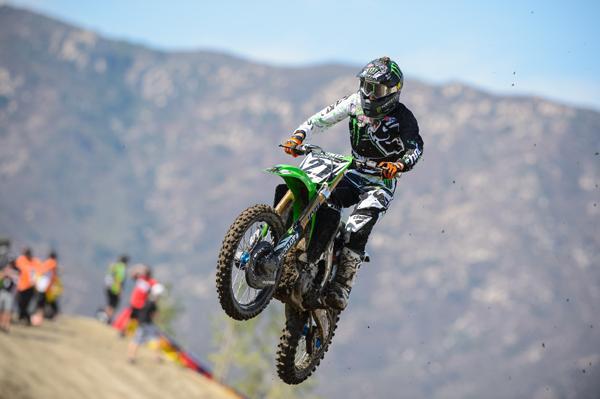 Jake Weimer overcame two poor starts at Lake Elsinore to secure third in points.
Simon Cudby photo
With Ryan Dungey and Mike Alessi having already wrapped up the first and second place spot in points, the battle for third in the final 450 standings was pretty much the only thing left to watch. But it was a good one! Chaparral Honda's Andrew Short held third coming into the race, but he was also carrying a staph infection (Shorty has been dealing with some healthy problems throughout the summer) that left him in the hospital for three days during the week. He could barely ride, but got good starts and held on as long as he could. Meanwhile, Jake Weimer got horrible starts on his Monster Energy Kawasaki and had to come from way, way back. In the end, Weimer salvaged 5th overall with 5-9 scores, while Short went 8-13…allowing Weimer to edge him for third in the final standings by a single point.
And Broc Tickle's strong 3-3 ride at Lake Elsinore helped him close the gap on Short and Weimer. Tickle ended the year fifth, five points behind Short and six behind Weimer. Tickle fans can point out that he DNFed three motos during the year with mechanical problems….
Team Green amateur prospect Dillan Epstein quietly made his pro debut at Lake Elsinore. The California native was precise in his maiden voyage, putting together a solid 15th overall via 17-12 scores.  By scoring thirteen points in the season finale, Epstein is no longer eligible for the A Class next year, meaning if he wants to return to the amateur ranks for one more season—nothing has been finalized on that front—he would only be able to compete in the Open Pro Sport Class.
The 51 Fifty Energy rookie duo of Preston Tilford and Chris Plouffe were back in action for the first time since Hangtown. Plouffe made his 450 Class debut at Elsinore, scoring his first points of the season via a 19th in moto one. Meanwhile, Tilford finished 33rd overall in the 250 Class. Also riding under the 51 Fifty Energy tent was Preston Mull who pieced together a season-high 19th overall in the 450 Class.
Australian Josh Cachia, who finished third in the Monster Energy Australian Nationals in the MX2 Class with J-Star JDR KTM, made his American debut with the team at Lake Elsinore. Cachia had a big crash over the huge finish line double in the first moto and was unable to come back for the second 250 moto. Check it out below.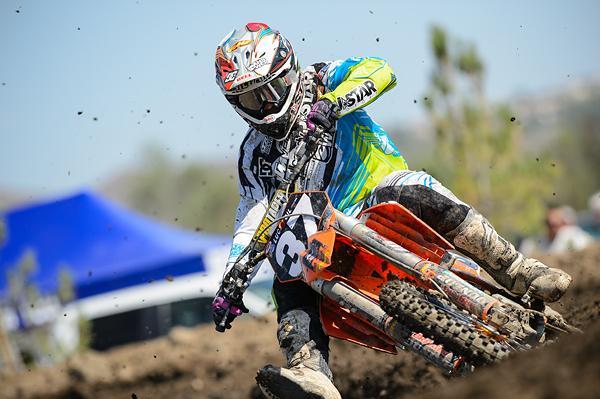 Mookie continued his late season run of good races at Elsinore.
Simon Cudby photo