Lake Elsinore
Lake Elsinore

,

CA
Lake Elsinore
Lucas Oil AMA Pro Motocross Championship
Everyone was counting points for Monster Energy Pro Circuit Kawasaki's Blake Baggett heading into the final round of the Lucas Oil Pro Motocross Championship at Lake Elsinore. Except Baggett. He set out to just win the race, figuring it's easier to treat the race like it was just another weekend on the schedule. The strategy worked, and Baggett is the new 250 National Champion. He talked about it post race.
Racer X: First off, congratulations on the championship! You carried the red plate from the first race of the year to the end, and in the four years we've been doing the red plate thing, you're the first to ever carry one through every single race. Tell us about the day and the championship.
Blake Baggett: The two weeks before coming into here I just didn't ride like myself. I knew I just needed to get up front. Fourteen points wasn't a lot when you started thinking about it. So I came out swinging. I figured we would either go to the front today or we would go down the drain. First moto was gnarly, I wanted to win it. [Justin] Barcia was right there, we were battling, then I got around him and all of a sudden [Eli] Tomac was right there…like right on my back tire! It was crazy! I was really glad to get that moto win, it gave me a little more of a cushion going into the last moto. But I wanted to win that one, too.
Everyone was talking about the scenarios. You know, if Tomac goes 1-1 you can go 3-4, or whatever. But it looks like today you just were going to try to win.
Yeah, all kinds of people were telling me all kinds of things coming in. They were saying I needed to finish here or do this or whatever. I just wanted to win [the race]. I feel like I ride a little better when I have a little bit of panic in me. It's really hard to try to finish third, I'd rather do what I normally do and just go into the race trying to win.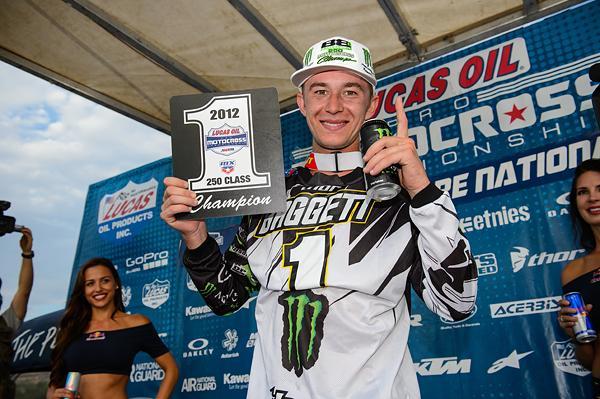 Blake Baggett clinched his first career 250 title at Lake Elsinore.
Simon Cudby photo
Yeah and you proved that in moto two when you had the title clinched, you had the overall wrapped up, and then you crashed trying to catch Barcia anyway!
[Laughs] I know! I wanted to win it so bad. I started way back, just got a horrible start; I was in the thirties. But I wanted to win it. I got into second and was just putting in the hardest charge that I could. I came into that corner way, way too fast. I figured I was just going to go flying off of the track, but I tried to make it, I locked up some front brake and crashed. I decided to hit the eject button! [Laughs]
Were you panicked? Were you afraid you might have broken something on the bike?
No. The crew was probably thinking I should chill out, but I still got up and tried to charge back and win the moto! [Laughs] I wanted to go 1-1. I don't know, a 1-2, it gets the overall, but I don't know, it just doesn't look as good, I guess.
[Laughs] So, people are going to think you have an advantage here because you're from California, but when was the last time you rode here?
Last time? It was on an 85, I think, not even a supermini. It was a long time ago. And even if I did race, it was maybe four or five times. I live closer to Glen Helen, so that's where I normally ride. I guess I just like staying up north!
So what did you think of the track?
I would be happier if the last race was at Hangtown! I like that track. But kind of like Hangtown it was hot and dry and rough. It was really hot, and I like the heat—the hotter the better for me. They did a lot of work to the place, you could tell that. When I first heard about it, I think we were all like, 'Lake Elsinore, really?' But they did a pretty good job.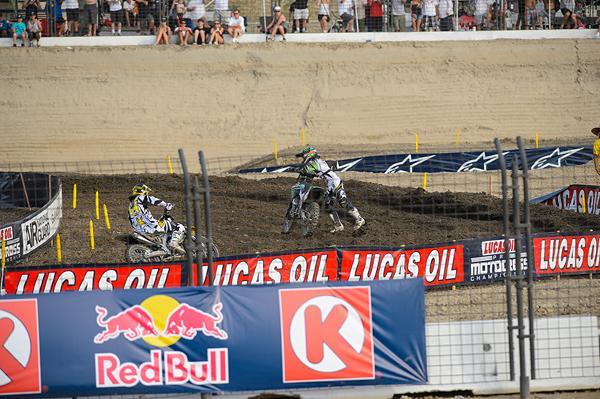 A crash in the second moto didn't stop Baggett from charging back to get second in the moto.
Simon Cudby photo
You were a Team Green rider as an amateur. A lot of people are going to assume you just worked your way through the Kawasaki system and this road was pretty easy for you. But it really wasn't like that for you—the transition from amateur to pro was tough.
Yeah. In '09, we left Loretta's and we didn't have any offers. So we drove all the way back home, we were home for one day, and we decided we would just go and try some Nationals on our amateur bikes and see if we could get something going. We went to, I think it was Budds Creek, first, didn't do anything special there. Then Southwick, nothing. Finally at Steel City I got a fourth in a moto there. Then we came home and still nothing. Finally I got a call from Bobby Hewitt (Rockstar Suzuki) and I got a ride for 2010. We had some good motos, but then we went to Budds Creek, and I hated the place at the time, it was like my worst track—I won there this year so I guess I got some revenge. But at Budds Creek in 2010, I broke my arm in practice. That was it for me that year, I was done and I was just over it. Luckily Mitch [Payton] called and offered me a ride for 2011. We had a good year and won some races.
Yeah, so think back three years ago and you didn't even have a ride, or two years ago, you're on the couch with a broken arm. Were you even thinking, "Yeah, this is going well, I'm probably about two years out from winning the championship!"
[Laughs] No! Not at all! I wasn't even thinking about getting top fives back then, it was more like top 15s and I would have been happy! It was definitely tough at times, and my family was really there supporting me through it all. That's what really paid off for me. And of course everyone at the team, it's a great team to be on and I'm glad I could get them a championship.