Welcome to Racerhead, and Happy Easter to everyone. It's that rare week off for riders on the Monster Energy AMA Supercross circuit, and it could not have come soon enough. The list of the battered and tattered continued to grow last weekend in Houston with an unfortunate crash for GEICO Honda's Kevin Windham, effectively ending his season. James Stewart would also crash at Reliant Center, raising question marks in several areas about his short- and long-term future. Jason Weigandt will have more on that later.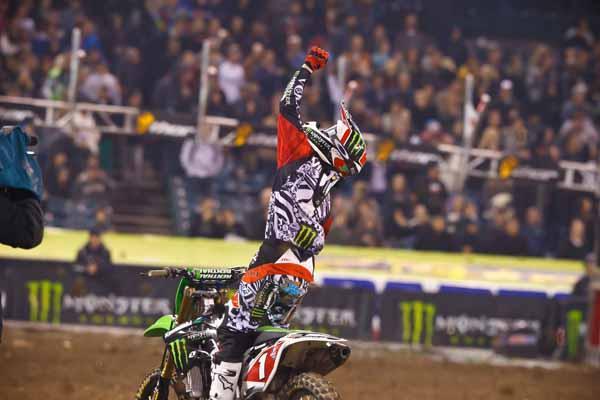 Ryan Villopoto has joined an elite list of men who successfully defending their #1 plate in Monster Energy AMA Supercross.
Simon Cudby photo
Monster Energy Kawasaki's
Ryan Villopoto
continues to rail away at the front of the pack, even as the herd behind him thins out. Like
Ricky Carmichael
a dozen years ago when he really began to hit his stride, it seems like RV can do no wrong right now, and he's shaping up as not only a repeat champion indoors, but a heavy favorite to repeat outdoors as well. Of course Red Bull KTM's
Ryan Dungey
will be back and healthy by then, and
Ben Townley
is headed back to the States as well. It could be more interesting this summer.
But here's something to remember about RV's current reign. After missing much of 2009 and '10 with injuries, he wasn't exactly a sure bet to succeed on a 450 like he did in winning three 250 MX titles ('06-'08). Kawasaki had to choose between Villopoto and Christophe Pourcel for its premier-class rider for 2011 and beyond. The company finally settled on Villopoto, bringing on Jake Weimer as backup and passing on the chance to sign Pourcel. Then-manager Mike Fisher took a lot of flack for that decision, and even though he is no longer with the company, I hope he's comfortable knowing that the man he chose, Villopoto, has come through with all three big titles ('11 SX/MX, '12 SX) since then, as well as leading Team USA to the Motocross of Nations win (again) and then adding that $1 million Monster Cup bonus.
As for Pourcel, I still think he would have done quite well too, had the team settled on him, but since they didn't, things have gone a different way for him. I don't know if he would have had the run that Villopoto is having right now. We may get a glimpse of how things might have gone for Pourcel now that he's back on a Kawasaki and back in Europe, where the Frenchman will pick up the chase of Tony Cairoli this weekend for the FIM world title. More on that later.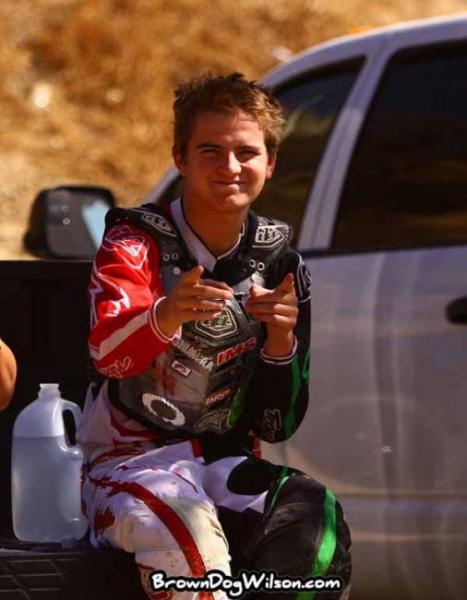 Connor Penhall was tragically killed while working on Interstate 10 in Southern California.
BrownDogWilson photo
Unfortunately, the worst news of the week was the tragic death of Connor Penhall. A well-known off-road racer in his own right, Connor was the son of Bruce Penhall, the iconic speedway racer who won the 1982 FIM World Speedway Championship and later went on to star on the television show
CHiPS
. According to local news reports, Penhall was working on a road construction crew on Interstate 10 when an apparently drunk driver drove right through the barriers and hit Penhall at speed. The driver tried to flee but was detained and later arrested.
Here's more on the tragedy
.
While I did not know Conner, friends like BrownDogWilson did, and they said he was a great young man. Godspeed, Conner Penhall. He was 21 years old.
Farther down, David Pingree will tell you about the Ride Day being put together for Bryce Vallee after a brutal, ugly crash while leading a local race at Pala last weekend. Bryce ended up being landed on by several riders and his list of injuries is extensive. Here's a clip of the chain-reaction crash:
Needless to say, Bryce is in for a long and extensive (and very expensive) rehabilitation. But there's a teachable moment here: Vallee's family had been working with Brandon Parrish at RiderSurance.com to get a plan in place should something happen, and in motocross and supercross, as we've been reminded time and again this season, big crashes and injuries are bound to happen. Vallee has a long way to go, but he will have help navigating the waters of medical insurance. If you're racing and you do not have insurance, I would strongly suggest you reach out to someone like Brandon Parrish (
bp@ridersurance.com
) or another health-care expert.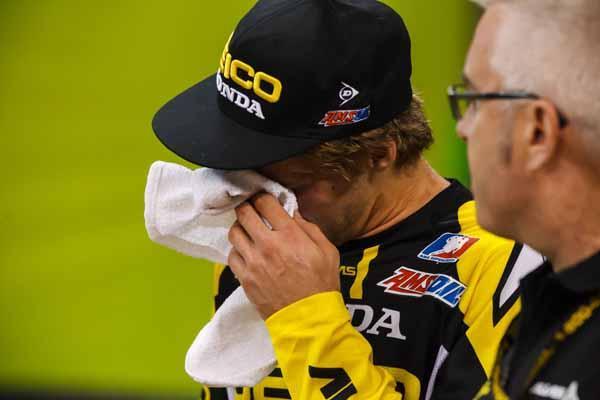 Justin Barcia lost the win on the last lap at Houston, and then his mind for a few moments.
Simon Cudby photo
Okay, back to Houston.
Justin Barcia
threw away a win, which
Ken Roczen
caught (and Ken was owed one after he threw his own win away last month). But then Justin threw away any good, positive vibes he had been building with fans when he suffered an obvious and unfortunate meltdown following the race, circling back to roost Lance Vincent, with whom he collided with after lapping him. He then effectively roosted $5,000 in cash on Dr. Bodnar, an action Barcia deeply regrets,
as he told our own Jason Weigandt
.
Barcia's temper and passion definitely got the better of him here, and there's no doubt in my mind that he completely blanked on the fact that he was roosting not only an injured man, but the doctor trying to help him—and the same doctor who has helped Justin many times. Still, as a fan, it's hard not to appreciate this kid's enthusiasm and passion. Once he harnesses it, he's going to be even tougher to beat.
The Monster Energy FIM World Championships begin this weekend in Valkenswaard, Holland. It's one of the roughest tracks on the GP schedule, and although it doesn't really hold a candle to how sandy Lommel in Belgium is—site of the 2012 Motocross of Nations—it will be a good preview of what Team USA can expect to see from the fastest GP riders, including title favorites Tony Cairoli (MX1) and Jeffrey Herlings (MX2). Racer X Online's Chase Stallo pulled together a preview of the series right here.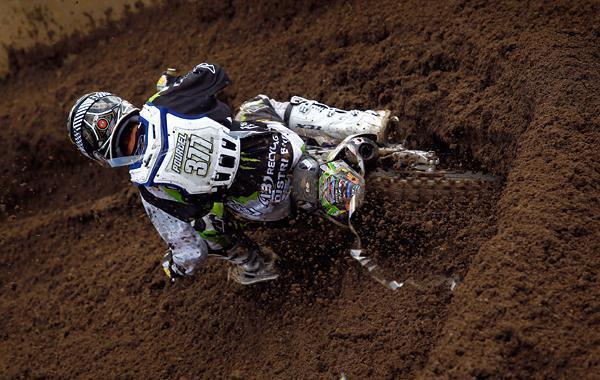 Reminder: The Dutch GP is actually on Monday, not Sunday, due to Easter.
Sara Gutierrez photo
Unfortunately, we won't be seeing Zach Osborne out there, as the one American on the GP tour is still recovering from an injury. If he returns by Round 2 in Bulgaria in two weeks, here's betting he's 50 points down on the sandmaster Herlings. I was at Valkenswaard last year and the kid is just ridiculous in the sand.
You can sign up to watch the races all year long on www.mx-life.tv, which streams all the races. Unfortunately, it's pricey at 69.99 euros for the 2012 Full Season package, but I am signing up—the races are good, the tracks are interesting, and those guys are all very fast. If you can't swing the funds, check out Racer X Online for highlights and results and race reports from Adam Wheeler all season long.
Brett Metcalfe was out at Milestone MX doing some Dunlop tire testing. Our own Simon Cudby was there to shoot this film.
Okay, let me turn this over to Weege, our man on point on Twitter:
Tweets gone wild! On Wednesday, JGR Team Manager Jeremy Albrecht sent out a bizarre tweet to Andrew Short, asking for Short's agent's phone number to talk about riding outdoors this year.
What?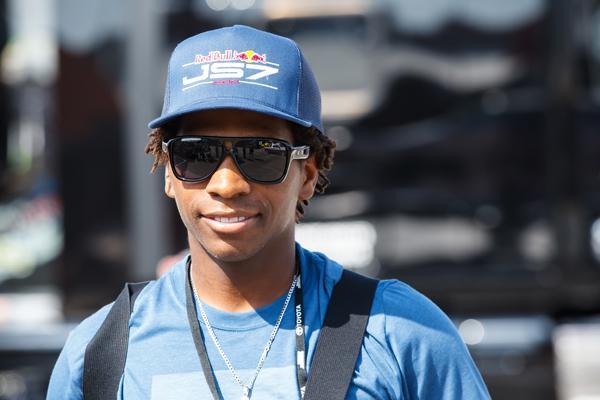 Is James Stewart racing this summer? We sure hope so!
Simon Cudby photo
The tweet was soon pulled down, but the damage was done. Now the public (including the Vital MX board) is wondering why in the heck J-Bone would be reaching out to Shorty for the upcoming Lucas Oil Pro Motocross Championship. Doesn't JGR have a full team? Doesn't Short have a ride already? One errant tweet would seem to confirm two recent rumors: the
James Stewart
/JGR marriage could be on the rocks, and Short's team may be on the verge of folding.
But is any of that true? I called J-Bone on Thursday to find out, and he first admitted that the tweet was supposed to be a direct message to Shorty. As for the other stuff, he says he really doesn't have any info.
On the Shorty front, he's heard the same rumors we all have (that the Supercross.com Honda team will soon be no more) but admits he has no idea if that is really true. So we figured Short's agent (Fred Bramblett) would be able to set the record straight....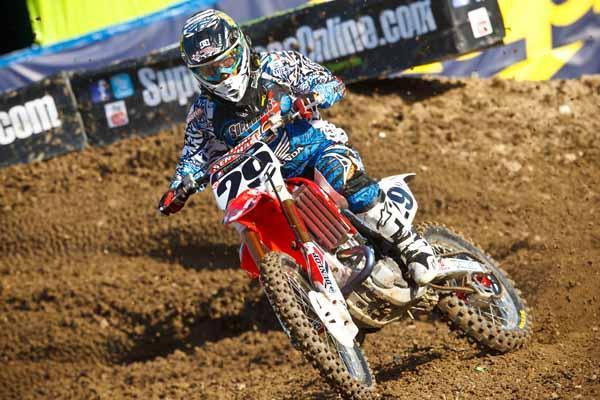 Andrew Short is back riding again and looking forward to the outdoors.
Simon Cudby photo
But why would JGR even need another rider?
Davi Millsaps
is clearly going strong, so any issues would have to come on Stewart's side. Stewart was injured in Indy, missed Toronto, then came back and crashed out again in Houston. The JGR team was supposed to start MX testing the week after Indy (I've even seen James' outdoor test bike in the shop. It's built and ready to ride), but Stewart has not been able to do any testing due to the injuries from Indy. Now after Houston, J-Bone says he simply doesn't know what could come next. Stewart could fight through some of the injuries (like a broken hand), keep on racing, start outdoor testing and show up ready for
Hangtown
. Or he could not. Albrecht is trying to see what else is going on just in case he needs a plan B.
For the record, J-Bone told me he definitely wants things to work out with Stewart. He wants nothing more than to get the ball back rolling in supercross, get some momentum (and testing) going for motocross, and go into Hangtown ready to win. While there have been rumors of tension between Stewart and JGR, the team is still committed to making things work, and it still could. Things haven't been going well lately, but remember, the last time we had rumors about trouble for the Stewart/JGR marriage in Racerhead, the team went 1-2 at Daytona. I truly believe that right now, even the people involved in the situation don't know for certain what could happen next.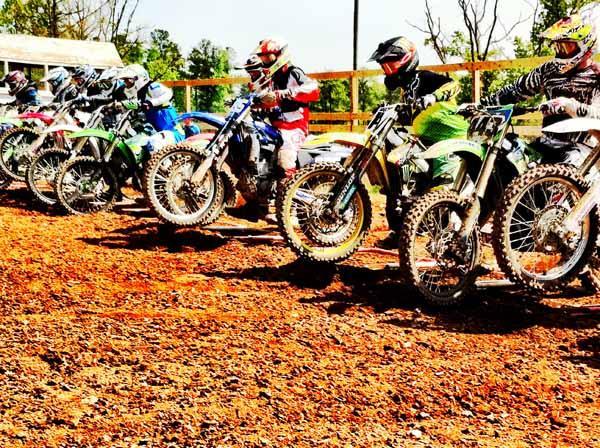 That's Ricky Carmichael, wearing #4, at the Southeast Area Qualifier.
DC photo
Here's Steve Matthes...
It's been a busy week for me after Houston. I had the Pulpmx Show on Monday night with Justin Barcia, the rebranded #1 Ryan Villopoto, Jim Holley in-studio, the dazzling Diana Dahlgren, Mike Horban and cold calls by Lance Vincent and Michael Leib to discuss various hot topics, and then Tuesday morning I was on a plane to Florida to hang out and shoot some videos and photos of some of the fastest riders in the world not named Tim Ferry.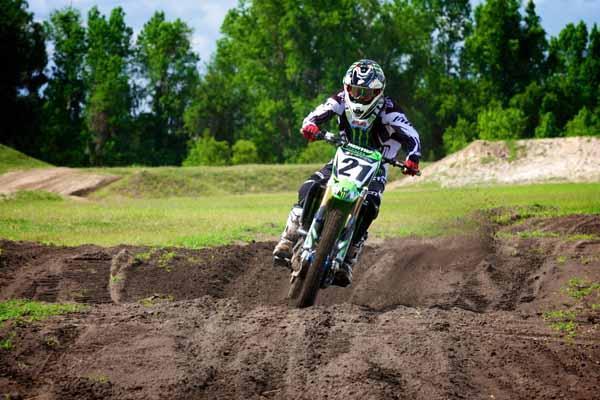 Jake Weimer was training down south last week with his teammate Ryan Villopoto.
Swizcore photo
First up was
Chad Reed
's (who was there cracking on
Jason Thomas
and limping around) and then Villopoto's to watch that gang get nuts. Today was supposed to be a trip to
James Stewart
's place but he ended up not riding. Which was too bad as that would have completed the trifecta!
It's a hectic trip but a fun one, and thanks to Villopoto, JT$, Jake Weimer, Adam Cianciarulo, Michael Byrne, and that Chad guy for the hospitality and opening their compounds to us. We did some videos you'll see right here on Racer X, Pulpmx, BTOSports.com and other places in the coming weeks. And special thanks to Kyle and Brittney Chisholm for letting myself and Robo Rob—The Bottom Line Show super team is reunited!--stay at their house and it would have been cool to get Chiz on film but he's still feeling the effects of his Houston crash.
It was great to see Michael Byrne back on a bike and looking as fluid as ever. He definitely hasn't lost his ability to flick a stylish whip over even the biggest jumps out at Chad's. If you saw the pic on Twitter, you know he isn't wearing a neck brace. And you know what? It's his choice. And a conscious one.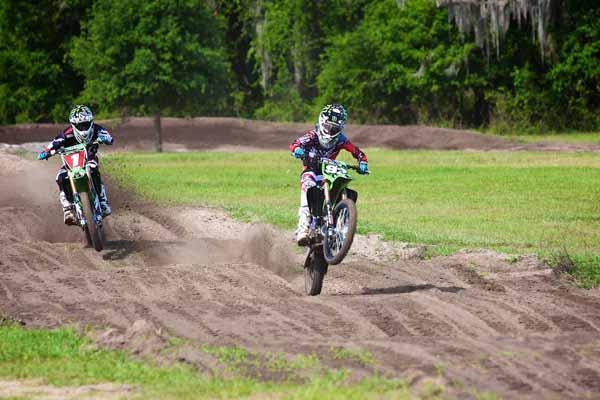 Adam Cianciarulo is somehow getting even fast on his 85s, maybe because he gets to put in some quality track time with the big boys.
Swizcore photo
When we made the trip to RV's house, that's where amateur phenom Adam Cianciarulo was camped and just ripping on his SuperMini. He was throwing down on RV's outdoor track and there wasn't a single jump that he wasn't handling like a man. When we first arrived, RV jumped in the roller section behind AC, pulled up alongside and launched out of it (above AC's head), landing in the grass outside of the corner rut. We were in awe. It was funny and very cool at the same time.
Ryan and Jake both threw down their two twenty-minute sessions with a short break in between for some water and a little rap session in the air-conditioned race shop. Following their riding, we shot some B-roll footage with Jake and Ryan in the shop before they left with Adam C and headed to the gym. Track guru to the stars Jason Baker stopped out with his kids as well and could not have been a nicer guy. All in all it's been a fun trip and I feel lucky to get to hang out with these guys and see a glimpse behind the curtain.
Adam Wheeler put together this A-Z primer on the GP series in his superb digital mag On Track/Off Road.
Okay, here is Ping:
Something I've been meaning to mention for a couple weeks and I keep forgetting is Joey Pascarella's win at the Daytona 200. In really his first attempt, Joey went out on a bike he hadn't ridden and won the Daytona Sportbike class this year. The rules have changed so much in that sport I'm really not sure what in the hell kind of bikes they ride in that class, but regardless, what an accomplishment for Joey. I got to know him a little bit when I was managing the TLD/Red Bull Honda Supermoto team and Joey was our 250-class rider. He was by far the quickest rider in the class but a broken arm kept him from winning the title that year. Older riders might remember his father, Mike Pascarella, who was a great motocross rider back in the 1980s. Looks like Joey is doing well carrying on the family legacy.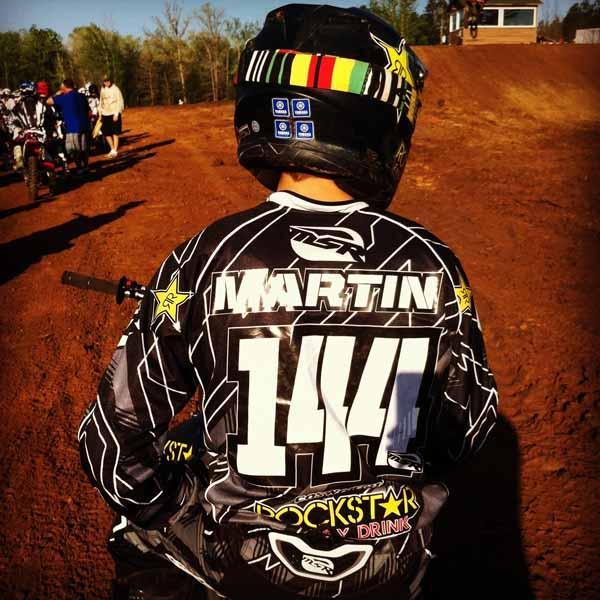 Alex Martin is already a well-known fast guy, and his little brother Jeremy may turn out to be even faster!
DC photo
For Californians interested in getting the hills of Beaumont opened to the public, I have some information for you. While phone calls and emails are good, showing up to the meetings in person is much better. One of the representatives sent this over earlier this week:
"Here is the schedule. Third Wednesday quarterly. All meetings at 6:30 PM at the Parks Headquarters at 4600 Crestmore Road, Riverside, a really cool site that was a 300-acre farm along the Santa Ana River.... Any questions can be handled by the secretary Rebecca. 951-955-4306. Bring friends and OHV business leaders. Dates as follows: May 16, August 15, November 15."
The meetings are our best chance at making it happen but if you can't be there and want to send an email start with this link, which is to the OHV Commissioners' email addresses. It is on the Riverside County Parks site.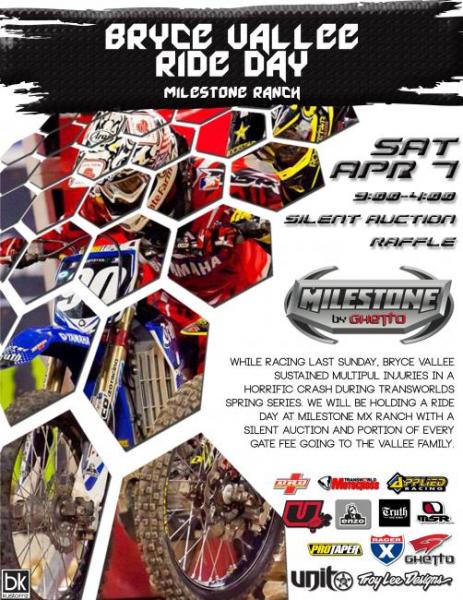 If you live out here and you plan on riding this Saturday, please come and ride at Milestone MX in Riverside (9:00 a.m. to close) for the Bryce Vallee Ride Day that is happening, as a portion of the gate proceeds will go to Bryce. There will also be raffles and auctions all benefiting Bryce. Vallee, a local pro rider, was injured at a race last Sunday. He crashed while leading a 450 pro race and was landed on by several riders, breaking both of his femurs, his pelvis, ribs, elbow, clavicle, and scapula and also lacerating his liver and kidney in the process. It was a precarious situation for a while. Thankfully, he is stable now, but he has a long road ahead of him. See you Saturday at Milestone.
Over to Aaron Hansel:
I'm a big fan of the NBC show Seinfeld, and even though it went out of production years ago, something happens almost every day to remind me of something that happened on the show. When I heard the news that NorCal's Daniel Blair was retiring from supercross, it reminded me of the episode where George starts leaving every situation he's in once he hits a "high note." For Blair, the situation is the supercross series, and the high note is Houston, where he qualified for the third premier-class supercross main event of his life and even ended up beating James Stewart.... Who of course crashed out.
"I actually lapped him a few times," Blair joked. "I'm pretty excited for that. I'm bummed to see that he crashed out, but racing is racing, and I got three points last Saturday night and he only got one! We both left the gate and I didn't crash and he did, so technically, that's not luck—I earned that."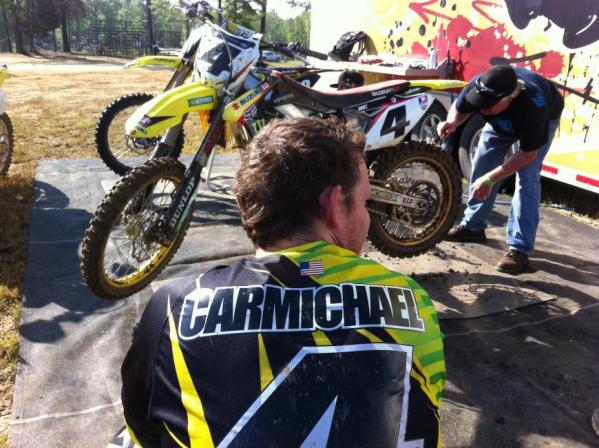 The GOAT was back in action last weekend in Georgia.
DC photo
Blair's high note in Houston came very close to not happening at all, as he had made the decision to stop racing SX after spending a week in the ICU when he broke his femur and back last year at Anaheim. "I've had a bunch of bad injuries, but that one was the worst," Blair says. "Mainly because I have a kid, and to be in the ICU and have my wife sitting there with my little 1-year-old, it was literally the hardest thing to go through ever. I felt like I shouldn't race supercross anymore, even though it really bummed me out to think that my career was ended by an injury. I was disgusted by that, but I felt like I owed it to my family to hang it up."
And he almost did, until seven weeks ago when an opportunity to do a few more races presented itself. Blair decided to take the opportunity but admits that up until Houston, things weren't going well.
"I was really struggling and having a hard time out there with my confidence and was a little bit afraid of the tracks, but last Saturday night was definitely a highlight of my career," says Blair, whose career highlights include being the first rider to qualify for both main events in one night on a four-stroke, and finishing the 2009 East Region Lites season in the top ten a GEICO Powersports fill-in rider. "After everything I've been through, after the way I was feeling this year, and how difficult things have been for me over the last twelve months, to be able to make that 450 main… It was the most relieving and accomplished feeling I've had in a long time. I feel like I have the closure I needed, and now I can tell my son that I finished racing supercross with an accomplishment. That's good enough for me, I don't really need to do the last few rounds, I'll end on a high note and move on."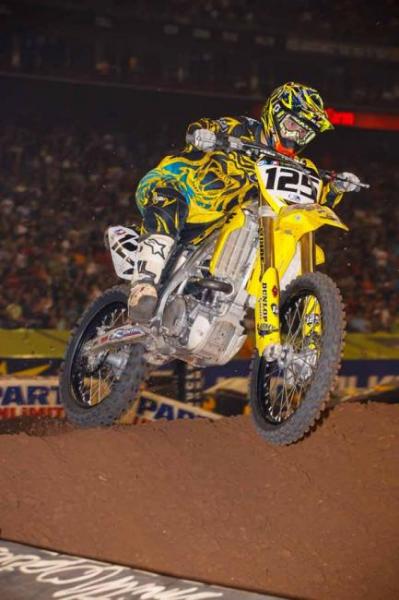 Daniel Blair called it quits on Supercross after hitting a high note. Well done, Daniel.
Simon Cudby photo
So what's next for Blair? "I still plan on racing locally and promoting our shop, and I still want to possibly do the Arenacross series next year. But for the most part, I just want to focus on my family and business. Last year my dad and I started our own suspension business, Airide Suspension, and it's been awesome. It's an exciting venture for me, and I'm going to take the same approach that I took with my racing career, which is giving it everything that I have. I'd also like to thank MotoSport Hillsboro, Scott USA, Renthal, Works Connection, Factory Backing, Guts Racing, FMF, Dunlop, EVS, No-Toil, EVOMX.com, Ride Engineering, Wiseco, DVS Shoes, Alquist Arms and Haeseker Racing Engines."
Congrats on your performance in Houston, Daniel, and good luck with your future endeavors.
Thanks, Aaron, and good luck to Daniel Blair, a truly fast, exceptionally cool and all-around nice guy.
Reigning Lucas Oil WMX Champion Ashley Fiolek was featured in the April issue of Vogue magazine. Check out the full profile here.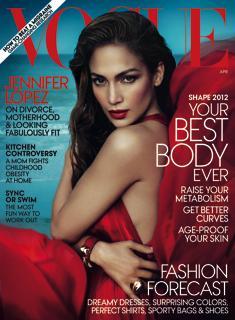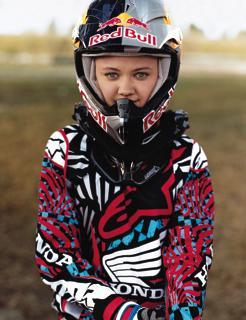 Matthes mentioned Adam C. earlier. I had the chance to watch Adam race last Sunday at Aonia Pass in Georgia and the kid was flat-out flying. While most people were stoked to see
Ricky Carmichael
come back and race for a little fun while he has some time on his hands, I was stoked to see a glimpse of what may be a future star in American motocross. I have seen Adam many times at Loretta Lynn's, but I'm always so busy I don't get to really just sit back and watch the Team Green rider go. He will probably turn pro late next summer, and then in 2014 be on the Monster Energy/Pro Circuit Kawasaki team.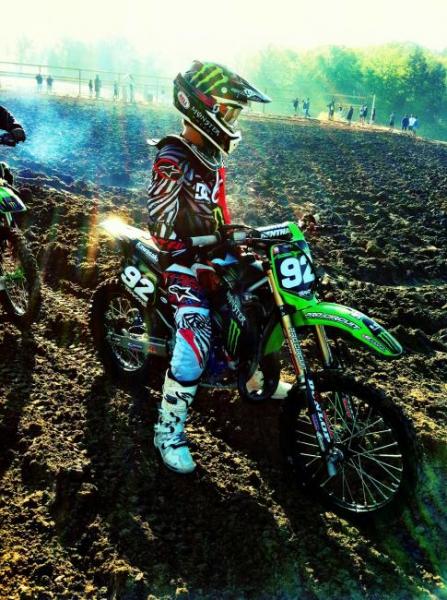 We spotted Adam Cianciarulo down south at Aonia Pass for his Loretta Lynn's Area Qualifier and he was quite impressive.
DC photo
And to end the week on a BIG smile, check out what Stephen Colbert says about dirtbikes and America being back!
That's it for this week in motocross. Thanks for checking out Racerhead. Next weekend we begin the home stretch of Monster Energy AMA Supercross, which picks back up in New Orleans. Then it's less than six weeks until the start of a whole new season in Lucas Oil Pro Motocross. There are a lot of things brewing there, and I will let you know more next week as they start coming together. Enjoy your Easter. See you at the races.