I used to equate watching a Can-Am Grand National Cross Country race to being in the military. You've got to be a sniper to catch action, always on the move, stalking the riders, getting a glimpse of the racing wherever you can. You can watch on foot, find a place in the woods to set up a chair, or, bring your mountain bike and combine spectating with training. Either way, you're collecting intelligence in order to decipher what is really happening.
At the GNCC opener this year at Westgate River Ranch in Florida, I was doing the sniper thing, stealing glimpses from the woods whenever I could. I made it down to the bridge crossing on the first lap and saw Paul Whibley and Charlie Mullins battling for the lead. Kailub Russell was not too far back, trying to move up from fifth. Next time I saw the pack, Russell was up to third. Next time, he was around Mullins and into second. The kid was flying and keeping the heat on the leader, Whibley, until I got to the next view point. Suddenly Russell was gone.
Apparently, he and Mullins had missed a turn on the course, and Russell got tangled in some vines trying to make his way back to the main trail. He was set back again, and then crashed big in the sand whoops trying to mount a comeback. He separated his shoulder, and his day was over.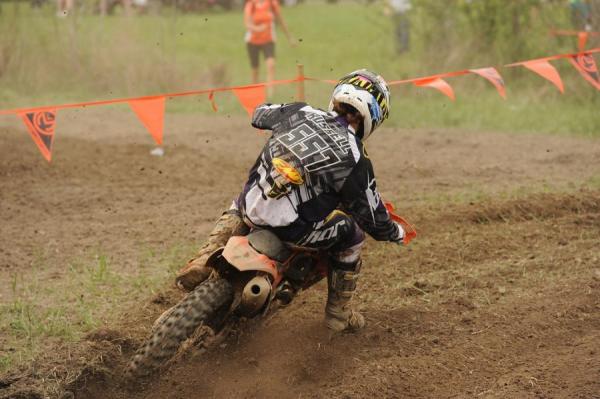 After a disappointing opening round, Russell has rebounded with two straight wins.
Ken Hill/GNCCRacing.com photo
"I've put myself in a big hole again," said Russell to me after the race. The two-time GNCC XC2 Lites Champion had moved up to the XC1 class last year, and started 2011 in similar fashion. By mid-season, he had found his form and battled Whibley and Mullins for race wins, and then broke through for his first victory late in the season.
For 2012, Russell wanted to take The Leap forward to challenge his KTM teammate Mullins and AmPro Yamaha's Whibley for the GNCC title. But in all forms of racing, young talent develops the speed to win races often, but they rarely develop the consistency needed to deliver championships. Russell's Florida crash seemed to indicate there was more learning to do.
Maybe not. Five days later, sore shoulder and all, he roared back to win round two at Aonia Pass in Washington, Georgia. Whibley and Mullins weren't far off, though, and many theorized that Russell dropping out in Florida race with an injury was actually an advantage. Mullins and Whibley had gone to the wall in Florida, pushing themselves to the limit for three hours, so they were not back to 100 percent strength in Georgia. A more rested Russell overcame them both.
But there's no explaining last weekend's race at Steele Creek in Morganton, North Carolina. There, after a lead pack of five riders dueled for the lead through the first half of the race, Russell made a move on Whibley for the lead and checked out. He then opened up a massive lead. Straight up, the Ohio-raised, North Carolina-trained Russell had won two in a row. And since he had completed enough of the Florida race to score a few points (other riders had dropped out before him), he's closed to within seven points of the lead.
"It feels great to get another win today," said Russell. "I feel like my conditioning is where it needs to be and the bike is working awesome this year. Everything is starting to come together and I couldn't be happier."
GNCC racing used to be the domain of older, more experienced pilots (Rodney Smith won the 2004 GNCC title at age 40!) but 2012 could prove to be the year the younger talent breaks through. Russell is 22, but 17-year-old Steward Baylor is not far behind. Railing his KTM 250 two-stroke in the XC2 class, Baylor finished third overall on adjusted time at the Florida race, and then took second overall on time last weekend in North Carolina. Watching Russell and Baylor go 1-2 speaks to the strength of the talent coming out of the XC2 class. Even more interesting, Russell is racing the KTM 350 this year (everyone else in the XC1 class is running a 450). So, the 350 four-stroke and the 250 two-stroke prevailed in North Carolina!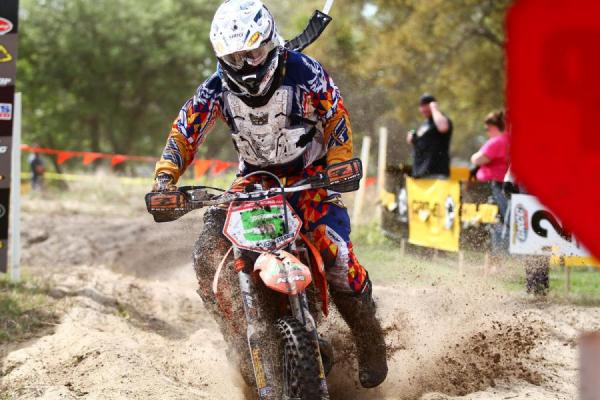 Baylor has been on cruise control through three rounds in the XC2 class.
Dave Brozik photo
There's still much to learn for Russell and Baylor, though, and one other rider can warn them. Thad DuVall won the 2008 XC2 title (Russell won the 2009 and 2010 Championships in that class and Baylor won it in 2011) and was expected to win XC1 races immediately. It never happened, and after three years of crashes, DNFs and inconsistent results, his long-time relationship with Yamaha came to and end.
DuVall is making one more run at it this year as a privateer, backed by Shenandoah Honda and Offroadchampions.com. So far, he's handled the consistency part, with two fourths and a fifth in the first three races. DuVall still has the talent to win, and perhaps this will be the year in which he actually delivers. However, the road to a GNCC title is long and winding, and 13 rounds of three-hour races offer up plenty of pitfalls. Can the young guns see their way through it?