The sandy terrain of Valkenswaard, Holland will host the opening round of the 2012 FIM World GP Motocross Championship on Monday. If you haven't been keeping tight on the GP scene, we've put together this handy guide to the weekend's action.
MX1 Contenders:
Antonio Cairoli - #222 - Red Bull KTM - Italy
The five-time champion is once again the early favorite for the title in the MX1 class. Knee troubles hindered Cairoli early last season, yet he still cruised to the title – besting second place Steven Frossard by an astounding 124 points. The 2012 season may prove to be Cairoli's most difficult trek to the championship with a healthy Clement Desalle, a hungry Frossard, a rising star in Evgeny Bobrshev and what, by all accounts, seems to be a rejuvenated and more importantly, motivated, Christophe Pourcel all breathing down his neck. With that said, Cairoli has taken home three-straight championships and is still the odds on favorite for a fourth.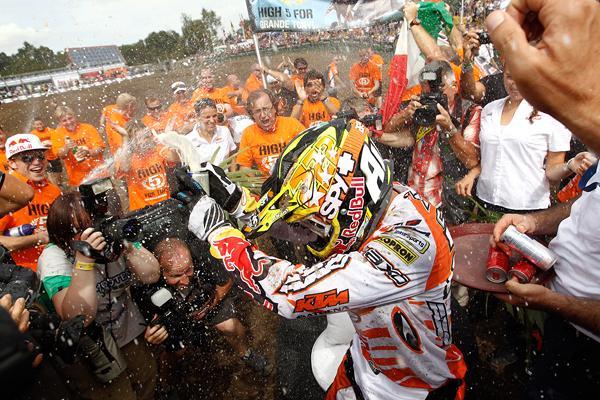 Cairoli looks to make it four in a row beginning Monday at Valkenswaard.
Sara Gutierrez photo
Christophe Pourcel - #377 - Monster Energy Kawasaki - France
After a brief, yet disastrous, stint stateside with MotoConcepts in 2011, Pourcel headed back to his roots and back to Kawasaki – a bike, as he has voiced numerous times, he prefers. Inconsistency would plague Pourcel early in his return, but he would catch fire late, winning three motos over the last three races. Competing full-time on European soil for the first time since his catastrophic crash in 2007, the 2006 MX2 champion, along with Desalle, may be the biggest threats to Cairoli's reign of terror in the MX1 class. CP377 and AC222 had a great rivalry back in their MX2 days. Will it reignite in 2012?
Clement Desalle - #25 - Rockstar Energy Suzuki - Belgium
Although Desalle won a career-high four times in 2011, many still consider his season a letdown. Desalle won the season opener in Bulgaria last season and coupled with Cairoli's 10th, many were clamoring that Cairoli's championship run was coming to an end. But a shoulder injury at a non-GP race would halt any chances of Desalle winning his first career title. With his shoulder now 100 percent, Desalle is looking to pick up where last season began.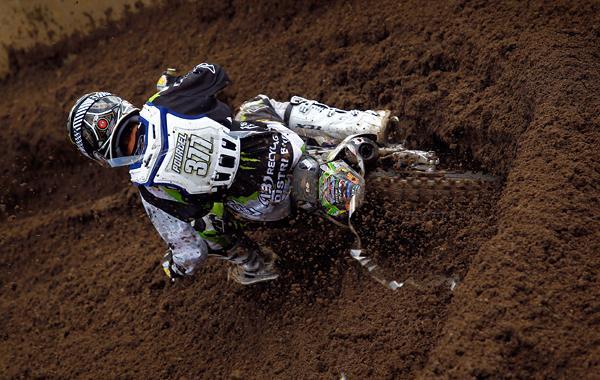 Can Pourcel present a challange to Cairoli?
Sara Gutierrez photo
Steven Frossard - #183 - Monster Energy Yamaha - France
Clement Desalle and Christophe Pourcel will garner most of the attention as the main challengers to Cairoli's title, but lying in wait is another Frenchman, Steven Frossard. Two wins, paired with five podium appearances helped lead Frossard to a runner-up finish in his MX1 class debut last season – while also missing the last two rounds with injury. Frossard has already proven in 2012 that he can match Cairoli's speed -- and even more impressive was that he did it on Cairoli's home soil -- besting the five-time champion for the Italian MX1 Championship. If Frossard can find a way to put all the pieces of the puzzle together for 2012, he may have a chance to upset Cairoli.
Evgeny Bobryshev - #777 - Factory Honda - Russia
The Russian made a big splash in 2011, capturing his first career MX1 win in Germany. After a breakout year, expectations have risen for Bobryshev—who is now expected to be on the podium week-in-week-out. Bobryshev has been impressive in pre-GP races; he currently leads the Dutch Motocross Championship over Ken de Dycker, Rui Goncalves, Kevin Strijbos and more, with six moto wins to go along with his huge points lead. If "Russian Bob" can capitalize on his impressive 2011 run and work on consistency, 2012 will be deemed a success.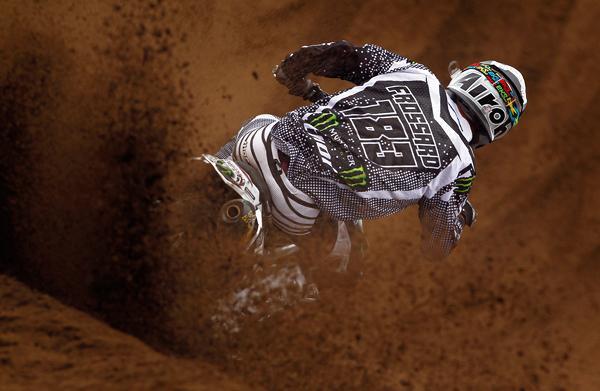 Frossard topped Cairoli in the Italian MX1 Championship. Can he make it happen in the GP season?
Sara Gutierrez photo
David Philippaerts - #19 - Monster Energy Yamaha - Italy
The veteran from Italy is coming back from an injury-riddled 2011 season, which saw him miss the last four rounds. It would come as no surprise to see Philippaerts challenge for podiums now that he's healthy. He is the last rider to win the MX1 title since Cairoli.
Rui Goncalves - #999 - Factory Honda - Portugal
Gonvalves was another rider who had a breakout year in 2011, finishing a career best sixth in points. A title would be a stretch, but podiums won't.
Max Nagl - #12 - Red Bull KTM (currently injured) - Germany
Could challenge for wins once he returns from injury, but his title hopes have been squashed.
Ken de Dycker - #9 - Red Bull KTM - Belgium
A late replacement for the injured Nagl, de Dycker is looking to top his career best of third, which came in 2008.
Gautier Paulin - #21 - Kawasaki Racing Team - France
The Frenchman, who showed flashes of brilliance in the MX2 (250) class last year, is now getting his feet wet in the MX1 (450) class. Some say that Paulin is a much better 450 rider, as evidenced by some great rides on the big bike at the MX of Nations. Paulin is a bigger guy with a BMX background, so he possesses a good combination of technique and strength. We shall see how that translates into the full MX1 title chase.
Sebastien Pourcel - #11 - Monster Energy Kawasaki - France
Currently leads the French Elite Motocross Championship over the likes of Cedric Soubeyras and Greg Aranda, so 2012 could be a re-birth for Pourcel. But don't expect a title out of the older Pourcel in his first full season since 2010.
MX2 Contenders
Jeffrey Herlings - #84 - Red Bull KTM – Holland
The overwhelming favorite to win the MX2 class will open the season on his favorite playground – Valkenswaard. Looking to carry on the KTM legacy that those before him began, Marvin Musquin from '09-'10  then onto Ken Roczen last season, Herlings should get an early jump on the competition at his home race this weekend. Considered by many to be the best sand rider of this generation, Herlings is expected to walk out of Valkenswaard with 50 points and a first place trophy. He just needs to stay consistent on the hard packed tracks.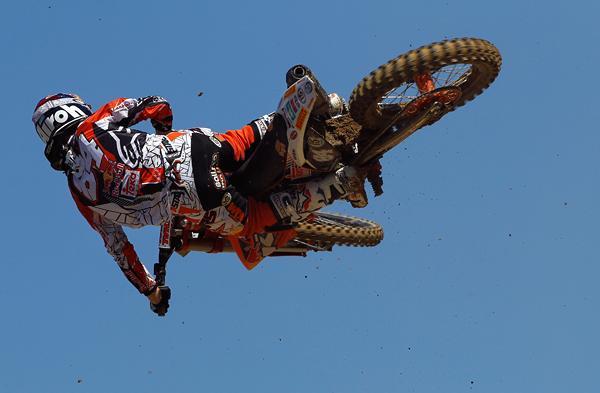 Herlings is the heavy favorite in the MX2 class.
Sara Gutierrez photo
Tommy Searle - #100 - Monster Energy Kawasaki – England
In what is likely Searle's last season in the MX2 class, the time is now for him to win a championship. In his first full-season back on European soil last season, after a brief stint in America, Searle finished third behind the KTM duo of Ken Roczen and Jeffery Herlings. The Brit showed flashes of the speed that made him one of the most highly sought after imports, along with Tyla Rattray, just a few short years ago – winning an overall and racking up a number of podiums and moto wins. But there were two defining races that cost Searle dearly – the Grand Prix of Portugal and the Grand Prix of Sweden. Searle would finish both first motos with zero points only to follow them up with a win (Portugal) and a fourth (Sweden) in the second moto. If Searle can stay away from huge mistakes like those he could very well push Herlings to the limits for the title.
Zach Osborne - #338 - Monster Energy Yamaha (currently injured) – United States
In his last full season in Europe, 2012 looked like the best chance for an American to win the Grand Prix title since Bobby Moore in 1994. Osborne was riding high after coming to the states and putting in a magnificent showing in Monster Energy Supercross. But an injury while testing for the upcoming season opener will sideline Osborne for at least Valkenswaard, and maybe more. If Osborne can find a way to miss only one round his title hopes may still be within reach. If not, it looks like the American drought will continue.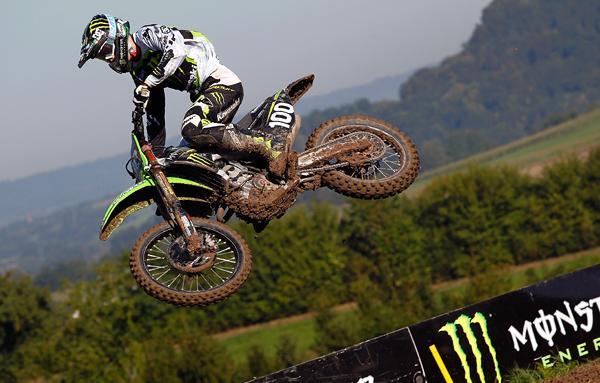 The time is now for Searle.
Sara Gutierrez photo
Joel Roelants - #34 - Monster Energy Kawasaki – Belgium
Roelants has never been able to put an entire season together. The Belgian has the speed, but can he find the consistency? That's the question as the season kicks off on Monday.
Jeremy van Horebeek - #89 - Red Bull KTM – Belgium
Another fast Belgian that has yet to put all the pieces together. In a field that looks to lack the depth it had last year, Horebeek could very well score some podiums, but a title is probably asking too much.
Arnaud Tonus - #7 - Monster Energy Yamaha (currently injured) - Switzerland
Tonus also will be sidelined for Valkenswaard after a big crash in the Maxxis British Championship, but is expected to return at round two. Tonus is a promising young star that had a breakout season last year, finishing the season fifth overall, and he will probably score a podium or two.
Max Anstie - #6 – Honda Gariboldi – England
If Anstie can find away to keep the off the track distractions out of the way, expect a few podiums and a couple of moto wins. If not, we could very well see a repeat of last year, which was fairly disappointing.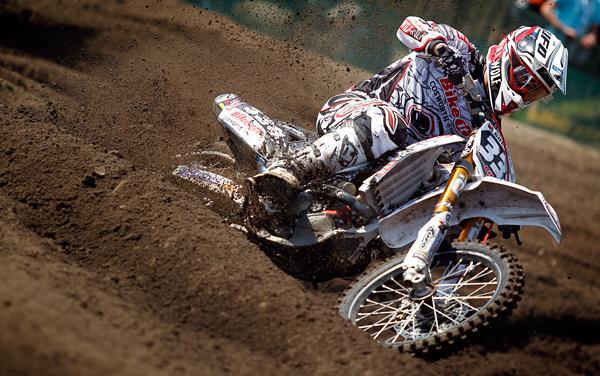 Osborne will begin 2012 on the sidelines.Sara Gutierrez photo
2012 Schedule/ 2011 Winners
Valkenswaard, Netherlands - 9th April
2011 Winners - Antonio Cairoli (MX1) / Jeffrey Herlings (MX2)
Sevlievo, Bulgaria - 22nd April
2011 Winners - Clement Desalle / Ken Roczen
Fermo, Italy - 29th April
2011 Winners - Gautier Paulin / Jeffrey Herlings
Guadalajara, Mexico - 13th May
2011 Winners - n/a
Beto Carrero, Brazil - 20th May
2011 Winners - n/a
St Jean D'Angely, France - 3rd June
2011 Winners - Steven Frossard / Tommy Searle
Agueda, Portugal - 10th June
2011 Winners - Clement Desalle / Jeffrey Herlings
Bastogne, Belgium - 17th June
2011 Winners - n/a
Uddevalla, Sweden - 1st July
2011 Winners - Steven Frossard / Ken Roczen
Kegums, Latvia - 15th July
2011 Winners - Antonio Cairoli / Ken Roczen
Semigorje, Russia - 22nd July
2011 Winners - n/a
Loket, Czech Republic - 5th August
2011 Winners - Clement Desalle / Ken Roczen
Matterley Basin, Great Britain - 19th August
2011 Winners - Antonio Cairoli / Ken Roczen
Lierop, Netherlands - 2nd September
2011 Winners - n/a
TBA - 9th September
Teutschenthal, Germany - 23rd September
2011 Winners - Evgeny Bobryshev / Ken Roczen