Reliant Stadium
Houston

,

TX
Houston
Monster Energy AMA Supercross Championship
GEICO Honda's Justin Barcia looked to have the Houston SX win sewn up with just a few corners to go, but he tangled with Lance Vincent, went down, and lost the lead. After that, Barcia went into meltdown mode, racing over to the still-downed Vincent and yelling at him, even though Vincent was being attended to by Dr. John Bodnar of the Asterisk Medical team.
It was a bad move for Barcia, one that cost him a $5000 fine and seems to have created a ton of regret on his part. We called him today to get his take on the night.
Racer X: What the hell happened? That was a crazy night.

Justin Barcia
. It was a crazy night. Everything was going really good, the night was going smooth. In the main event I got a good start and was battling for the first couple of laps, and then I pulled a pretty nice lead. It was the last lap and I had, I think, an eight-second lead, and I was doing this little double to the inside every lap. Obviously, one of the lappers caught my rear end and I went down. I had to get back up and kick my bike. I ended up not winning, obviously.
What do you think happened with the lapper? Did you cross into him? Did you just have different lines? Do you think he ran into you?
Yeah, you know it's really tough to say. If you watch it on TV and watch the footage, you can see I was trying to get around him for a full lap. And that's what I question the most, I've never really had that happen before. I've had it happen maybe once or twice, a lapper trying to race you for a lap. The blue flag was out everywhere, and that's what makes me question the whole accident situation. But it did happen, you know, and after the race, I was so emotionally destroyed. I went over there and was yelling at him. That wasn't the best decision on my part. I wish I hadn't have done that. It sucks.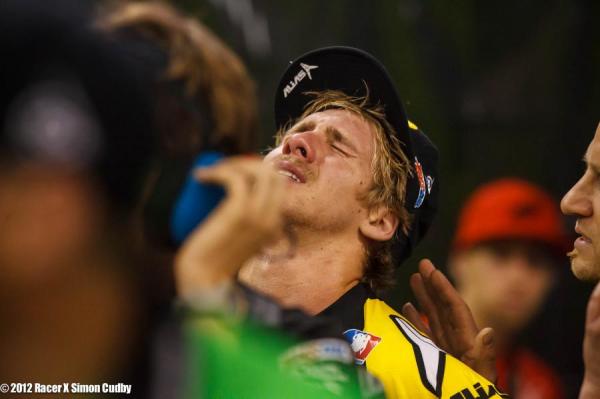 A visibly upset Justin Barcia after his devastating loss in Houston.
Simon Cudby photo
People are talking about Vincent riding at your house before. Did you have a problem coming into this race? Was there bad blood?
I'm not too sure, really. I did let him come ride at my house for two weeks, around Daytona. We kind of went our separate ways, it wasn't a big deal or anything. Then came Toronto, there was actually a situation. In practice, there was a red cross flag out, and I was on the inside just rolling a section, and he kind of cross jumped and almost landed on me. I yelled at him there, I was like "Dude, be smart!" I mean, he did stay at my house so it's not like I don't know the guy. So we talked about it and made up and stuff. But it's almost like he held a grudge or something, I don't know.
But when he was riding at your house, it didn't end with a screaming argument?
No, not at all. I don't get it.
So you managed to ride the last three corners of the race and get second. Do you even remember that?
No. I don't even remember riding those last few corners. It was just mind-blowing. You ride a good race for 14 laps and something little like that takes it away. And I realize that this stuff can happen and it was a racing incident, and it will probably happen again one day. On my part, I feel bad for what I did after the race, and I wish I could take that back but I can't. All I can do is just learn my lessons and move on from here.
On the podium you were super emotional. Was that because you were still angry about losing like that, or where you already bummed about what you did after the race? What was going on there?
It's like, I dedicate everything to this sport. Winning a race doesn't come easy, that's what I work for every single day of my life. To have that taken away from you is so difficult. I've never been in that type of situation before, so I was just really mentally destroyed, and now that this whole situation went down like this, I'll know how to handle it if it ever happens again. I wish I could have handled it different this time, but I was so devastated after the race. I was really upset.
I think people on the outside are going to say, "Hey, you have a big points lead. What's there to worry about?" You are making these race wins look easy, and you're dominating the series. But I guess from your perspective, the race wins don't come as easy as it looks.
Yeah, you know, to myself, I feel like the wins don't come easy. People don't always see the hard work and the dedication that goes into it. You go to a race and win a race, it's so huge. It's a big bummer on my part.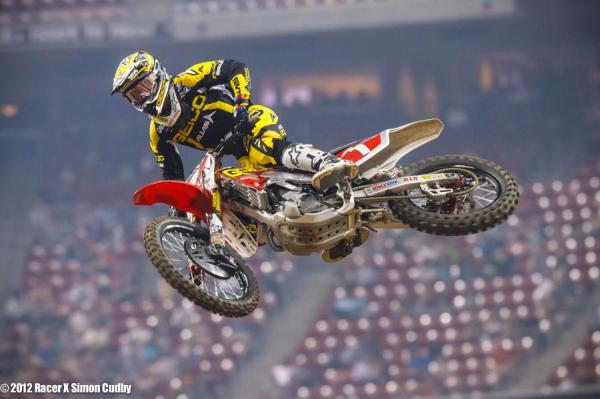 Barcia let his emotions get the best of him after a late run-in with Lance Vincent in Houston.
Simon Cudby photo
Riders hardly ever talk about this, but there are big bonuses on the line for wins. It's not just points. Does that also effect things?
Yeah obviously there are bonuses and stuff like that, but honestly that was the least of my worries at the time. I couldn't care less about the bonus money for a win, in that situation, I was just so upset about the race. To ride almost 14 perfect laps and have a nice lead and then lose, it just hurt.
Did you realize one of the Asterisk guys was over there when you rode over to Lance?
That's a huge thing. I think that's what everyone is so bummed at me about, there was an Asterisk guy over there, Dr. Bodnar. No! I didn't even realize he was there, I looked past all of that, and was just looking at him [Vincent] and just yelling. I was just so mad. That's the biggest thing that hurts me right now, those Asterisk guys take such good care of us. They took care of me all last year, you know, with my wrist problem, they took care of me at every race. I did make a huge mistake, and I regret it so much. I have so much respect for those guys. I did talk to a lot of people after the race, like Dr. Bodnar. We talked it out, and we ended our conversation with a hug. I think he understands that I feel really bad about this. You know, as a past champion in this series, obviously I shouldn't have acted like that. I thought I grew up a lot this year, and maybe I still did in some ways, but I definitely let this get to me.
You had a crazy deal happen at Bercy, too. How much of this comes from your desire to win? You're very emotional about this.
I think, as a rider, I am a very emotional rider, and I ride with all of my heart. When you're not winning you're not going to be 100 percent happy. But that wasn't the thing here. I wasn't as mad about not winning as I was the whole situation, and I let those emotions get the best of me.
If you had finished second because someone out rode you, it would have been much different?
Yes. I would have taken that as, "I need to go home and work harder." But when someone else takes it away from you, that's what hurts.
Anything else you want to add?
I'd like to just send a huge apology to the Asterisk guys, they take such good care of us. And also to my team. They've been huge with helping me out and understanding the situation and helping me work through it. We're just going to try to come back at the races strong.