Unadilla MX
New Berlin

,

NY
Unadilla Motocross
Lucas Oil AMA Pro Motocross Championship
Interviews by: Steve Matthes and Jason Weigandt
Eli Tomac GEICO Honda 5-2 for 3rd Overall in 250 Class
Today I got off to good starts. The first moto was okay, I had to eat a lot of roost, which was fun (Laughs). I worked pretty hard coming through, and almost caught up to Swanepoel at the end for fourth, but I couldn't make it happen. That was okay. Second moto, I almost got the holeshot. I haven't had that all year. I was trying to pace myself with Dean, and we kind of stayed in the same place. At about the 20-minute mark, my lap times came up a bit, and then I ran into a couple of lappers and Dean stretched it out from there.
At the beginning of the year you were a championship favorite and expected to win some races. What has prevented that from happening?
I really can't say what it is. For one thing I've really struggled with my starts. I know you can do it from mid pack, but when you get a top five start, it makes it so much easier. That second moto, I was out in clean air, and it was like a whole new world. I think the starts have been my biggest problem. And I've been working on my bike, too. We made it a lot better over the last week. But, really, I don't know. I just haven't been as good as those guys this year.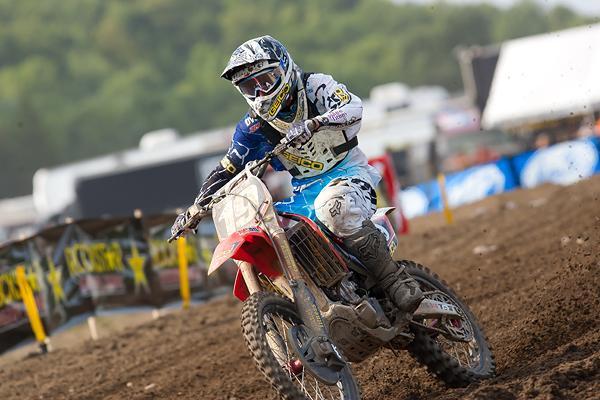 "That second moto, I was out in clean air, and it was like a whole new world." - Eli Tomac
Photo: Andrew Fredrickson
Blake Baggett Monster Energy Pro Circuit Kawasaki 2-3 for 2nd Overall in 250 Class
I'm just glad to come out with what I got. I need to regroup again. Nobody likes losing, but I guess after winning some motos and overalls this year, earlier, I don't know. Washougal was obviously good, winning the overall with a 1-3 there, but it seems like I've been struggling a little bit with something. I think I have an idea of what it is. We're going to go home and try to fix it. My starts have been hit or miss on them, but at the beginning of the year it was all miss, so that's better, but I need to keep improving on those. Especially if I'm going to Motocross of Nations, I'll be on a 250, and I have to race 450s in both motos. So I definitely have a lot to work on. I'm just not even worried about points right now. I'm just going to give it the best I can every day, and try my hardest. Dean has been solid all year. Congrats on him for his first win of the year. I've had some wins, but at other times, I've been really inconsistent.
What was the difference today? At other rounds, you've had the speed to come through and win.
Some days I feel it and some days I don't. It was kind of like Millville. The track didn't fit the riding style to where I could make some things happen and come through the pack to the front pretty easy. I tried to ride it that way and I had some crashes, just minor tip overs, two in the first moto and one in the second moto. I didn't want to push it overboard and have a big crash. I'd rather just lose a few points and come back at the next one.
Ryan Villopoto Monster Energy Kawasaki 1-1 for 1st overall in 450 Class
It was definitely a good day. We made a decision to go to the 2012 the week before this last weekend. We flew to California and rode it and we knew immediately that's what we were going to do. We did a little bit of suspension testing and knew it was better. So then we took it back to Florida and just rode it there. So we rode it for like two weeks. I think the problems we had with the old bike, the new bike improves that. I think it definitely showed, and my body felt like it was easier to do it, too.
Just knowing our bike was better than what we had, so I definitely felt like, coming into here we were in a great position. I didn't get holeshots, but I had top five starts both times, and it seemed like it was pretty easy to move through the guys. The bike just helped me to go where I wanted it, and I wasn't struggling with it all.
Obviously, he (Dungey) has been riding good and he's been really strong in the second motos. But like I said, riding that new bike, I knew it would definitely help. I wasn't sure that was going to be the difference, but I knew it would help. The old bike, we had a problem with it feeling a little harsh. It obviously wasn't the suspension, it was the frame. The guys in Europe have been using it, and based on what we heard from them, we knew it would be good. The 2011, it was just a little more rigid, and there was some harshness I could feel through my body. The new bike, the frame is just a little bit softer and that seems to make a big difference.
He (Barcia) rode really good. I didn't think he'd be able to just jump on it right away and ride it that good. But he did ride the bike at Bercy, even though that was a tight supercross track, but obviously he has the skills to ride it. And he's going to be here through the end of the season, so he's going to be a guy we're all going to have to watch out for.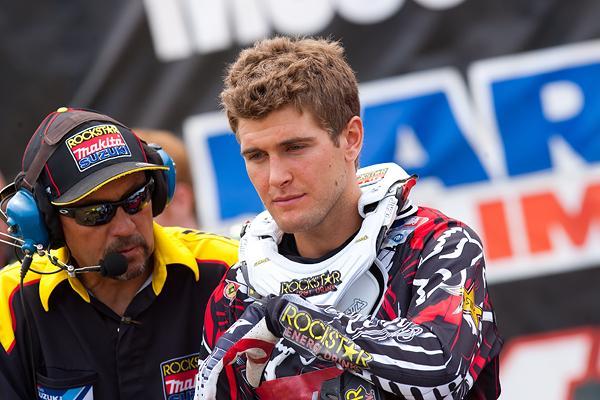 "Yeah, he rode really well. But this is the big boys, this isn't the amateurs, and we can't play little games out there." - Ryan Dungey
Photo: Andrew Fredrickson
Ryan Dungey Rockstar Makita Suzuki 2-2 for 2nd Overall in 450 Class
I fought it a little bit, both motos. Both motos I didn't get the start I should have gotten, I was back there messing with some of the other guys. It was a good weekend overall, I stayed healthy. But by the time I got up to second, and Ryan was out there, I just couldn't make the time up. I'm looking forward to the last three races. It's going to be a challenge but it's a challenge I look forward to.
Where you surprised by Barcia's speed?
Yeah, he rode really well. But this is the big boys, this isn't the amateurs, and we can't play little games out there. It's kind of annoying. He needs to grow up and have some respect out there, and watch what he's doing. It's just a bummer to deal with that. But I have to give it to him, he's a great rider, he held me off for darn near the whole second moto, so I can't take too much away from him. On the last lap, I railed the outside, and he actually swerved off the jump to avoid the lapped rider. I don't know what he did. I didn't think we were going to hit, but as we got closer to the landing, he was right underneath me, and I thought we were both going to go down, and it was going to get nasty. It was just one of them deals, I'm glad we're all right, I can't really get mad about it, he is out there to race his position, as am I. And I'll leave it at that.
Michael Byrne BTOSports.com/BBMX Suzuki 40-12 for 17th overall 450 class
I had a good start in the first moto but something hit my front brake line and busted it in the fourth turn. I tried to ride for a bit but it was too hard to stop. Second moto, 40th gate pick, I was screwed for the start and I tried my best and got up to 12th.
I like Unadilla, it's always been good for me and I don't know what it was but it was harder to pass than usual. I don't know what it is, the rain or what. Maybe the fake dirt or something could be left off. I'm coming off my best race of the year so it's a bummer to have happen what did.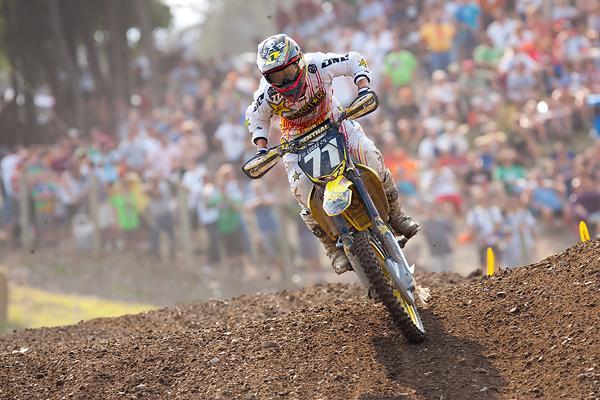 "My day wasn't bad, the last time I raced an outdoor was Steel City 2009." -Ryan Morais
Photo: Andrew Fredrickson
Ryan Morais Rockstar Suzuki 12-12 for 12th overall 250 class
My day wasn't bad, the last time I raced an outdoor was Steel City 2009. Today was ok, I got good starts but my opening laps were terrible. I went from 8th to 18th or something in the first laps. I need to work on my sprint speed to get up there and stay up there.
The other riders sprint speed was more intense then I thought it would be. I've been watching the races and usually the guys stop dropping back around halfway but today, with it being overcast, the guys were going the whole time. I'm happy with my day but I honestly wanted to be top ten.
Josh Strang Suzuki 22-20 for 24th overall 450 class
My day was definitely interesting and I'm a little bummed on the end result. Not where I wanted to be, I wanted to be higher. Overall it was fun though, Makita Suzuki hooked me up with a bike and it was great. I just jumped into the deep end and that's what caught up to me. I could maintain the pace for 15-20 minutes but then the intensity caught up to me and I dropped back. Still, it was fun to do a national,but I don't think I'll be able to do anymore. This is it for me.
In the first moto I was up there, somewhere around 12th, when I front end tucked on a sweeper and I went down. From there I started going backwards. If I wasn't racing here, I'd be sitting on the couch waiting for the next GNCC so it was good to come out. I could get hurt at anytime, anywhere so I can't be scared out of it. I'm getting more out of this than by not being here.
Jake Weimer Monster Energy Kawasaki 5-6 for 6th overall 450 class
I think this was my best race of the year for me. Riding-wise and with everyone here, I think it was great. I think a lot of it is due to the bike and I was struggling with the old bike for sure. It was good but for whatever reason I was having a hard time with it. After Washougal, I said I'd come down to California to test, whatever they wanted because we had to get the bike better. Then they called and said that they're going to test the 2012 and to come down to SoCal. So I rode it and immediately I knew it was better, then we put the bodywork on it and it was better. I felt great on it. The 4mm thinner was a huge difference to me, it felt more nimble or whatever you want, it was a big help.
Myself and Brett (Metcalfe) got together in the second moto and it was a racing incident really. I knew he was there hounding me and we went into that corner by screw-u and I was on the outside and he was right there inside of me. He dove there at the same time that I kind of cut to the inside and down we went. No ones fault I don't think, just one of those things.