Unadilla MX
New Berlin

,

NY
Unadilla Motocross
Lucas Oil AMA Pro Motocross Championship
There was a time when
Unadilla
was
American Motocross. Back when the World Motocross Championships ruled the sport without question,
Unadilla
and Carlsbad hosted the USGPs, and both tracks enjoyed a sterling reputation.
Unadilla
was legend for its 100 percent natural layout, with big obstacles formed by the earth, not dozers. Deep, dark loam covered the track, and the owners left the course untouched between the races. On the morning of the first practice, the track was covered in grass.
Amazing races are woven into this track's history. Roger DeCoster and Bob Hannah waged one of the last great battles of the old Trans-AMA Series here in the late 1970s, and Hannah went on to be the fastest and unluckiest rider at this track. The fans loved him and he loved them back, but he never actually won for them until Johnny O'Mara famously ran out of gas while leading the 1986 USGP. The next year, the track hosted the Motocross des Nations, an epic mudder Team USA still managed to win despite having three Californians on the team. After that race, most people said you'd never see a des Nations in the U.S. again. And after that race, it seemed like Unadilla's rep began to fade a bit.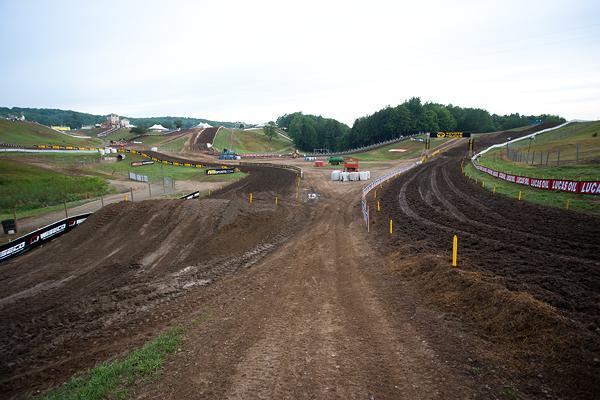 Unadilla has a long history in American Motocross.
Photo: Andrew Fredrickson
There was a certain magic to Unadilla's soil, but some of that magic washed away—literally—in that crazy mud in 1987. You've heard promoters say it before. When you host a mud race, the best dirt on the track ends up leaving on the bottom of the bikes that raced on it. Plus, Unadilla needed to adjust to the business of the day. USGPs were no longer as big of a deal as they once were, so in 1989 the track started hosting AMA Nationals and GPs in the same year, and the extra wear and tear hurt the surface as well. And that magical, loamy surface? There was indeed a magic trick to it. Track owner Ward Robinson would actually mix in manure from a local farm to help richen the soil. I've heard stories that the farm went away, and so did the magic ingredient.
Hannah raced his final race here in 1989. He no longer liked the track. Ironically, for a place that was once built on manure, he said, "The track was crap." Crap? This was the best track in the world!
By the late 1990s, the track was also hosting amateur races. The economics of the day dictated this—other tracks were upgrading their facilities on the dollars they made from hosting local races all year long. Unadilla couldn't live off of a massive USGP crowd any longer and, overall, the sport was evolving and the simple life of the 1970s had long passed. They eventually created a second Unadilla track for amateurs, dubbed U2, but I remember reading Cycle News' coverage of the 1999 AMA National here, and it said, "A lot of the riders are saying the track has transformed into a hard, slippery, rocky layout."
Hard? Slippery? Not Unadilla!
What was strange is that the track looked the same. It's kind of like how some ballplayers fade over time, but it's hard for fans to understand that because the guy looks the same as he did in his prime. And you can study the way Unadilla looked then and now, because this may be the most well-covered track in the country. When the breakthrough MotoWorld show hit cable TV in the early 1980s, they covered Unadilla's USGP each year with a 30-minute show. That race and the Carlsbad 500 USGP were the only motocross races on TV in the U.S. Do some YouTube work and you'll find that classic 1986 Hannah versus O'Mara battle. Good luck finding a broadcast from 25 years ago of any other track on today's AMA Pro Motocross circuit.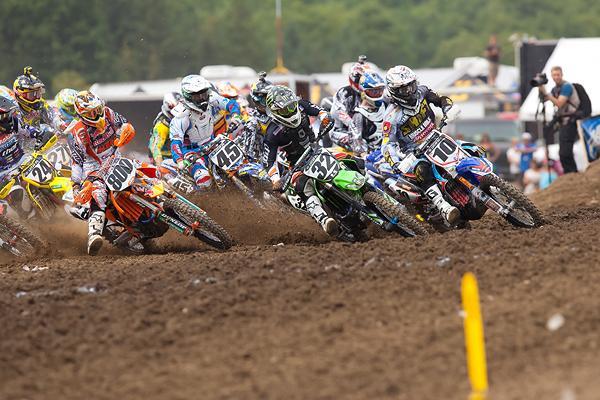 Weimer, Alessi, and Brayton battled for the lead early.
Photo: Andrew Fredrickson
For fans, it probably took a little longer to realize that Unadilla had lost its luster. I know it did for me—the '87 MXdN was the first big race I had ever attended, so I always wanted to believe Unadilla was the best place on earth, even when riders were saying that was no longer the case. It peaked in 2006, when Ricky Carmichael unloaded on the place in a post-race press conference, saying he could not wait until 2007, when he would skip the event. Indeed, the '07 Unadilla race was the first race Carmichael skipped during his part-time MX season.
Lately, though, the Dilla has begun to make a comeback. The Robinson family has worked to create better revenue through other events here—a qualifier for Loretta's, more local events, a GNCC (which draws a massive crowd), and an ATV Motocross event. Yes, those events probably do create more wear and tear on the track, but it doesn't matter anymore because the good dirt had long since washed away. Now it's all in the valleys around the track, and now, because the track has a bigger budget, they're able to bring in equipment to dig it out and dump it back on the track. Yes, it's easy to say a track should reinvest more money back into the facility, but it's hard for a track to have any money to reinvest when they're held to the old "one race a year" standard. No other track on the National tour works that way, either. Think about it.
In practice on Saturday this year, the track looked like it had gardening soil on it. Not sand, not rice hulls, not sawdust or wood chips. But straight-up potted-plant soil. It was rich, black loam, just like the old days. That's because it literally was the old dirt, trucked back out of the woods and valleys and dumped back onto the course. The track also sprouted two new towers, one for the scoring team and team managers and another for the announcers. It's clear that this place is rebuilding, and a track that once seemed to be on its way out seems to be back on the way up. That's awesome.
As for the racing, dang it if Dean Wilson and Ryan Villopoto didn't go out and threaten to ruin these close championship fights. Credit where it's due, these two rode awesome and earned the wins. They didn't get holeshots, they just raged through the pack early. Second-place rider Dungey mentioned how he didn't get good starts in either moto, and by the time he got to second, Villopoto was gone. But guess what? He started in front of Villopoto in both motos! In moto one, RV passed him halfway through the first lap in when Dunge made a rare off-track excursion. In moto two, he passed him in the third turn around the outside heading toward Gravity Cavity. Then Villopoto passed Brayton, Weimer, Barcia, and Alessi in short order. Villopoto's aggression in the early laps this year has been his best weapon, he's the only guy willing to go balls to the wall on the first lap of a moto on a fresh track. Well, pretty much the only guy. Chad Reed made a point to try to match that in the second moto at Millville and actually succeeded, until his wild crash. D'oh! More on that in a second.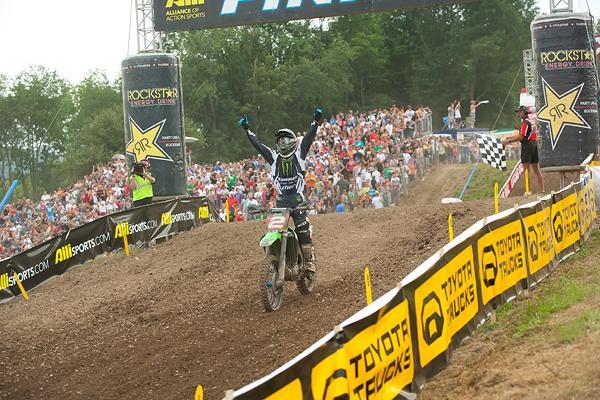 Villopoto celebrates his overall at Unadilla.
Photo: Andrew Fredrickson
Anyway, early-race speed hasn't been an issue for Villopoto this year. But he's had trouble closing the deal. Dungey ran him down late at Millville and Washougal, and up came the "Aldon Baker made Villopoto too skinny" talk again. Yup, the man who guided Ricky Carmichael to seven straight AMA Motocross titles in the big-bike class has no clue how to keep his rider strong throughout a season. I mean, you can see Villopoto is weak by the way he won the supercross title against the most stacked competition ever. He sucks!
(In case you hadn't noticed, I was being sarcastic, Marge).
Turns out the bike was leading to some of RV's second-moto issues. The rougher the track, the more he struggled. The tracks are rougher in the second motos, and that's where he has struggled. Now he's on the 2012 KX450F, and he commented after Unadilla that his body felt a lot better late in the race than it did on the 2011, which had a harshness that they couldn't remove with mere suspension changes. The 2012's new frame did the trick, and now RV has turned the tables back on Dungey.
Don't fret, Dunge fans. At the 11-minute mark of the moto, Dungey was all over Justin Barcia trying to make the pass for second, and at that point Villopoto had a six-second lead. Dungey nearly made the move when Barcia made a mistake, but Dungey bobbled at the exact same time and lost his chance. It took another ten minutes to regroup and go after him again. By then, they were down 11 seconds to RV. Dungey still couldn't make the move, as Barcia was putting his bike wherever Dungey wanted to go. I'm not taking anything away from Barcia. He stayed in front of Dungey 90 percent by being fast enough, and then 10 percent by protecting his line if he made a mistake. That's what motocross is all about!
They both started reeling Villopoto in late. Sure, Villopoto was struggling with traffic and backed it down with a lead, but another mistake or two and Barcia and Dungey would have been right back on him. Or if Dungey had not bobbled at the 11-minute mark and cleared Barcia, he may have been able to make a race of it. I at least want to believe we've got some more great battles ahead.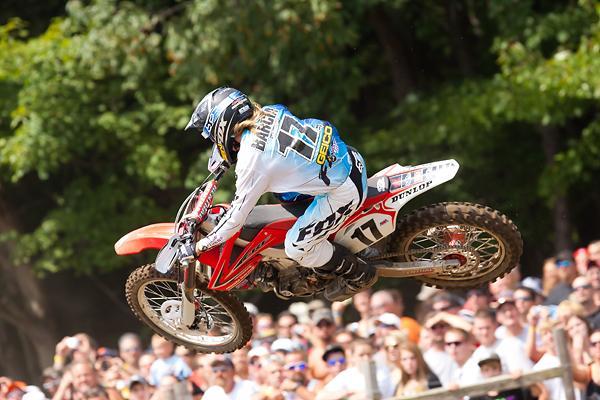 Barcia made life difficult for Ryan Dungey at Unadilla.
Photo: Andrew Fredrickson
So now we go back to Dungey's Achilles' heel this year: he struggles to make passes at times. But we also get to see his justification for maybe not being ultra aggressive. When he finally did go for the pass on Barcia, on the final lap of moto two, Barcia got out of shape and nearly ended the day for both. Dungey must have been worried about running it in on the kid.
You also saw some uncharacteristic mistakes from Dungey. I believe he wasn't quite on his game this time and will be back going for the W the next time out.
As for Barcia, wow! I had a feeling his riding style would work well on the 450. He rides the 250 too hard and could do well on a bigger bike that would smooth him out. But, at best, I thought he could maybe finish with that second pack of guys, like Metcalfe and Alessi. I never thought he would come within a lap of beating Dungey!
Can he keep it up? Barcia rides really well at Southwick. Look out.
Barcia also beat Chad Reed on this day. But clearly, this is not the same Chad Reed post-Millville. I'm guessing that if you've made a career out of avoiding the huge crash and scary moment, having a huge crash and scary moment, well, scares you. Chad has always had trouble willing himself to go over the edge, and now after the big Millville crash, he may be back there. Still, there's plenty of racing left this year, and all you have to do is look at Christophe Pourcel in the 250 class in '09 and '10 to know that anything can happen, and Chad can get back in this.
Jake Weimer was also much better on this day with the new bike. He and Metcalfe hooked it up, literally at one point. I think that's about the seventieth time those two have been in a battle this year.
Poor Mike Alessi got no love because he once again finished fourth. On our TV coverage, we focused on the Barcia/Dungey battle and the Weimer/Metcalfe/Reed/Brayton duel for fifth. That left Mike all alone in the middle without any coverage. Been that kind of a year for Mike. And by the way, I predicted after High Point that he would get 14 good starts in the final 18 motos of the year. I think he's had three since then. Shows what I know.
As for the 250s, this race makes you wonder how Wilson didn't win earlier. He's had all the ingredients needed to get one of these, it just hasn't happened. I don't even think he should have been frustrated with not winning, because he was handling the points situation better than anyone, and at the end of the year, if you're champ, who cares how many wins you have? Plus, it's not like he lucked into this. In 2003, Grant Langston won the 125 National Championship without winning a single overall, partially because when James Stewart showed up at the fourth round of the series, he obliterated the field in every single moto. Langston won the title, but there was no doubt Stewart was the best rider. This is not the case for Wilson, he can run with anyone.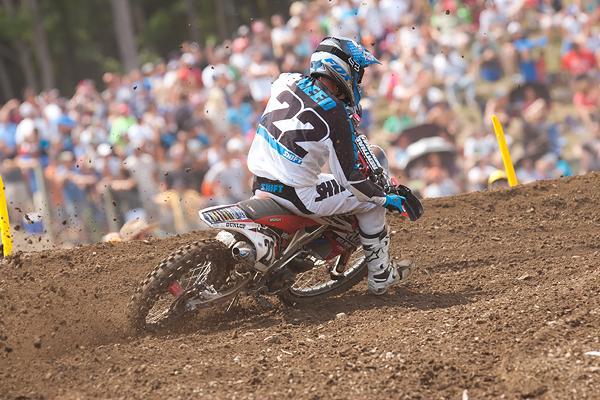 Are Reed's championship hopes over?
Photo: Andrew Fredrickson
I ran into Dean and his mom at the airport on Sunday morning and we talked about his rivalry with Barcia. Apparently there's nothing personal there, they don't even talk to each other, and they've never had an argument or anything. They just seem to find each other on the track. And Dean was actually pumped that Barcia rode so well, because it makes the whole 250 class look that much better. Good point! And when will we see Dean ride a 450 for the first time? At the Monster Energy Cup. Barcia will do the same. This could be good.
As a final note on the re-found beauty of Unadilla, I made an excursion over to the Baseball Hall of Fame on Friday night with a few people from the TV crew. Did you know Cooperstown is only about 20 minutes from the track? Did you know Cooperstown hosts not only the Hall, but also one of the neatest-looking downtowns in the country? It's worth checking out, and my apologies for all the times I said Unadilla was out in the middle of nowhere. If you're looking for the perfect getaway during the dog days of summer, a trip to upstate New York, with 'Dilla and Cooperstown, is it. Cooperstown is the birthplace of baseball in the U.S., and it's still relevant to the national pastime. In many ways, Unadilla is the same thing to American Motocross.