Georgia Dome
Atlanta

,

GA
Atlanta
Monster Energy AMA Supercross Championship
Welcome to Racerhead—thanks for stopping by. My intro will be short; I am in the middle of the NPG meeting down here in Atlanta. MX Sports and Alli Sports are laying out plans for the 2011 Lucas Oil AMA Pro Motocross Championship and then meeting with the team managers tonight. And of course tomorrow is the Atlanta Supercross, annually the biggest round of the Monster Energy AMA Supercross tour. The people at Feld Motor Sports have been kind enough to host these meetings each of the last few years, and everyone is looking forward to a fantastic race tomorrow night.
If you're not in Atlanta, you're in luck: the Atlanta SX will air live tomorrow night on SPEED TV, beginning at 7:30 p.m. In the meantime, you can keep up with all of the news from the Atlanta pits, practice, and all of the goings-on from the event right here at Racer X Online and through our Twitter updates.
Last weekend most of the Racer X crew was at the Indianapolis Trade Show, which is always a fun event, so I don't have much from the San Diego race, but the rest of the gang was there to see Chad Reed's historic win on his Two Two Motorsports/Bel-Ray privateer Honda. It definitely created quite a buzz on the last day of the show, as Chad had spent Friday there signing autographs for Bel-Ray.
And congratulations to Eli Tomac for getting his first SX win in the Lites main. As soon as I heard it was going to be raining out there, I pegged Tomac to win. And since I told Reed I thought he was going to win, I'm proud to say I correctly picked both SX winners for the first time since Ricky Carmichael was racing!
Hey, here's some very good news from the meeting I am sitting in on: The first set of motos at all twelve rounds of this summer's series will air live on Fuel TV, as well as online at www.AlliSports.com! That's a very, very big deal and another step forward for this series. (And of course the second motos will all air on SPEED and NBC, half which will air live. How cool is that?!) Stay tuned for more details, but summer is looking pretty damn good for American motocross.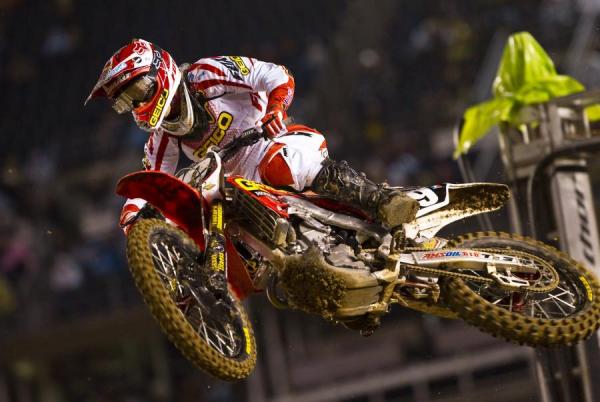 Tomac scored his first career SX win at San Diego.
Photo: Garth Milan
We had a little fun with this week's Maxima List topic, which was this: Which city deserves a supercross? We got tons of feedback, and lots of great bench racing fodder. If you missed it, check it out.
Okay, I had better start paying more attention to the meeting. Let me turn it over to the other guys. Here's Ping:
I saw the worst 1/10th of a lap ever ridden at a supercross race last Saturday night in San Diego. Some poor Japanese fellow had to go to the LCQ and things went badly for him in a hurry. He was second through the first turn, right behind Martin Davalos, when his seat flew off for no particular reason. Unaffected by the lack of cushion, this guy decided to go for the triple without a seat. As uncomfortable as that may have been, it was therapeutic massage compared to what it felt like to come up way short on the triple and slam into the frame rails alongside the air box with your undercarriage. Wherever this guy is, and whoever he is, I'll wager that he is sitting softly on a bag of frozen peas. Happy healing, my friend. Here's a comedy clip of his misfortune.
I really thought Trey Canard was going to win another one last weekend. He looked comfortable out front and was clearly the quickest guy on the track. But he might have been a little too comfortable and the front end of his Honda waved bye-bye in a slick right-hander. There is no truth to the rumor that his lapse in concentration had something to do with plummeting insulin levels related to his diet earlier in the day.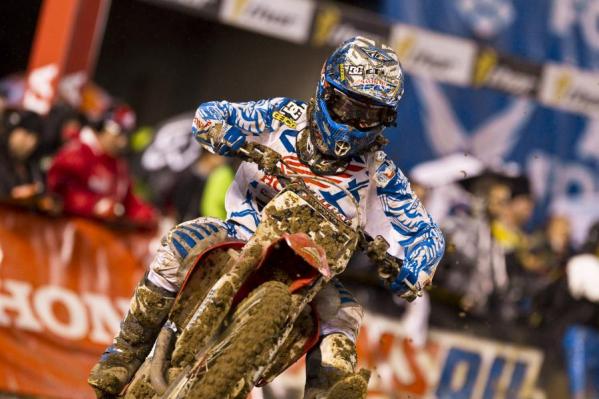 Canard let a win slip away in San Diego.
Photo: Garth Milan
From that point on it was all Chad Reed. He picked up Trey's lines and took off to his first win this year. What a huge accomplishment for his whole Two Two Motorsports team. Congrats to Chad, Lars, Dave-O, and the rest of the staff over there. You guys earned it.
As for the rest of the championship players, it was a rough night. Ryan Dungey once again missed an opportunity to win one. RV got piled on through the first turn and rode well up to seventh on what can only be described as a bike right out of Mad Max: Beyond Thunderdome. That was a war wagon if I've ever seen one. Stewart stalled and lost some ground. And for those of you at home keeping score it is currently Stadium Floors: 1, KW: 0. Glad to see that Kevin isn't hurt seriously, but he needs to stop hitting the deck or Dottie is going to slap him.
The Lites race tightened up as well. I expected Broc Tickle to be the man on what was clearly going to be a muddy racetrack, but he couldn't get it going, and after the heat races you just knew it was going to be Roczen and Tomac out front. They were over a second quicker per lap than any other riders. Ken missed the start, Eli pulled it, and that was all there was to it. Eli has all the pieces to the puzzle, folks. He's starting to get it dialed in mentally, and if he does he could be the spoiler in this series. You heard it here first. Hansen toughed out a sixth and held onto the points lead. He also clobbered Cunningham in the process.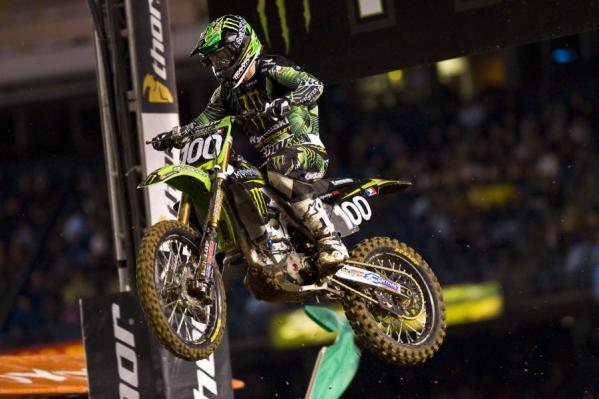 Hanny toughed out a sixth in San Diego.
Photo: Garth Milan
How tight will this series get? Seattle and Salt Lake are often made with soft or muddy dirt. That plays into Tickle's favor. Hanny won SLC last year and he is fast in Vegas. Score one for him. Eli just caught fire and he's good in any conditions. Book your ticket to Vegas now, people.
Okay, here's Steve Matthes:
By the time you read this, I'll be on my way to Atlanta for one of the more popular supercrosses on the circuit. The Georgia Dome is packed with rabid fans, the pits are buzzing, the dirt is usually pretty good, and all is right with the supercross world.
So the obvious question is, why not hold more races in the A-T-L? This is a question I posed to Feld's Dave Prater in a podcast I did last fall, and it's not as simple as just scheduling another race there. You see, Prater informed me that the dome (which is attached to a whole lot of convention centers) might not be too bad to secure, but the convention halls that house the semis and the pit party are booked for the next nine years or something like that! And not sure how many of you have been around the dome in recent years, but there aren't exactly very many places to park twenty-plus semi trailers around there. So that's a big reason why there isn't an Atlanta 2 and now you know why.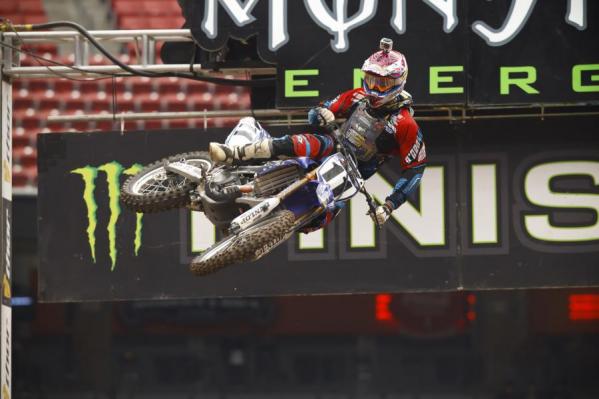 Chisholm is out of the hospital after a gnarly crash in Houston.
Photo: Simon Cudby
Good news on the Kyle Chisholm front: the MotoConcepts Yamaha rider is finally out of a Houston hospital and headed back home to Florida. Chiz wasn't in good enough shape to fly, so the doctors insisted that he had to drive back to California, where he's hoping to close on a house. Then he wants to fly to Florida next week to take in the Daytona SX if he's healthy enough. Get well soon to the #11!
This weekend should be a great race. RV needs a win bad, as does James Stewart. Stewie's gone a couple of weeks being shut out and RV has gone over a month without a win, but he does have the points lead. Canard has to be feeling well after his win in Houston and his laps led (before the crash) in San Diego. And don't look now but Ryan Dungey's not that far back, and he'll be hungry to grab his first win of the year.
And yes, I really want to see Justin Barcia and Dean Wilson go at it again, but hopefully both guys can keep it clean and focus on racing. Nice, clean passes, people!
All I do is give you fantasy guys solid picks. First it was Kyle Beaton, then it was Shawn Rife, and last week I told you that Davi Millsaps would do much better than he had been doing. I figured that he's a pretty good mud rider, he'd won in San Diego before, and he's kind of streaky. That all added up to a pretty good finish and he came through for me (and you jerkies) with a fifth.
I'm now going to give you guys a name for Atlanta. Someone who will step it up from their usual finishes and give you guys red double points or whatever it is that is really good. Or maybe it's a power-up star or a magic sword? Anyways, the magic guy is (drumroll) ... PJ Larsen. Yep, I know it's not a huge shocker, but he got nineteenth in Houston, which should mean he should be good for some points. He was flying all day long in the practices and was a takeout move by Malcolm Stewart from running in the top five. I believe he'll be much better in Atlanta, and who knew that going to Australia was going to make him so much better?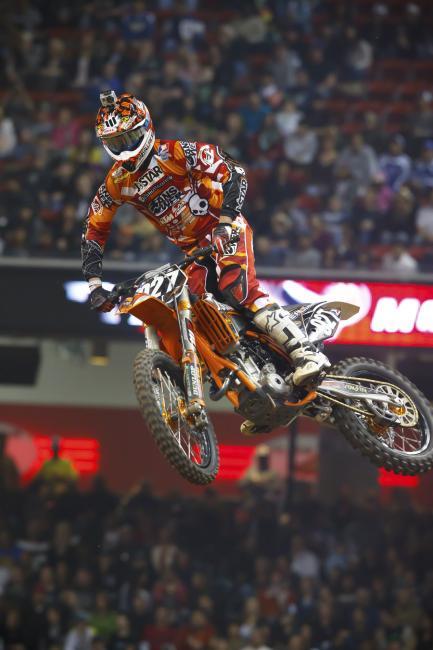 Larsen is a sleeper pick for Atlanta.
Photo: Simon Cudby
This week on the Pulpmx Show, co-host Kenny Watson didn't show up—and cue the dramatic music on that one. I didn't really see it coming but I'm pretty sure he'll be back for the next Monday's show after Daytona (no show this Monday, as I'm going to be staying in Florida all week). We had San Diego winner Chad Reed on and he took calls from fans and told us there had indeed been some talk about putting wayward Frenchman Christophe Pourcel on his team for the outdoors, but in his words "it doesn't look good" to happen.
Ex-Miss Supercross (but still okay in my books) Mercedes Terrell came by the studio to talk about her reign with the belt. I was really hoping to hear about the jealousy and catfights between her and the new Miss Supercross, but alas, it seems like they get along. They may even be friends. This let a whole bunch of us down but we moved on to talk about her life as a Monster Girl and what she's got going on outside of SX. Pretty cool interview and hopefully we'll have her by again some time.
Brett Metcalfe joined us and told us what the biggest adjustment to the 450 class is; that it's a week-in, week-out thing—there is no rest like he's been used to in the 250 class. He also didn't appear to know who Alex Van Halen was, so I'm not sure we should believe anything he has to say from now on.
The word on the street is that Honda may be looking to put someone on the factory 450 of Josh Grant now that he's out for the indoor season. And to that I say, why not? It worked pretty good when they brought in Trey Canard last year. Eli Tomac, Cole Seely, I'd be checking my phone!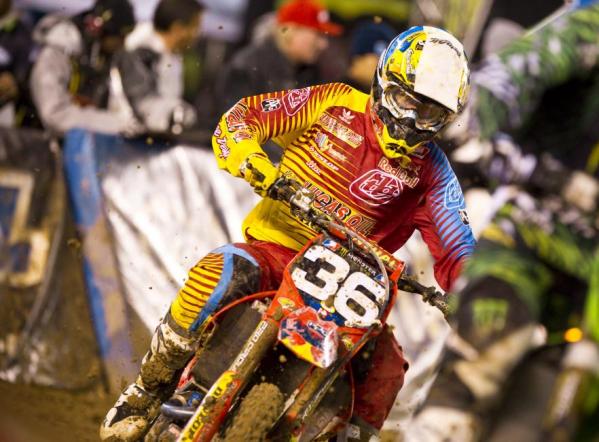 Could Seely fill in for Josh Grant?
Photo: Garth Milan
And now here's the new kid, Aaron Hansel, who was a big help last week with the Racer X Online coverage of San Diego, and also has his first feature coming up in the May issue of Racer X Illustrated:
There was a lot of hype surrounding KTM's Ken Roczen when he showed up at A1 this year, and for good reason. He is the youngest rider to ever win a GP (at age 15), he had just beaten some of the best racers in the world at the MXoN in Colorado, and it seemed like someone was talking about him every two seconds on Twitter. Well, San Diego was the sixth and final Supercross Lites race of the year for Roczen, and if you're like me, you have more questions about him now than when he first showed up to race in January.
Roczen was immediately fast, and I quickly got used to seeing his name shoot to the top of the tower as the timed qualifying sessions unfolded. He was no slouch in his heat races either—he even won his heat in San Diego. But when it came time for the mains, Ken was rarely able to harness his tremendous speed, and all too often found himself lying in the dirt. Through it all, he continued to receive a good chunk of the media's attention every weekend. Maybe it was because of his blazing practice times, or maybe his crazy whips during qualifying were drawing some extra attention from the photographers. One thing is certain: it sure seemed like he was on the verge of breaking through for a win at just about every West Coast race he lined up for this year. Instead, he finished on the podium just once, at A2.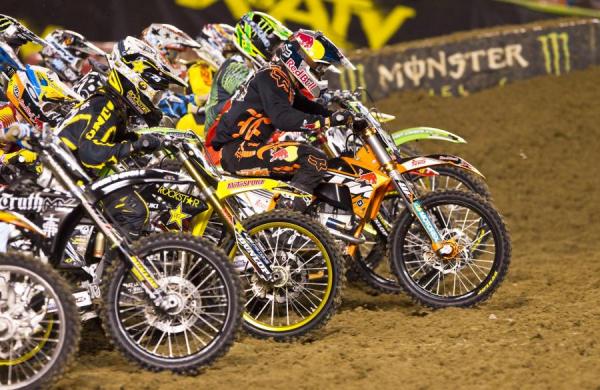 Roczen was fast in his heat, but mistakes would hinder his main event.
Photo: Garth Milan
So, was it just a steep learning curve? Bad luck? Nerves? Unbridled youthful exuberance? All of the above? Who knows. The one thing I do know is that, after seeing him ride a couple of times, I expected a little more than a single podium finish, and I'm a little surprised that he didn't take a win this year. I don't think I'm alone in those thoughts, either. Of course, all of that is easy to say when you're sitting in a press box or at a desk in an office, and guys like Josh Hansen, Eli Tomac, Broc Tickle, Cole Seely, and others haven't exactly made it easy on The Roc Show either.
Roczen has just one U.S. supercross race remaining this year, and it will be aboard a 350 at Daytona in the premier class.
Another rider who has been fast this year but doesn't have the results to show for it is Kyle Cunningham. Just about every week his lap times were among the fastest, and he even won his heat race at A2. However, like Roczen, he crashes a lot. Sometimes it's his fault, sometimes it isn't. When he went down in San Diego, it was the result of an aggressive pass from points leader Josh Hansen. I interviewed him a couple days after San Diego (which you can read here), and the impression that I got was that he was more bummed about taking another dirt sample than he was about anything else. It seems like every Saturday night I've been looking over at Weege and saying, "Keep an eye on Cunningham, I think it's going to be his night." When the western region resumes in Seattle, I'm just going to keep calling it, and sooner or later he's going to make me look like a genius.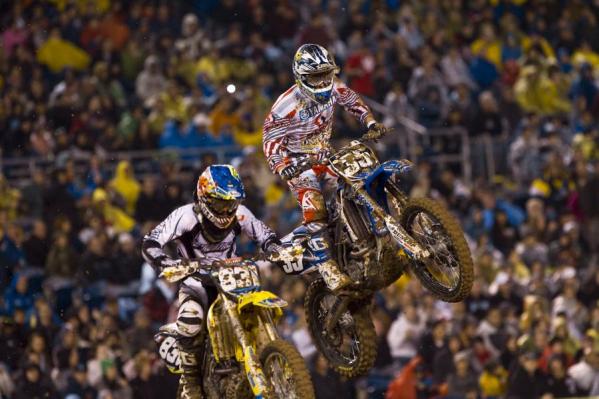 Will Cunningham be able to put it all together when the West returns?
Photo: Garth Milan
And how about Eli Tomac? I had the chance to interview him for this week's, Going for the W, (which you can read here) and I found myself feeling very impressed with him, his attitude, and the way he seems to be approaching racing. He didn't come across as cocky or talk himself up at all, even though he had plenty of opportunities to do so throughout the course of the interview. When he mentioned having problems with lappers, he was very quick to point out that they had their own races going too, and that you couldn't take anything away from them. All this coming from a rookie who just won his first supercross, in dominating fashion at that. Like I said, I was impressed.
The rain pushed practice back to 4:35 p.m. last weekend, which gave those of us in the media a little more free time than usual. I used that time to grab some pre-race quotes from some of the riders, and it's always interesting to go back and read those quotes after the races have been run. For a look at those quotes, go here.
Some of the riders were saying that the track in San Diego was very similar to the Kawasaki test track. Since Honda dominated the night, I don't know if it means anything. Still, it's interesting.
Lastly, I didn't think it was very cool when a beach ball found its way onto the live track during the night show. It got all the way onto the straightaway before the track crew was able to grab it, and several riders almost hit it. Stuff like that can be extremely dangerous and has the potential to negatively affect somebody's season. If you can't be responsible with your balls, do us all a favor and leave them at home.
Now here's Weege:
Atlanta draws a big crowd, which makes you think good things about the fans in the Southeast. But an informal, unscientific survey of my own shows it's not all dirty south in those GA Dome seats. Pretty much every fan I know who lives in the east has road-tripped to this race--I used to do it when I was still a college student in New Jersey. I see my GNCC friends from Ohio and Pennsylvania at this race, too.
Check out these early photos of the track sent to us by Brian Johnson of DMXS Radio.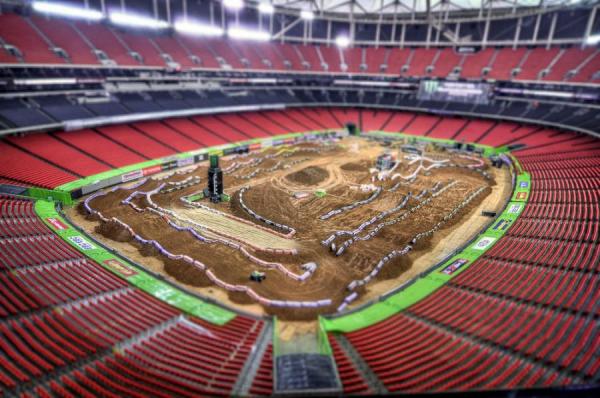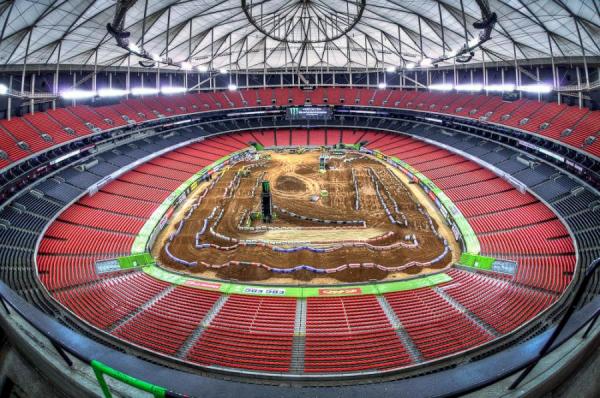 Is Ohio, Pennsylvania or New Jersey anywhere close to Atlanta? No, but if you're a fan up there, this race and Indy are about as close as it gets, and they both have a great vibe. And we're motocross people--10 hours is nothing. Toronto is drivable, too, but just doesn't seem to have the cool factor (or maybe you don't have a passport).
My point is, when you see nearly 70,000 in the GA Dome on Saturday night, it indicates just how desperate those all over the east are to get to a race. That either means we need a SX in the Northeast, somehow, badly, or that the Atlanta crowd would suffer a bit if they did have a race up there.
Either way, this one is going to be packed and fun. Come to the DMXS Party at The Masquerade tonight and the Ride 4 A-t Charity ride on Sunday at Bremen. Weather is supposed to be great all weekend. Especially inside the dome.
I watched the legendary Battle for Atlanta race from 1990 a few days ago to get pumped for the weekend. Hands down the best SX race ever in my mind. The racing is so good, it's like a totally different sport than what were used to. I've watched that race 1000 times trying to figure out why they can't all be like that. No one has an answer.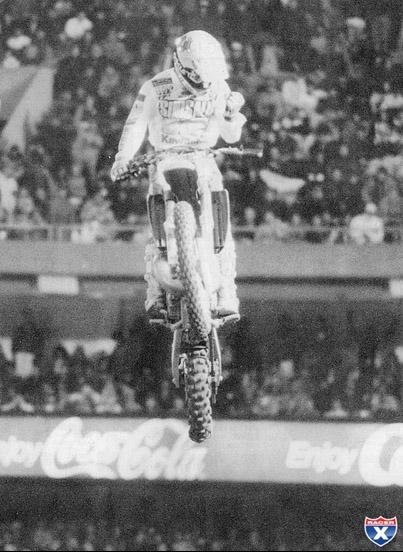 Jeff Ward took home victory in the epic 1990 Atlanta race.
Photo: DC
Read yesterday's Kawasaki History piece for the full run down on that race.
Anyway, I'm never one to harp on the good old days too much, but there's something to these 1990 races. The bikes and speeds are way slower. They barely even jump in most of the sections. Things seem much less, dare I say, dangerous? But what do you blame? We've got twenty years of evolution making things bigger, better and faster. How do you stop progress?
I don't know. In a way the craziness of the last two weeks of supercross opens the door to an awesome battle this weekend. We'll see.
Okay, some miscellaneous notes:
Also check out this cool interview that Daniel Lamb did with Ryan Sipes. Daniel asked about his crash with Blake Wharton at the end of the Houston main and this is what the DNA Shred Stix/Star Racing Yamaha rider said:
"At first, before I watched the video, I thought that he should have let off because I had the line on him. After watching the video, I noticed that when we made contact his head was still down. I don't think he ever even saw me there, so I now know why he didn't let off. He didn't even look up until a split second before we came together. My goal was not to clean anybody out or to make any contact at all. My goal was to take his line away and make the pass. When I came in there, I was thinking that he had to know I wasn't going to make the triple with how far inside I went. I just wanted to take his line, make the pass and we would both just double. It just didn't work out that way. I really wanted third bad, and I felt like I rode good enough to get it. I like Blake, and I really never want to clean anybody out. I just wanted the spot."
I saw Ryan at the Indy Trade Show last week, as he has a new company called Pro Logic where he takes your race bike and does it up like a works bike. I told him he blew a great shot at the win in Houston when he started slowly, and that he was my bet to win one this year. In fact, I promised him a Racer X cover! Now that it's out in public, you have my word, Ryan! Good luck in the ATL. -DC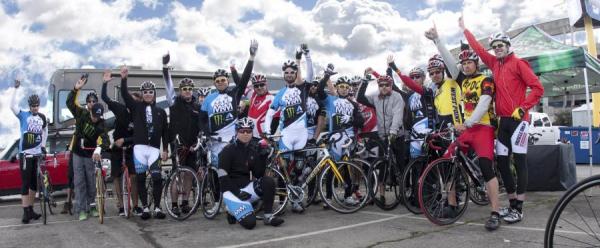 The beginning of Button's journey.
On February 20, 2011, former motocross champion Jimmy Button and his former trainer Cory Work began an incredible journey riding their bicycles from San Diego to Daytona Beach. They will be riding over 2,400 miles with the objective to raise money for spinal cord research. To follow Jimmy on his journey please visit his blog here. To make donations to help Jimmy raise money visit his website.
The first Loretta Lynn's Qualifiers took place over the weekend in Arizona and North Carolina. Here's a look at how the action went down at Elizabeth City MX in North Carolina with a video from our friend Matt Wozney.
Check out ten years of
Holeshot Magazine
with their favorite covers.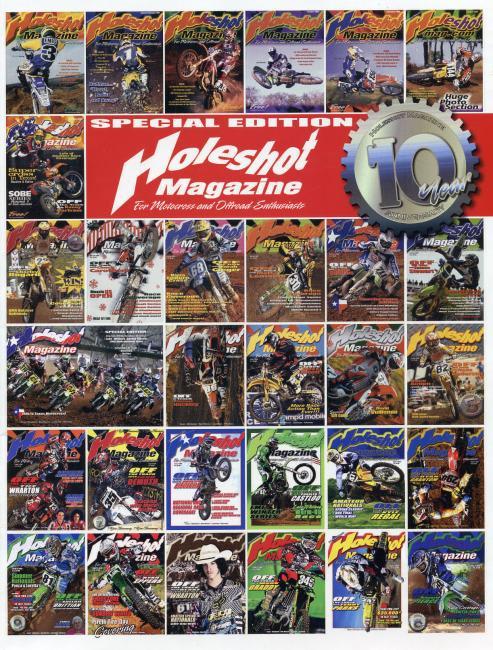 Here is a cool video we found of DNA Shred Stix/Yamaha's Ryan Sipes getting ready for Atlanta. Click HERE to watch video.
This just in: former motocross champion Chuck Sun has announced his return to Boise for the annual Racer X Inter-AM vintage MX event to be held April 2-3. Chuck has lined up a new sponsor named Vibranator that produces a patented vibration reducing device for the powersports industry.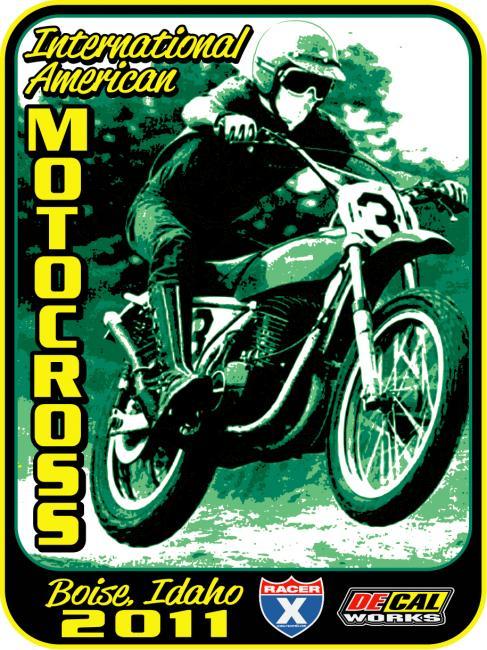 Here is a sad sign of the times
.
Finally, sadly, we have to report the death of Chris Carnicella. Chris was the driving force behind the old AST rider T-shirt company, and more recently On The Box, where he was working with Ron Tichenor to produce rider merchandise. He was 47 years old. Godspeed, Chris.
Thank you for reading Racerhead. See you at the races.