Qualcomm Stadium
San Diego

,

CA
San Diego
Monster Energy AMA Supercross Championship
Kyle Cunningham has had a hard go of it this season. The Star Racing Yamaha rider has shown flashes of speed, and has even won a heat race, but has also seen many good rides ruined by crashes. In San Diego, Cunningham was well on his way to a top five finish when he tangled with Josh Hansen, went down, and spent several moments pinned by his bike before rejoining the race to take tenth place. We caught up with Cunningham to get his take on his up and down season, and his frustrating night in sloppy San Diego.

Racer X: You've had kind of a rough season so far, and I don't think your true speed has been reflected on paper.
Kyle Cunningham: Yeah, completely. We consistently put the lap times in every weekend. There've been some ups and downs with other people, and some mistakes on my own. The thing we worked on the week before this past weekend, was to get better out of the gate. I finally got a holeshot in the heat race, and even with a bad gate pick in the main, got a good start. The track was a little bit one-lined, and I think I tried to make some bad passes in some sections where it wasn't really possible, and that allowed a couple of guys to get around me. I just have to keep plugging away and working on the starts. We're making gains where we need them. If I can get starts like that again, we'll be good.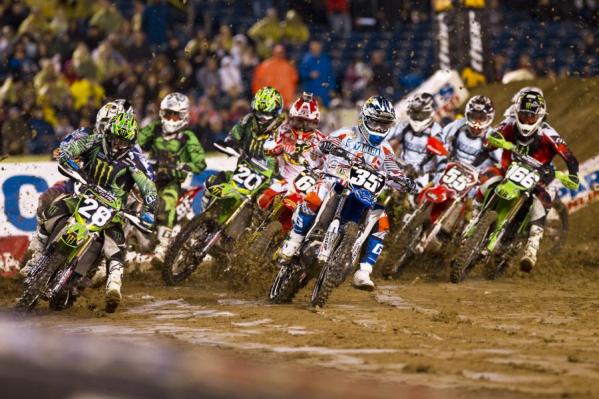 Cunningham has had a rollercoaster ride of a season.
Photo: Garth Milan
You've had your fair share of crashes this season. Some of them were your fault, some were not. How does that affect your outlook, as far as your plan of attack on race day?
I think right now we've moved up a little bit in the points. Like I said, we're making progress. We've got a whole outdoor series and three rounds of supercross left, and all I can do is keep plugging away and not worry about the past and what's happened. It's good knowing that you've got the speed. You could say that I haven't put it together, or that I've had some bad luck. It just hasn't happened yet. I'm not going to get down on myself. I'm going to keep training hard and keep doing my same program, we know it's working for me. Like I said, we've made some gains with the bike, which is awesome, and all I can do is keep pushing and training and make it happen. We have seven weeks off, and I'm going to do a lot of outdoor testing and really come into the outdoors strong. Our bike with the DNA Shred Stix Yamaha team is awesome.
The guys on the team are doing a great job with it. Will and Ross over at Enzo have done a great job with the suspension. I'm happy where I'm at, I'm happy with the bike, and I'm happy with the program. Every weekend Bobby (Bobby Regan is the team prinicipal) stands behind me after some of the mishaps, and that's good. He constantly tells me every weekend, "Dude, you're right there, we're going to make it happen. Don't let it get you down." It's been good for me having GL as a riding coach, Mark my trainer, my dad, we've made solid gains in my program. We've really turned some things around that I've struggled with in the past. Like I said, I've had some crashes, and there's been a couple that were other peoples' fault. I can't let it get me down, I just have to keep pushing and come out at the next round swinging.

It looked pretty miserable out there in San Diego. Was it as bad as it looked?
I think the Dirt Wurx guys did a great job with the track. It was getting a pretty deep groove where everyone was taking the same line, and when I was behind Broc (Tickle) and (Tyla) Rattray in the main, it was just single file, waiting for someone to make a mistake. It was definitely tough to pass on, but like I said, for the amount of rain we had, those guys did an amazing job with the track. It could have been worse.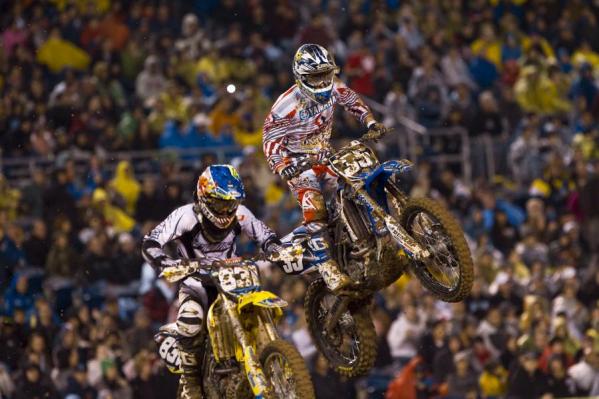 Cunningham looks to put it all together over the break.
Photo: Garth Milan
Talk about Josh Hansen and the pass that left you on the ground.
I'm not going to down-talk anyone, and I'm not going to down-talk the situation that went on on the track. He thought I scrubbed too close to him on the finish, which, I wasn't really that close to him, and he decided to come into the corner, and I think it was an overly-aggressive pass if you ask me. Especially when he's leading the championship right now. But, you know, I'm not going to let that stuff bother me, I'm just going to keep doing what I'm doing, stay prepared, and not worry about other people.

Did you guys talk after the race at all?
I don't even want to get into that. It is what it is. There's a lot of racing left, and I'm going to focus on my racing and not let someone else make an aggressive pass and ruin my season.

What are your plans for the break?
I'm going to take a few days off and go to an RC car race with my old mechanic, Scuba, and my new mechanic, Andy, and a bunch of the Associated guys. I kind of knocked my shoulder up a bit and I'm going to give it a couple days of rest. Then I'll get into the outdoor testing and make sure the stuff is working good so I can be prepared.

Thanks for your time, Kyle.