Qualcomm Stadium
San Diego

,

CA
San Diego
Monster Energy AMA Supercross Championship
You never forget your first. Sometimes it's the long, arduous journey that got you there that makes it special; sometimes it's the extraordinary circumstance in which it took place. Either way, whether it's on a beginner level, or a professional supercross, a racer never forgets his first win.

Tomac's night to remember took place on Saturday, on a slick, rutted-up hazard of a track, where the "just about anything can happen" factor was off the charts. The GEICO Powersports Honda rider didn't start his day by qualifying the fastest, or winning his heat, but when the main event rolled around, he was ready. Tomac has been surging the last several weeks, and he knew it was only a matter of time before the W came to him.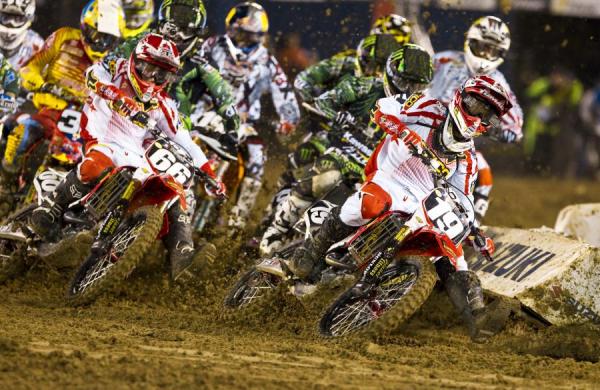 Tomac grabbed the holeshot and never looked back.
Photo: Garth Milan
"I think I've had the speed all year, but it was my starts that were jacking me up, and you can't do that in supercross. You can't jack up your starts," Tomac explained. "I knew it was coming soon, and once I ripped the holie, I knew I had it."

Indeed he did. After taking the holeshot, Tomac completely checked out, leaving the pack, and the perils that come from riding in it, behind. It was a stark contrast to most of the other Lites races this year, where Tomac has had to fight tooth and nail for his results.

"It didn't even feel like a main event, I wasn't battling with guys, or sketching out, or anything," he said. "About five laps into the thing, I looked back, and there was no one there, and I was like, 'Wow.'"

It wasn't the first time Tomac had found himself in the lead. Just a few races back, Tomac was leading in Oakland, which also happened to be wet and slick, when he slid out all by himself. But Oakland was in the past, and those thoughts never entered Tomac's mind while he was leading in San Diego. Of course, some nervous moments did come when Tomac ran into lapped traffic.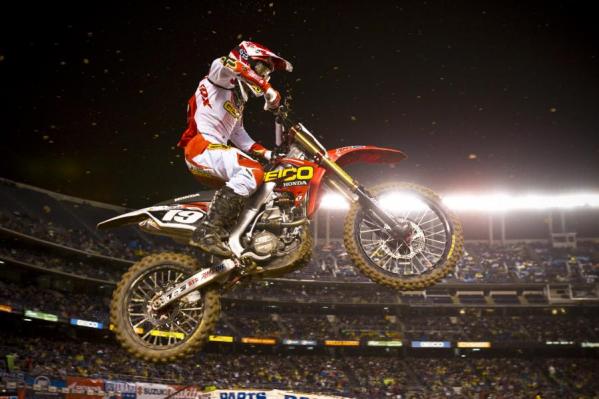 This may be his first win, but Tomac is striving for more.
Photo: Garth Milan
"The biggest thing in my head, was the lappers. Seriously, the blue flag was like a green flag it seemed like!" Tomac said. "But you can't disrespect those guys either, they were all battling and racing."

When it was over, Tomac had taken his first supercross win by over ten seconds, and considers the victory the greatest achievement of his career. Interestingly enough, however, Tomac says that the win in San Diego did not affect him as much as getting his first podium in Los Angeles, where he cried after stepping down off of the podium.

"The best feeling I had all year was getting that second place in L.A., I really just broke down, and all of my emotions came out," Tomac admitted.

It was less than one year ago that Tomac won the first professional motocross race of his career, at Hangtown, and on the podium, he had to have teammate Trey Canard show him how to open his bottle of victory champagne. Tomac has popped a few bottles since then, and now sits just 12 points out of the lead. Don't blink, this rookie is becoming a veteran before our eyes.

The western region now goes on break for a month and a half, but when it resumes, Tomac could take this thing down to the wire. Aided by the luxury of riding without the pressure of a points lead, Tomac feels as though he has nothing to lose.

"The plan is to win, and be consistent," Tomac says of his plans for the remaining three rounds. "I'm ready to go out there and win another race."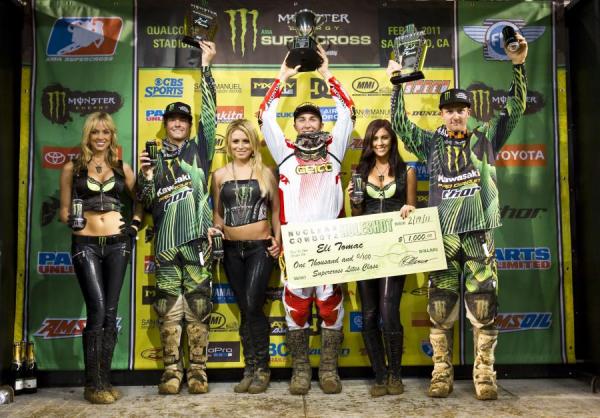 Tomac stands atop the box for the first time in his SX career.
Photo: Garth Milan