Qualcomm Stadium
San Diego

,

CA
San Diego
Monster Energy AMA Supercross Championship
With the threat of rain, practice has been delayed until late this afternoon. With all this extra time on our hands, we decided to head down to the pits and talk about the prospect of wet weather with some of the riders, and how it could affect tonight's racing.
Antonio Balbi - Some of my best finishes have come in the mud. Coming from Brazil, we have a lot of rain down there, so I think I can do pretty well in the mud. I think a lot of it is mental. People who hate mud never do good in it. I don't care. If it rains, I don't care, I should do good.
Ken Roczen - I actually love the mud. I don't know in supercross, because you have to jump perfectly, but in the outdoors, I love it. I definitely want to be on top of the box tonight. Anything can happen in the mud, but that's where I want to be.
Martin Davalos - It is what it is. We have to wait to see if the storm is going to come in. They say it's going to be on and off. I'll be prepared for whatever it is. Obviously, we came prepared, and the bike is ready for the mud. I think it's going to be fun. I'm going to have fun and do my best. If it gets really muddy and rainy, I think the plan is going to just to try and stay up and ride all the laps. In the mud, it's all about being smart.
Casey Hinson - The rain is good. I'm from NorCal, so I have some experience in it. I'm pumped. I'm just going to try to stay out of trouble, stay out of the beat stuff, and get a good start. If I get a good start, it's a lot easier and I don't have to worry about anyone.

Any Predictions for tonight?
I'm calling a good start, top five in the heat, and top eight in the main.
Cole Seely - I like it (the rain) and I don't like it. It can hurt you, but it can also do good things for you. Last year I had a pretty good race here (San Diego was muddy last year, too) and ended up on the box for the first time. I'm pretty excited. It hasn't been raining that much this morning, so we'll see what happens when the rain comes. If it's a mud fest, it's pretty much going to be survival, for me and my bike. If my bike can hold up, then I can hold up. If it's dry, then it's just another weekend. I just want to get a good start and try to get back on top of the box.
Josh Hansen - The hand is as best as it can be for this race. You can't get bones to reattach in two weeks. It's on its way to healing, so I'm just going to try to make the best of it tonight, then I have like a month and a half off. I don't mind the mud. I would rather it be dry, but it is what it is. Either way, I'll be good to go. I just want to be consistent and survive. Obviously I want to win, but I have to be smart with my hand and the championship and everything. I'm not going to do or die, that's for sure, but I'll be consistent, and do what I know how to do out there. After the break, I'll come back stronger than ever.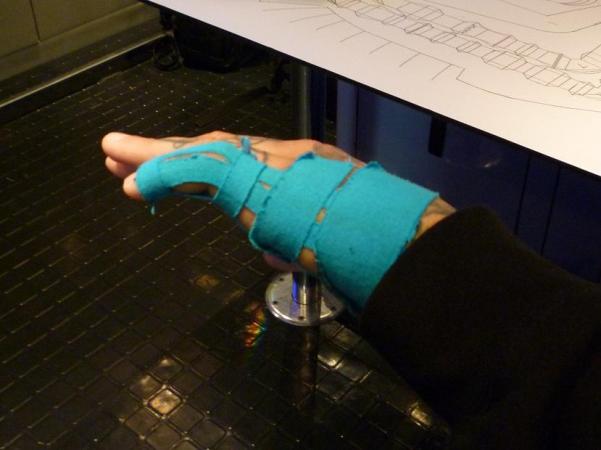 Hansen's hand is far from 100%
Ryan Villopoto - I'd rather not race in the mud, but we all have to race in it, so whatever.

What's the plan for tonight?
We won't know until we see the track, and how much it rains. A good start makes everything easy. We'll see what happens from there.
Kevin Windham - I would actually say that I'm at 100% right now. I felt horrible after Houston, the medical unit obviously took care of me there. On Sunday I felt pretty good, but then the pain meds started wearing off. On Monday, the world sat on top of me, I was really sore. It was bad. But I was able to remount and ride on Wednesday and Thursday, and honestly, right now I feel really good. I'm surprised how well I feel. It's supposedly going to be a mudder tonight. My record has been pretty good in the mud. I lost a good opportunity last weekend, and I'm going to give it a good shot here tonight. The mud is one of those things where anything can happen, but generally it doesn't to me. Even in the past I normally keep it on two wheels most of the time, and I was well on my way in Houston. But in the sport of supercross, or even motocross, whatever, anytime you're on a dirt bike, crazy stuff can happen, and it did last weekend. With the possibility of mud tonight, it's no different here in San Diego.