The 2013 Monster Energy FIM Motocross of Nations will begin in eight days in Teutschenthal, Germany, which means we are getting down to some serious business with our Team USA Top 25 riders countdown. Today we reach #8, the greatest of all time in American motocross, and like the rest of the men to this list, a true Team USA hero.
Yes, #8 for Ricky Carmichael. Carmichael rode for Team USA on six different occasions, and like Jeff Emig, the team ended up 3-3 in those years. RC, who rode three different brands along the way, won the whole thing outright four times—best in his class, best overall—but the other two times were something of a mess.
Ricky Carmichael put in one of the best rookie seasons of all time in 1997 while riding for the Pro Circuit Kawasaki team, winning the first of what would be ten straight AMA Motocross Championships. But he was still a little wild and riding in the rain had been problematic at best, so when Roger DeCoster had to pick Team USA in the middle of summer, he decided to go with the tried and proven Steve Lamson as his 125 rider. It did not work out for Lammy or the team, not the RC would have made much difference in the weird conditions in Nismes, Belgium.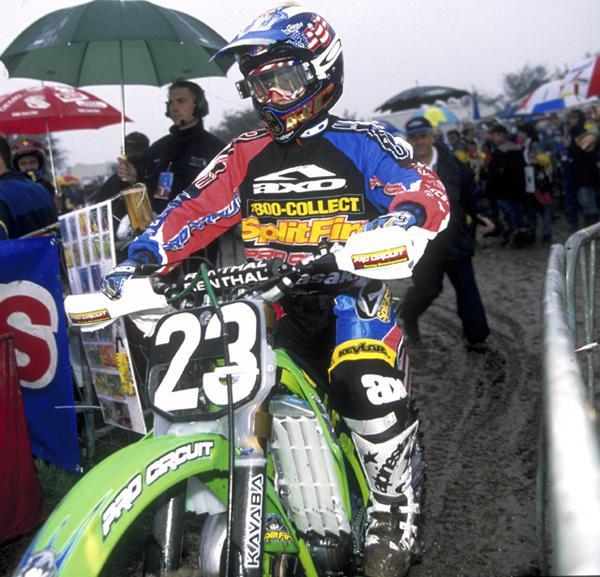 Even though he was the 125 national champion in 1997, Ricky Carmichael was left home. When he went in '98, the race in England was so muddy it was red flagged halfway through his second moto.
DC photo
When Carmichael won a second straight 125 National Motocross title (and went undefeated in East Region 125SX) in 1998, there was no denying him on the team. Unfortunately, DeCoster's original fear came to be: the Foxhills, England race was literally swamped with rain, and Carmichael struggled, though not as badly as many thought. But the rain was so bad in the second moto for 125/250 riders that it was red-flagged midway through due to the fact that apparently no one but Stefan Everts (on a sleek Honda 250) could get up one of the hills! Team USA (Doug Henry and John Dowd) rode well, but they were no match for Belgium. (It should be mentioned that at this point Carmichael dedicated himself to learning how to ride in the mud, and by the end of his career he was so good and confident in the mud that he lapped the entire national field in a moto at Spring Creek in 2006.)
The next year the race was held in South America for the first time, in Belo Horizonte, Brazil. Carmichael was again picked on the 125, along with Mike LaRocco and Kevin Windham on the bigger bikes. Ricky had truly horrible luck, with two early crashes leaving him with a busted pipe and a broken throttle assembly. Team USA lost again.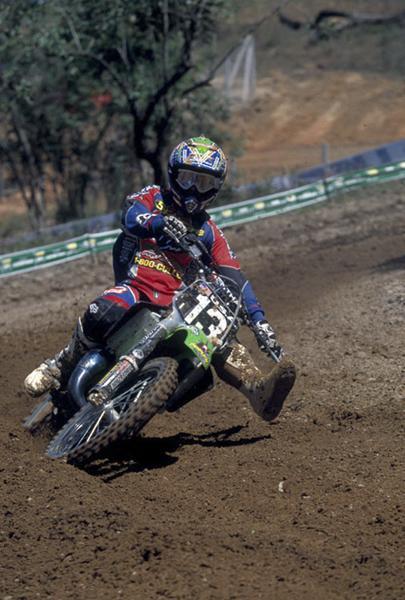 Ricky Carmichael's first two visits to the des Nations came on KX125s, both Team USA losses. Ricky had trouble in the mud in England (1998) and first lap crashes in Brazil (1999).
Eric Johnson photo
In 2000 Carmichael made his first big-bike appearance in the MX des Nations, this time in St. Jean D'Angeley, France. A strong French team of Sebastien Tortelli, world champ Frederic Bolley and 125cc specialist Stephane Roncada (not to mention 30,000 partisan fans) awaited Carmichael, Ryan Hughes and Travis Pastrana. Carmichael delivered the 250 class win, and Team USA had won again after three bad years. Ricky's days of losing his class at this race were over.
We all know what happened on September 11, 2001. In the days that followed that horrible day, Team USA dropped out of the Motocross of Nations, set for the following week at the Citadelle in Namur, Belgium. Carmichael would have led that team, and he would have led it in 2002 if not for the fact that the actual race, set for Competition Park in Southern California, was postponed when the whole enterprise fell apart. This led to some controversy for Carmichael, who was getting married a couple of weeks later. When a fan-driven grassroots effort helped persuade Glen Helen promoter Bud Feldkamp to offer up his track for a replacement race called the World Cup, Carmichael elected to stay home and start focusing on 2003. The backlash was intense to say the least. There was an Motocross of Nations, by the way, in Bellpuig, Spain. No Americans participated.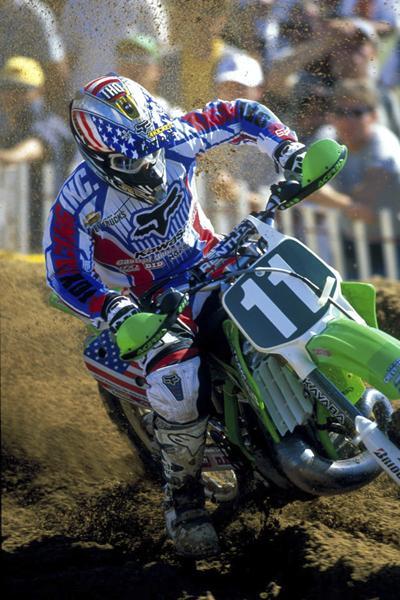 Finally in 2000 Carmichael got on a 250 and went to France and won his class and led Team USA back to the winner circle.
Jim Sanderson photo
Something about the treatment he received from the fans inspired Carmichael to be the first to commit to the 2003 Motocross des Nations early, which would be held in the backyard of his across-the-Atlantic rival Stefan Everts. Carmichael led Tim Ferry (Yamaha) and Ryan Hughes (KTM) to Zolder, Belgium, to take on the King of Motocross. Ricky won hands-down in the one-moto finale, but Ferry injured his thumb and Hughes' chain fell off, and Belgium won anyway. Here's video of that one and only moto, featuring a great battle between Carmichael and Everts.
Prior to the 2004 AMA Supercross season Carmichael crashed and injured his knee at his hometrack in Florida. This would lead to a chain of events that would see Team USA not participate in the 2004 Motocross of Nations ('04 was the year DORNA anglicized the name from "des" to "of"). Rick could not race SX and defend his title, and Honda was suddenly lukewarm on re-signing the champ. RC ended up doing a deal with Suzuki on April 2, 2004, and then went out that summer and dominated the 250 Nationals on his Honda CRF450, winning every moto and almost leading every lap! Then he handed his Hondas bike after the last national and started making the transition to Suzuki. He did not want to do the MXoN, nor did James Stewart, who was moving up from the 125 class to the 250 class to take on RC and Chad Reed. With our two best riders not interested, DeCoster and the AMA pulled the plug on going to Holland for the 2004 race.
Again, the backlash was hard on Carmichael, and this time he recommitted himself to Team USA and showing the world which nation produced the best riders. He went back to France in 2005, this time on a Suzuki RMZ450, backed by Ivan Tedesco (MX2) and Kevin Windham (MX3) and laid a smack-down on the rest of the world. Team USA was back on top and would stay there for the next seven years. Here's the video, with great commentary by Sir Jack Burnicle.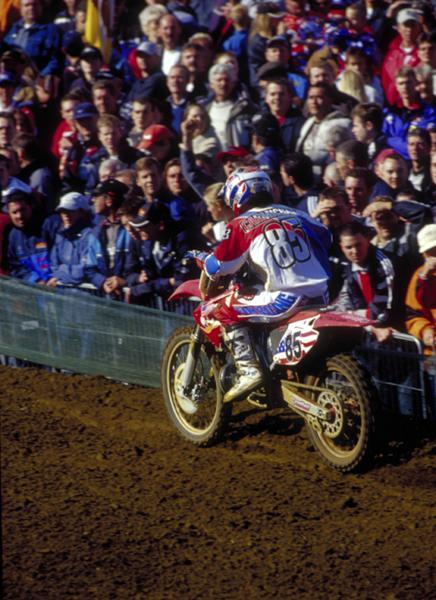 After Team USA sat out 2001 and the race was postponed in 2002, Carmichael went to Zolder, Belgium, on a Honda CR250 and beat Stefan Everts straight up in the one moto finale, yet the home team won.
Steve Jackson photo
In 2006 RC was supposed to match up with his friend and fellow legend Stefan Everts in the King of Motocross' last race, which would be the MXoN in Matterley-Basin, England. But at the last national RC fell hard and separated his shoulder, forcing him to pull out of the race that would ultimately become Everts' crowning achievement.
Finally, in 2007, Carmichael had announced his retirement before the season and rode selected SX and outdoor races, with his swansong set for the Motocross of Nations at Budds Creek. With a massive crowd on hand, Carmichael was expected to rule the day, and he did—but for one poor start and tip-over in the MX1/MX2 moto. Ricky would recover, but by the time he reached the front of the pack, the sensational Ryan Villopoto was long gone on his Monster Energy/Pro Circuit Kawasaki. It was a virtuoso performance for the kid, and it set the tone for the future of American motocross.
Ricky Carmichael had one more moto in his greatest-of-all-time career and he delivered in resounding fashion, winning the last MX1/MX3 going away, a well-deserved victory moto that marked his fourth straight individual overall at the Motocross of Nations in which he participated. Here are some highlights.
With his influence and love of competition, Carmichael helped get American motocross interested in the MXoN again after a half-dozen unsure years in the late nineties and early 2000s. He's number one on pretty much every motocross list and record column for a reason; had he had a few more opportunities and more luck in his early years, he might have even been #1 on this list.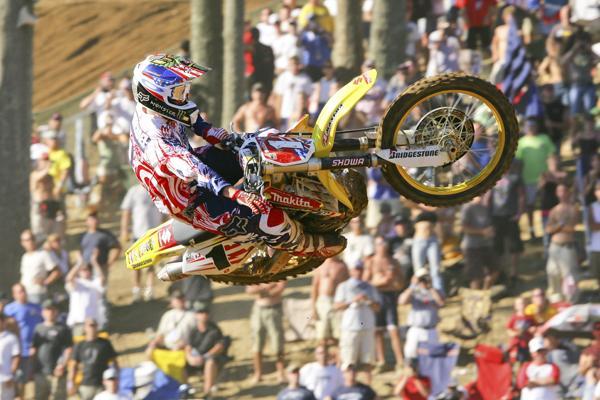 After dominating in '05 in France, Carmichael raced his last professional race at the 2007 Budds Creek MXoN. He won the last moto outright and again went to the winner circle with Team USA.
Simon Cudby photo
Tracker: