Team USA Top 25 Countdown, presented by Monster Energy
Another big race ahead, another Monster Energy Top 25 countdown here at Racer X Online! In 25 days, Team USA's Ryan Dungey, Eli Tomac, and Justin Barcia will line up in Teutschenthal, Germany, to take on the world's best riders at the 2013 Monster Energy FIM Motocross of Nations. They will be carrying on a heritage that began way back in 1970, when Team USA first started participating in what's often considered the "Olympics of Motocross." This will mark one of the rare times in the last three decades that Team USA will not go as defending champions, having won the Peter Chamberlain Trophy a remarkable twenty-two times since 1981 (and four preceding Trophee des Nations races as well).
Team USA history goes back to 1970, when American motocross was in its infancy. Well behind the European masters, the barely known Mark Blackwell, Bob Grossi, and Dick Robbins traveled to Sweden at the invite of the Husqvarna factory, as the race was nearby. They were soundly defeated, but it was a start.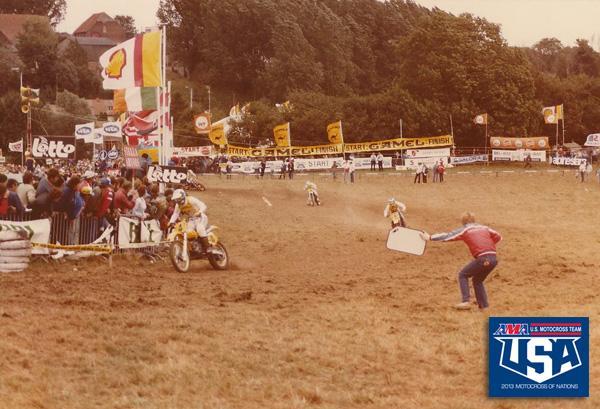 In one of the most amazing photos in Team USA history—shot by Tom Brinkman, now the owner of Monster Mountain Raceway in Alabama—Mark Barnett can be seen second in a Team USA freight train that occupied 1-2-3-4!
Tom Brinkman photo
Within a dozen years, Team USA began a winning streak that would last an astonishing thirteen years, eclipsing the record of ten set by the Roger DeCoster-led Belgian team in the Trophee des Nations (which saw the top riders from each nation on 250cc bikes, while the MXoN was for 500cc equipment). DeCoster was instrumental in getting Team USA involved back in 1981 and remains the manager to this day—he's easily won more MXoN and Trophee races as a rider and as a team manager than anyone.
Over the years, every top American has gone to bat for Team USA, from the original winning quartet of Danny LaPorte, Johnny O'Mara, Donnie Hansen, and Chuck Sun to 2011's winning trio of Ryan Villopoto, Ryan Dungey, and Blake Baggett.
But who were the greatest of the American heroes? Which rider over the years has done the most for Team USA at this race? Who won the most times? Who overcame the steepest odds? Who laid it all on the line to uphold our honor, sometimes against significant opposition and problems?
That's what this list will be about for the next twenty-five days as we count down to race day at the 2013 Motocross of Nations, which you can watch live on www.mx-life.tv on September 28-29. With some deep conversations, arguments, and debates between our bench-racing experts (and longtime Team USA supporters) on the Racer X staff—Jason Weigandt, Steve Matthes, Scott Wallenberg, Simon Cudby, DC, and more—plus friends in the industry and even some Team USA members—we have compiled a list that is sure to get everyone stoked on Team USA's chances against the rest of the world as we try to take back the Peter Chamberlain Trophy from the defending champions and home team, Germany.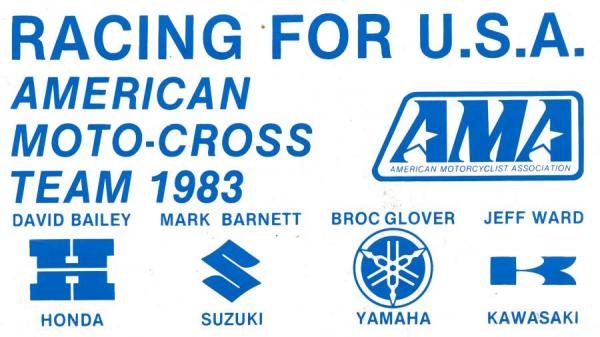 We start with #25 on our list, the "Bomber" himself, Mark Barnett!
Mark Barnett is a three-time AMA 125 National Champion, the 1981 Supercross Champion, and a Motorcycle Museum Hall of Famer, but he only got to race for Team USA twice, at the 1983 Trophee and Motocross des Nations, held in Belgium and Czechoslovakia. That's because Team USA did not attend the race in 1978-'80—his early peak years—and only Team Honda members went in 1981 and '82, the brand having stepped up to get Team USA back in the race (with prodding from industry heavyweights like Motocross Action's Dick Miller, Bel-Ray's J.J. Hanfield, and Hi-Point's Larry Maiers).
By the time a chance opened for Barnett in 1983, Suzuki was practically out of the 500cc motorcycle racing business, so the bike this 125cc specialist was given for the race in Angreu, Belgium, was not quite of the caliber of his teammates': David Bailey's works Honda, Jeff Ward's factory Kawasaki, and Broc Glover's championship-winning Yamaha. Yet Barnett was game, and in one of the most amazing photos in Team USA history—shot by Tom Brinkman, now the owner of Monster Mountain Raceway in Alabama—Barnett can be seen second in a Team USA freight train that occupied 1-2-3-4! Barnett would finish third in his one and only 500cc race as a professional, behind Glover and Ward and in front of Bailey (though David would go on to win the second moto).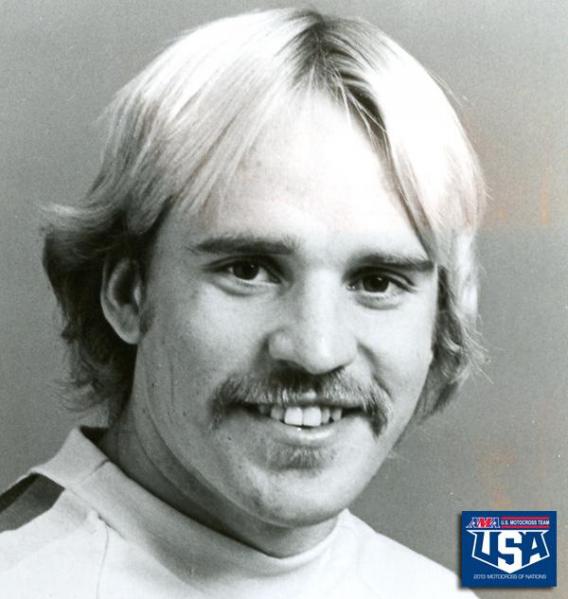 Barnett.
Racer X Archives
Team USA won the '83 Motocross des Nations in a rout. They would also win the Trophee des Nations, held in the old Czechoslovakia, with Barnett finishing third overall behind Belgium's Eric Geboers and Team USA's Glover, with Ward fourth and Bailey fifth!
On one of the most power-packed teams of all time, with one top rider representing each of the then-"Big Four" brands, Mark Barnett held his own and helped prove America's dominance, even though he almost certainly would have gone faster on his works RH125, if only he were allowed to race it. No matter, he's #25 on our list of Team USA's Top 25 riders of all time.
Check in tomorrow for #24 on our list.