The 2013 Monster Energy FIM Motocross of Nations is just eleven days away in Teutschenthal, Germany, which means we're past the halfway point in our countdown of the Top 25 Team USA riders of all time. We are getting down into the true legends of Team USA, the men who carried the team multiple times. Today's legend is #11 on our list, Broc Glover.
Broc Glover was one of the men who did not go to Europe in 1979 or '80, when Team USA pulled out due to a lack of interest versus costs in sending four riders, eight bikes, and their mechanics for a fortnight to race the Motocross (500cc) and Trophee (250cc) des Nations. For the next two years ('81-'82) a team would be sent, albeit all Honda riders, as American Honda footed much of the bill. They won in dramatic fashion, and that led all of the U.S.-based distributors to come back around to the idea of sending a team.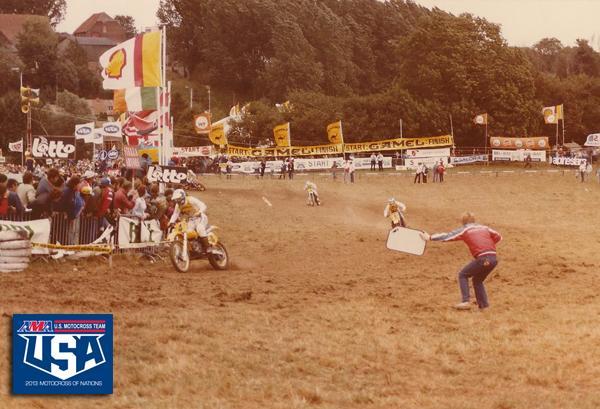 We have run this photo before in the countdown, but that's Broc Glover (#4) leading his teammates Mark Barnett, Jeff Ward and David Bailey on his way to the win in Belgium at the 1983 Motocross des Nations.
Tom Brinkman photo
All told, those were four years in the peak of Glover's career where the Yamaha rider did not get to go to Europe and represent his country. He finally got his chance in 1983, when the races would be held in Czechoslovakia (Trophee) and Belgium (Motocross). His teammates would represent the other three Japanese OEMs: David Bailey (Honda), Mark Barnett (Suzuki), and Jeff Ward (Kawasaki).
In his debut at the steep Svrepec track in what is now Slovakia, Glover ran off with the first-moto win, beating Belgium's Eric Gebeors and his teammate Barnett, with Bailey seventh and Ward eighth. The second time out, Geboers would win the moto over Wardy, with Glover third and top American overall. Barnett would place fourth, Bailey fifth, and Team USA would win.
The following week in Belgium marked what must be considered the single most dominant moto in Team USA's history, as Glover—riding a not-exactly-state-of-the-art YZ490—led a 1-2-3-4 sweep of the first race, leading Ward, Barnett, and Bailey across the line in that order. The second time out, Glover had problems and finished eleventh, but Bailey won, Barnett was third, and Wardy came in fourth for yet another Team USA win.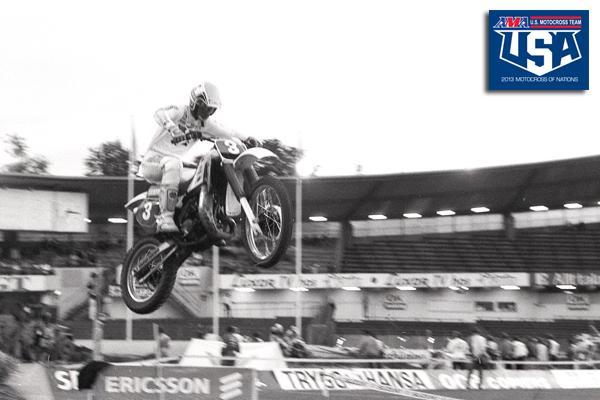 After being left off Team USA in 1984, Glover went to Europe anyway to race a supercross in Holland. He was in the right place at the right time when Team USA needed him to fill-in for the injured Bailey in Finland.
Gary Van Voorhis photo
For 1984, Glover, who had lost the 500 title to Bailey, was passed over by Team USA. The Motocross des Nations went first that year, and the race was held in Finland. Bailey teamed with Ward, O'Mara, and first-timer Ricky Johnson on a Yamaha for the event and came away a winner. But Bailey was injured in the process, and he had to pull out of the Trophee race, just one week later in Sweden. As fate would have it, Glover was in Europe already, having raced a supercross in Holland the same weekend as the MXdN. Contact was made and Glover was asked to race in Bailey's place. Team USA needed him!
Armed with just a couple of parts he'd brought from the States for the SX race, Glover showed up in Finland to ride a borrowed Yamaha YZ250 in what would turn out to be the last Trophee des Nations. Glover put in two superb rides, outpaced only by a two-moto sweep for Jeff Ward, that year's AMA 125cc National MX Champion, on the Kawasaki KX250. (And in another show of Team USA dominance, Johnny O'Mara placed third to give the Yanks a 1-2-3, with RJ placing seventh.) Here's some video from that race thirty years ago.
Glover only got to ride for Team USA three times, and each time they were sure winners. His moto wins in '83 and his clutch performance in '84 in place of his injured rival David Bailey were the keys to keeping the Americans on top.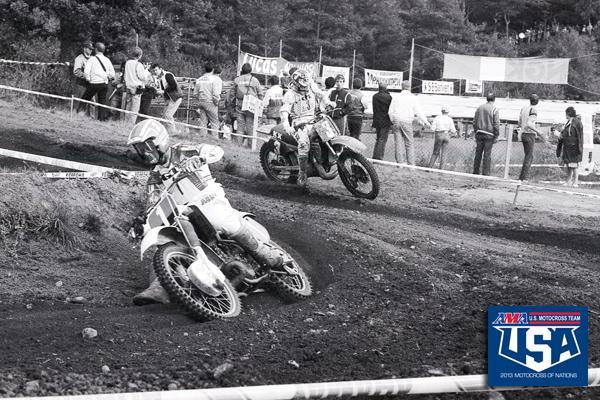 Having borrowed a Yamaha YZ250 for the race, Glover led teammate Jeff Ward early in the first moto. Wardy would sweep both races with Glover second as Team USA won the Trophee des Nations in Finland in 1984.
Gary Van Voorhis photo
Tracker: