There are seven days left until the start of the 2103 Monster Energy FIM Motocross of Nations, which means seven riders are left on our countdown of Team USA's Top 25 riders of all time. As we get closer to #1, the names and the legends grow larger, as we read back over their success as a member of Team USA, their individual results, and their overall contribution to victory over the years. Today, we arrive at the fastest man on the planet right now, Monster Energy Kawasaki's Ryan Villopoto.
In his professional career, which started at the end of the 2005 season, Villopoto has lined up for Team USA four times. All four times, the team has won the Peter Chamberlain Trophy, and all four times he has won his class. In fact, he has twice earned individual overall honors, making history in 2007 by winning both motos outright as an MX2 rider, and then again in 2011 while riding as Team USA's MX3 rider.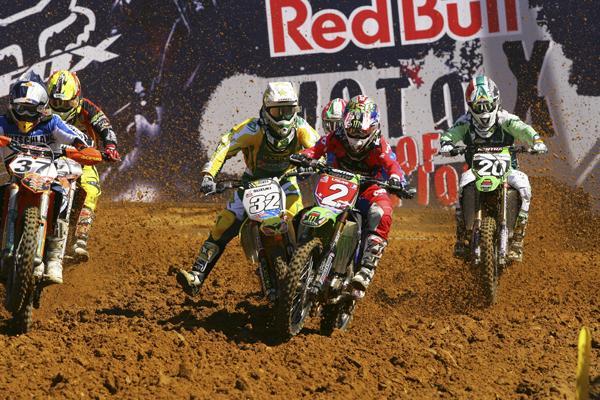 Ryan Villopoto put in one of the all-time great individual efforts at the MXoN in 2007 when he won both races outright by astonishing margins on a 250. It was the one and only time a 125cc or MX2 rider dominated two motos.
Villopoto's time with Team USA began in 2006, when he was a rookie 125 National Champion. Riding for Mitch Payton's Monster Energy/Pro Circuit Kawasaki team, RV was picked to race MX2 for Team USA at Matterley-Basin in England, which meant the kid would have to take on a trio of very fast international talent: Tony Cairoli, Christophe Pourcel and Ben Townley—all three MX2 world champions. RV beat them all in the MX1/MX2 moto, finishing behind only the big bikes of Stefan Everts and James Stewart. The second time out he finished behind Tony Cairoli, who won the moto outright. RV claimed the MX2 overall and Team USA won for the second year in a row.  Here's the MX1/MX2 moto, in French.
Of course in 2007 RV had the race of his career, dominating both motos and beating everyone outright, including his teammates Ricky Carmichael and Tim Ferry. As a result Villopoto became the first 250F rider in history to win the Motocross of Nations outright, in front of a partisan U.S. crowd. Team USA's streak was now at three races in a row. You can watch MX1/MX2 moto here, and witness one of the all-time disappearing acts when RV just vanishes with the lead.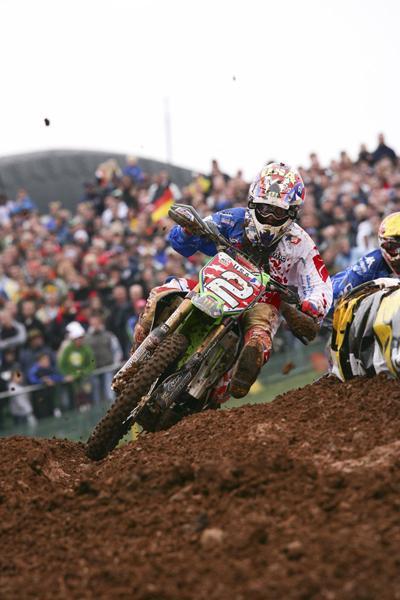 Villopoto raced twice in England for Team USA, '06 and '08, and won the MX2 class both times.
Villopoto went back to England in 2008, this time Donington Park, for the 2008 Motocross of Nations, and again helped anchor a Team USA win by winning the MX2 class with 10-1 scores. Ryan finished tenth in the MX1/MX2 moto, second MX2 rider behind Tommy Searle, then won the MX2/Open moto outright. It was Team USA's fourth win in a row. Here's a shorter video of that race, by the Vurbmoto crew.
Unfortunately, Villopoto was unable to attend in both 2009 and 2010 as he was out with injuries. Team USA continued to win without him, and when he returned to duty in 2011 at St. Jean D'Angeley, France, the team was riding a six-year winning streak. Villopoto again won his class and the outright overall, this time MX3, with a 3-1 tally. Villopoto was so far out in front in the final MX1/MX3 moto that he slowed down to wait for his teammate (and usual rival) Ryan Dungey so that the two of them could cross the finish line arm in arm. Here's video of that dramatic last moto.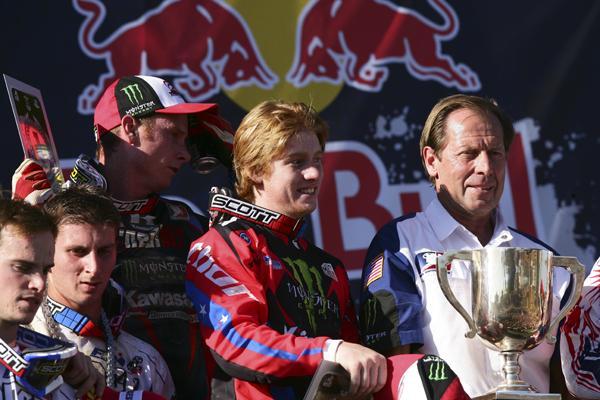 In his four times on Team USA, Villopoto is 4-0 as a rider and the Americans have not lost.
Team USA's winning streak finally ended last year in the sands of Lommel, but Villopoto was not part of it, as a knee injury in the late going of Monster Energy Supercross ended his summer before it even started. And when the race goes off this weekend in Germany, RV will unfortunately again be absent, having chosen to get some hardware removed from his leg after winning the 2013 Lucas Oil Pro Motocross Championship.
Villopoto's 4-0 record in his four years on Team USA have him higher on this list than any rider of the past twenty years. Hopefully he can make it back to the Motocross of Nations in 2014, when the race is held in Latvia. If he can help claim another Team USA victory, he will surely move up on our list of Team USA's top riders of all time.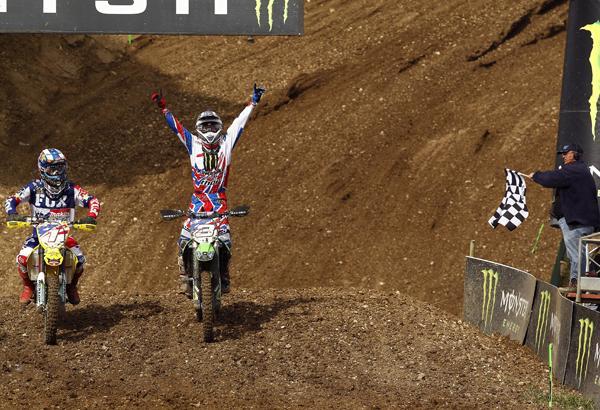 The Ryans joined forces in 2011 to win in France, which was highlighted by their 1-2 finish  in the final moto.
Tracker: