Racer X is counting down the days to the 2013 Monster Energy FIM Motocross of Nations by bench-racing through the years of Team USA's Top 25 of all time. The race will go off on September 28-29 in Teutschenthal, Germany, where the Roger DeCoster-led Team USA squad –- Ryan Dungey, Eli Tomac and Justin Barcia -– will be trying to bring back the Peter Chamberlain Trophy.
Bringing the win home is the duty of every American hero who volunteers to race for our country, but sometimes the race itself does not fit well into an athlete's own career program. All-time greats Bob Hannah and James Stewart, who have already been listed, are proof of that. The same case goes with #15 on our list, Jeremy McGrath, the King of Supercross.
After joining Team Honda and moving up to a 250 prior to the start of the 1993 AMA Supercross Series, Jeremy McGrath changed the game. He brought revolutionary ideas, like BMX-inspired low-jumping, into the sport and it's never been the same. McGrath would go on to win 72 main events in the premier class, a record that may never be broken. He also won seven SX titles, another record for the ages.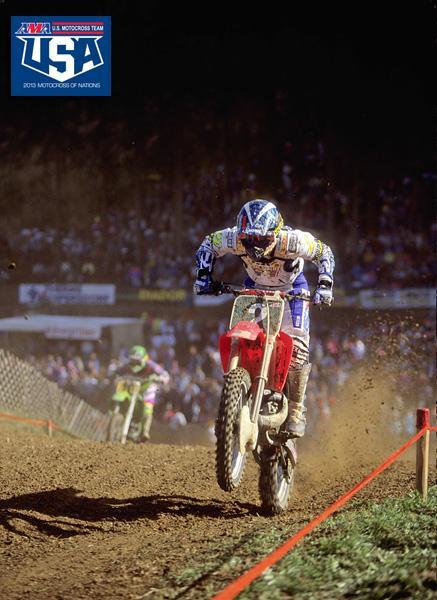 Jeremy McGrath was part of two Team USA wins, the first coming in 1993.
Racer X Archives
But in 1993, McGrath was still on a CR125 outdoors. After destroying the old guard of Jeff Stanton and Damon Bradshaw in supercross, he won just two nationals that summer—the first two of his career. So when it came time to pick Team USA, McGrath was not a perfect fit. It was eventually decided that Jeremy would ride the 250, reigning 125 National Champion Jeff Emig would ride the 125, and 250 Motocross champ Mike Kiedrowski would ride the 500. Their task was monumental: keep Team USA's winning streak alive—they had won every time for a dozen years.
The race was in Schwanestadt, Austria, a hilly, hard-pack track of Grand Prix vintage. From the time Team USA landed there, the pressure was on. The European fans were as amazed by McGrath as supercross fans were earlier in the year. They wanted to see the newly-minted "Showtime" dominate, but McGrath had not ridden a 250 since the Vegas SX back in early summer, and never an outdoor race. (Watch highlights)
With the pressure ratcheted on to the clouds, Team USA's team manager Roy Janson, working in place of Roger DeCoster, who was not with the team in '92 and '93, found out that Team USA got one of the last gate picks (for the fifth year in a row) in the blind draw, but the starting gate on the outside was measurably further away from the first turn—"More than 100 feet!" recalls Janson—and literally made the FIM move the starting gate and fences.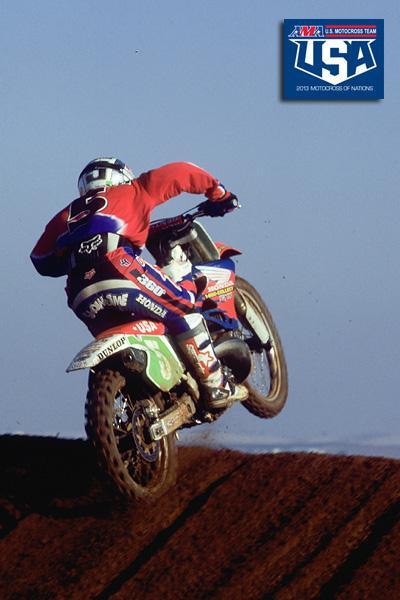 McGrath returned to Team USA in 1996, leading Team USA to a win in Spain.
Racer X Archives
When the race finally started, all three Americans did their jobs, anchored by Kiedrowski's first-moto outright win, and Emig's two top-finishing 125 rides, and McGrath's fourth-place finish in the 125/250 moto. (The other two moto wins went to Stefan Everts of Belgium and Kurt Nicoll of Great Britain.) All told, Team USA narrowly escaped with a one-point win over Belgium. The experience was not an especially satisfying one for McGrath, as he left not only with a team win, but the growing chorus of people saying he was a "supercross specialist." Which he more or less was at that point.
Fast forward to 1996. McGrath sat out the '94 and '95 Motocross des Nations, both of which were frustrating losses for Team USA. By this point he had more than proved that he was not just a supercross rider, but an extremely fast outdoor rider too, romping to the 1995 AMA 250 National Motocross Championship. Now he wanted to return to Europe and help Team USA, so he joined forces with Emig again and 125cc specialist Steve Lamson to race for their country in Jerez, Spain. There they put on a race for the ages, beating the rest of the world down in every moto, McGrath at the point. What those three guys did is comparable to the legendary 1986 juggernaut of David Bailey, Ricky Johnson and Johnny O'Mara.
And then that was it for Jeremy and Team USA. His career did go the mostly-supercross route, and he would decline DeCoster's invites because he didn't think it was right that he was invited even though he wasn't racing outdoors, which is understandable. But when Jeremy McGrath did go, Team USA won, and when he went in 1996, they truly dominated. (Watch highlights)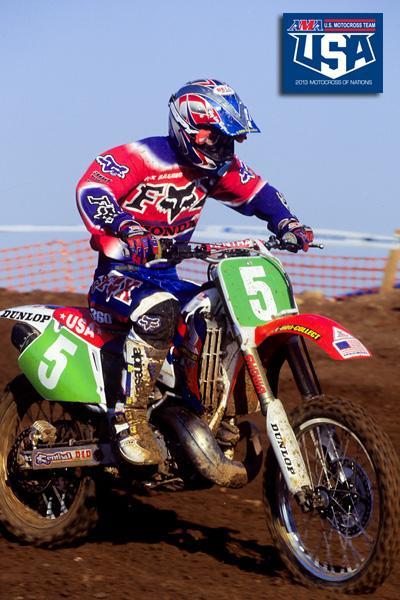 McGrath's dominating performance in Spain would mark the last time he would ride for Team USA.
Racer X Archives
Tracker: