Now we're getting down to the tougher choices as we count down the days to the 2013 Monster Energy Motocross of Nations. The Team USA Top 25 countdown represents the 25 best Team USA riders over the years, going back to the original team in 1970. The rankings are based on Team USA's results, the riders' individual performances, number of appearances, and more.
Bob Hannah should not be #19 on any list involving motocross or supercross racing—he's one of the all-time greatest both indoors and outdoors. But when we look at his Motocross (and Trophee) des Nations record, it doesn't reflect his overall greatness and longevity. Between 1976 and 1987, Hannah only raced for Team USA in three years and five events, with the team going 1-4, as injuries, politics, age, and a lack of general interest all conspired to keep the Hurricane off the squad for much of his career.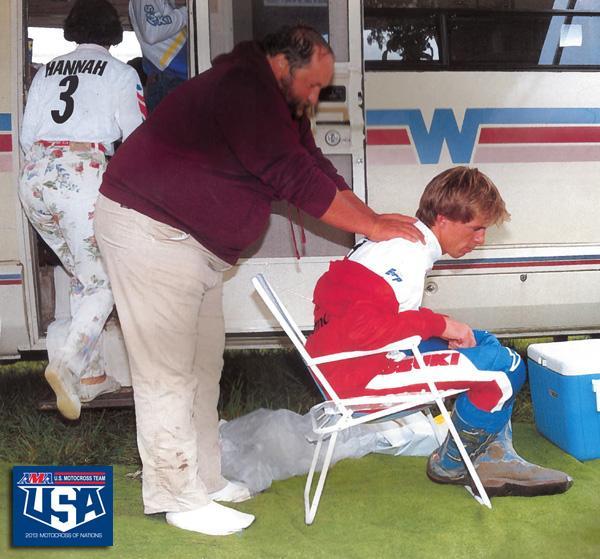 Longtime friend Bevo Forti (left) gives the Hurricane a pre-race back rub at the '87 Motocross des Nations at Unadilla.
Courtesy World Cross
Hannah broke out in 1976, winning the 125 National Championship. He was chosen for that year's version of Team USA along with Tony DiStefano, "Rocket" Rex Staten, and Kent Howerton. But the team was overmatched by the European masters and finished sixth at the Trophee des Nations in Switzerland and fifth at the Motocross of Nations in Holland.
In a feature with Eric Johnson in the November '07 issue of Racer X Illustrated, Hannah was asked about that first tour in 1976. "I don't remember a single damn thing about those two races," answered the Hurricane.
Hannah did not go in 1977, but he did in '78. By that point he was at the peak of his dominance on the AMA circuit, and he was confident that he could take on reigning 500cc World Champion Heikki Mikkola. In fact, Hannah, who had not raced an Open-class bike for a year, even told Mikkola who was going to win, to which the notorious "Flying Finn" replied, "Let's see if you ride as good as you talk."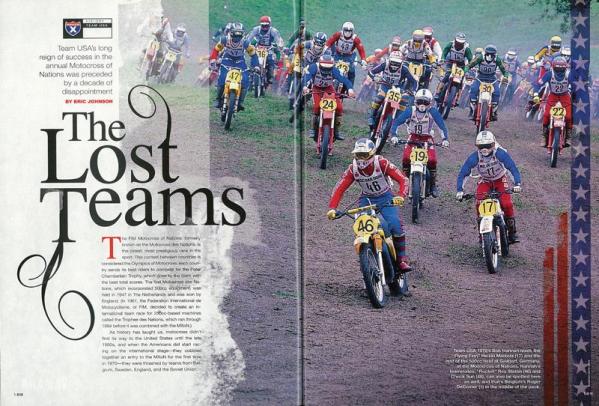 Bob Hannah (46) leads Heikki Mikkola (17) at the 1978 Motocross des Nations in Germany. (Click photo to read full article.)
Hannah ended up grabbing the holeshot in Gaildorf, Germany, leading Mikkola for ten minutes before being passed. Then he stalled the bike and ended up fifth at the finish. In the second moto Hannah would again lead early, only to have Mikkola again pass him and pull away. He did end up second in the moto, the second-best Team USA moto finish of the first decade of participation at the MX and Trophee des Nations.
One week later, at the Trophee (250s) in Belgium, Hannah would finish third in a moto and Team USA would end up fifth.
Team USA did not compete in the Motocross or Trophee des Nations in 1979 or '80 due to budget constraints and a lack of interest. During the fall of '79, Hannah would break his leg water-skiing, costing him the next year of his career. When he returned in 1981, Team USA returned to the races in Europe, but all four members rode for Team Honda—the one brand that supported the effort. Same went for 1982, when Hannah was picking up speed again.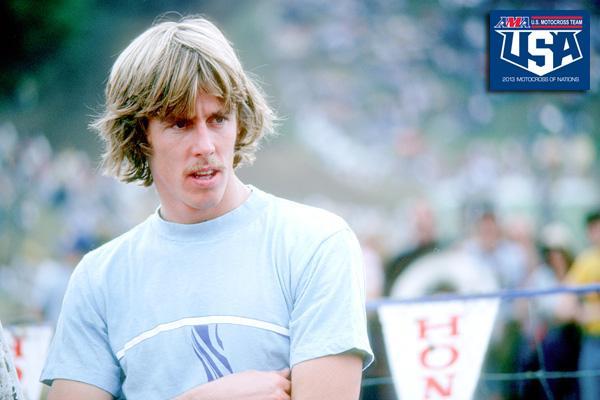 Ironically, Hannah would join Team Honda in 1983, just when Team USA was opened to all brands again. Hannah was still arguably the fastest American rider, but he was also fragile, as years of injuries had begun to take their toll.
Hannah would not return to Team USA until 1987, the first year the race was held in the United States. But of course it came with controversy. Hannah was selected for the team, joining Rick Johnson and Jeff Ward, in large part because the race would be held at Unadilla, Hannah's favorite track. But in choosing Hannah—a sentimental pick in large part—Roger DeCoster had to pass on one of his own Team Honda riders, reigning two-time 125 National Motocross Champion Micky Dymond, who had proven himself to be the fastest 125cc rider in the world by winning the South American GP. Hannah had never raced a Suzuki RM125, and he had not raced at all since June of that summer and the end of the 250 Nationals.
Dymond may have gotten the shaft, but Hannah used the situation as motivation: the Hurricane was not going to let DeCoster, his teammates, or the fans down. When it poured down rain, things got even more complicated. In the first moto, for 125 and 500 riders, Hannah finished ninth overall and third among the 125cc riders. His second moto marked his finest hour for Team USA, as he finished third on his RM125 Suzuki, trailing only the 250s of Rick Johnson and newly crowned FIM 250cc World Champion Eric Geboers. Hannah's efforts helped Team USA win at home and keep its legendary winning streak intact at seven straight years (it would eventually reach thirteen). It also marked Hannah's one and only win as a member of Team USA, and was a fitting cap to his illustrious career.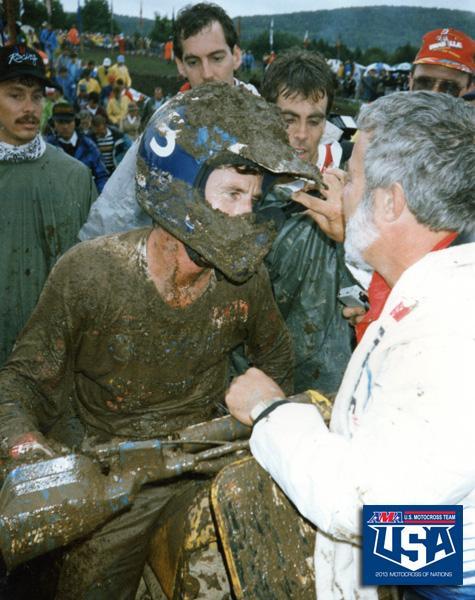 Larry Maiers greets Hannah in the winner's circle after Bob was the top 125 rider in the second moto at Unadilla.
Thom Veety photo
Tracker: