The countdown is picking up speed. Racer X Online is ranking Team USA's Top 25 riders of all time as we count down the days to the 2013 Monster Energy FIM Motocross of Nations, which will take place on September 28-29 in Teutschenthal, Germany. Today we are at #22 on our countdown.
The versatile Ryan Hughes raced for Team USA three times: Slovakia (1995), France (2000), and Belgium (2003). He rode three different brands as well—Kawasaki, Honda and KTM, respectively. The teams he raced with lost twice, both times to Belgium ('95, '03). But the defeats never discouraged Hughes, who raised his hand every summer when Roger DeCoster went looking for a lineup of American fast guys for the Motocross of Nations effort.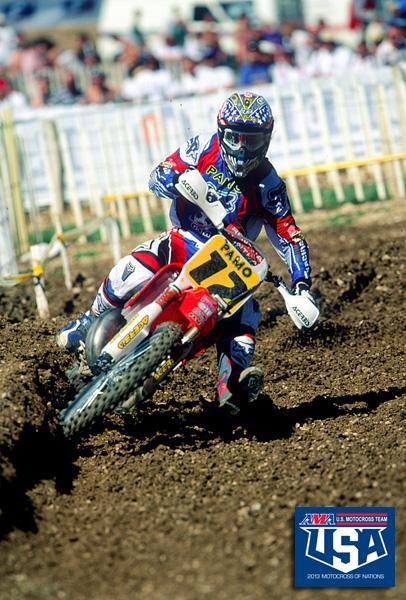 Hughes' crowning achievement in the MXoN came in 2000, where Team USA return to victory at St. Jean D'Angely.
Racer X Archives
Hughes enjoyed a long a successful journey as a professional motocross rider, competing all over the world. He won outdoor nationals and 125cc supercross main events, as well as the 250cc Grand Prix tour for a couple of years. But the crowning achievement of his career came at the 2000 Motocross of Nations in St. Jean D'Angely, France, where Hughes joined with Ricky Carmichael and Travis Pastrana as Team USA made a triumphant return to the top of the motocross world with a win over the favored home team. It was the first time since 1996 that Team USA had won, ending a three-year losing streak. And it all began with Hughes snatching the first-moto victory from England's Jamie Dobb when Dobb stalled his KTM in the very last corner, opening the door at the last possible second for Ryno to squeeze through. Here's a short video of the race.
In 1995, Hughes rode the 500 class on the big KX500 that Kawasaki basically handed over specifically for this race, as the 500 Nationals as a series ended in 1993. He rode well in Slovakia on the steep Svrepec track, but a late-race crash he could not avoid helped bring about the defeat, as Ryno ran into a fallen Kurt Nicoll on one of the steep hills in the late going. Here's a video of the race.
In 2003 Hughes finished second in the Saturday qualifier behind his teammate Ricky Carmichael, but in that year's funky one-moto, winner-take-all showdown, the chain popped off his KTM in the early going, while teammate Tim Ferry struggled with a broken thumb. (Here's the complete video of that final moto, including a great battle between the GOAT and the King, Ricky Carmichael and Stefan Everts.)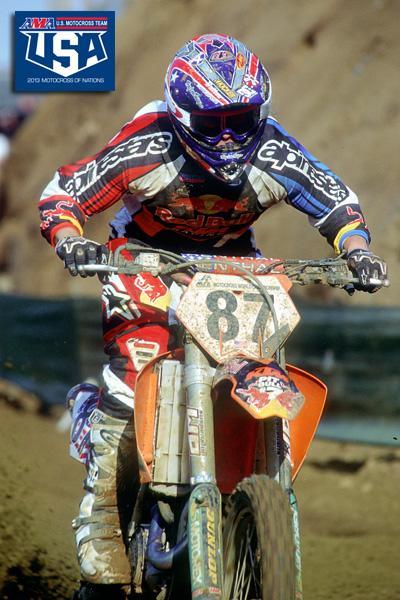 Bad luck struck Hughes in 2003.
Max Ludwig photo
In winning that one moto outright in 2000, and helping Carmichael and Pastrana get Team USA back on top of the world—as well as the other times he went over and fought it out with Europe's best—Hughes ranks #22 on our list of Team USA's Top 25 riders of all time.
Tracker: